Uncategorized
The curious case of Sean Day
Only three players had ever been granted "exceptional status" by the Canadian Hockey League back in 2013: John Tavares, Aaron Ekblad and Connor McDavid. The term exceptional status refers to when a 15-year old player is granted entry to play in one of the Canadian major junior hockey leagues even though the rulebook says you need to be 16. The process to be granted exceptional status in the CHL is extensive, almost exhaustingly so. The player – often the team surrounding him – need to start by applying to the CHL at least six months before the start of the season. After that it is off to do interviews with league representatives, followed by professional scouts taking a critical look at the players abilities – determining if he is ready for junior hockey or not. The player even has to write an essay detailing why he should be given the chance to play in the CHL a year early.
The first time it happened was in 2005 with Tavares. Then in 2011 with Ekblad and in 2012 with McDavid. All three players ended up being picked first overall, both in the junior draft and in the NHL entry draft, making it difficult to argue the players in question were undeserving of the exceptional status they were given.
In 2013, a fourth player was granted exceptional status. That player was Sean Day.
While born in Belgium, the hulking defender currently holds dual citizenship in the United States and Canada. That is not the only thing that stands out about him though. At 6-foot-3, 230 pounds, you'd expect Day to be a powerful defensive defenseman whose shutdown abilities is what made scouts take notice. Instead, it was his phenomenal skating that put him on the map. At 15 years of age, Day's skating and natural hockey ability was getting rave reviews from just about everywhere. "As close to pro-level-skating in a 15-year old we have seen", was the prevailing sentiment among many.
However, after being allowed entry to the CHL at 15, things didn't proceed the same way they had for his exceptional status brethren. The first rut in the ice came when Day wasn't picked first overall in the OHL entry draft. Instead, the Mississauga Steelheads selected him 4th overall. He did go on to produce six goals and ten assists for 16 points in 60 games during his first season, but a less-than-flattering consensus around Day started to build – his large frame and fluid skating had been masking an under-developed hockey sense. Even more troubling, it just didn't look like Day was having any fun out on the ice.

Photo: Getty Images/Dennis Pajot
While pressure started to mount on him in the following seasons to live up to his exceptional status, tragedy struck the Day family. A member of the family was sent to prison after having being judged culpable in a car crash. While much has been written about the incident and the effect it must have had on a young man just learning the ropes in the unrelenting world of professional sports – Day continued to fight for his hockey career.
When the time came for the 2016 NHL Entry Draft, Days stock was at an all-time low. His three seasons with the Steelheads hadn't seen the improvement many expected and as a consequence, he ended up falling out of the first round, eventually being selected in the third round, 81st overall by the New York Rangers. He failed to make the team out of camp that fall.
Then, just as the 2016-2017 season got going, came a turning point: Day was traded from the Steelheads to the Windsor Spitfires.
"It was a fresh start. A different look on the game, in a way. With how I was before and how I played, coming here with a new system and new coaching allowed me to forget about a lot of the stuff that happened and I could create a new identity", Day told The Hockey News last season.
His play on the ice certainly demonstrated a change. Now allowed to use more of his still-magnificent skating to create offence, Day ended up having a career year with 15 goals and 22 assists for 37 points in 63 games. More importantly, it looked like the young defenseman was having fun playing hockey again.
A powerful Spitfire team, featuring fellow behemoth defenders Logan Stanley and Mikhail Sergachev, relied heavily on their blueline ta carry them all the way to a championship win in the Memorial Cup – Days first major trophy win.
"I had never won anything big in my career, so that's probably the coolest thing I've ever done in hockey", Day told the NY Post this summer.
While he didn't make the World Junior Championship teams for Team USA in any of the last two years, there can be no doubt that Sean Day has gotten his career back on track after a rough start. He might not ever reach the same heights of a Tavares, Ekblad or McDavid, but he is still poised to have a career in the greatest hockey league in the world.
Oh, and his current season? Currently on pace for another career year with 21 points in 27 games, his highest points-per-game average in the CHL yet.
You may also be interested in: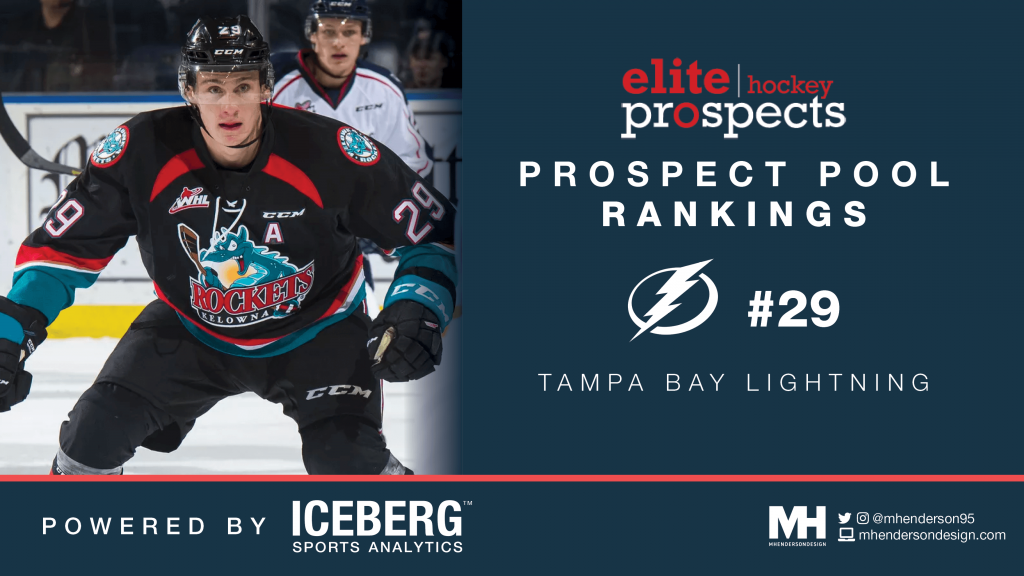 EP Rinkside Prospect Pool Rankings: No. 29 Ranked Tampa Bay Lightning
This article is about: