NHL Entry Draft 2019
Albin Grewe – the "T-Rex" who is "a pain in the ass"
A skilled, fast winger with a physical edge. That's how draft eligible winger Albin Grewe would like to present himself. The 17-year-old made his debut with Djurgården in the Swedish Hockey League in mid-October and made quite the impression right before the league had its national team break in early November.
As Columbus Blue Jackets prospect Jonathan Davidsson went down with a concussion, Grewe got the chance to play the wing on a young line with Marcus Davidsson (Buffalo Sabres) and Emil Bemström (Columbus Blue Jackets). He didn't put up any points during his brief stint as Davidsson's stand-in, but his play warranted some high and rather unconventional praise from Djurgården head coach Robert Ohlsson.
"Albin Grewe is the kind of player we haven't had here for a while", said Ohlsson. "With his approach, he's going to be a physical force and a pain in the ass in this league. He sees himself as being in the top of the food chain. He's a T-Rex, eats everything and has the approach the everything is beneath him."
Grewe himself was taken aback by the comments from his head coach.  It's obviously not too common for a teenager to be referred to as a dinosaur, but being a Dinosaur Jr is something he could live with.
"I've never heard that before, but it's a compliment that he thinks I'm a T-Rex", said Grewe. "To me, it's important that you play your own game no matter where you play. It shouldn't be different whether I play with men here or on the junior team. You just play and don't think too much about it. That's when you become T-Rex."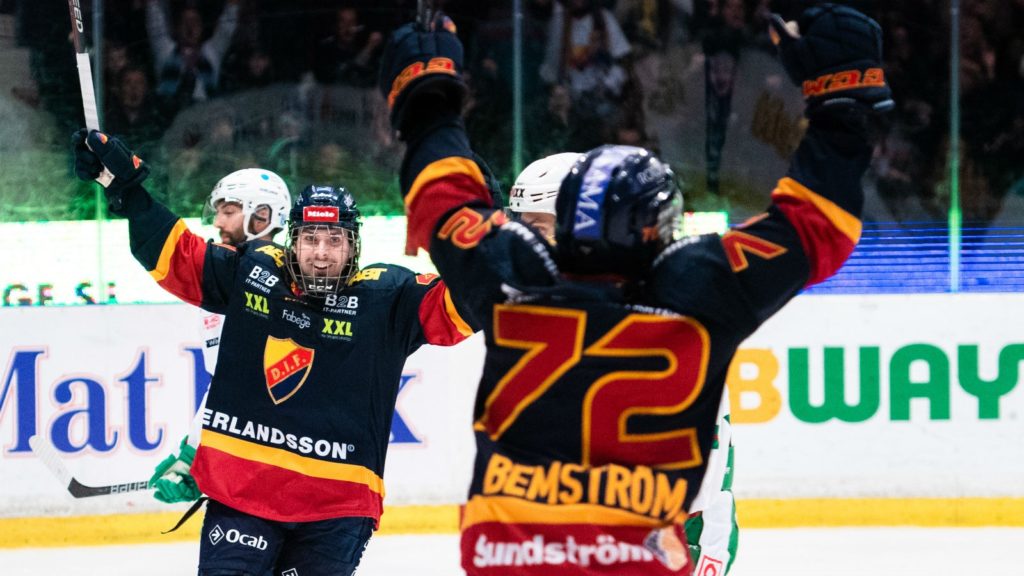 Photo: Bildbyrån/Simon Hastegård
NOT AFRAID TO PLAY HIS OWN GAME
Going from playing in the Swedish J20 SuperElit league to the SHL can be a big challenge. Many young players need a lot of time to build up the courage to play to their strengths among older men. That doesn't seem to apply to Grewe. He brought his "take no prisoners approach" to the top league.
"I guess you could feel younger and smaller than everyone else when you get called up and feel like you couldn't play your own game. But that's not going to make you successful. I try to play exactly as I do in juniors, not change too much. That usually works for me."
Even though a lot has been made of Grewe's physical game, he doesn't want to portray himself as a one-dimensional checker. 22 points in 16 J20 games this season reveals that there's some more finesse to his game than the thunderous hits and the in-your-face attitude.
"I'm not just that, I'm an offensively skilled player who likes to score and put up points. I think it compliments my physical game very well", said Grewe.
Boom! Big hit by Djurgårdens prospect Albin Grewe! https://t.co/LNM9roQKcp#DIF #2019NHLDraft pic.twitter.com/AwXJEErp7a

— Eliteprospects (@eliteprospects) November 1, 2018
For Albin Grewe, this is a big season for several reasons. In April, Sweden hosts the U18 World Championships where the rambunctious winger will be a key player. It will also be the lead up to the NHL Entry Draft in Vancouver, where he has high hopes of being chosen in the early rounds.
"I want to be picked as early as possible and do the best I can to make that happen", said Grewe who is very happy with the progress he has made this far. "My goal this season was to be a productive player for the junior team and get a shot at the SHL. I didn't really think I would be recalled this early. It's been a bonus. Now that I've tried this, I really start to feel like I can play here regularly."
For now, Albin Grewe has been sent back to the junior team, but coach Robert Ohlsson is sure we haven't seen the last of the plucky youngster in the SHL this season.
"I believe he will breathe down everyone's neck and make the competition among our forward group even harder. He has really made an impression and is a really interesting player."
This article is about: