Column
FILIPOVIC: Extraterrestrial stats in Vancouver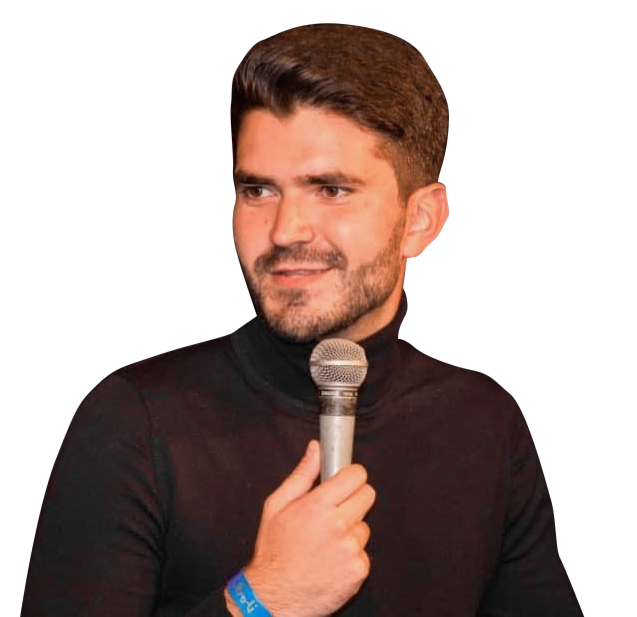 Dimitri Filipovic
For better or for worse, hockey is typically thought of as being the ultimate team game. With playing time so evenly spread out across the lineup, there's certainly merit to the perception that superstar players can only do so much to determine the fates of their respective clubs.
Look no further than the Edmonton Oilers as the most recent example of this; despite possessing indisputably the most singularly dominant force in the league at the peak of his powers, they missed the playoffs last year and are once again struggling to cobble together enough wins to be considered a viable contender yet again this season.
Regardless of how good the top of your roster may be, it'll ultimately only get you so far as a team if you're getting caved in by bleeding shots and goals against whenever your best players aren't on the ice. Unlike in basketball where the stars play somewhere in the ballpark of three-quarters of a given game, Connor McDavid is relegated to spending nearly two-thirds of the game sitting on the bench watching his teammates try to stay afloat without him.
Yet while hockey technically remains a collective team game when it comes to on-ice success in the form of wins and losses, the NHL itself as still just as much of a superstar-driven league as any of its other North American peers when it comes to thriving off the ice by successfully marketing the product to its fans.
Everyone wants to cheer for a winner and compete for a Stanley Cup, but it's the fast-paced action, dynamic offensive sequences, and highlight reel goals that drive interest and conversation. It's the players that are breathtakingly exciting with the puck that sell jerseys, put butts in seats, and force people to tune into the games every single night. It's the young prospects flashing their potential that provide hope for the future, keeping fans coming back despite all of the heartbreak because of the belief that things will eventually get better.
It's been rather remarkable to see how much the perception of the Canucks and the discourse surrounding their outlook has been flipped on its head in such a short period of time, both locally and nationally. Last year they weren't good for much more than an easy punchline, finishing near the bottom of the standings and the top of the draft lottery for a third consecutive year. Aside from the occasional goal-scoring binge by Brock Boeser or the end of season farewell tour for the Sedins, there really wasn't any tangible reason to tune into their games or care about the team as a whole.
That's changed this season, which is rather telling because on the surface the Canucks themselves don't appear to be that much different from the aforementioned team no one wanted to talk about or watch just a handful of months ago.
Aside from an early season shooting percentage spike – as a collective their 7.4% conversation rate last year was ranked 24th, which has risen to a 4th best 9.8% in the first 20 games of 2018-19 – that's resulted in a few more goals, the on-ice results actually look eerily similar to the ones that had them finish 26th overall last season. In terms of overall pace, using total shot attempts for and against over the course of a game as a proxy, they were the 5th slowest team last year and they're once again the second slowest team thus far.

The one thing that has changed is that they now have Elias Pettersson, whose unique set of skills have singlehandedly managed to inject the franchise with optimism and a newfound sense of hope despite the relatively unchanged circumstances around him.
Any way you choose to slice it, his first spin around the NHL has wildly dominant for not only a 20-year old adjusting to a new league and a new continent, but for anyone really. Even with the recent hiccup he's hit during this current Canucks road trip – which was to be expected, seeing as even a player of his shooting caliber wasn't going to realistically continue converting one out of every three shots he put on net into goals – his name continues to surface near the top of every individual offensive category. Particularly when you adjust for early usage, where he wasn't playing nearly as much as some of his more gifted peers around the league:

To put his place in the league's hierarchy into perspective, he's sandwiched by John Tavares and Patrice Bergeron in five-on-five production on a per-minute basis, and by Nathan MacKinnon and Sidney Crosby in all situations.
It's worth noting that only 2 of his 18 points thus far have been courtesy of secondary assists, which is a good indicator that he's been largely responsible for creating most of his own success. If you remove the two weeks he missed due to injury in October, he's either scored or directly assisted on just south of 30% of the total goals the Canucks have generated in the games he's played: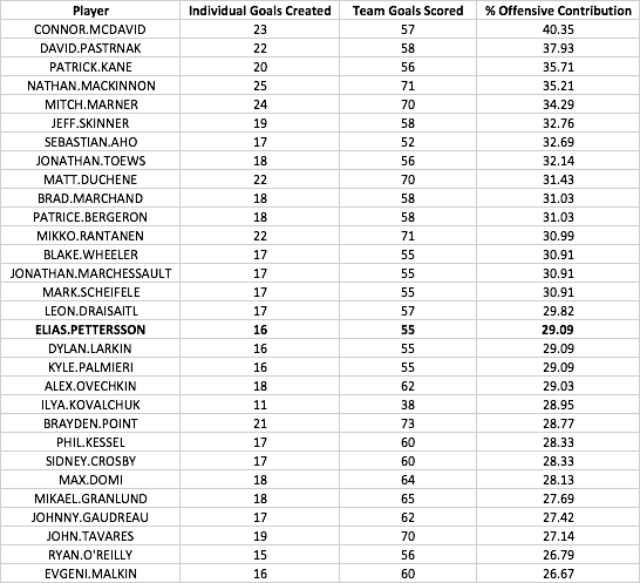 It's not just the points themselves, but it's the manner in which he's been getting them. Just as impressive as the overall production has been how he's looked, dazzling crowds with his dekes and shot alike. It's a unique combination of abilities that's earned him a medley of creative nicknames, drawn legitimate comparisons to Pavel Datsyuk, and fairly won him Rookie of the Month honours in October despite the fact that he missed half of it.
From the effortless flicks of the wrist that leave opposing goalies looking at replays wondering where the puck went, to trying out moves in high leverage situations that most players wouldn't even think or dream about attempting, he's shown that he's capable of nearly anything with the puck on his stick – a frightening realization for defenders, but a tantalizingly exciting one for viewers.
Based on most of the performance indicators we have to parse through, the Canucks are seemingly fortunate to have won as many games as they have in the early going. Even in a woefully uninspiring Pacific Division, the likelihood of them believably hanging around a playoff spot still seems unlikely.
History has taught us that if and when they get back to the mountaintop they'll need more than just one Elias Pettersson. But if the first introduction to him is any indication this is a good start, and something to legitimately build upon. For one player to make that big of a difference this quickly is a rare sight to behold, but then again, so are aliens.
You may also be interested in: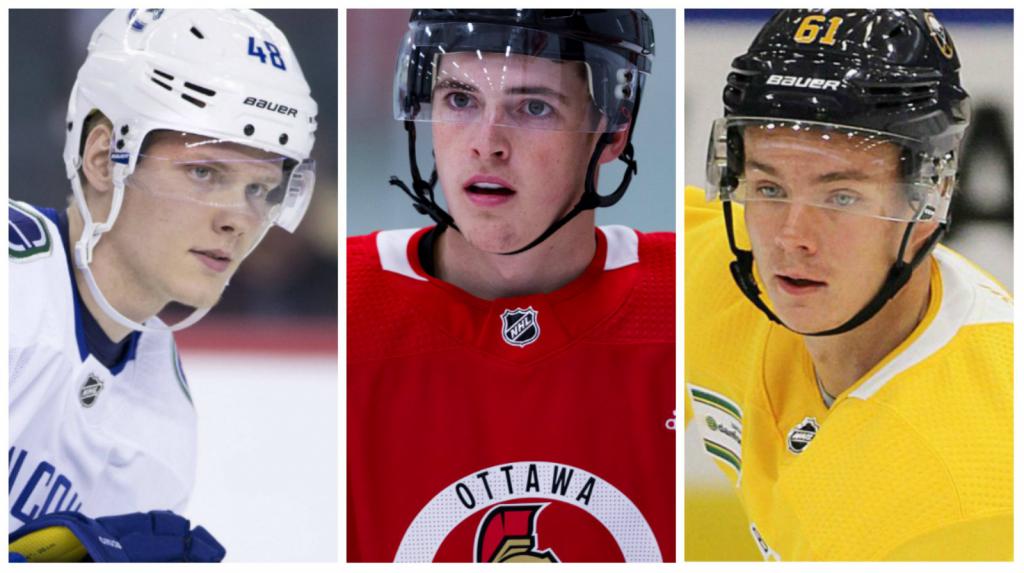 TOP 10 – AHL: Swedes and Finns emerging from the farm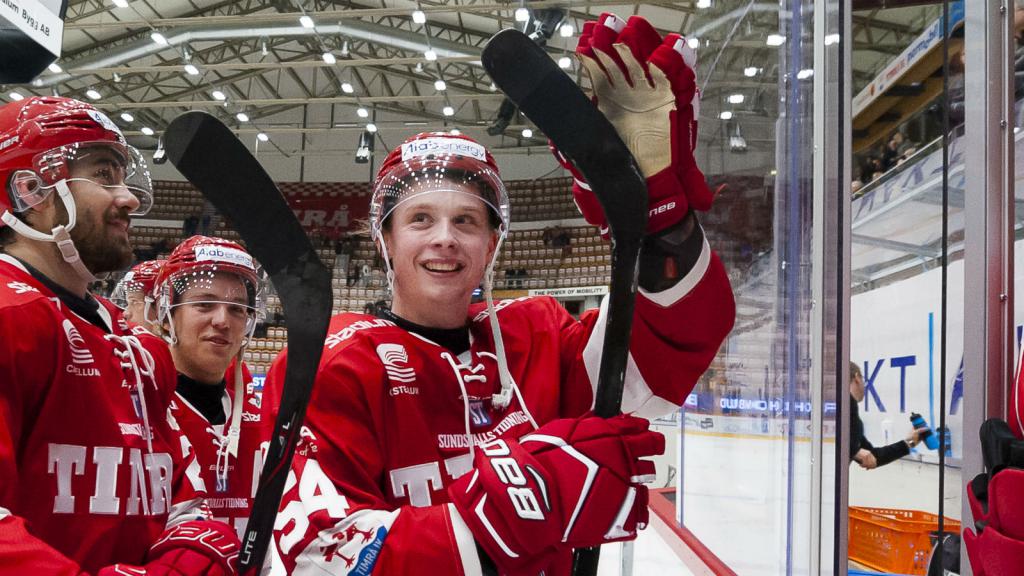 Why Vancouver Canucks fans will love Jonathan Dahén
This article is about: