Rankings
TOP 10 – AHL: Swedes and Finns emerging from the farm
If there is one painful truth across all 31 NHL boardrooms, it is that player development can humble even the most confident executive – and there is no shortage of confidence to be found in those circles.
But with roughly 85 percent of NHL players in any given season being AHL graduates, what is certain is that NHL general managers and scouts had better get player development right more often than not – difficult as it may be. Player development has become an ever-increasing priority for NHL teams, and they have invested heavily – financially and otherwise – in recent seasons in trying to refine the imprecise process that is player development.
Six weeks into the 2018-19 AHL regular season, these are some of the top young players who are making a strong impression: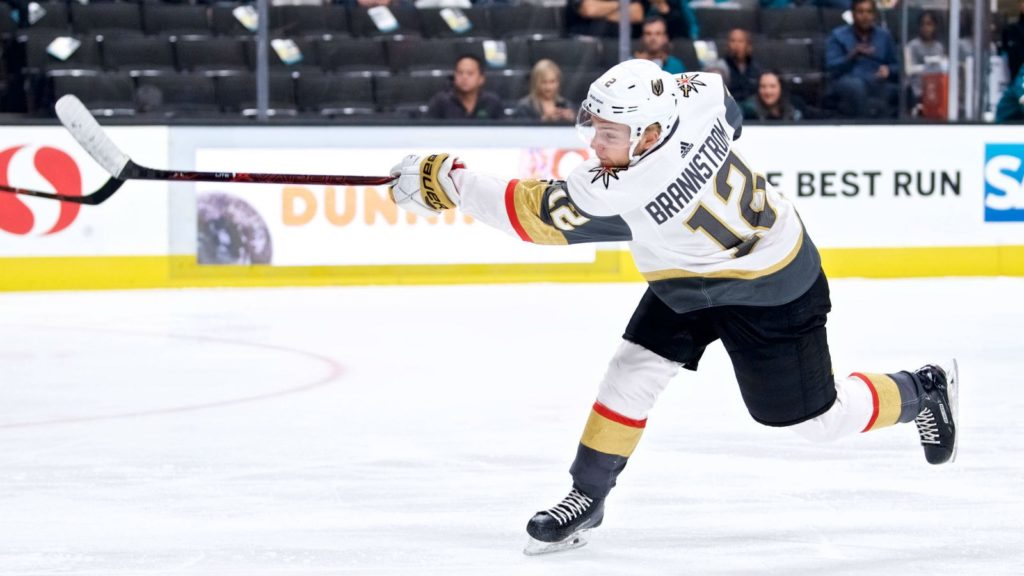 Photo: Matt Cohen/Icon Sportswire
Erik Brännström, D, Chicago Wolves (Vegas Golden Knights)
As an NHL expansion team starting in 2017, the Golden Knights do not even have a full class of draft picks to dispatch to the AHL yet.
That cycle will begin in the 2019-20 season, but Brännström is already a jewel in the Golden Knights' farm system. Brännström, the 15th pick in the 20117 NHL Draft, was eligible to play in the AHL this season, and he elected to start his transition to the North American game early.
It did not start easily for him, even with 82 regular-season games of elite Swedish Hockey League experience with HV71 to his name. In the Wolves' second game of the season, Sergei Boikov of the Colorado Eagles put a crushing hit on Brännström (5'10", 181 pounds behind the Wolves' net.
The play put Brännström out of the line-up for two games, something that came after an encouraging preseason with the Golden Knights in which he played five games and was 2-2-4. He had also scored twice in the Wolves' season-opening game a night earlier at Colorado.
Since then, however, he has bounced back and has a 3-8-11 scoring line through his first 12 AHL games. With a strong team around him in the AHL, Brännström looks to be one of the first big development success stories and on track to Las Vegas.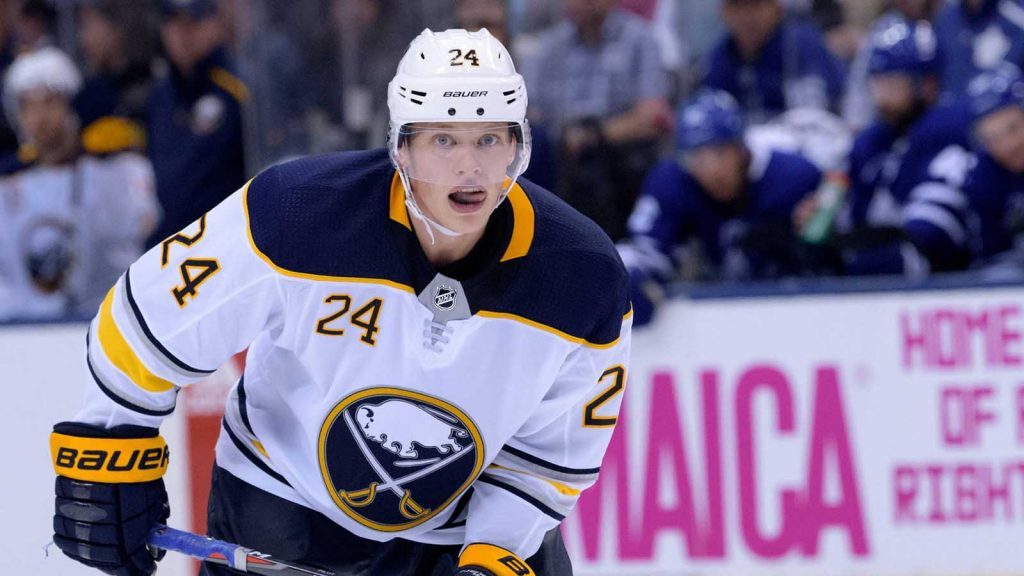 Photo: Julian Avram/Icon Sportswire
Lawrence Pilut, D, Rochester Americans (Buffalo Sabres)
Joining Brännström is another HV71 alumnus in Pilut.
Buffalo management probably could have justified keeping Pilut on the NHL roster coming out of training camp, but they opted for a more conservative approach amid an organizational rebuilding project.
The Sabres landed Pilut, 22, fresh off him winning the SHL Defenceman of the Year award last season after he was 8-30-38 across 52 regular-season games. He signed a two-year contract with the Sabres, so both sides have time as he works to advance to the NHL.
Rochester has a deep blue line, but do not be surprised to see Pilut, who had 2-15-17 in his opening 12 AHL games, to make a strong push for NHL work later in the season.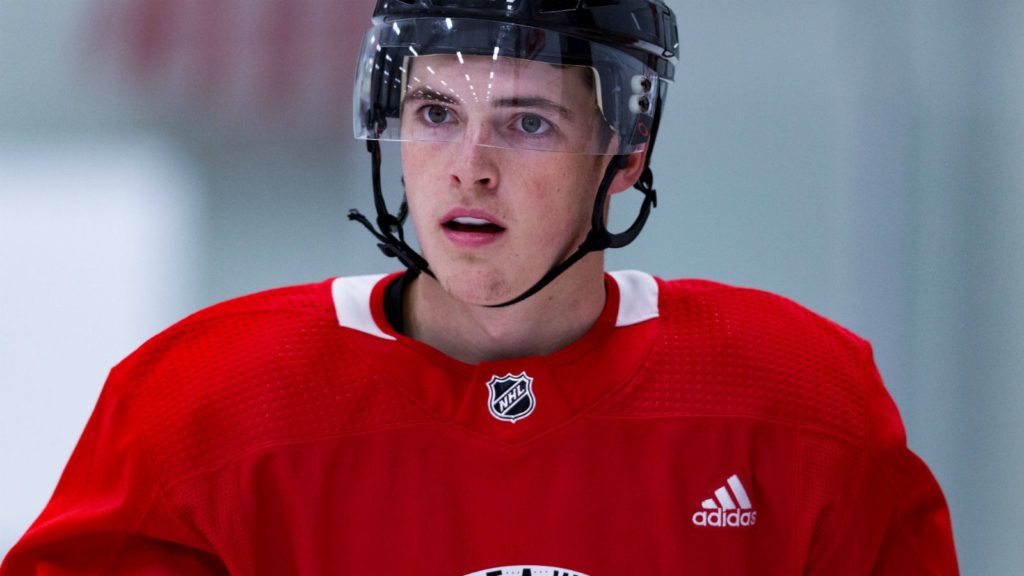 Photo: Richard A. Whittaker/Icon Sportswire
Drake Batherson, F, Belleville Senators (Ottawa Senators)
November 12th was a very good day for the 20-year-old Batherson and managed to what had already been an excellent weekend.
The AHL had named Batherson the CCM/AHL Player of the Week. A few hours later, Ottawa gave him his first NHL recall.
After all, Batherson all but forced Ottawa's hand. In a two-game weekend home series against the North Division Toronto Marlies, Batherson piled up seven points (2-5-7), including a six-point performance (1-5-6) in a 7-6 win on November 9th.
Batherson, 20, departed Belleville ranked second in AHL scoring with 7-13-20 in 14 games.
Now the question will become how permanent he can make himself in Ottawa this season. With a sluggish start to the season in Ottawa and all sorts of speculation about the organization's personnel, can Batherson win a full-time spot in Ottawa. Or does Ottawa management decide to let him mostly remain in Belleville, where he can further refine his game playing for new head coach Troy Mann?
Either way, it is clear that Ottawa seems to have maximum round for a player who was a fourth-round pick in the 2017 NHL Draft, and some bright news is something that the organization needs right now.

Photo: Richard A. Whittaker/Icon Sportswire
Henrik Borgström, F, Springfield Thunderbirds (Florida Panthers)
Much more goes into creating an efficient and successful atmosphere for player development than merely drafting well.
Long an organizational weakness, the Panthers overhauled their AHL roster in the offseason and brought in several AHL veterans to provide leadership and depth along with their proven abilities.
That has paid off in the Atlantic Division standings for the Thunderbirds, and it should benefit an AHL rookie like the 21-year-old Borgström as well.
Having invested a first-round pick in Borgström, the Panthers need him to succeed. So far, so good, for a player who played two NCAA seasons at the University of Denver before turning pro.
He piled up 52 points (23-29-52) in 40 games last season in college hockey and was a Hobey Baker Award finalist. That production is continuing in the AHL, where he went 4-8-12 in his first 11 AHL games, and his work has helped to fuel one of the top power-play teams in the AHL.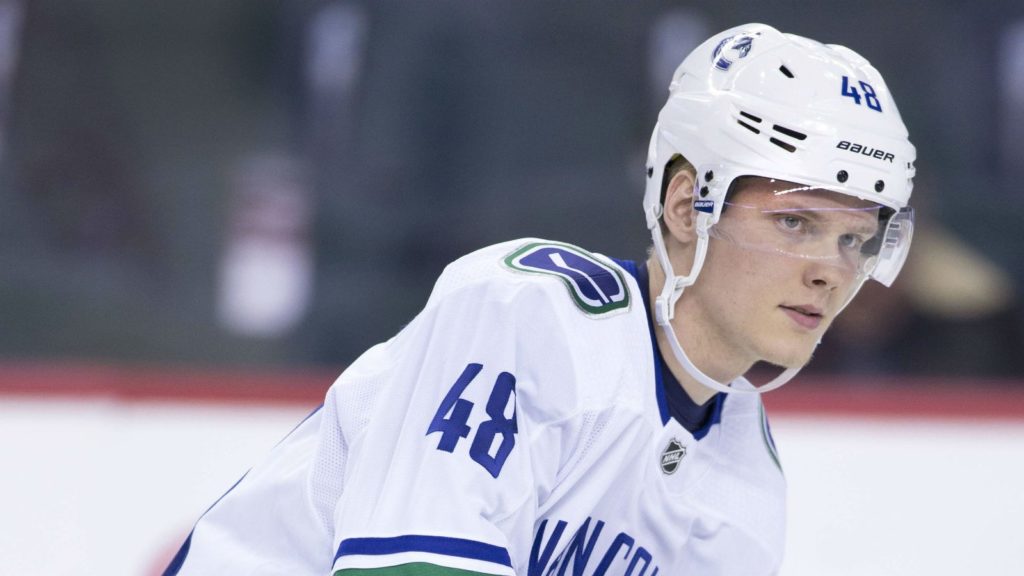 Photo: Larry MacDougal
Olli Juolevi, D, Utica Comets (Vancouver Canucks)
More minutes, more games, and a heavy workload for this fifth overall pick in the 2016 NHL Draft.
Juolevi was not eligible for AHL play last season, but with TPS there was an opportunity to jump into the pro game at age 19.
This season a key objective will be to adjust to life as a blue-liner in the North American pro game and to deal with a grinding schedule. For Juolevi, who played 38 regular-season Liiga games with TPS last season, the Comets play a 76-game regular-season.
The Canucks also have forward prospect Jonathan Dahlén stationed in Utica, where he will have a similar opportunity to take on the AHL schedule.
Not all that surprisingly, Juolevi has handled the offensive side of the puck well with the Comets (1-14-15 in his first 11 AHL games). As with so many young defenders, the real test for him in the AHL as the games accumulate will be to handle both sides of the puck.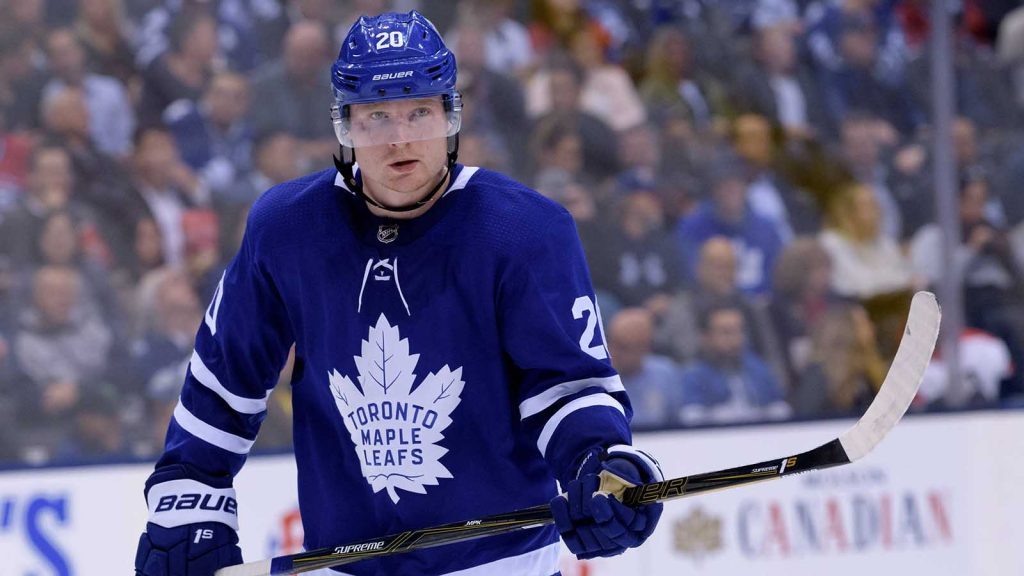 Photo: Julian Avram/Icon Sportswire
Carl Grundström, F, Toronto Marlies (Toronto Maple Leafs)
Grundström had excellent timing last season.
After a 17-goal season in the SHL for Frölunda HC, he made his way to Toronto as the AHL regular season was coming to an end. He continued on with the Marlies and formed a line with Miro Aaltonen and Andreas Johnsson that could take over games at times. His AHL postseason finished with 8-6-14 numbers for the Marlies, who became the first Leafs affiliate to win the Calder Cup since 1982.
Back for more in the AHL this season, he put up 5-6-11 in his first 10 AHL games. Strong at 6'0" and 194 pounds and willing to hunt for loose pucks in tight areas, he should be pushing for a job
The Leafs have built one of the top prospect pools in recent seasons, and a 2016 second-round pick like Grundström could be another success story.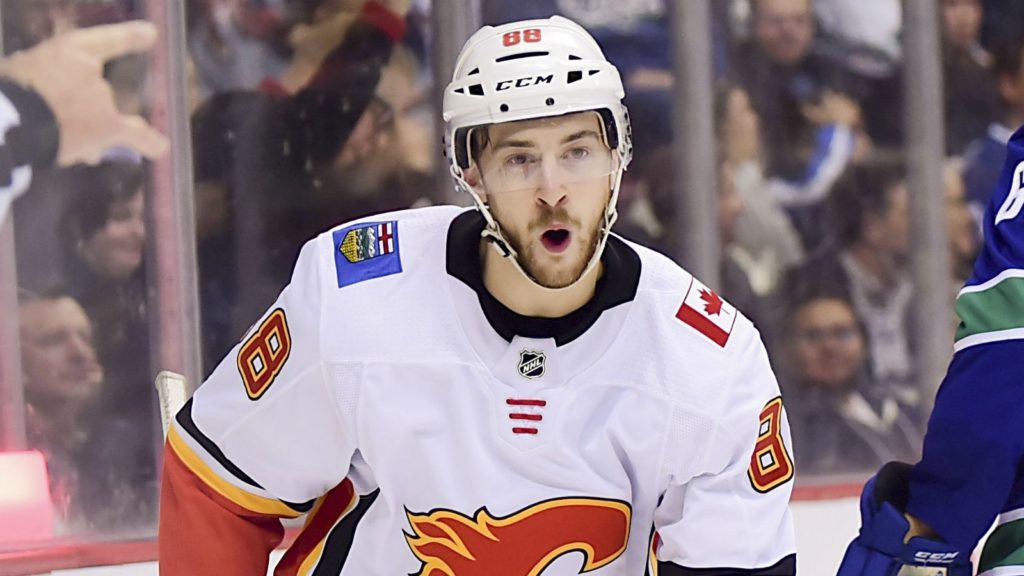 Photo: Anne-Mari e Sorvin-USA TODAY Sports 
Andrew Mangiapane, F, Stockton Heat (Calgary Flames)
There is a dynamic that is always present around the AHL.
First-round picks have to prove that the cannot play in the NHL. Players who are drafted late or are not selected at all have to show – often several times – that they are capable of playing in the NHL.
Put Mangiapane in that second group and add shoulder surgery last season as another obstacle for the 22-year-old. Mangiapane had back-to-back seasons in the OHL with 100-plus points, including a 51-goal season for the Barrie Colts in 2015-16.
His shoulder injury ended his 2017-18 season early, but he did manage to score 21 goals in 39 AHL games and play his first 10 NHL games for Calgary. He plays a hard-nosed, tenacious game at 5'10", 183 pounds,
Stockton has had slow start, but Calgary management did put together a strong AHL roster.
Having recovered from the shoulder problem, Mangiapane has rolled up 5-7-12 in his first 11 AHL games of the season and continues to assert himself as a candidate for an NHL recall.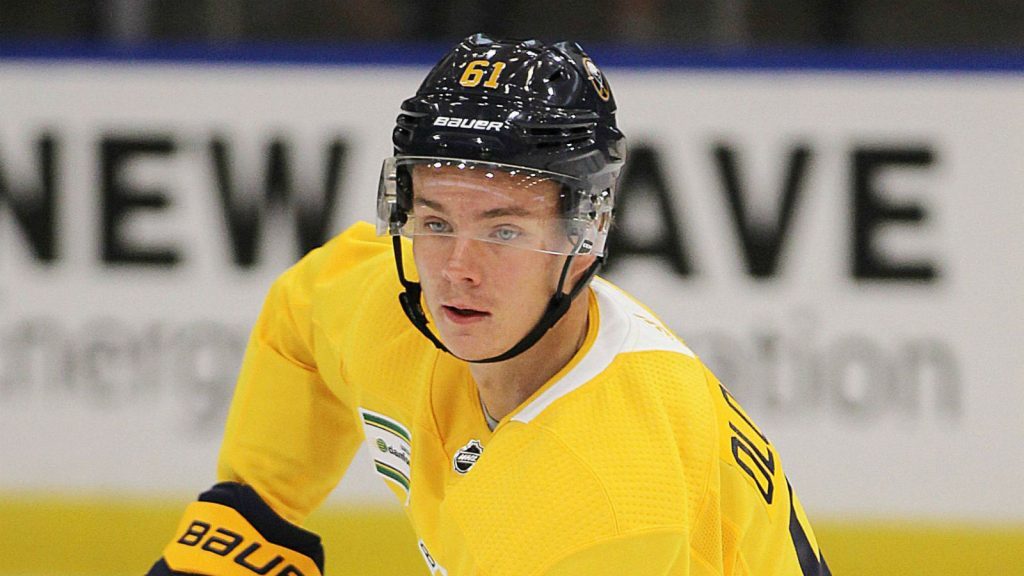 Photo: Jerome Davis/Icon Sportswire
Victor Olofsson, F, Rochester Americans (Buffalo Sabres)
When the Sabres brought in Jason Botterill from the Pittsburgh Penguins in 2017 to become their new general manager, AHL development success was one of their prime objectives.
Botterill had played a key role in overseeing the successful talent pipeline that the Penguins built between Pittsburgh and Wilkes-Barre/Scranton. The Penguins had a knack for finding talent later in the NHL Draft or that went unsigned and converting it something productive.
Now Botterill's job is to do the same in Western New York.
One of the holdovers from the previous management regime is Olofsson, a 2014 seventh-round pick. But it will be the job of Botterill and Rochester head coach Chris Taylor to help to convert that pick into NHL success.
Olofsson, 23, arrived from Frölunda HC, and the Sabres knew that he could score in the SHL, where he had 27 goals in 50 regular-season games last season. Now they know that he can produce offensively in the AHL as well. He put up 6-10-16 in his first 13 AHL games for what is looking like it will be a very deep Rochester team.
If Olofsson can polish his game and become a more complete player, the Sabres should have a success story.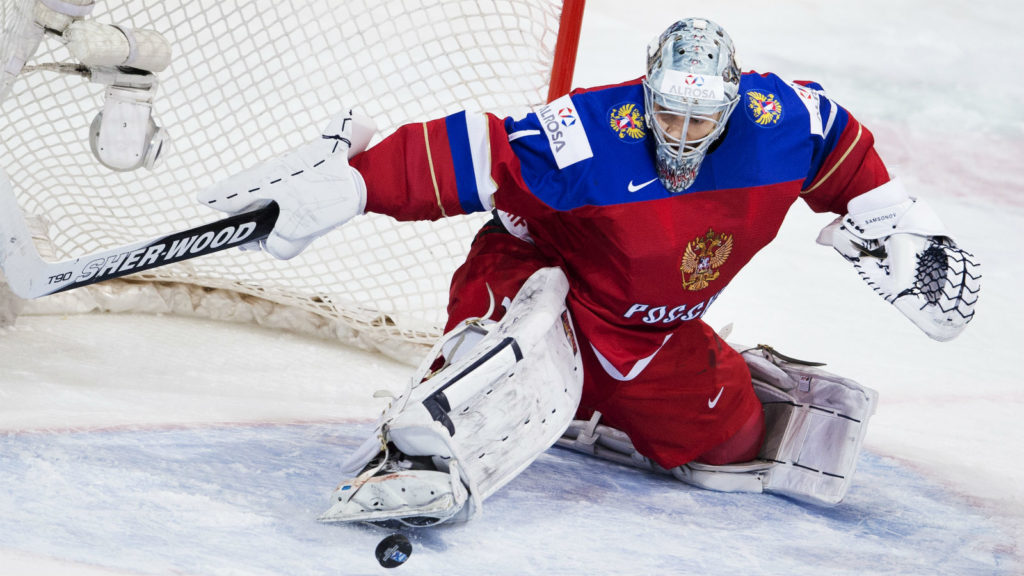 Photo: Bildbyrån/Joel Marklund
Ilya Samsonov, G, Hershey Bears (Washington Capitals)
Chosen by the Capitals as the 22nd pick in the 2015 NHL Draft, Samsonov is packing a lot into his first month as a North American pro.
At age 21, Samsonov brought a long list of accomplishments with him from the Kontinental Hockey League to the place that they call "Chocolatetown," where the Bears are beginning their 81st AHL season. He won the Gagarin Cup with Metallurg Magnitogorsk in 2016 and had established himself as a dominant KHL goaltender.
However, with a new head coach in Spencer Carbery, seven players debuting in the AHL, and massive offseason turnover as Washington overhauled its AHL affiliate, Samsonov has also seen a lot after making the move to Pennsylvania.
There have been challenges, including the adaptation to North America and battling the language barrier.
On the ice, the Bears started the season by losing their first five games. They have largely recovered from that start, but they face life in the always-competitive Atlantic Division. It has not been any better for Samsonov, either. Through his first eight games, he went 3-5-0 | 3.73 | .875 and allowed seven goals in a road loss to the Syracuse Crunch on November 11th.
Still, there is some very good news for Samsonov, despite the early troubles.
First, with Braden Holtby in net in Washington, the Capitals are not in any need to rush Samsonov.
Second, even the likes of Holtby, Pekka Rinne, and a slew of other top goaltending prospects have struggled in the AHL. Goaltenders take time, especially those making the adjustment from European rink dimensions and styles of play.
Finally, another prospect in Vitek Vanecek has provided the Bears with reliable goaltending. Vanecek's stellar play on a seven-game road trip in October prevented the Bears' season from starting any worse than it already had. With Vanecek there, Samsonov can have the time that he needs to make this adjustment.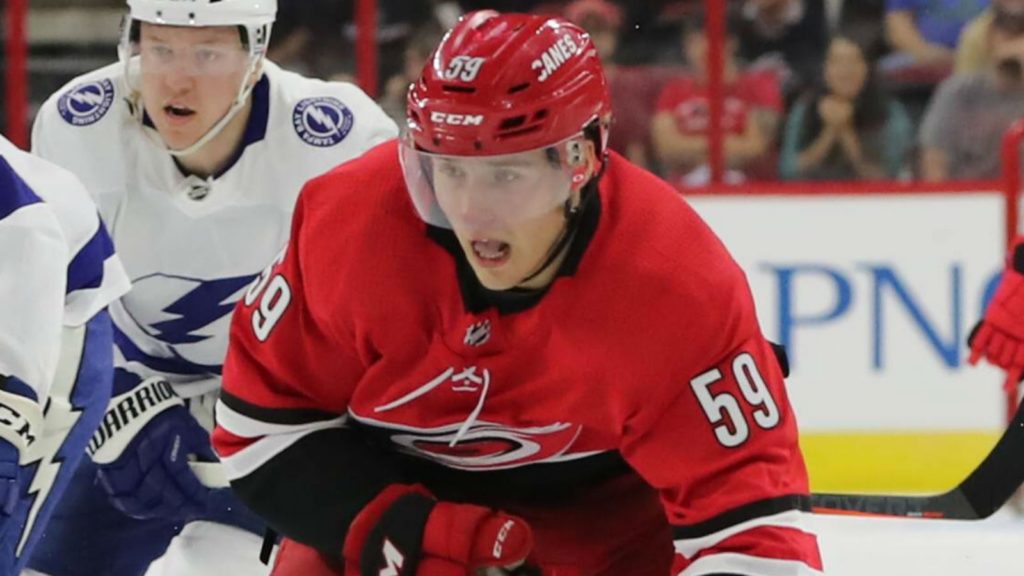 Photo: Jaylynn Nash/Icon Sportswire
Janne Kuokkanen, F, Charlotte Checkers (Carolina Hurricanes)
The Hurricanes have quietly built an impressive base of young prospects recently.
Kuokkanen, 20, is a big piece of that group for the Hurricanes, who selected him in the second round of the 2016 NHL Draft.
After an impressive rookie pro season in Charlotte as a 19-year-old (11-29-40 in 60 regular-season games), Kuokkanen produced 7-9-16 in his first 14 games of the AHL season.
Joining Kuokkanen in Charlotte is fellow Finnish forward Saku Mäenalanen.
Mäenalanen's journey to North Carolina has been a longer one. Drafted in the fifth round of the 2013 NHL Draft, he stayed in the Liiga with Kärpät for five seasons and won two championships before going to North America.
After going 17-29-46 in 59 regular-season games and having a stellar postseason that ended with a championship, the rangy 24-year-old Mäenalanen is handling the AHL well, Through his first 13 games, he went 4-6-10 for a Charlotte team that has throttled the AHL over the first month of the season.
This article is about: