NHL Entry Draft 2019
TOP 10 – WHL: After a sombre year, "the Dub" is loaded with talent
What a difference a year can make.
Just two players became first round picks from the Western Hockey League in the 2018 NHL Draft six months ago — Ty Smith (No. 17; New Jersey Devils) and Alexander Alexeyev (No. 31; Washington Capitals) — the lowest figure this decade. Only two more were nabbed in the second round, and five split between the third and fourth rounds. In all, 20 were nabbed from the WHL in 2018, the lowest figure since 24 were taken some 12 years earlier in 2006.
The league will certainly be a lot busier in 2019.
As many as eight players out of the WHL could find themselves onstage in the first round of the 2019 NHL Draft on June 21.
Here are some of the names you need to know.
Kirby Dach, C, Saskatoon Blades, 6-4, 200
Dach, selected second overall in the 2016 WHL Bantam Draft and a standout for Canada at the Hlinka Gretzky Cup in August, is a high-end multi-faceted skill player who can play either a power game or a finesse game, depending on the mood and pace of his shift. He's a fantastic playmaker with elite vision and has a shot that makes him an equal threat at distributing the puck or simply firing it on net himself. His hands are another important element to his game, using strong stickhandling skills, coupled with that frame, to move around the offensive zone. Dach skates well for a player his size, making him an intriguing package. His start has backed that as well, contributing 32 points (11 goals, 21 assists) in 19 games for Saskatoon.
Dylan Cozens, C, Lethbridge Hurricanes, 6-3, 180
Cozens, who could become just the third player born in the Yukon to suit up in the NHL, is another big-bodied center from the WHL who has impressive skating for a player his size. When barreling through the neutral zone, he's near impossible to contain with his combination of speed, size and puck protection skills. Cozens, who has so many impressive qualities and tools at his disposal, has that elite vision that impacts the game not only at the offensive end of the ice but the defensive end, too. His anticipation and understanding of how a play is developing are impressive, as is his ability to subtly adjust his approach to tilt the ice for his team. He's an intriguing package that has produced 21 points (eight goals, 13 assists) in 16 games.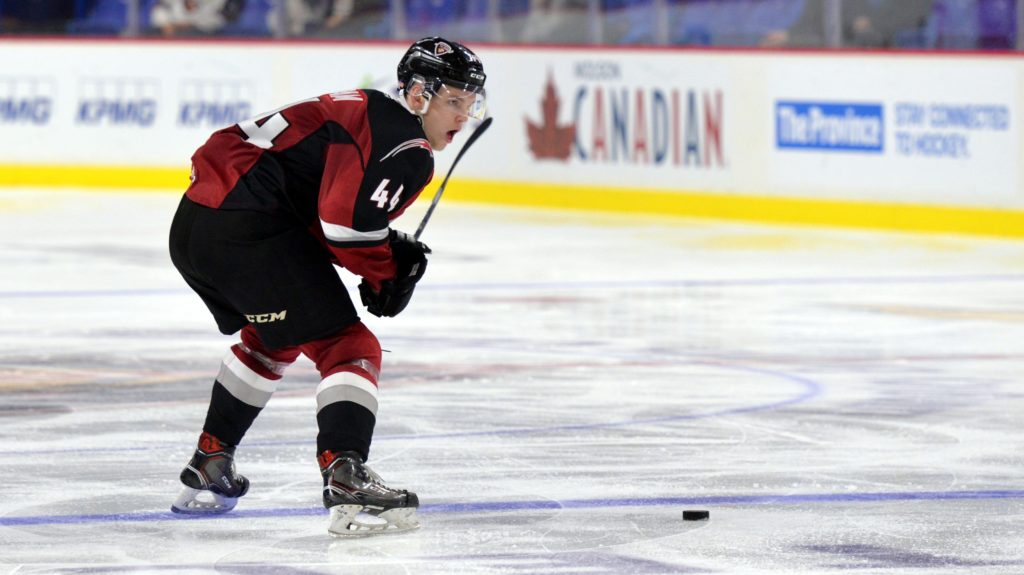 Photo: Doug Westcott
Bowen Byram, D, Vancouver Giants, 6-1, 195
Byram, whose father Shawn Byram skated in five NHL games over a lengthy professional career, is an elite offensive-minded defender who, when on, has game-changing ability. He's a tremendous skater who can beat opponents with speed. He can also slow the play at will, creating new opportunities and lanes with deception. The offensive ability of Byram outweighs the strides he needs to take in his own end, including improving his spatial awareness and attention to detail. His vision is exceptional, and in trusting his offensive instincts he finds most of his success. Byram, the top draft-eligible defenseman in 2019, has 14 points (five goals, nine assists) in 17 games.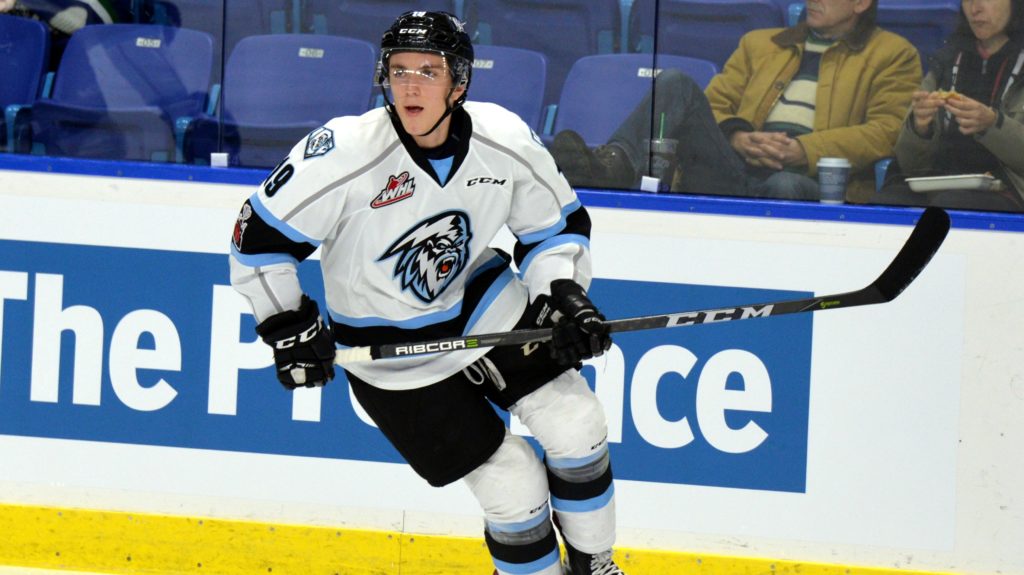 Photo: Doug Westcott
Peyton Krebs, C, Kootenay Ice, 5-11, 180
Krebs, the top pick in the 2016 Bantam Draft and a well-decorated minor hockey player, is almost forgotten with the amount of high-end depth available out West this year. He's a good skater who plays with a great pace to his game, able to make quick-decisions because of his offensive instincts and ability to dissect a play as a result of that high hockey IQ. Krebs has the ability to create something out of nothing with his thinking. He's not shy to engage physically, and not shy to handle any of the heavy lifting and take charge in any zone. He's done a lot of that lifting offensively, to the tune of 23 points (six goals, 17 assists) in 18 games.
Matthew Robertson, Edmonton Oil Kings, 6-3, 200
Robertson, whose family served as billets for former Oil Kings defenseman — and No. 4 pick in the 2012 NHL Draft — Griffin Reinhart, is a big, but mobile, blueliner that is very fluid on his skates. Robertson is deceptively quick and can cover a lot of space in his own end with that ability and his reach. He's smart, too, which aids him at both ends. Robertson won't blow the doors off offensively, but he has the tools to help provide a second wave. His skating helps alleviate pressure in his own end and move pucks up ice, as does his ability to deliver outlet passes up ice. He's a puck-mover, no doubt, who has 11 points (two goals, nine assists) in 15 games.
Nolan Foote, LW, Kelowna Rockets, 6-4, 190
Foote, whose father Adam enjoyed a standout, 1154-game NHL career and whose brother Cal was the No. 14 pick in the 2017 NHL Draft, comes from impressive bloodlines. The work ethic is there, too. Improvements to his skating have allowed Foote to evolve from a simple shooter into more of a dynamic offensive threat for Kelowna. Foote, who is in his third season in the WHL, has emerged as more of a power forward and sniper, pushing his way to the net with purpose. He can find dead areas in coverage to unleash his shot as well. Foote, who plays a more cerebral game than he's typically given credit for, has 15 points (10 goals, five assists) in 15 games.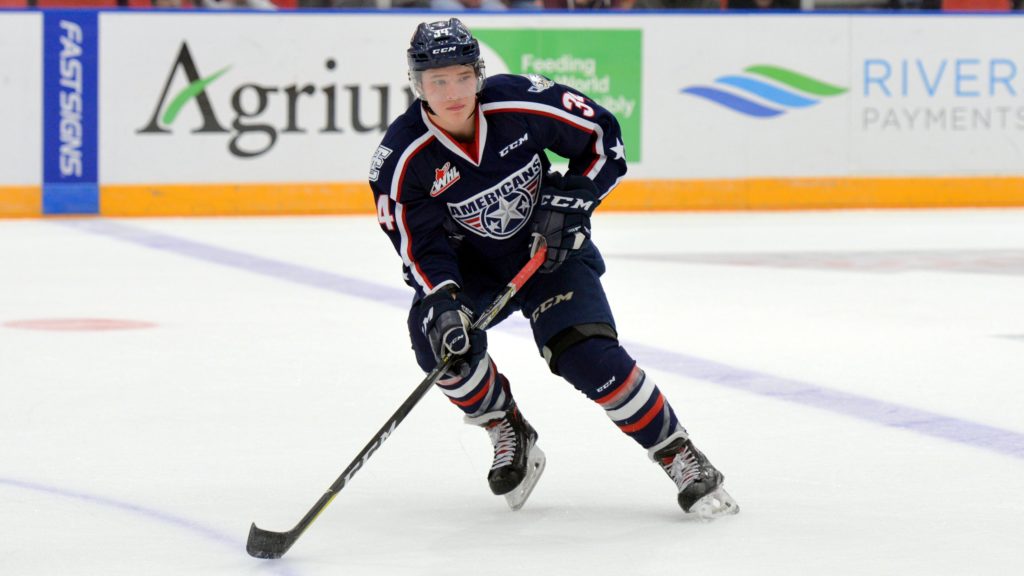 Photo: Doug Westcott
Sasha Mutala, RW, Tri-City Americans, 6-1, 195
Mutala, an assistant captain in his second season with Tri-City, doesn't have quite the high-end offensive upside that other highly-ranked eligibles from the WHL possess in this draft class, but his overall game has certainly drawn attention. There isn't a significant amount of flash in his skills, but he's able to generate chances with his hockey IQ and ability to use both his shot and passing ability to impact a play. Mutala isn't solely a shooter, nor is he solely a playmaker, allowing a bit of unpredictability to his efforts. He recognizes the play very well, allowing for good decision-making in evaluating his options. Seemingly, he's in the right spot at the right time more often than not. His 13 points (four goals, nine assists) help attest to that.
Kaedan Korczak, D, Kelowna Rockets, 6-3, 190
Korczak, who represented Canada at the Hlinka Gretzky Cup in August, is an impressive blueliner with plenty of efficiency to his game. He's a game manager more than a game-changer with his ability to play at both ends of the ice with few glaring weaknesses about him. Korczak is a strong skater who is mobile enough to break pucks out of his own end. He's smart enough to recognize when to push the puck up the ice with his passing ability. He's simply steady and consistent all over the ice. A calming influence, Korczak has 13 points (two goals, 11 assists) with the defense-factory that is Kelowna.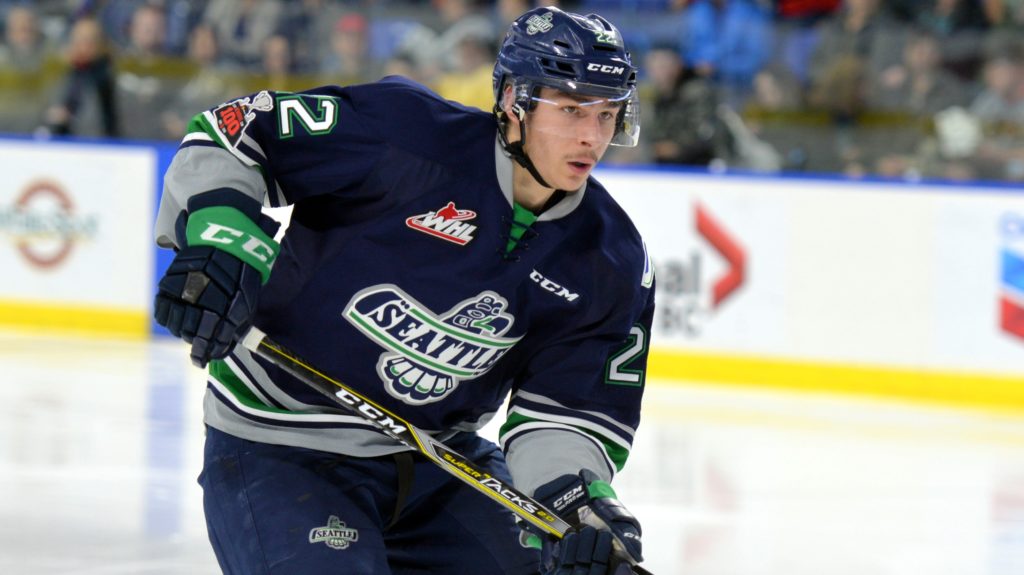 Photo: Doug Westcott
Dillon Hamaliuk, LW, Seattle Thunderbirds, 6-3, 200
Hamaliuk, who doubled as AMHL and WHL champion in 2017, has the makings of a two-way power forward with a strong, all-round game. He's shown great strides in his development of late and, as one of the draft's older eligibles, has made one of the bigger impacts in the WHL this season. Hamaliuk keeps his game simple, fashioned in the north-south mold, but simple doesn't mean without skill. He has the ability to go through opponents with his size or stickhandle around them with his quick hands. His skating doesn't look dynamic, but Hamaliuk is deceivingly effective in his ability to overcome opponents. His prowess is there, with 18 points (eight goals, 10 assists) in 13 games.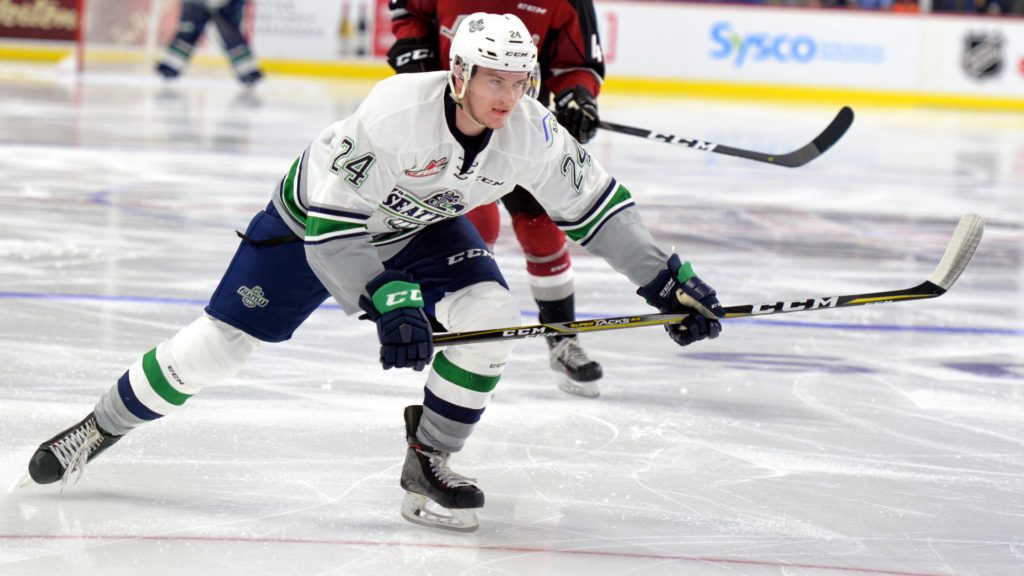 Photo: Doug Westcott
Jake Lee, D, Seattle Thunderbirds, 6-2, 215
Lee, the No. 18 pick in the 2016 Bantam Draft, is a savvy defender who flies a little under the radar. A jack-of-all-trades and master-of-none, he has no glaring weaknesses to his game and consistently makes smart plays when the puck is on his stick. He's a quality player at both ends of the ice, with defense being his strong suit. He has all the elements to shut down opposing players, including great anticipation. When he does have the ability to move things the other way, Lee has great counterattacking skills. From the blue line, Lee has 14 points (two goals, 12 assists) in 15 games.
This article is about: