Column
SIBNER: Where have all the flowers gone?
Peter Sibner
Last season, not a single NHL head coach was fired. So far this month: four.
When it rains, it pours. We could have another coach or two hit the unemployment agency before we even get through November.
Remember, bad weather still looms all over the continent. Thick layers of clouds are still soaking most of Pennsylvania, as heavy winds continue to disturb mating season for the ducks of Southern California.
On Tuesday, the Edmonton Oilers decided to let Todd McLellan go. Their solution is Ken Hitchcock, and… Well, I don't know.
"You win a couple of games and you're back in it. I just felt it was time", Oilers GM Peter Chiarelli said of firing Todd McLellan.
Hockey is strange. They beat the Sharks later that night and it may put them back on track for a while. And of course, a good run or two could be enough to snatch third place in the Pacific this year.
Being an NHL coach is a tough job, we all know that. Todd McLellan will now have to spend the rest of the winter playing golf in Arizona or whatever it is NHL coaches do to lick their wounds. Or, he may have a new job in California or Pennsylvania in a few weeks. Anyway, I think it's fair to say he's done about as much as anyone could do with the cards at hand in Edmonton. On the other hand: it is also a fair argument to say that he hasn't been able to create an environment where young, talented players could thrive. Physical yet slow pieces like Milan Lucic and Zack Kassian got to play, while Kailer Yamamoto and Jesse Puljujarvi sat in the press box. That probably won't benefit the Oilers in the long run.
But then again, Oilers management wants their NHL roster to be chasing a playoff spot, not develop talent.  And yes, the Oilers could still make the playoffs if things go well, any mishaps along the way and they probably won't.
I was in Edmonton a few weeks ago. Great place! People are so friendly, they've got a lot of good bars and restaurants, the arena is awesome and they also have no rats. But they do have a lot of great fans. And as Ken Hitchcock steps up behind the bench at Rogers Place as the seventh Oilers coach in nine years, all these win-starved yet hopeful and wonderful people will again wonder: is he the answer?
They will also wonder: why the hell aren't we better?
And it is a fair question.
Since 2010, the Oilers have had four number one draft picks. One became league MVP with New Jersey last season, another is now a third-liner in Russia. They've had a total of ten first-round picks. Only five of them wore blue, white and orange in San Jose on Tuesday.
The Oilers have been at the bottom of the standings for most of these nine years, thus having the opportunity to pick a grand total of 15 players who were all among the 40 best in their class.  Connor McDavid and Leon Draisaitl were obviously great draft picks, but then again: a child could have figured that out. More troubling: they've gotten a grand total of 39 points from all other players they've picked since 2014, of which 29 comes from 2016 fourth overall pick Jesse Puljujarvi. Who was recently demoted to the Bakersfield Condors. Again.
Of course, hindsight is a luxury when evaluating draft performance. All NHL teams make mistakes and miss out on a stud to be, it happens all the time. But the Oilers seem to have done that a lot.
By using the "Draft Center" and "My Roster" tools at EliteProspects, I decided to take a look at how the current Edmonton Oilers roster could have looked if they had made better choices at the draft since 2010. The players on this list were all either 1) picked by the Oilers, 2) picked by others after the Oilers made their pick in that same round or 3) picked in the next round within 10 picks after the Oilers pick in the previous round.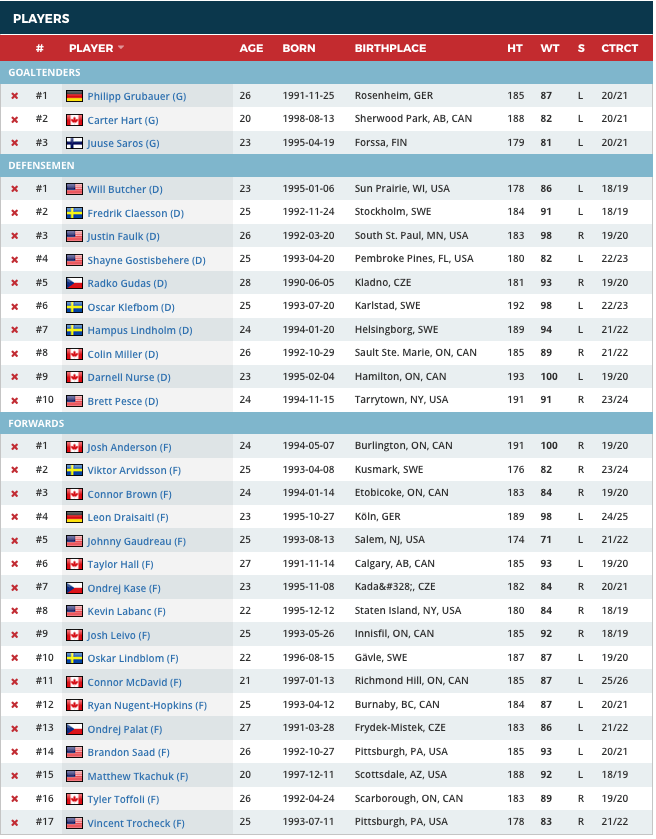 This would of course blow the cap all the way to hell. But still. Mesmerizing, ain't it?
However, talent management is so much more than just picking the right player. It's also a matter of making sure all those teenagers you pick actually turn into capable NHL players a few years down the road. And it's probably in this aspect the Oilers have failed the most. What happened to all that talent?
For comparison, let's look at the Nashville Predators. Three-quarters of their state-of-the-art Top 4 D corps was picked up in two consecutive drafts. Roman Josi at #38, Mattias Ekholm at #102 and Ryan Ellis the next year at #11. To add a few forwards to my example, they got Craig Smith at #98 and Colton Sissons at #50.
What do these players have in common?
First of all, they stayed with their junior/college teams or European pro clubs for at least two more years after being drafted. Josi, Ellis and Ekholm all got some 60 games each for Milwaukee in the AHL. They all became NHL mainstays around the age of 22, at which point Edmonton had already started giving up on or failed to make NHL players out of equivalent picks such as Erik Gustafsson, David Musil or Mitch Moroz. Even Nail Yakupov, who was a better NHL player at 19 than he was at 22. It does say something about the individual, but shouldn't it also say something about what happened to him?
In one draft year in 2009, the Predators picked up players currently listed at 950 games played for Nashville in the fourth round alone. Only one player drafted by Edmonton before 2011 is still on the team. Kyle Brodziak.
Last week, the Oilers traded Ryan Strome to the Rangers for Ryan Spooner. Both players had a grand total of two points to start the season and haven't yet scored for their new teams. In essence, the Oilers gave away Taylor Hall and Jordan Eberle for Adam Larsson and Ryan Spooner. All the other Western Conference GM's should chip in and buy Chiarelli something nice for Thanksgiving.
Of course, the core of today's Edmonton skaters is Connor McDavid, Leon Draisaitl, Ryan Nugent-Hopkins, Oscar Klefbom, Darnell Nurse and Adam Larsson. Five of them drafted by the Oilers, one of them traded for. (Don't mention The Trade. I mentioned it once but I think I got away with it). The quality of that core isn't really a problem. The problem is that beyond this core, things don't seem to really cultivate the way they should.
And that's exactly where talent management comes in. Being successful in constantly putting good players on your third and fourth line. Having the luxury of healthy competition for spots throughout your roster, and even have some of that spill all the way down to the AHL. That's what the Detroit Red Wings did through much of their stint as a perennial contender. That's what made Nashville or Tampa Bay the powerhouses they now are. That's what the Toronto Maple Leafs finally seems to have accomplished, after decades of failing miserably. That's why you bother with a meticulously coached and analyzed and scrutinized AHL program, that is why you put dozens of scouts on the job to watch players from all corners of the world.
The Oilers haven't been very good at it. I don't think putting Scotty Bowman or even Gordon Bombay behind the bench could change that.
Still, there's hope. The Oilers just have to get back to their roots. I mean, they were once really good at it. The best, actually.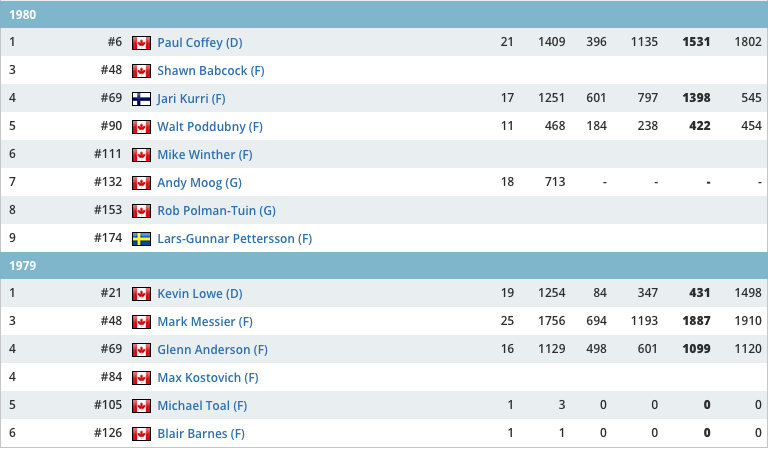 This article is about: