NHL Entry Draft 2019
TOP 10 – USHL: The Jack of all trades – a bonfide star
USA Hockey's National Team Development Program is a force for developing NHL Draft talent.
The 2019 NHL Draft is poised to be no different, with the NTDP dominating the list of prospects available from the United States Hockey League.
It should come as no surprise.
Five skaters — Brady Tkachuk (No. 4; Ottawa Senators), Quinn Hughes (No. 7; Vancouver Canucks), Oliver Wahlstrom (No. 11; New York Islanders), Joel Farabee (No. 14; Philadelphia Flyers), and K'Andre Miller (No. 22; New York Rangers) — were all nabbed as first round picks last June.
This June should be just as fruitful for the NTDP, who have produced 310 NHL Draft picks since first eligible in 1999, including 72 first round picks. The NTDP dominates the United States Hockey League in terms of potential first round picks and is almost certain to improve upon their mark from 2018.
Here are some of the names you need to know.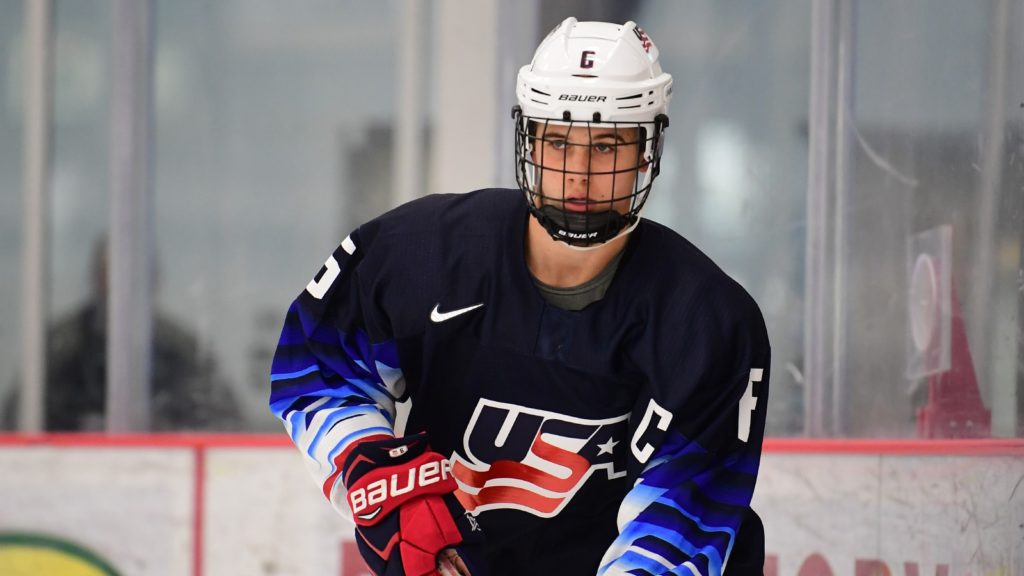 Photo: Dan Hickling/Hickling Images
Jack Hughes, C, US National U18 Team, 5-10, 170
Hughes, the runaway favorite for the first overall pick and the brother of Quinn Hughes — selected with the No. 7 pick in 2018, is as elite as they come in the 2019 class. His skating is all-world, both in stride and speed. It's coupled with elite vision and pure puck skills to create one of the best playmaking centers to come through the draft in the past few years. He's able to find teammates with passes most players don't see. Hughes doesn't stop working, either, with a strong attitude that helps compliment what is a dynamic skill set. He's a pure difference-maker in every facet of his offensive game. Not surprisingly, Hughes has 20 points (three goals, 17 assists) in 14 games with the NTDP, and eight points (one goal, seven assists) in USHL competition.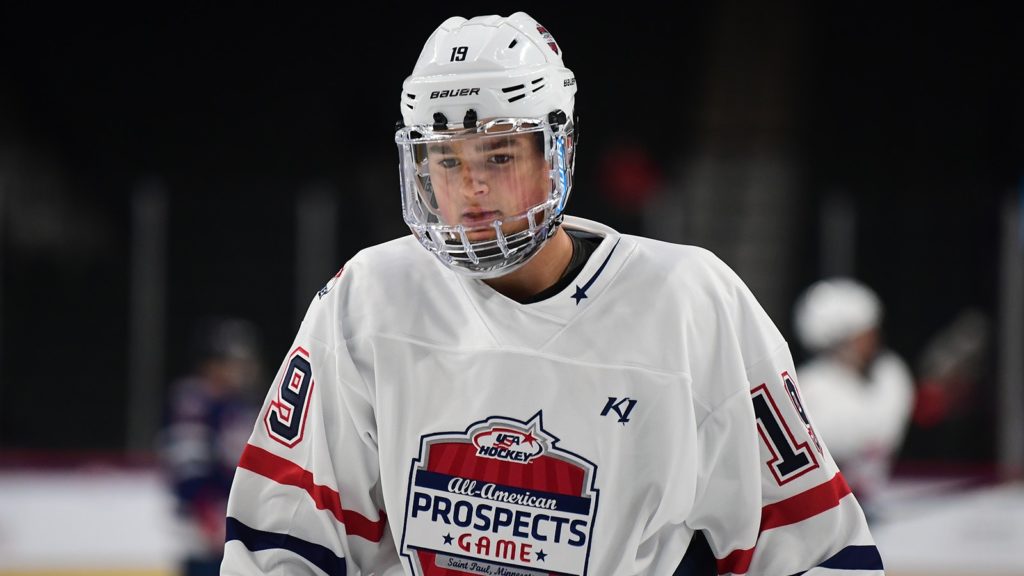 Photo: Dan Hickling/Hickling Images
Alex Turcotte, C, US National U18 Team, 5-11, 190
Turcotte, whose father Alfie Turcotte played 112 NHL games and represented the United States at both the World Junior Championship in 1984 and World Championship in 1986, is a high-end playmaking forward with plenty of tools at his disposal, and the toolbox to properly utilize his dynamic approach. He has high-end speed and matches it with an ability to draw defenders to him to open up space before dishing off pinpoint passes to open teammates. When he chooses to keep, he can beat defenders one-on-one. He can push the pace when desired, or he can slow it down to play multiple styles depending on what the shift calls for. Turcotte can also be effective in his own zone, too, utilizing that IQ to help dismantle plays as, and even before, they develop. Turcotte, who has battled injury so far this season, has two points (one goal, one assist) in three games with the NTDP.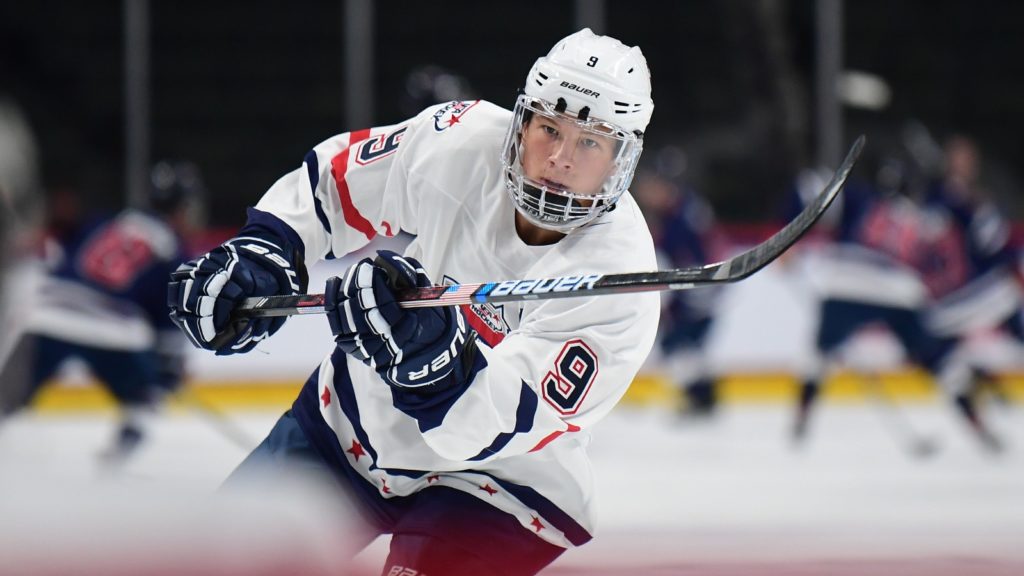 Photo: Dan Hickling/Hickling Images
Matthew Boldy, LW, US National U18 Team, 6-2, 185
Boldy, who was named most valuable player in the USA Hockey All-American Prospects Game in September, has been a sharp riser as far as his draft stock goes. His production, a result of his high skill, high compete level and high hockey IQ, has further backed that notion this season. Boldy can fulfill multiple roles, to his benefit. His skating, although not elite, doesn't hamper his ability to be effective on the ice. His puck possession game helps him in all areas of the ice, and his ability and instincts around the net have helped him to 18 points (12 goals, six assists) with the NTDP, and seven points (four goals, three assists) in five outings in the USHL.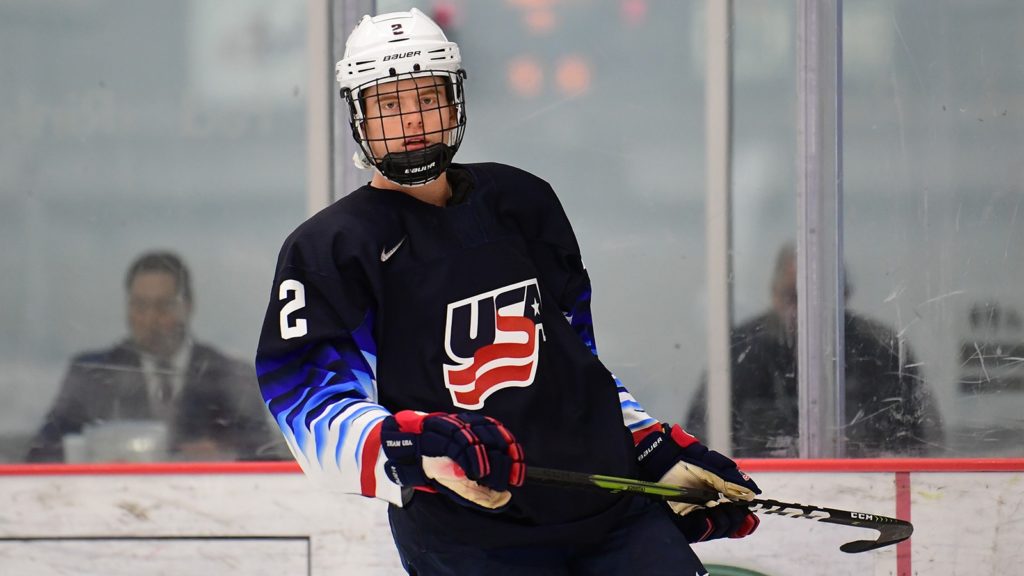 Photo: Dan Hickling/Hickling Images
Cam York, D, US National U18 Team, 5-11, 170
York, who helped the United States to silver at the 2018 IIHF World Under-18 Championship, is a transitional defenseman with some intriguing offensive tools. He maintains quality gaps and is able to apply stick pressure appropriately to forwards attempting to gain the zone, despite his smaller stature, but he's best known at the other end. York does an efficient job of retrieving pucks and moving them up and out of his own zone, whether it be with his legs or with his effortless passing game, aiding significantly in transition. He excels at reading plays as they happen, which also allows him to contribute positively on the offensive side of the puck. He has soft hands that aid him at both ends of the ice, and a quick shot that helps his offensive attack from the blue line. York has 14 points (two goals, 12 assists) in 14 games with the NTDP, and five assists in five games in the USHL.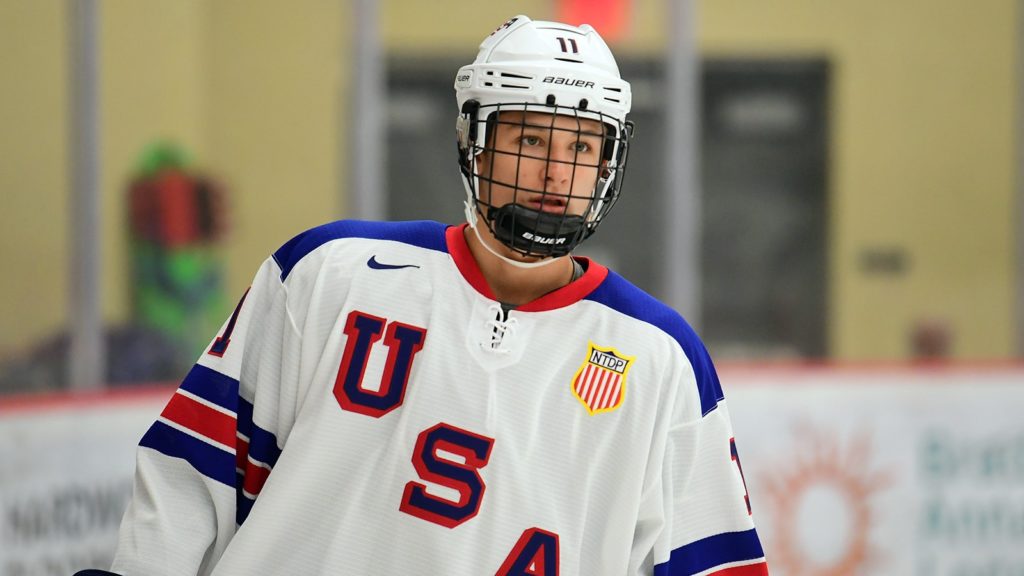 Photo: Dan Hickling/Hickling Images
Trevor Zegras, C, US National U18 Team, 6-0, 170
Zegras, who is committed to Boston University next season, has a dynamic offensive skill set and is one of the draft's best pure offensive talents. His combination of speed, vision, ability to move the puck, and his ability to keep it on his stick when attacking makes the 17-year-old a threat every time he crosses center ice. He remains engaged each shift, which helps keep the motor running. He senses plays as they develop and is able to distribute the puck to teammates accordingly. He attacks defenders while maintaining puck movement on his stick and, when the time is right, can pick corners with a deceptive shot. Zegras, who is still building on his frame, has shown his prowess to the tune of 20 points (six goals, 14 assists) in 13 games with the NTDP, and an additional eight points (two goals, six assists) in four USHL games.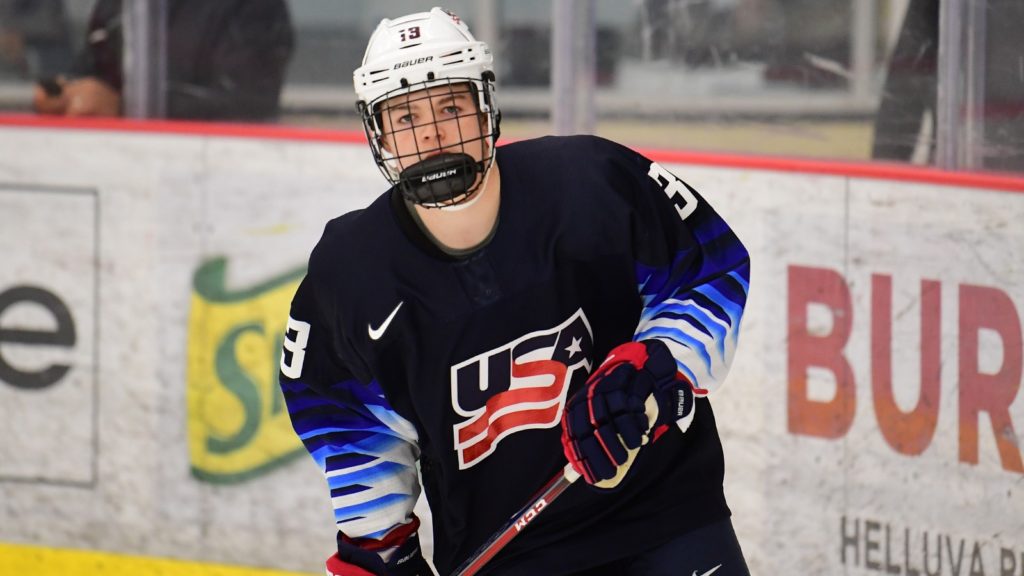 Photo: Dan Hickling/Hickling Images
Cole Caufield, RW, US National U18 Team, 5-7, 155
Caufield, whose father Paul was a standout with Madison in the USHL some 30 years ago, shapes up as one of the smallest first-round contenders in the 2019 draft class. His size hasn't hurt his ability to put the puck in the back of the net, though, the biggest trait from the small forward. His release is among the best in class, as are his offensive instincts. There are fewer questions surrounding Caufield's size in general, but rather the skills around his shot that can hamper a player of his stature. He has good lower-body strength, but isn't the fastest player on the ice. He can pass, but is far from playmaking consideration. Goals are Caufield's specialty, and he's turned in nine in 14 games with the NTDP this season, and added seven in five games against USHL competition.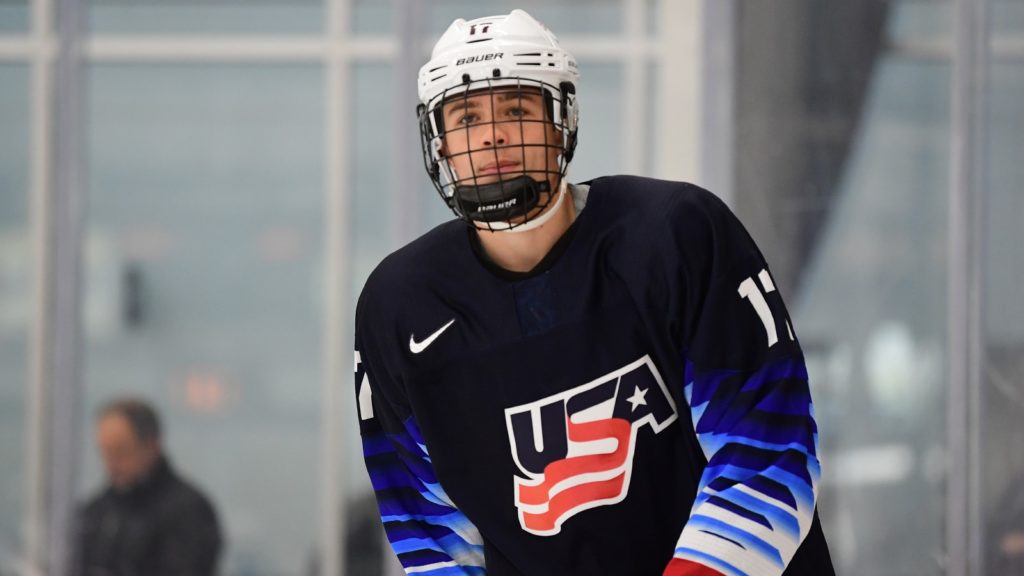 Photo: Dan Hickling/Hickling Images
John Beecher, C, US National U18 Team, 6-3, 200
Beecher, whose father Bill played lacrosse and golf at Elmira College and mother Natasha ran track and cross country at Union College, is a well-rounded pivot who boasts plenty of everything. His size is enviable down the middle, as is his ability to move around the ice despite his larger frame. There's nothing the 17-year-old can't do out on the ice, but rarely will he impress with an over-the-top, jaw-dropping play. Beecher is consistent in everything he does in his 200-foot game, which includes his strong stride, above-average puck-control, willingness to play in the dirty, physical areas of the game, and attention to detail. For his efforts, Beecher has nine points (one goal, eight assists) in 14 games with the NTDP, and four points (one goal, three assists) in four contests in USHL action.
Alex Vlasic, D, US National U18 Team, 6-6, 195
Vlasic, cousins to San Jose Sharks defenseman Marc-Edouard Vlasic, is a towering defenseman who offers a two-way blend to his game. The 17-year-old simply towers over most of his competition, but doesn't necessarily take on a pure shutdown role. He excels with his stick and maintaining proper gaps on opposing forwards, but isn't punishing when it comes to his style of play. Vlasic, for his size, can adequately move around the ice with a fluid stride, and relies on his reach, for the most part, to help compensate for any lapses. He's safe, but unspectacular, at most elements outside the offensive blue line, and inside, his best attribute is a booming shot. Vlasic has six points (two goals, four assists) with the NTDP this season, and an additional two points, both assists) in five games inside the USHL schedule.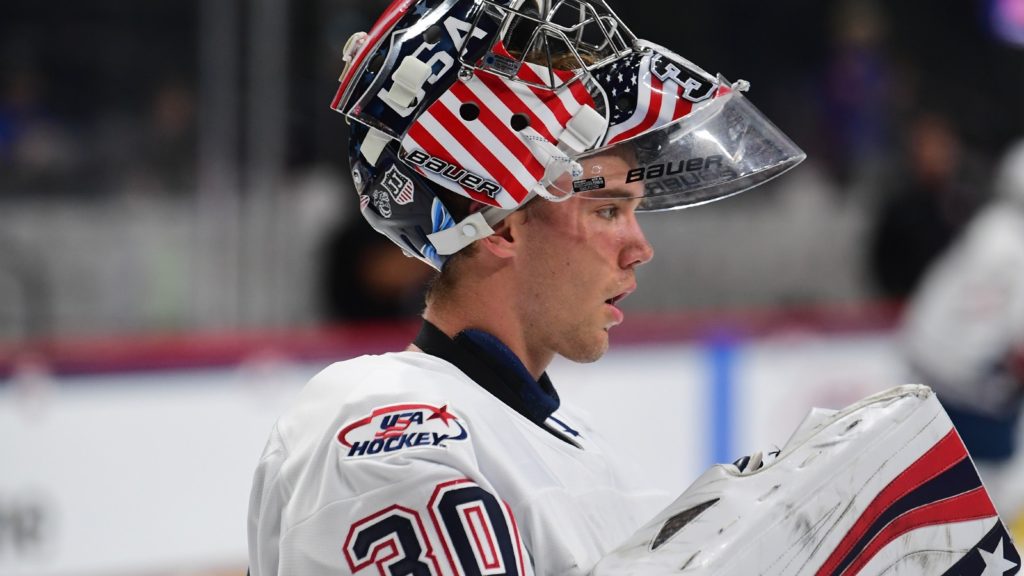 Photo: Dan Hickling/Hickling Images
Spencer Knight, G, US National U18 Team, 6-3, 195
Knight, regarded as the top draft-eligible goaltender in 2019, could become the 10th US-born goaltender to be selected in the first round of the NHL Draft. At just 17, he plays an incredibly polished game, moving in and around his crease in an almost effortless fashion. Mentally, Knight remains calm between the pipes, rarely allowing himself to get rattled. Physically, he has the tools that are ideal in a goaltender. His size is an obvious strength, as is his mobility. Technically, Knight plays a strong, stagnant style that shows calmness, rarely scrambling or overcommitting as a result. Knight, who could start for Team USA at the World Juniors, has a 2.42 goals against average and .925 save percentage with the NTDP, and a 2.73 GAA and .914 save percentage when facing USHL competition.
Marshall Warren, D, US National U18 Team, 5-11, 170
Warren, who is committed to Harvard next season, has the makings of a power play quarterback, and offensive defenseman, with his ability in the opposition's end. With the man-advantage, Warren shows a willingness to roam to create space and open up lanes. He has the ability to fire off a shot when he sees an opening, but is also content to play playmaker in the effort to open up teammates. At even strength, he doesn't shy away from joining the rush with his mobility to create a second wave and add confusion. He is susceptible to thinking too much one-way, leading to cramps on the defensive side of the puck. Some high-risk, high-reward efforts from Warren, who has three points (one goal, two assists) in eight games with the NTDP this season.
This article is about: