NHL Rookies
Heiskanen, Jokiharju herald the arrival of a new wave of Finnish defenders
Sweden produces great defensemen, Canada, USA and Russia produce the most skilled forwards and Finland is your go-to nation for great goaltenders. This has been the rule of thumb for years when discussing the talented young players entering the NHL from development programs around the world.
Naturally, there are exceptions. Few goalies can match Canadian-born goaltenders Braden Holtby and Carey Price in terms of individual acclaim. Americans Seth Jones and John Carlson are two of the best defenders in the league right now and Swedish rookie forward Elias Pettersson is just oozing with skill.
While the five (!) Swedish defenders that were selected in the first round of the 2018 draft – Rasmus Dahlin (1st), Adam Boqvist (8th), Filip Johansson (24th), Nils Lundkvist (28th) and Rasmus Sandin (29th) – offer a pretty clear indication Sweden is far from ready to renounce its title as the premier developer of great defenders, another European contender has been quietly sneaking up on them. A contender that has stayed dormant for quite a while, but one that is about to rear its head and belt out a triumphant roar… not unlike that of the proud lion that adorns their white and blue national jerseys.
In the 2012-13 season, the NHL featured a total of five Finnish defensemen. None played more than 46 games that season. Among the five, veterans Kimmo Timonen, Sami Salo, and Toni Lydman were winding down their careers, "youngster" Joni Pitkänen (29 years old at the time) suffered a career-ending injury after playing just 22 games and fresh-faced rookie Sami Vatanen appeared in eight games total.
It would be no exaggeration to call this a forgettable year for Finnish defensemen.
The following season saw some positive developments with Vatanen playing in more than half the Anaheim Ducks' games and 19-year old puck-moving rookies Olli Määttä (78 games with Pittsburgh) and Rasmus Ristolainen (34 games with Buffalo) both making their NHL debuts. 2013-14 turned out to be Sami Salos last season in the league, with Kimmo Timonen leaving the following year.
2014-15 saw defensive defender Jyrki Jokipakka join the mix, only to leave for the KHL a couple of seasons later. Petteri Lindbohm and Rasmus Rissanen both tried and failed to make their marks.
After a few lonely years of Ristolainen, Vatanen, and Määttä carrying the banner as the nations' only true top-four defensemen, 2016-17 once again represented a leap forward. Markus Nutivaara (Columbus) and Esa Lindell (Dallas) managed to gain permanent roster spots on their respective teams and Julius Honka (Dallas) showed promise in the 16 games he suited up for.
Then, in 2017-18, Ristolainen, Vatanen, Määttä, Lindell, and Nutivaara all scored 20 or more points in 60+ games, with Honka playing in 42 games.
Which brings us to our current situation.
The above mentioned "top five" – all still on the right side of 30 – are chipping away at their usual pace, but what really should have the blue and white faithful jumping up and down with excitement is the emergence of Miro Heiskanen (Dallas Stars), Henri Jokiharju (Chicago Blackhawks) and Juuso Välimäki (Calgary Flames). Mirroring the 2013-14 season when Vatanen, Määttä and Ristolainen were the ones turning heads, the current trio of youngsters have performed admirably thus far into the campaign. Jokiharju (ten assists) and Heiskanen (two goals, six assists) are both playing more than 20 minutes a night and could even find themselves contending for a Calder Trophy nomination should they pick up their point-scoring paces ever so slightly.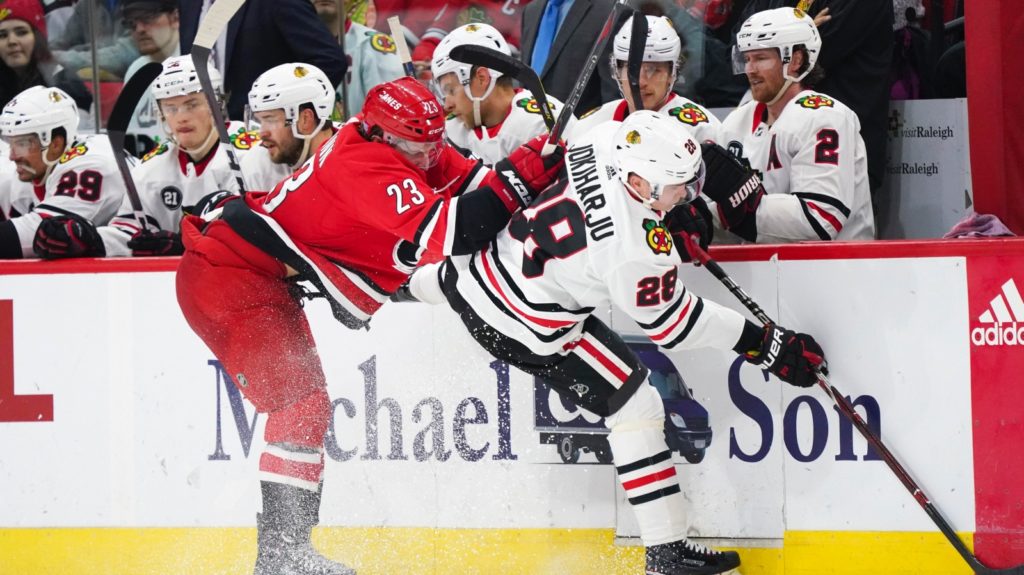 Henri Jokiharju in a game against Carolina Hurricanes. Photo credit: Bildbyrån.
Add to that Juuso Riikola (nine games) and Urho Vaakanainen (two games) who both made their debuts this season and you end up with the highest concentration of Finnish defenders in the NHL, in a decade.
Swedens reputation isn't going away any time soon, but if Finland keeps producing NHL-calibre defenders at this rate – the three crowns might find themselves challenged by their neighboring lions sooner rather than later.
As for additional defenders coming up, look no further than Anttoni Honka, Mikko Kokkonen and Lassi Thomson who all have realistic chances at being selected in the first round of the 2019 NHL draft.
The Finnish defenseman is on the rise.
This article is about: