Rankings
TOP 10 – EUROPE: Kakko leads the class of '19 – is he the next Laine?
The ties Europe has had to the NHL Draft have unquestionably been strong.
The ties to the first overall pick have been of late, too.
In 2018, it was standout Swedish defenseman Rasmus Dahlin who was nabbed by the Buffalo Sabres at first overall. The Frolunda defenseman was unanimously the consensus heading into draft weekend last June. In 2017, it was Switzerland's Nico Hischier, though skating with the Halifax Mooseheads of the Quebec Major Junior Hockey League, who emerged as the first overall selection of the New Jersey Devils. In 2016, Auston Matthews who the Toronto Maple Leafs selected with the first pick. Matthews, an American-born player, spent his draft season in Zurich.
Kaapo Kakko of TPS will have a hill to climb to continue the trend. Regarded unanimously as the consensus second overall pick, Kakko has a task in unseating Jack Hughes of the United States National Team Development Program as the first overall pick on June 21.
But Kakko isn't all that Europe has to offer.
Here are some of the names you need to know.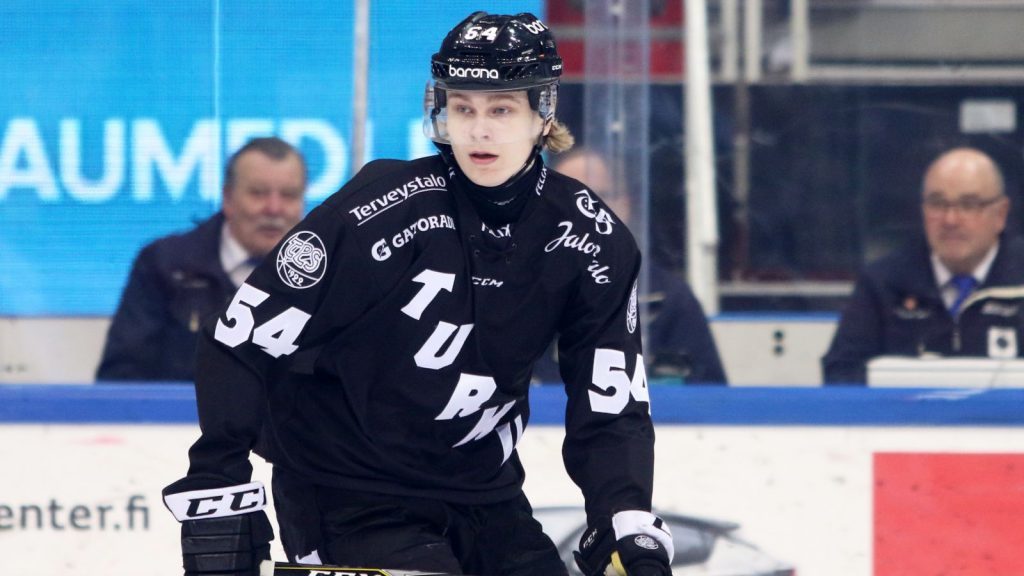 Photo: Jaakko Stenroos / All Over Press
Kaapo Kakko, RW, TPS (Liiga), 6-2, 195
Kakko, who won the Yrjö Hakala Awardas Jr. A SM-liiga Rookie of the Year last season and was named a Top-3 player on Finland's gold-medal winning World Under-18 Championship squad in 2018, is far and away the cream of the crop when it comes to Europeans in the 2019 draft class. His skill level is off the charts, and he consistently has them on display. Kakko's combination of size, anticipation, vision, shot selection, and puck protection is already near the head of the class. He's skilled at beating defenders in singular matchups and is hard to knock off the puck when circling in the offensive zone. These skills can be amplified with a quicker first step to form a true contender at the top of the class. Still, Kakko's already a difference-maker in a men's league and is scoring at an impressive clip with 10 points (three goals, seven assists) in 16 games.
Vasili Podkolzin, RW, SKA St. Petersburg (MHL), 6-1, 190
Podkolzin, who shredded the 2018 Hlinka Gretzky Cup to the tune of 11 points (eight goals, three assists) as Russia's captain, is a definite offensive threat who knows how to work himself into the perfect shooting position and knows how to finish when the puck gets on his stick. His one-timer is exceptional, as is his drive when taking the puck to the net. Podkolzin has quick hands and great top speed, allowing himself to always be mobile with the puck. There isn't much offensively he isn't strong at, and he's displayed it with seven points (five goals, two assists) in 10 games this season.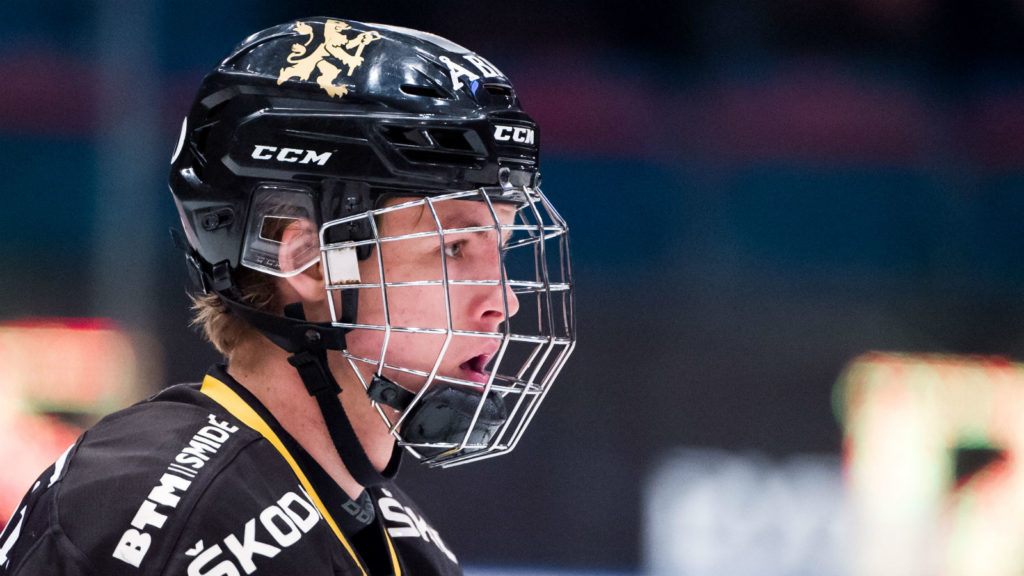 Photo: Bildbyrån/Dennis Ylikangas
Philip Broberg, D, AIK (Allsvenskan), 6-3, 200
Broberg, who helped Sweden to silver at the Hlinka Gretzky, blends a bit of everything in his game. He's got plenty of size and doesn't shy away from the physical aspects of the game. He's an excellent skater and isn't limited in his speed or stride because of his stature. He's able to escape forecheckers with a nice blend of that skating ability and soft hands, which also makes him hard to stop when he does work up a head of steam. Broberg is strong at protecting the puck and recognizes when to distribute the puck up ice. There are questions about his upside, but he's already finding ways to contribute at a high level against men. He has four points, all assists, in 15 games this season.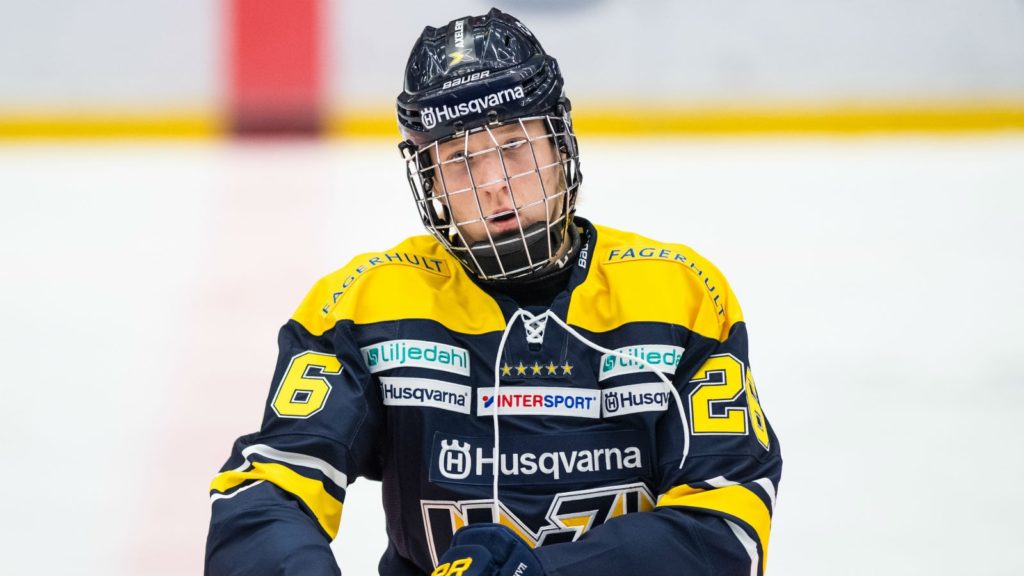 Photo: Bildbyrån/Mathias Bergeld
Simon Holmström, RW, HV71 (SuperElit), 6-0, 185
Holmstrom, whose father Jonas Holmström spent 13 seasons playing professional hockey in Sweden, is a skilled player that is careful in his puck protection and possesses the ability to distribute it with ease. He's able to make skillful plays with the puck on his tape and isn't shy to maneuver through traffic to open up lanes for himself and teammates. He's able to process these openings at a high level, showcasing that he has the ability to think and understand the game at a high level in viewings. Holmstrom has missed a good amount of the season because of injury but does have six points (four goals, two assists) in seven games this season.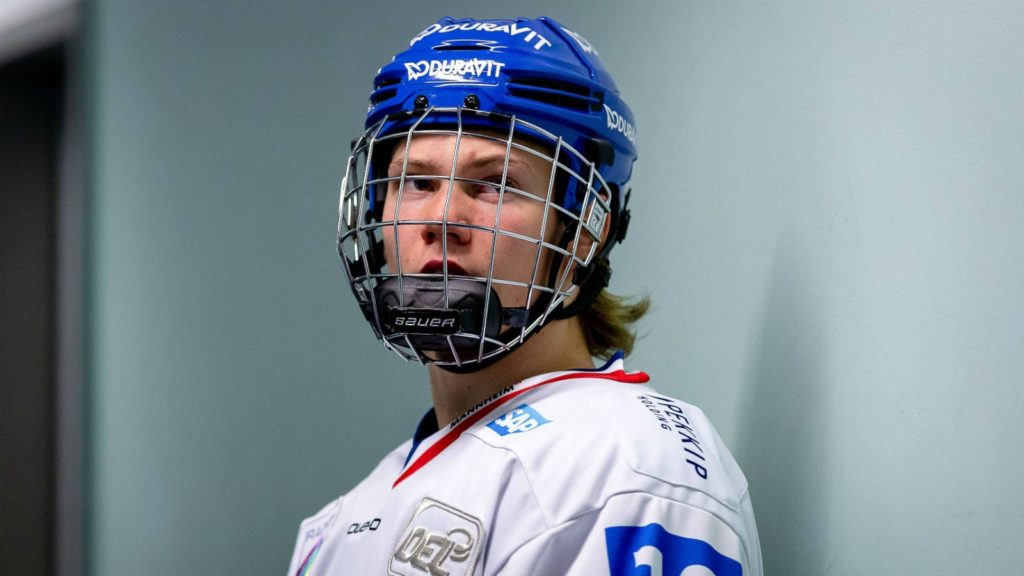 Photo: Imago Sport
Moritz Seider, D, Mannheim (DEL), 6-4, 190
Seider, the top-ranked German skater, is a two-way defenseman that tries to be active always at both ends of the ice. He's always working himself into a good position in his own end, and uses his stick and body to block passing and shooting lanes. He shows confidence with the puck on his stick, carrying it up ice with confidence despite being the youngest player in his league. There's a calm approach in his game, but it's not to be mistaken for passivity. There are no wasted, panic plays when under pressure. His transition game is improving as he adjusts to his level of competition, as will, ultimately, his total comfort. Seider, who also played four games with Mannheim last season, has one point, a goal, in 15 games.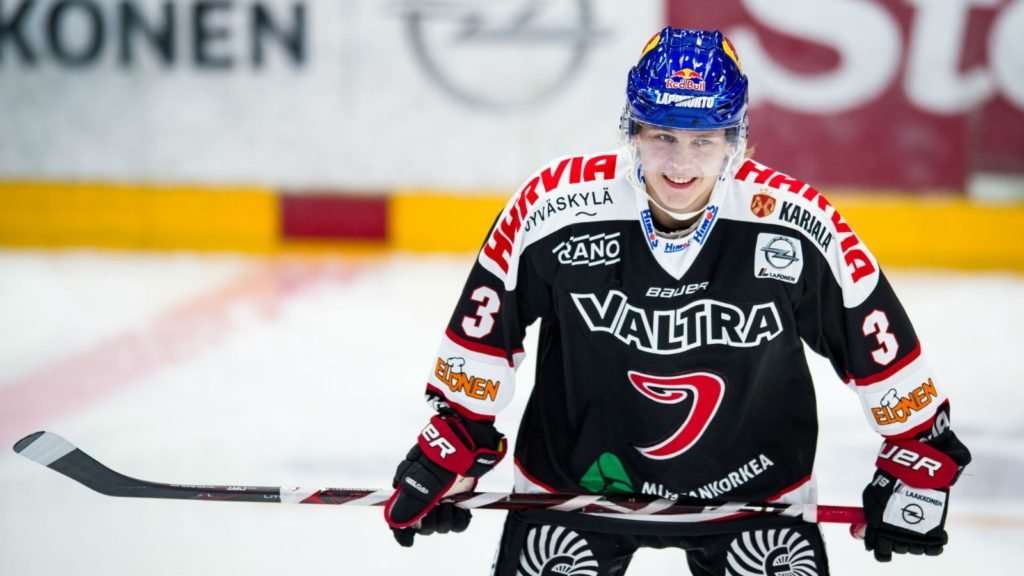 Photo: Vesa Pöppönen / All Over Press
Anttoni Honka, D, JYP (Liiga), 5-10, 180
Honka, the brother of Dallas Stars defenseman — and No. 14 pick in the 2014 draft — Julius Honka, is an extremely skilled puck-handling blueliner. There is plenty of raw talent in his game, the strong majority of it at the offensive end of the ice. His stickhandling is impressive for a defenseman, as is his ability to process the play in front of him that leads to strong decision-making on who and when to up the puck to. There's room for improvement in terms of his defensive play and general stature, which doesn't go unnoticed at the men's level, but in terms of pure skill, there are few blueliners as gifted as Honka, who has four points (one goal, three assists) in 15 games.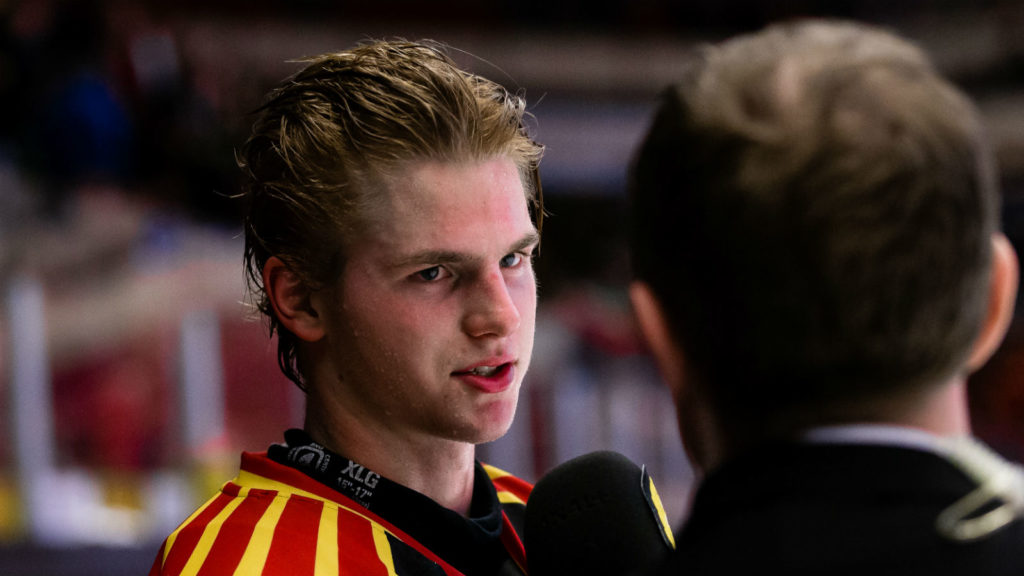 Photo: Bildbyrån/Kenta Jönsson
Victor Söderström, D, Brynas (SuperElit), 5-11, 180
Söderström, who also has seven appearances in the SHL this season, shows as a responsible two-way blueliner who is doesn't seem to cheat the defensive side of the game in order to create offense. He's responsible in his own end, showing good coverage of opponents in front of the net and in the corners. There are quality aspects of his offensive game, too, including Söderström's ability with the puck when designing the plan in the attacking zone. He also has a quick release on his shot that finds the net more often than opposing shin pads. Rarely does he get trapped as a result of a turnover or mistake on his end. Söderström has showcased these skills to the tune of eight points (one goal, seven assists) in 14 games.
Mikko Kokkonen, D, Jukurit (Liiga), 5-11, 200
Kokkonen, who has played in the Hlinka Gretzky the past two summers and was an anchor on Finland's defense at the tournament in 2018, plays a smart, steady two-way game that is very mature and pro-like. He has a focus and effort defensively, and his processing of the game allows him to consistently be in the right place at the right time. Kokkonen's mental tools are a major strength to his game. There's very little not to like in his very polished game, though he doesn't have the offensive potential to be a major two-way threat. Still, Kokkonen has eight points (one goal, seven assists) at an elite level this season.
Pavel Dorofeyev, LW, Magnitogorsk (MHL), 6-1, 170
Dorofeyev, who has earned himself some time in the KHL this season, is a quick skater who quickly gets to an impressive top speed. He doesn't slow with the puck and is able to make quick moves while syncing both his legs and his hands. He handles the puck with smooth mitts. Dorofeyev, without the puck, is always seeking to find open ice to make himself an active target for teammates, and is always trying to make something work in the offensive end with his best attributes. He has 13 points (eight goals, five assists) in 10 games this season.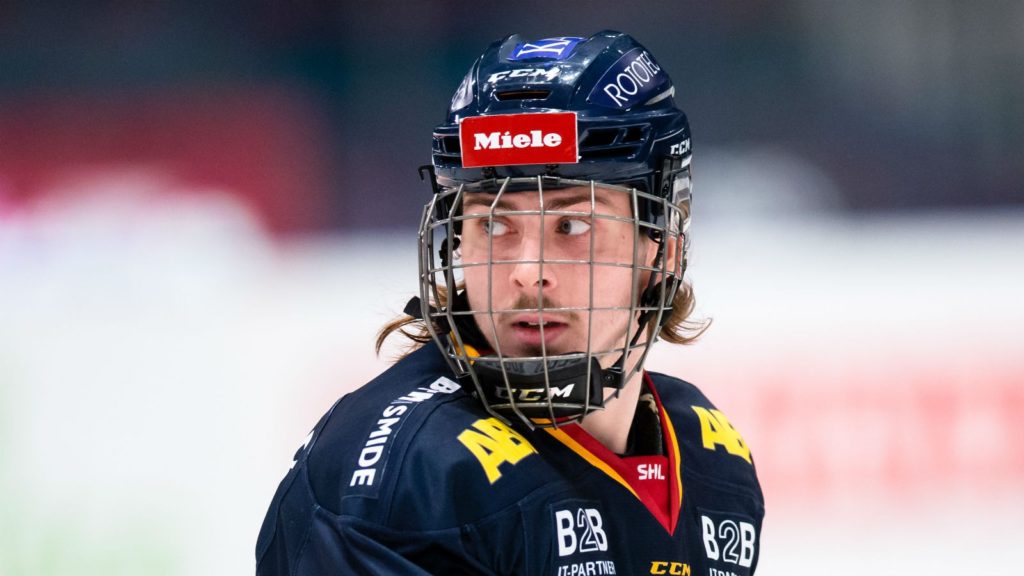 Photo: Bildbyrån/Andreas Sandström
Albin Grewe, RW, Djurgården (SuperElit), 5-11, 190
Grewe, who already boasts a host of international experience with Sweden, is a powerful skater that has a balanced stride that makes him hard to divert. He shows an ability to keep the puck despite physical confrontation because of a low center of gravity and lower-body strength. He's also aided by good top speed. Though he doesn't excel in one specific facet of the game, Grewe is more than competent in a variety of the tools he possesses. He has nice vision and hockey IQ, which adds a headiness to his game that aids in an offensive game that has produced 20 points (six goals, 14 points) in 15 games.
This article is about: