NHL Entry Draft 2019
Ready to be the NHL man of the Byram household
Shawn Byram, by his own admission, would be happy to see his family record for NHL games play fall.
Bowen Byram, his son, projects to certainly erase the mark with ease.
Bowen, the top defense prospect for the 2019 NHL Draft, will assuredly give it a go.
"Five games in the NHL," Bowen recounts. "He played in Chicago and New York Islanders farm system for quite a while…five years I think. I don't really say that directly, but he grills me sometimes.
"It's good to have him around. He's an experienced guy and he's good to have around. He gives me pointers and help when I need it. Not bad things, but helping me out and I say 'you did this' and 'you did that' and he says, 'it doesn't matter about me.'
"We have a real good relationship and it helps me out a lot."
Shawn, with four games with the Islanders in 1990-91 and a single skate in 1991-92 with the Chicago Blackhawks, currently holds the bragging rights over Byram.
But, father, unquestionably, is ready to concede his games played mark to son should everything go to plan.
"That won't take him long," Shawn, a forward in his day, says holding back a chuckle. "It's funny, because I always think I need to give him advice and I guess fathers always think that, but every once in a while I have to remind myself that he's probably a better player now than I ever was. He's been involved in so much more at an international level…I was never really good enough to be to do the things he's done.
"I kind of have to hold back a lot and just let him do his thing and just support."
It's true, Bowen confesses.
There's no pressure in pushing for dad's record, and beyond.
There's no pressure in following in father's footsteps.
"I don't think so, no," Bowen said.  "Not with my dad.
"He's pretty laid back. He helps me out. He's not really there to give me crap or whatever you want to call it. He's definitely there to help me out. It's nice having an outside voice on my game. You sometimes get lost in the negatives your coaches are telling you, but he's a good positive guy to go to when I need confidence."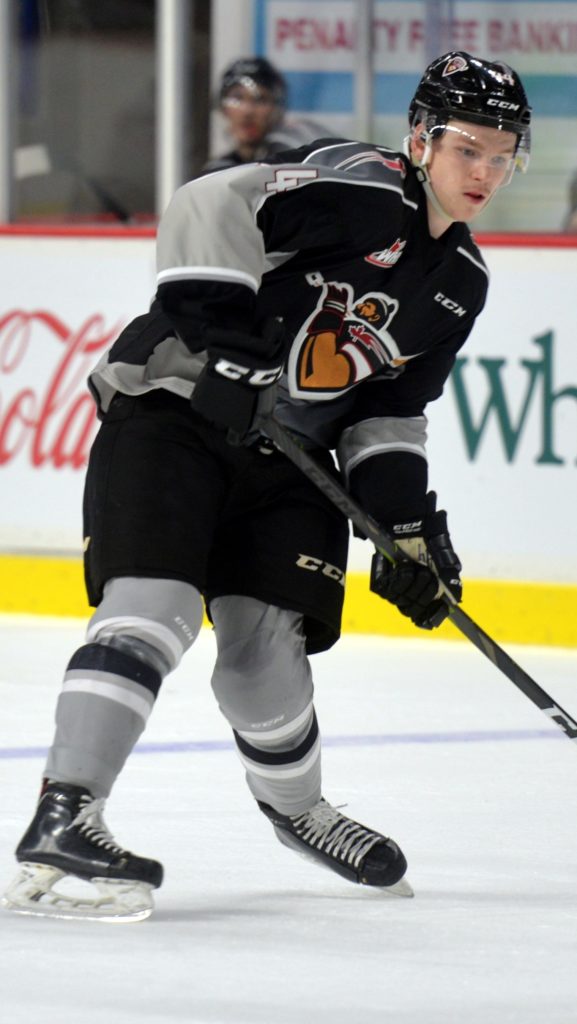 Photo: Doug Westcott
JOURNEY MAN
Shawn, still, is a valuable resource for Bowen.
And Shawn's career is helpful well beyond his five spins on NHL ice.
He was a standout with the Regina Pats in the late 1980s, and he bounced around systems in the 1990s with minor league stops in Springfield, Indianapolis, Johnstown and Troy before plying his trade in England, Italy and Scotland, among other stops.
Shawn wrapped his career back in North America, with Bakersfield in 2002-03.
Bowen, then still in diapers, can still recount his father's final brush in pro hockey.
Not all, but some.
"I remember some things," he declares. "I remember we were in Bakersfield…I think that was his last year before we moved to Cranbrook. I remember being by the pool all the time and I hear stories here and there."
Bowen, now 17, is creating his own story.
Shawn, understandably, is just as excited to watch as he was to play through his 15-season career.
"It's been great," Shawn says. "It's been really fun for the whole family to see him progress, and of course you never really expect it to get to this point being from a small place and not having a lot of exposure early on when he was younger. You always kind of think he might have a chance but you don't really know for sure. You don't know how you stack up.
"It's been pretty exciting and we've been fortunate."
Bowen stacks up well.
It'll show in Vancouver in June.
GAME-CHANGING ABILITY
Bowen, an elite offensive-minded defender who has game-changing ability, won't have time to get comfortable in his seat during the 2019 NHL Draft at Rogers Arena — home to the Canucks.
He'll get plucked by an NHL team early, called to the stage for the photo op before running the lengthy gauntlet each first round pick goes through on draft day before reuniting with family after an exhausting, emotional few hours.
No nerves, though.
Not from father.
Not from son, apparently.
"Bowen seems to be pretty grounded," says Shawn, who himself was selected in the fourth round (No. 80) by the Islanders back in 1986. "I don't see nervousness.  I'm definitely not nervous."
"Of course you get competitive. We'd like him to go as high as he can, but I don't think we're really nervous. We're trying to just enjoy the whole experience. Sometimes it's hard to when it's your kid.
"We're trying to enjoy it and remind ourselves at the end of the day, it's just a way to distribute players to different teams and at the end of the day whether it's one, 10 or 15 or 40, it's something to be proud of and it's an accomplishment.
"And you move on, and then you have to think about playing well.
"Well enough to sign. Then play well enough to play in the NHL."
Then, play well enough to push that Byram family mark above five games.
And beyond.
This article is about: