Rankings
TOP 10 – OHL: Suzuki and Bertuzzi frontrunners among hopefuls
It was a bumper crop of first round picks from the Ontario Hockey League at the 2018 NHL Draft.
This year may not be.
Last June saw seven players — Andrei Svechnikov (No. 2; Carolina Hurricanes), Barrett Hayton (No. 5; Arizona Coyotes), Evan Bouchard (No. 10; Edmonton Oilers), Ty Dellandrea (No. 13; Dallas Stars), Liam Foudy (No. 18; Columbus Blue Jackets), Ryan Merkley (No. 21; San Jose Sharks), Rasmus Sandin (No. 29; Toronto Maple Leafs) — taken as first round picks.
Early, it may be an optimistic number to match.
But while it's not considered to be a particularly strong crop from the OHL, there are still plenty of players that have the potential to reach the top end of the draft.
Here are some of the names you need to know.
Ryan Suzuki, C, Barrie Colts, 6-0, 180 
Suzuki, widely regarded as the top draft-eligible prospect from the OHL, has a strong pedigree when it comes to the selection process. The smart, offensively intuitive player was the No. 1 pick in the OHL Priority Selection in 2017, and has his brother Nick, a Montreal Canadiens prospect and the No. 13 pick in the 2017 NHL Draft, to lean on. The younger brother doesn't need it, though, with his effective three-zone game, playmaking vision and smart play both with and without the puck. He's creative, and an intelligent instinctive player that generates with stealth and precision from the periphery. Suzuki, who can take a power approach as well, has 24 points (six goals, 18 assists) in 15 games.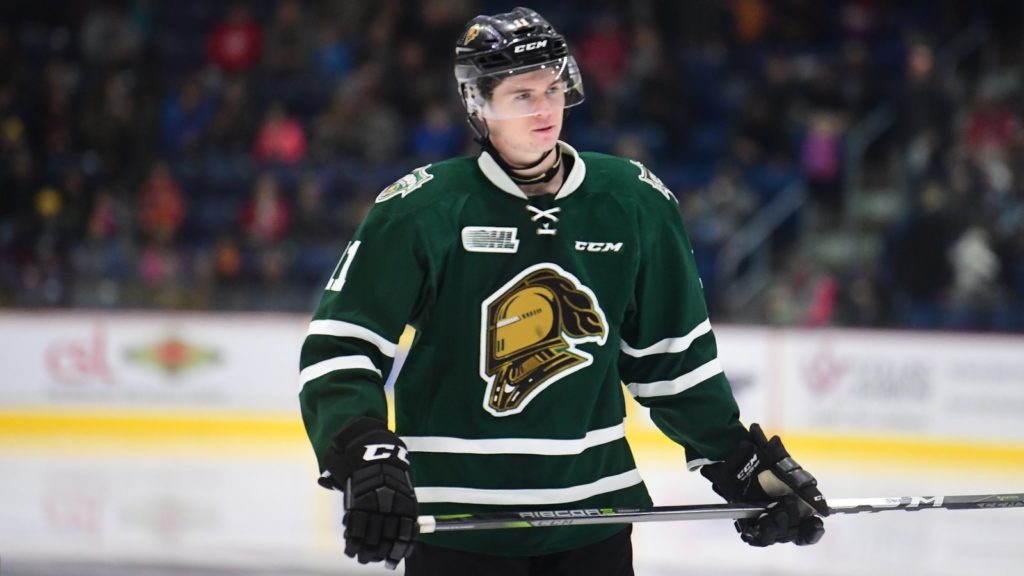 Photo: Dan Hickling/Hickling Images
Connor McMichael, C, London Knights, 5-11, 170
McMichael, who had a subtle rookie season split between the Hamilton Bulldogs and London last year, has displayed a well-rounded game as a sophomore with plenty of upside when it comes to the 2019 draft. McMichael, who was acquired by the Knights in the trade that sent Robert Thomas — the No. 20 pick of the St. Louis Blues in 2017 — to Hamilton, has displayed heady smarts and vision in the offensive zone. It's best complimented by both his strong passing game and speed up the wing. Though he's a bit undersized at 17, McMichael's production of 15 points (10 goals, five assists) hasn't been hampered.
Phillip Tomasino, C, Niagara IceDogs, 6-0, 180
Tomasino, who was the No. 5 pick in the 2017 OHL Priority Selection, is a high-speed forward who is excellent on his edges, and is efficient enough in his stride to use his speed and quick directional changes to create space. His speed is complimented with solid, but unspectacular puck-handling skills, and an unrelenting work ethic. Tomasino's stat line isn't overwhelming, with eight points (three goals, five assists) through 17 games, but there's much more to the 17-year-old's game than strictly production. He's a responsible, two-way threat that competes and battles in all three zones.
Arthur Kaliyev, LW, Hamilton Bulldogs, 6-2, 190
Kaliyev, who had six points (three goals, three assists) in five games for Team USA at the Hlinka Gretzky Cup in August, displays a high-end finesse game with a knack of scoring a variety of ways, with a variety of shot types. The instinct in the offensive end is very present. He has enviable size amongst most other draft eligibles too, and can play a bully-style game, though more consistency in doing so is certainly desired. His size isn't a detriment to his skating ability, and Kaliyev has shown a powerful stride with solid edge work. That stride, strength and goal-scoring touch has helped Kaliyev to one of the best starts in the OHL with 27 points (16 goals, 11 assists) through his first 17 games.
Tag Bertuzzi, C, Guelph Storm, 6-1, 200
Bertuzzi, whose father Todd Bertuzzi was the No. 23 pick in the 1993 NHL Draft before logging 1159 NHL games over 18 seasons, plays just as one would expect. He doesn't quite match up size-wise with his father, but much of his game remains the same. Bertuzzi plays a power-forward style who puts pressure on defending teams by going hard into the dirty areas of the ice. Though his first few steps aren't intimidating, he does have a long, powerful stride that he uses to get up-ice and create chances. The vision is there for Bertuzzi, though there's no disputing his shoot-first mentality. Consistency will be key moving forward, as he looks to make gains on his seven points (four goals, three assists) in 17 games.
Nicholas Robertson, C/LW, Peterborough Petes, 5-9, 160
Robertson, one of youngest members of the 2019 draft class, more than makes up for his small stature with big skill. He's a smart, heady player who is able to drive the play offensively with his quick first steps and ability to create offensive through quick hands and smart passing plays. He's not shy to fire the puck with his sharp release when given the opportunity, nor is he shy to venture into the difficult areas on the ice to try to generate offense. Still, he is physically limited at what he's able to do at this point, at both ends of the ice. That doesn't diminish the potential in Robertson, who has four points (two goals, two assists) in 10 games with Peterborough and four goals in five games at the Hlinka Gretzky Cup in August.
Jamieson Rees, C, Sarnia Sting, 5-10, 175
Rees, the No. 9 pick in the 2017 Priority Selection and a member of Canada's entry at the Hlinka Gretzky Cup, is a high-flying forward who has some elite puck-carrying ability. He has the ability to process plays on the fly with a good mind for the game, and is creative when carrying the puck. The 17-year-old is hard to pin down and can be a menace in the offensive end with his wheeling, though his game can get predictable when he doesn't properly utilize his teammates around him. His shiftiness helps limit that predictability. Rees, who has three points (one goal, two assists) in three games, does need to show himself more durable, though.
Billy Constantinou, D, Niagara IceDogs, 6-0, 185
Constantinou, regarded at this stage as the top draft eligible defenseman out of the OHL, is an offensive blueliner who specializes in transitioning the puck up ice and working deep into the offensive zone. He's an excellent skater who gets up and down with excellent speed and can weave through skating lanes with ease. He's adept at distributing the puck in all zones of the ice, and especially in stretching out passing from his own side to the far end of the ice. He has the ability to quarterback a power play with his high-end vision and poise with the puck. His play is highlighted by his 12 points (four goals, eight assists) this season, which matches his total from a year ago.
Grayson Ladd, D, Windsor Spitfires, 6-1, 175
Ladd, nabbed with the No. 13 pick in the 2017 Priority Selection, is a two-way defenseman who contributes consistently at both ends of the ice. Generally, he can play a punishing physical brand of hockey, and compliments that ability with the capability of either distributing the puck up ice or carrying it up out of his own zone himself with his skating ability. When the puck does reach the offensive zone, he's a threat to release a heavy point shot — best utilized on the power play. Consistency can be an issue for Ladd, who has five points (one goal, four assists) through 17 games.
Daniel D'Amico, LW, Windsor Spitfires, 5-9, 180
D'Amico, who was the No. 109 pick in the 2017 Priority Selection, isn't the flashiest of players but does display the ability to consistently be effective by doing a lot of the right things. He's great positionally, always has his feet moving, displays constant drive and effort, and gets to the right spots on the ice. There's not a lot of sizzle or high-end elements to his game, but D'Amico is effective in playing a reliable 200-foot game that coaches love. There's still upside in D'Amico, who scored 12 goals as a rookie on a deep team last year, and has nine points (three goals, six assists) in 17 games this season.
This article is about: