NHL Entry Draft 2019
Avenging Laine: Time for Kakko to show the Finn can beat the American
Stop me if you've heard this story before: an American center with electrifying, game-breaking ability goes up against a skilled Finnish winger in a battle to be drafted first overall. The American; the consensus #1 pick among scouts and the clear-cut favorite throughout the season, and the Finn; slowly but surely working his way into contention through impressive performances in the top Finnish league, Liiga.
Am I describing the 2016 NHL draft battle between eventual #1 pick Auston Matthews and #2 pick Patrik Laine, or the ongoing 2019 battle between Jack Hughes and Kaapo Kakko? You tell me. The similarities are there, if not striking.
That is not to say there aren't obvious differences between the 2016 and 2019 pre-draft landscapes.
Matthews spent his pre-draft season going up against pros in Swiss top league NLA; Hughes remains with the same United States Team Development Program both players came up through. Matthews, at 191 cm and 98 kilograms, is a hulk of a man – Hughes' 179 cm, 79 kilograms puts him closer to a player like Patrick Kane in stature.
Laine, also huge at 194 cm, 93 kilograms, is a pure sniper with a deadly release while Kakko, 186 cm, 82 kg, plays more of a playmakers game with some goal-scoring mixed in.
Both Jack Hughes and Kaapo Kakko are both making a case to be selected first, just like Matthews and Laine did in 2016. But while the media spotlight has shone early and often on Hughes, Kakko remains more of a mystery.
At EP Rinkside, we decided to highlight the young Finn and ask ourselves:
DOES KAKKO HAVE A REALISTIC CHANCE AT FIRST OVERALL?
One thing is clear: Kaapo Kakko wants to compete for the #1 spot and intends to make the race with Hughes an interesting one.
Not unlike how Patrik Laine approached his battle with Auston Matthews.
"I want to be No. 1 because I want to show everybody that I want to be the best player in this draft," Laine told CBC ahead of the draft, before adding: "That's always been my goal".
Kakko, while slightly more soft-spoken and reserved than his older countryman, echoed Laine's sentiments in an interview with NHL.com this summer:
"There's no real pressure [on me]; it's a great opportunity for me to play the game and begin the season in Finland's top league", said Kakko. "I need to show that I can be the No. 1 guy."
Kakko made his Liiga debut with TPS in 2017-18, skating in six games and producing an assist. Ahead of the 2018-19 season, he was offered a larger role on the roster – with the expectation he would contribute offensively.
"We realized a player with Kaapo's unique skill set should be given a fair opportunity. We let him know that as long as he performed well on our junior roster [last season] he'd be given the chance," TPS bench boss Kalle Kaskinen told Finnish publication Turun Sanomat.
"And he did."
Kaapo Kakko's goal from today's game. #Liiga #2019NHLDraft pic.twitter.com/Lo7ELKTlT0

— Jokke Nevalainen (@JokkeNevalainen) November 23, 2018
"A PROTOTYPICAL TOP PLAYER IN THIS MODERN AGE"
Kakko rewarded coach Kaskinens faith in him by starting the Liiga season on fire. The right winger scored ten points (three goals, seven assists) in his first 14 games before a hand injury sidelined him for a couple of games. He's since cooled off a bit and currently sits at 13 points (four goals, nine assists) in 20 games played.
Still, the early 14-game stretch offered a scintillating look at the talented wingers' skillset.
Paired up with veteran center Ilari Filppula (older brother of Valtteri), Kakko regularly wreaked havoc on opposing teams. Often dominating shifts in the offensive zone, Kakko had seemingly found someone to match his hockey smarts in Filppula. Many of the goals provided by the duo were of a similar appearance: Kakko using his body and powerful skating to effectively carry and shield the puck, waiting for Filppula to get open before delivering a pass on the tape. A pass-first player himself, Filppula returned the favor by setting up Kakko for most of his goals.
The way Kakko consistently manages to hold on to and protect the puck in order to set up plays that other players would have struggled with has drawn the attention (and praise) of Montreal Canadiens legend Saku Koivu. Koivu, having previously been involved with TPS player development, had an interesting NHL comparison for Kakko:
"Mikko Rantanen," Koivu explained to MTV Sport.
"He is following in his footsteps. He's a prototypical top player in this modern age. His greatest strength lies in how he is able to hold on to the puck and direct the offense. He really doesn't have any weaknesses and is constantly progressing too. Truly a remarkable individual."
Being compared to the current scoring leader of the NHL is certainly lofty praise – even more so when the comparison is made by a former player of Koivu's ilk.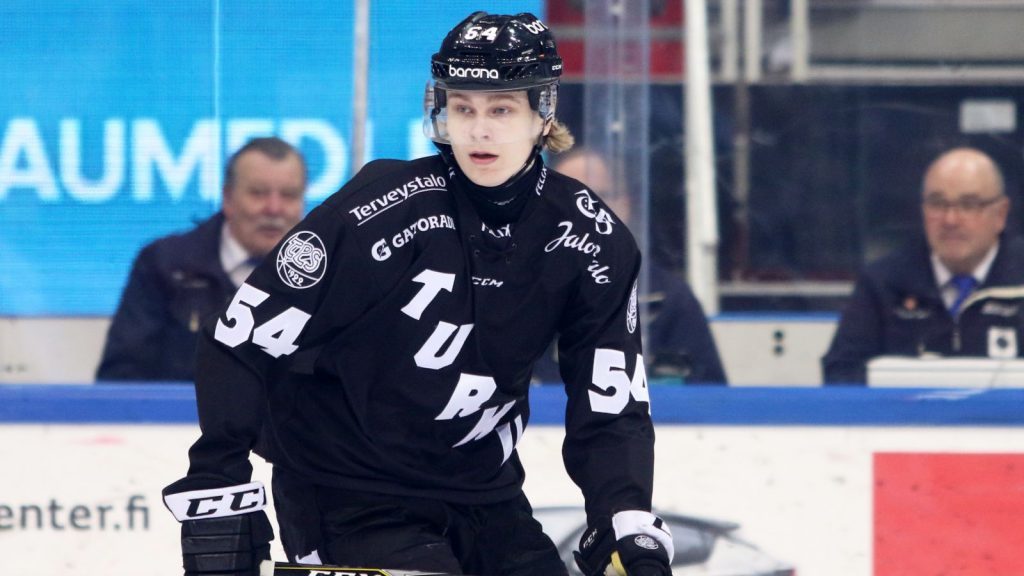 Photo: Jaakko Stenroos / All Over Press
THE EARLY DRAFT RANKINGS
Ever since last season, Kakko has been considered a surefire top-5 pick.
But his strong performance at the U18 WJC's – where Finland won gold – combined with his early success playing against pros in Liiga has vaulted the powerful winger into consideration for the #1 pick. Ranked #2 by both Hockeyprospect.com and Future Considerations, Kakkos rapid evolution as a player could have him nipping at Jack Hughes' heels come this summer.
In conclusion: Yes, Kakko does have a realistic chance at being selected first overall if he continues to progress as he has in the last twelve months. Especially if Jack Hughes should struggle to follow on up his dominant 2017-18 season.
Either way, it is going to be an interesting battle to follow.
This article is about: