NHL Entry Draft 2019
TOP 10 – QMJHL: Lavoie leads strong batch of prospects
The Quebec Major Junior Hockey League could be on the verge of an uptick at the NHL Draft.
After back-to-back seasons of producing just a pair of first round picks, and 14 selections in total, the 2018 NHL Draft class saw four players — Filip Zadina (No. 6; Detroit Red Wings), Noah Dobson (No. 12; New York Islanders), Nicolas Beaudin (No. 27; Chicago Blackhawks), Joe Veleno (No. 30; Detroit Red Wings) — nabbed in the opening 31 selections from the QMJHL and 23 in total. Both figures are bests since 2015 reached five first rounders and 30 total draftees.
The 2019 NHL Draft could see even more improvement when it comes to top-end talent.
Five players have firmly solidified themselves as in the conversation as being a consideration with an opening pick on June 21. Others will have the chance to emerge as the season progresses, too.
Here are some of the names you need to know.
Raphael Lavoie, C, Halifax, 6-4, 190
Lavoie, the top-ranked skater from the QMJHL, is a powerful-yet-graceful forward who rarely goes unnoticeable on the ice. His ability to handle the puck is underrated, displaying dangles more frequently than turnovers when moving up ice. He has the ability to lull defenders when in possession before pulling the trigger on either a well-placed shot, or well-placed pass. While he doesn't have burning acceleration, Lavoie does have a strong stride with good balance and edge work, especially in driving the net. There are defensive lapses to his game, though he does battle hard and can play well within his team's structure. Offense is where Lavoie's game shines, as his 21 points (11 goals, 10 assists) shows.
Maxim Cajkovic, RW, Saint John, 5-11, 185
Cajkovic, the first overall pick in the 2018 CHL Import Draft, is a raw but talented winger with plenty of upside. His first three steps are among the best of his age group, allowing him to punish his opponents on turnovers with his speed, good hands and a powerful shot. He's deceptive in his skating in that there's a willingness to change gears mid-flight to help throw off defenders. Cajkovic is most effective off the rush, as his speed in-zone is limited and he can be outmuscled in battles down low. On the fly is where Cajkovic shines brightest. As he gets more comfortable in the QMJHL, the Bratislava, SVK product will improve on his totals of 10 points (four goals, six assists) in 19 games.   
Artemi Knyazev, D, Chicoutimi, 5-11, 175
Knyazev, the No. 10 pick in the 2018 Import Draft, uses his strong skating ability and offensive instincts to help create scoring opportunities for his club. The 17-year-old isn't shy to join into the action, but he ensures he does so with well-timed, effective jumps that don't sacrifice his defensive responsibilities. His smooth edges help in his decision-making, allowing him to make directional changes or abandon jumps altogether. Defensively, he's willing to get involved physically in board battles despite his less-than-ideal size, and an active stick helps compliment as a deterrent. Still, there are strides to be made inside his own blue line. Outside, he's effective, as his 12 points (five goals, seven assists) in 17 games can attest to.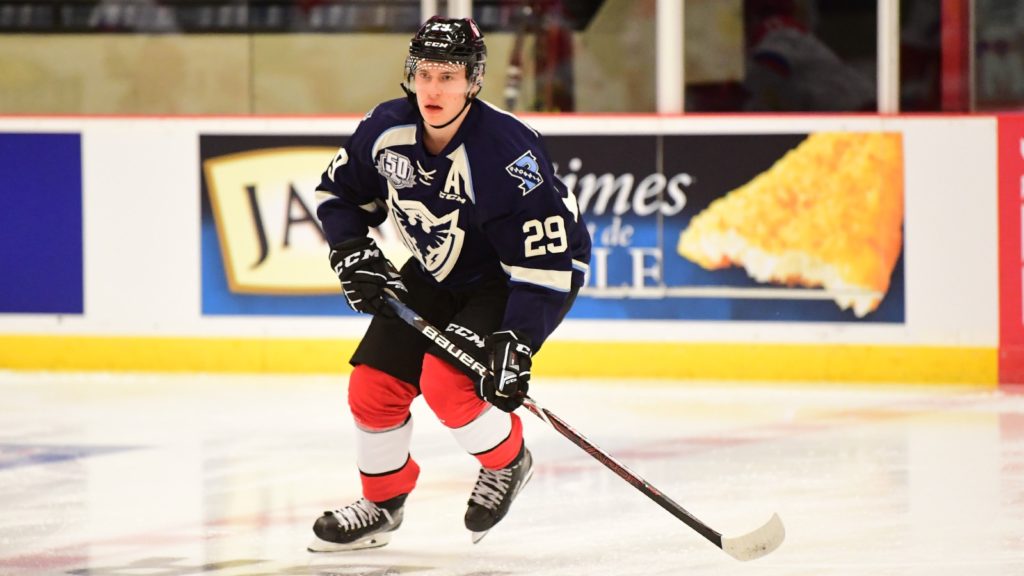 Photo: Dan Hickling/Hickling Images
Samuel Poulin, LW, Sherbrooke, 6-1, 205
Poulin, whose father Patrick Poulin was selected in the first round (No. 9) of the 1991 NHL Draft and played 634 games in the NHL, is a tenacious, hard-working forward who never takes a shift off. He can grind, absorbing any body contact while still protecting the puck, and isn't shy to go digging in the corners or in and around the crease. Though he lacks explosiveness, his effort helps minimize his lack of jump. Poulin does have strong lateral movement, making him hard to contain. He's also adept at playing on the defensive side of the puck, showing similar effort. Poulin is a lunch pail player, who has earned his 14 points (nine goals, five assists) in 19 games.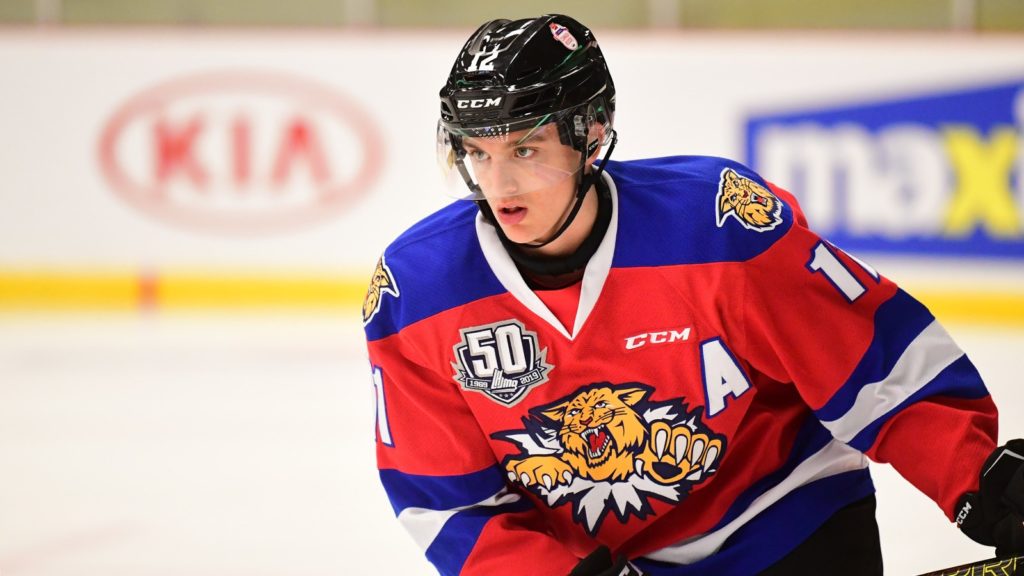 Photo: Dan Hickling/Hickling Images
Jakob Pelletier, LW, Moncton, 5-9, 160
Pelletier, who won gold with Canada at the Hlinka Gretzky Cup in August, is a shifty, though not explosive skater who is able to use pivots and hip moves to disconcert his opponents. His feet are continually moving to find open lanes or to get into position. He's creative, and his biggest strength is processing the game, which Pelletier is elite in that sense. A bit of a north-south player, he works well with teammates to create passing lanes and open up offensively and set up chances with his accurate, quick-release shot. A lack of size and strength hasn't slowed his start with Moncton, putting up 25 points (nine goals, 16 assists) in 17 games.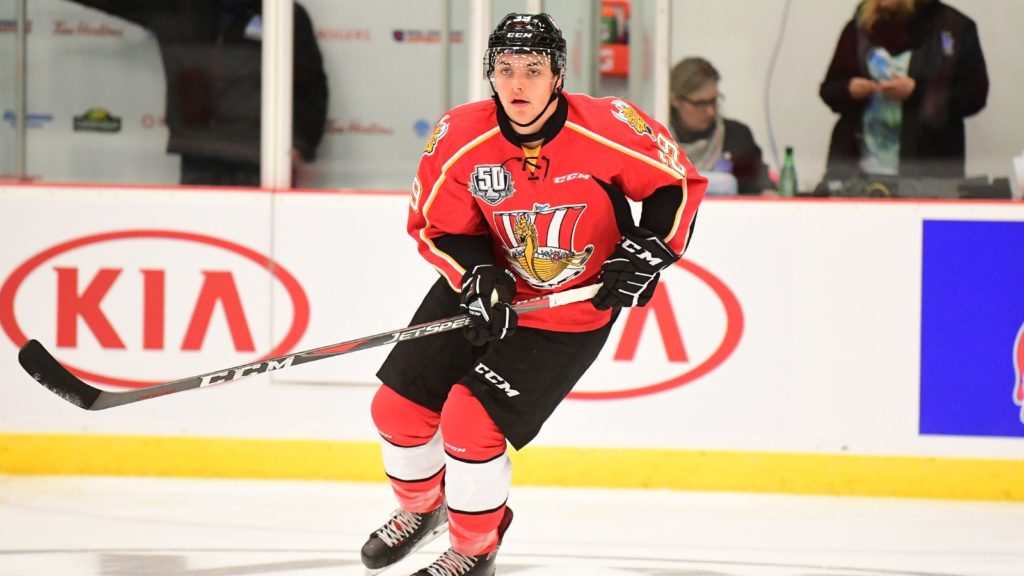 Photo: Dan Hickling/Hickling Images
Nathan Legare, RW, Baie-Comeau, 6-0, 205
Legare, the sixth overall pick in the 2017 QMJHL Entry Draft, is an electrifying forward who plays the game the right way. He's always moving, with a motor always running, and shows a relentlessness when pursuing the puck. Certainly, he's not shy to contribute at both ends. His strong skating ability helps greatly in that manner. Legare can be cerebral, too. He's an active thinker who can quickly scan lanes and establish all his passing options before making a decision. Should he opt to keep the puck on his stick, Legare has a lightning-quick release. There's no shying from cutting into traffic or barreling around the front of the net, helping aid his production of 27 points (10 goals, 17 assists) through 19 games.
Colten Ellis, G, Rimouski, 6-1, 185
Ellis, who was named to the QMJHL's All-Rookie Team, Defensive Rookie of the Year, and the Second All-Star Team last season, puts an emphasis on quickness, but also poise in the crease. He's strong at reading and reacting to plays, using his athleticism to put himself in good positions to make an initial save. His reflexes are sharp, aided by the fact that his lateral movements are near flawless for a goaltender his age. His lower-body strength is explosive, but Ellis is also able to remain structured and economical in his movements. Rebounds can be an issue for Ellis, as can protecting the upper portions of the net when utilizing his butterfly, but Ellis shows battle. It's helped him to a 2.58 goals against average and .909 save percentage this season.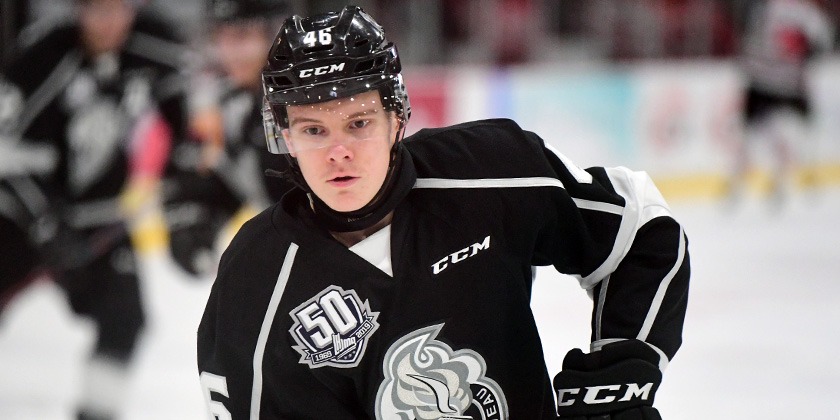 Photo: Dan Hickling/Hickling Images
Yaroslav Likhachyov, RW, Gatineau, 5-10, 170
Likhachyov, selected in the first round (No. 22) of this year's Import Draft, is a finesse player who relies heavily on his quickness and agility, and hands in tight, to be productive. He's a quick skater who can cut and change direction at will to get open or create a lane. His stickhandling ability allows him to be comfortable when attacking with pace. Likhachyov is an offensive spark-plug, and is at his best when leading the rush. Sometimes, his tools can be to his detriment, trying to do too much too often and overthinking plays. He can also cheat towards the offensive side of the game, ignoring responsibilities in his own end. The undersized forward has seven points (two goals, five assists) to show for his efforts.
Valentin Nussbaumer, LW, Shawinigan, 5'11, 170
Nussbaumer, who played against men in NLA in Switzerland before being selected with the No. 4 pick in the Import Draft last June, is known for his finesse plays and split-second decision-making skills. He's poised with the puck, and has strong passing abilities. He sees the ice well, and has the confidence to try harder, lower-percentage plays that have high reward. In that, he recognizes well when to try those plays, and when to simply make the safer play. There does need to be more compete in Nussbaumer's game, as he's too quick to avoid confrontation or physical play. He's still productive, though, with 12 points (five goals, seven assists).
Christopher Merisier-Ortiz, D, Baie-Comeau, 5-11, 165
Merisier-Ortiz, the No. 7 pick in the 2017 QMJHL Entry Draft, is a calm, versatile puck-moving defenseman who also has some shutdown ability. He's highly involved when on the ice. Defensively, his backward skating is impressive and he's able to keep pace with forwards challenging him. It allows Merisier-Ortiz to maintain a close gap with his target, allowing him to thwart oncoming rushes with an active stick. Physical strength needs to be improved as battles aren't frequently going his way, but when he does retrieve the puck, Merisier-Ortiz is able to move it up the ice to transition the play. His passing is accurate and effective, and he helps aid in the attack with 11 points (three goals, eight assists) in 19 games.
This article is about: