Features
Comtois back in the Q – bad news for competition
Barely a quarter of the way into the 2018-19 season, Maxime Comtois is already set to suit up for a third different team.
After donning the colors of the Anaheim Ducks and San Diego Gulls for a total of 14 games, Comtois is headed back to the Quebec Major Junior Hockey League, where he will wear the black and red of the Drummondville Voltiguers.
Comtois, 19, turned heads in a 10-game National Hockey League cameo, where he registered two goals and five assists before falling to a lower-body injury. Anaheim sent him down to their American Hockey League club down in San Diego for a four-game conditioning stint on his road to recovery. The stint would be the only way for Comtois to play in the AHL, as a player of his status can only be full-time in major junior outside of the NHL.
Anaheim thus had a decision to make at the end of his conditioning stint. Since the young forward had already surpassed nine NHL games played, his entry-level contract had already kicked in. The 11-game mark – one that general manager Bob Murray had referenced as an important one for the organization – seemed to hold more weight. With just one more game played, Comtois would be a year closer to being eligible for the next NHL Expansion Draft. The date hasn't been set yet, but Anaheim wants to avoid having to lose a young player like Shea Theodore again for nothing.
Contract gymnastics aside, the Longueuil, Quebec native now finds himself back in the QMJHL, a league he torched to the tune of 44 goals and 85 points in 54 games back in the 2017-18 campaign. As is now customary for him, those gaudy totals were registered on another club, the Victoriaville Tigres. An off-season trade sent him to a talented Drummondville squad, where he could potentially eclipse last season's pace.
Comtois's game is difficult to pinpoint, as his outstanding production appears to belie his activity level. Although one of the top under-19 scorers who played at least 40 games in his league last season, he was nowhere near the top in terms of shot volume.
The numbers are mesmerizing: in his age range with at least 40 games played, he was third behind only Filip Zadina and Alexis Lafreniere – two bona-fide prospects – in terms of goals scored per 60 minutes of even strength play. Yet while Zadina remained near the top in shot-generation – with Lafreniere just outside the top-20 – Comtois was outside the top-30 of that group. When zooming out to all ages and games played, he fell to 79thoverall in that category.
Despite shooting a lot less than would be expected of such a productive player, Comtois cracked the top-15 in expected-goals scored per 60 minutes of even-strength play (in our grouping of under-19 players who played at least 40 games). For those who may not be familiar, the expected goals metric attempts to predict how many goals an average-quality shooter would score based on the location and type of shots that he gets over a season. So, the disparity between Comtois's shot output and his expected goal total may indicate that he's getting better looks on net than the standard shot totals can account for.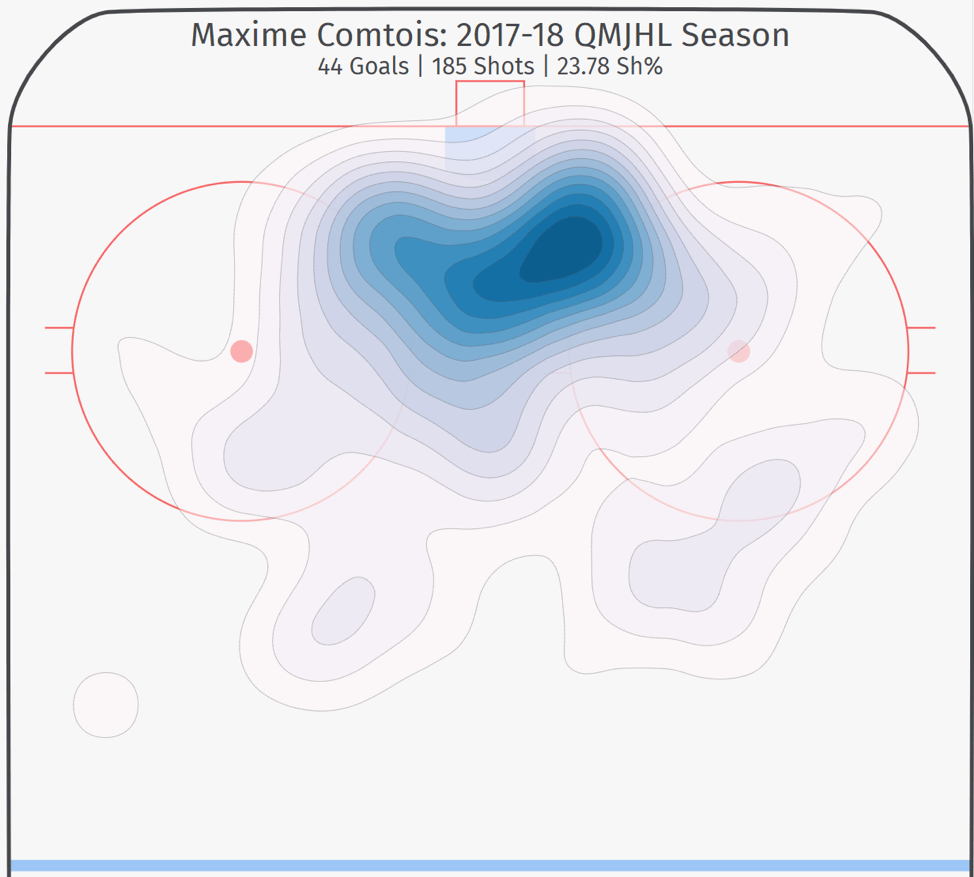 Make no mistake: Comtois can get to the net, and the disparities in his statistical resume quickly erode when we see where he was getting his shots from for Victoriaville last season. Using his 6' 2", 209-pound frame at such a young age, Comtois was able to make a living in front of the opposing net. He finished off his chances to the tune of a 23.78 shooting percentage, an astronomical total. Comtois's shooting percentage in 10 games of NHL action this season?  You (probably didn't) guess it: 22.2 percent –eerily similar to his junior figure. The location of those shots – just like in Victoriaville – was once again mostly in tight around the net. To boot, his lone goal in the AHL on his conditioning assignment was also scored from the slot area. Although Comtois has changed jerseys a number of times in the last year, his game sure seems to remain the same wherever he goes.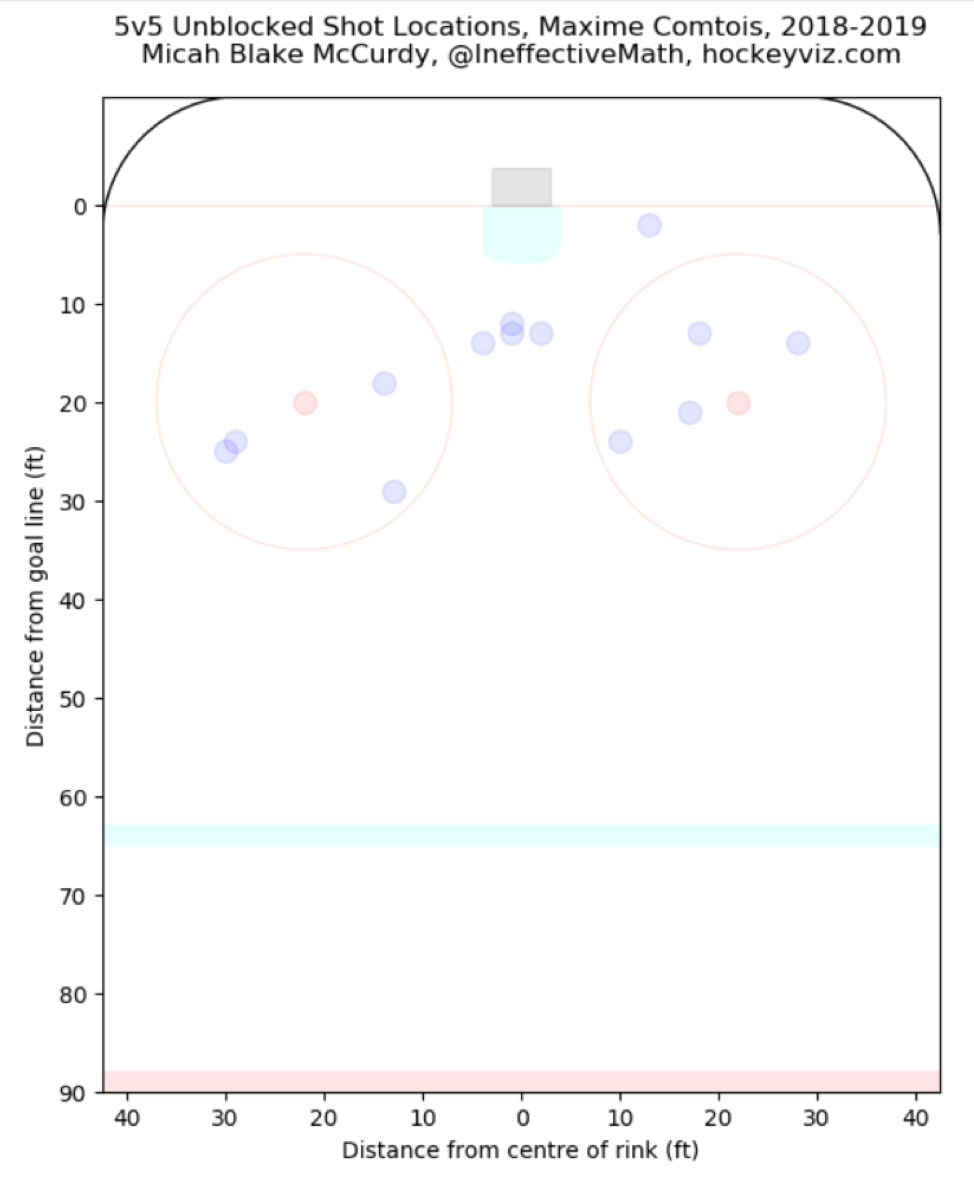 Even with all of this statistical evidence, it remains difficult to project how Comtois will fare long-term at the highest level. Prospect analytics have come a long way in recent years, but they remain an inexact science. On an eye-test level, he possesses great tools: a quick shot, strong on his feet, mobile for his size, and more skilled than his frame might let on. For Comtois to truly make an impact at the next level, his skating will undoubtedly have to improve, but he now has time to hone that side of his game. His defensive ability didn't particularly stand out in Anaheim – although that's difficult to truly judge based on how porous that team has been overall. Regardless, that aspect of his game will also improve with a more advanced skating stride.
Comtois is most likely not done changing jerseys quite yet, as crazy as that may sound. The World Junior Hockey Championship is right around the corner, and it would be a shock if he weren't an invitee to Team Canada's training camp, as he registered six points in seven games wearing the red and white in last year's tournament. Although production in a short tournament can be a misleading evaluation tool, Comtois will at the very least get to measure his game against some of the best prospects in the world. Combine international play with top-line minutes in Drummondville, and you could be looking at a very nice development season. He was vocal during Ducks' training camp about making the team right out of camp, and he accomplished that, so perhaps there won't be a letdown from being re-assigned to a lower league. Either way, all signs point to Comtois' return to junior hockey being bad news for the rest of the competition.
Statistics in this article can be found at prospect-stats.com, hockeyviz.com, and nhl.com.
You may also be interested in: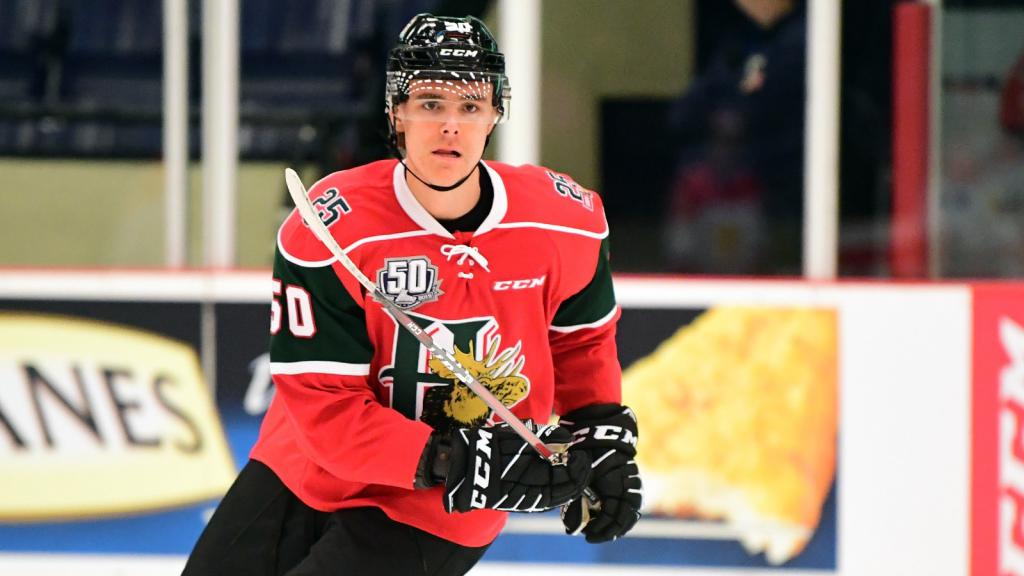 TOP 10 – QMJHL: Lavoie leads strong batch of prospects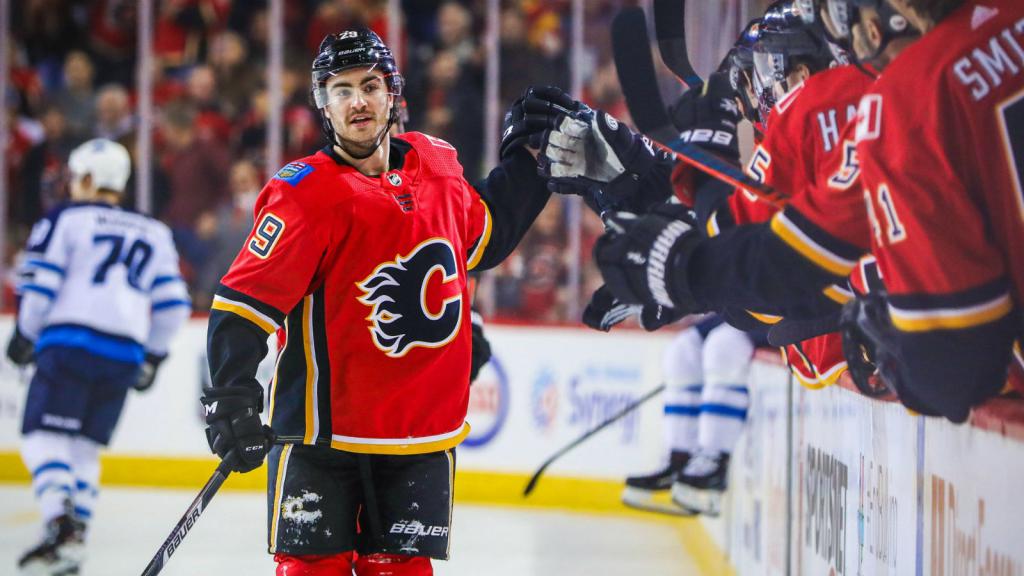 NHL or AHL – what will benefit Flames' rookie forward the most?
This article is about: