Rankings
TOP 10 – NCAA: Cale Makar tearing it up for UMass
Players come, players go. But that's true more than ever in college hockey, where blue-chip talent leaves, more often than not, within a year or two of arriving in the NCAA. Guys like Clayton Keller, Kyle Connor, Casey Mittelstadt and Jack Eichel are just some of the more prominent "one-and-dones" in recent yearas. Others, like Brady Tkachuk, stuck around an extra year for more seasoning. There are always new gems that come in, and others who remain in hopes of rounding out their game for a leap to the next level.
The top "talents" in the NCAA are discussed here in terms of their pro potential. There are some older players who are going to put up some good numbers this year, but their upside is limited. This holds true for any year in college hockey, and the diversity is its strength.
Cale Makar, D, Soph., Massachusetts
Round 1 (4 overall) 2017 by COL
Makar famously chose not to play for Team Canada in last year's Olympics in order to help his NCAA team down the stretch, so it's no surprise he stayed for his sophomore season with the Minutemen. A mature young man, Makar had 21 points as a freshman and is on pace to obliterate that this year, with 4-9–13 in nine games so far.
"Cale needs to grow and physically mature. Another year at UMass is really helping him. He's one of the most dominant players in college hockey," said Craig Button, former NHL general manager and currently an analyst for TSN.
"Cale has that skating ability where he's just going to break you down. That dynamic skating, that jump into the attack."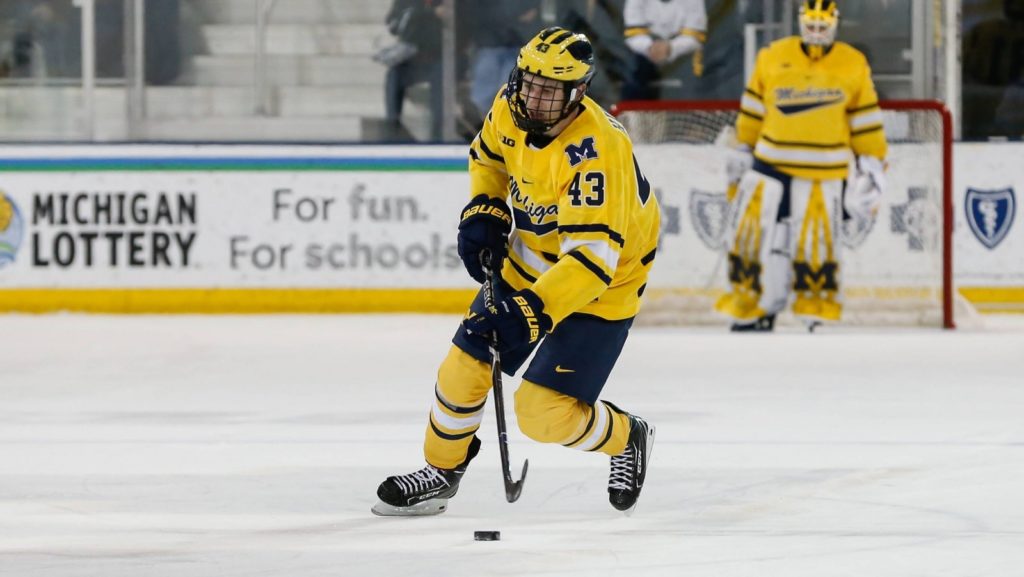 Photo: Icon Sportswire
Quinn Hughes, D, Soph., Michigan
Round 1 (7 overall) 2018 by VAN
Though his game is not as "flash and dash" as Makar's, Hughes displays all the attributes an NHL team wants. He's just 5-foot-10, but that's OK these days. He was the youngest player in college hockey last year, and put up 29 points in 37 games. This year, he's on a point-per-game pace.
"He's a great skater with a great hockey mind," Button said. "(Like Makar) they dictate the pace of the game, they make things happen throghout. Quinn holds the puck a little bit more and waits for defenses to break down. … Top two defensemen in the NHL are really hard to find, and Cale and Quinn are top-two defensemen. The Avs and Canucks are just salivating for them to get through the college year and wear their jerseys."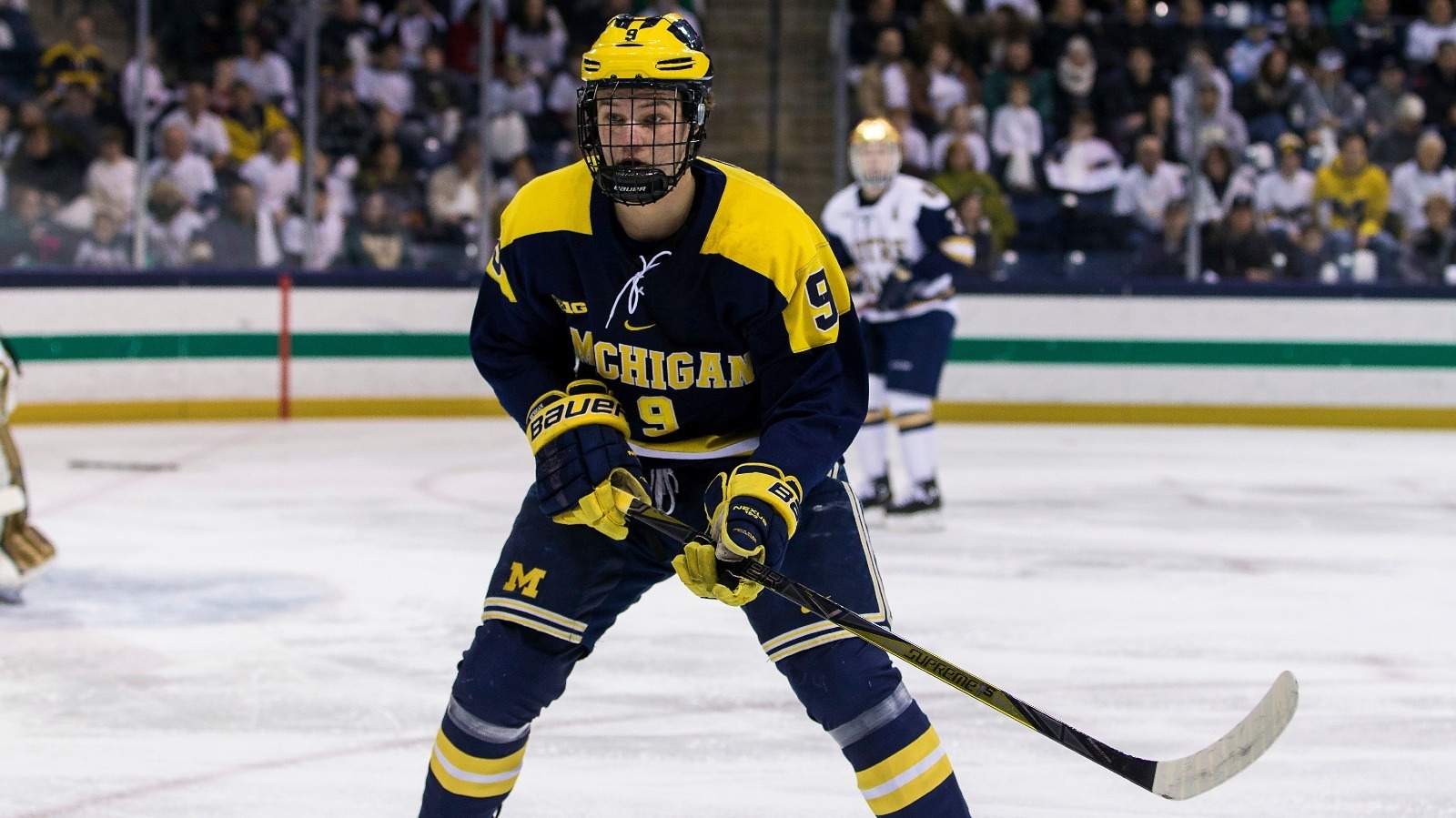 Photo: John Mersits/CSM/REX
Josh Norris, F, Soph., Michigan
Round 1 (19 overall) 2017 by SJS
Doug Wilson got funny looks when he took Norris at 19th overall in 2017 for the Sharks, with many people thinking Norris would be more like a high-to-mid second rounder. But Norris has been proving Wilson correct, as he's continued to produce, whether that be with the U.S. World Junior team or in the NCAA. After an eight-goal freshman season, Norris has popped out to a 6-7–13 in nine games this year and has demonstrated elite passing skills. At 6-foot-1, he has good size for a prospect and future NHL center. Norris played in all important situations right from the get go, and led the team in faceoff percentage last year as a freshman.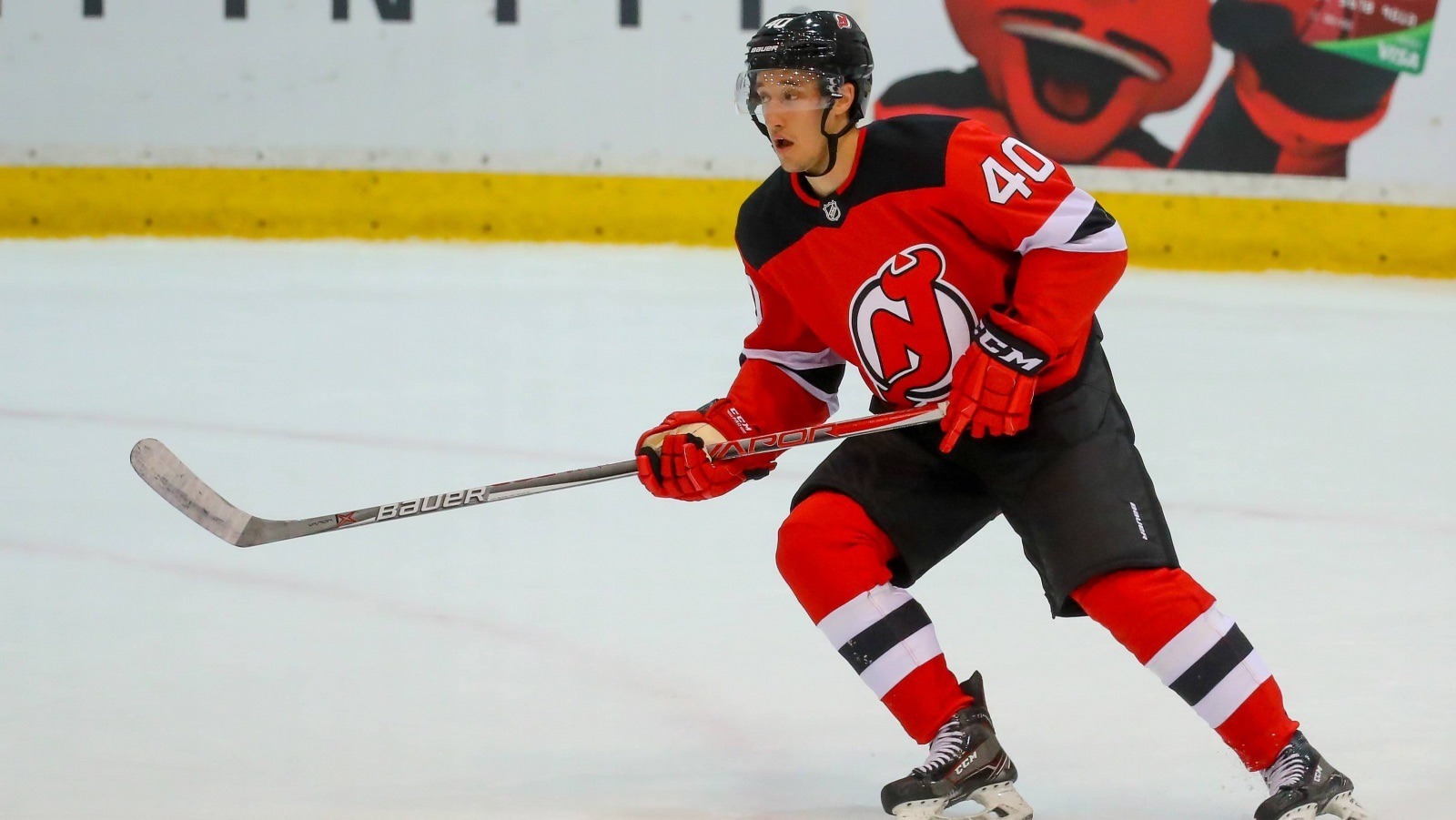 Photo: ICON Sportswire
Max Veronneau, F, Sr., Princeton  
Free Agent
It's hard to separate Veronneau from linemate Ryan Kuffner, but it has to be done. Kuffner puts up more goals, and has tremendous hands around the net. But Veronneau makes the line go, with some Mat Barzal-like playmaking instincts. There's a reason Princeton games are always heavily attended by NHL scouts. The pair helped lead Princeton to a conference tournament championship last year, then decided to each return despite many pro offers. Veronneau can score, though, too — he had 17 last season. He's been snakebit so far this season, but has at least an assist in every game.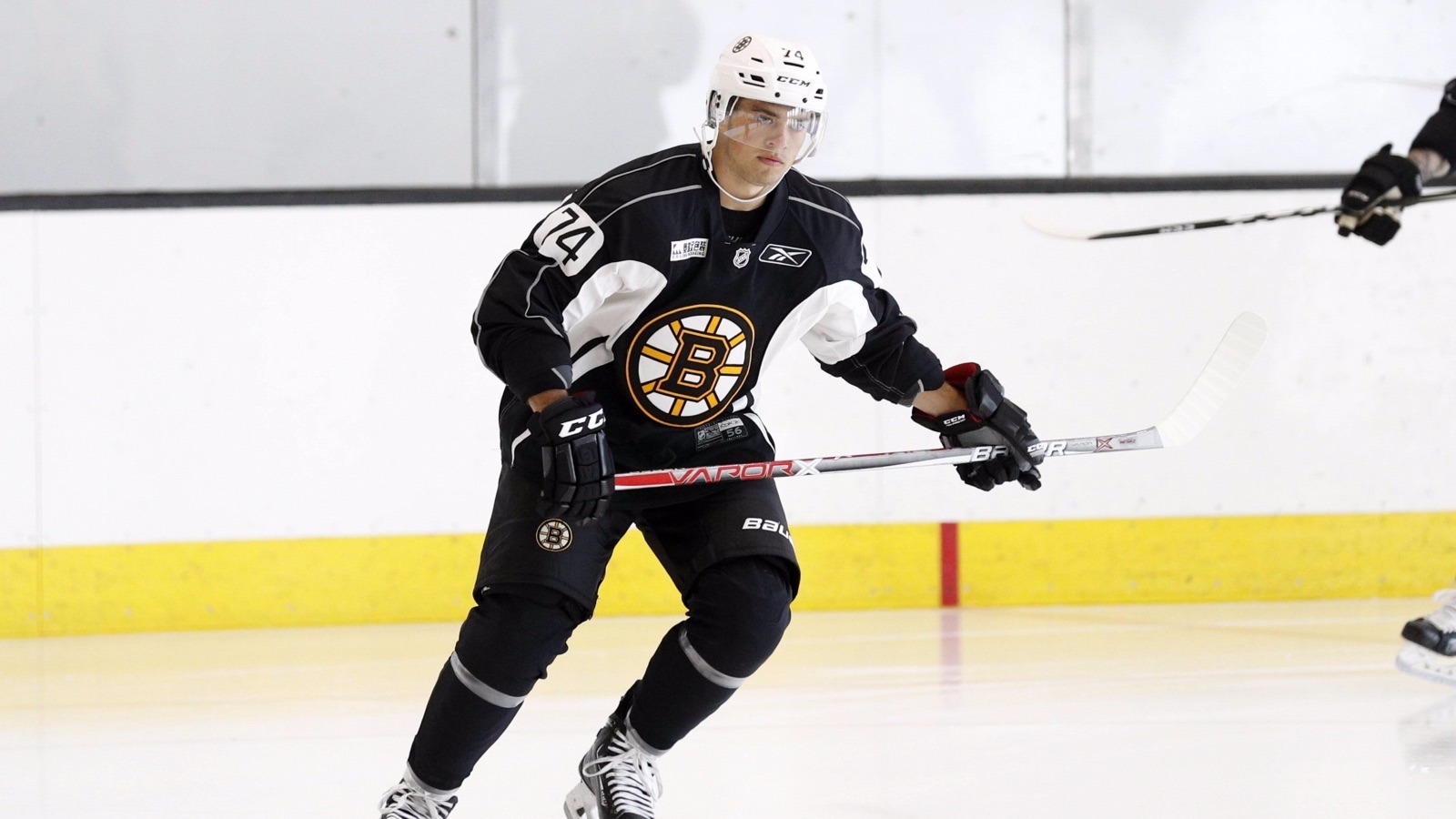 Photo: Icon Sportswire.
Mason Jobst, F, Sr., Ohio State
Free Agent
The other free agent on the list, along with Veronneau. He has two things going against him — he's small (5-foot-8) and he's already older (25 in February). But what he brings to the table is so evident, he deserves a spot on the list. Maybe his NHL stay won't be long, but he should get a chance. He's scored 40 goals over the last two seasons, and already has five in 10 games this year. Plus, he's a tremendous two-way player, a leader, and good on faceoffs.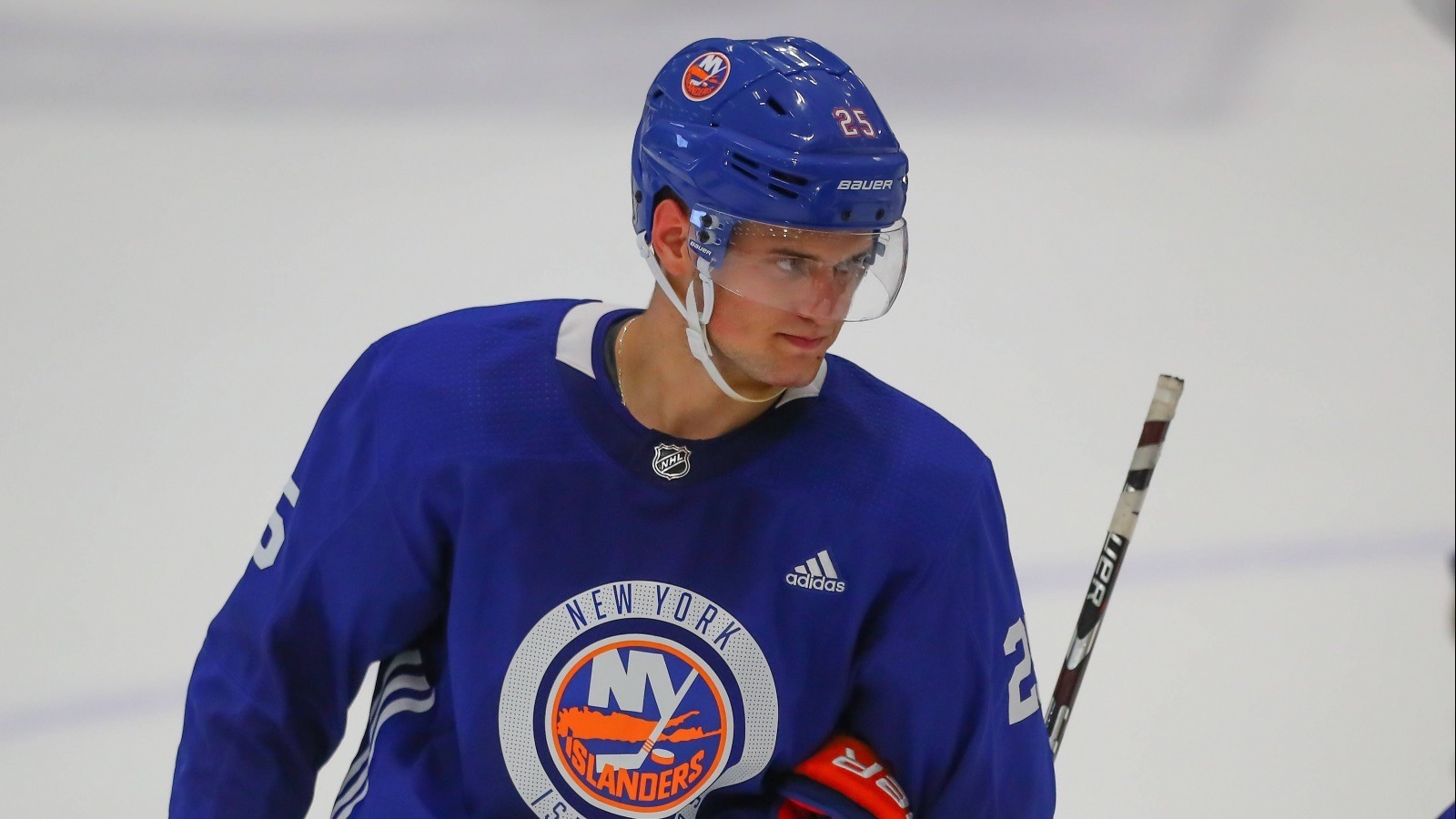 Photo: Icon Sportswire.
Oliver Wahlstrom, F, Fr., Boston College 
Round 1 (11 overall) 2018 by NYI
Wahlstrom has had trouble at times making an impact so far, especially learning to play away from the puck, during his freshman year with the Eagles. It's been a big transition, and the team hasn't done well either. But he has three goals, and has shown some dazzling skills at times.
"I thought Oliver was the best goal scorer in the draft," Button said. "He's going to need a complementary player, a centerman who can get him the puck, a defenseman who can set him up, to really take advantage of his full arsenal of skills. But his abilty to shoot the puck (is elite). Oliver has three elements that are essential — the release, that ability to be pinpoint in his accuracy, and then (like) Ovechkin can overpower you. It may be a slow start for him at BC, but don't worry about him."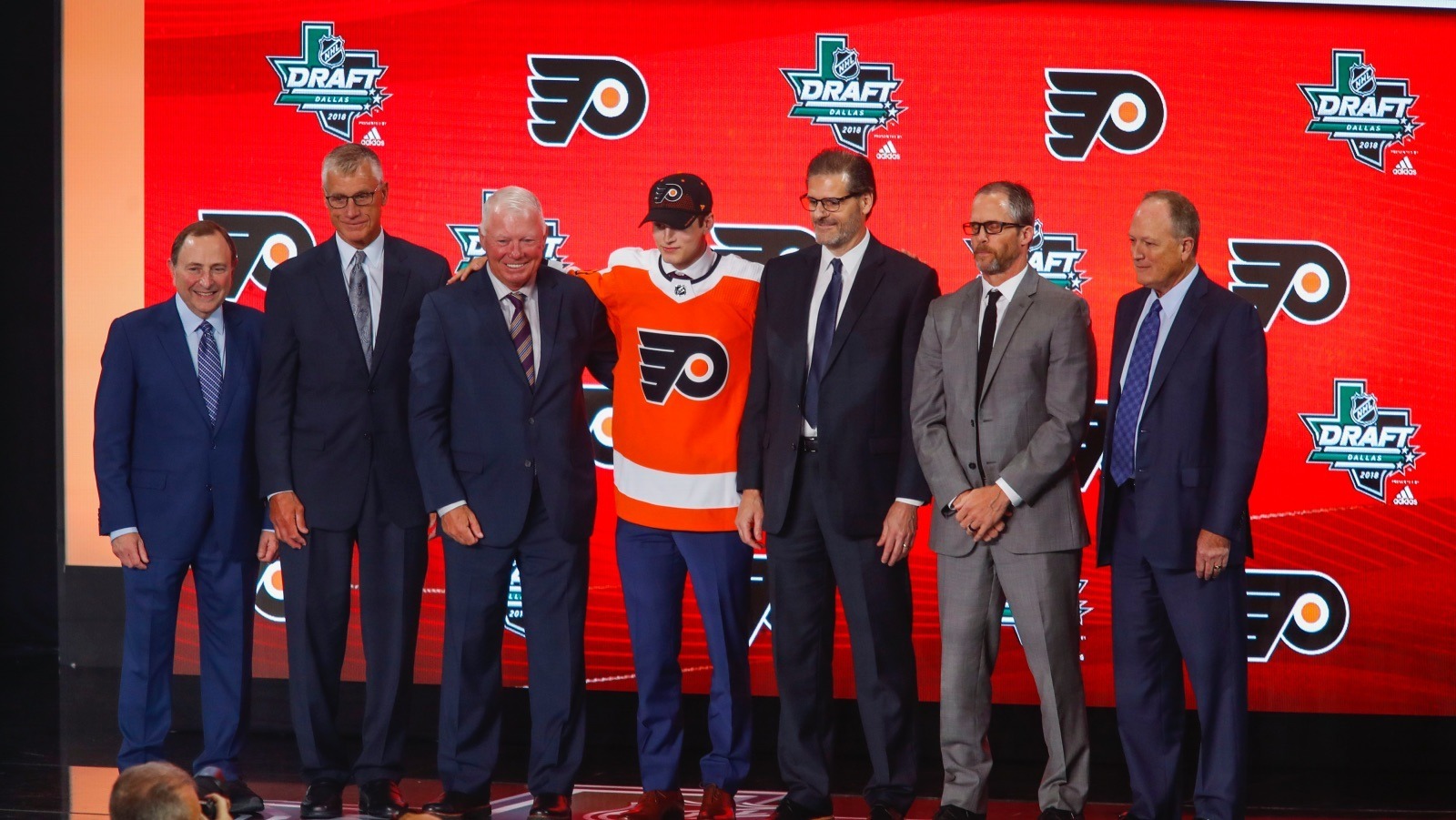 Photo: Bildbyrån.
Joel Farabee, F, Fr., Boston University
Round 1 (14 overall) 2018 by PHI
His team is off to a rough start, but Farabee has had a solid debut month of college hockey, taking three shots per game and going 2-3–5. and showing that he belongs. He was taken just after Wahlstrom in last year's draft, after putting up 76 points in 62 games for the Under-18 U.S. National Development team. He also had a strong showing at the World Junior Summer Showcase tournament over the summer, playing alongside next year's likely No. 1 overall pick Jack Hughes. He has a strong shot, and is a pesky forechecker, showing of a well-rounded game already. He needs to get stronger, as most kids of his ilk do, and that makes BU a great place for him to be.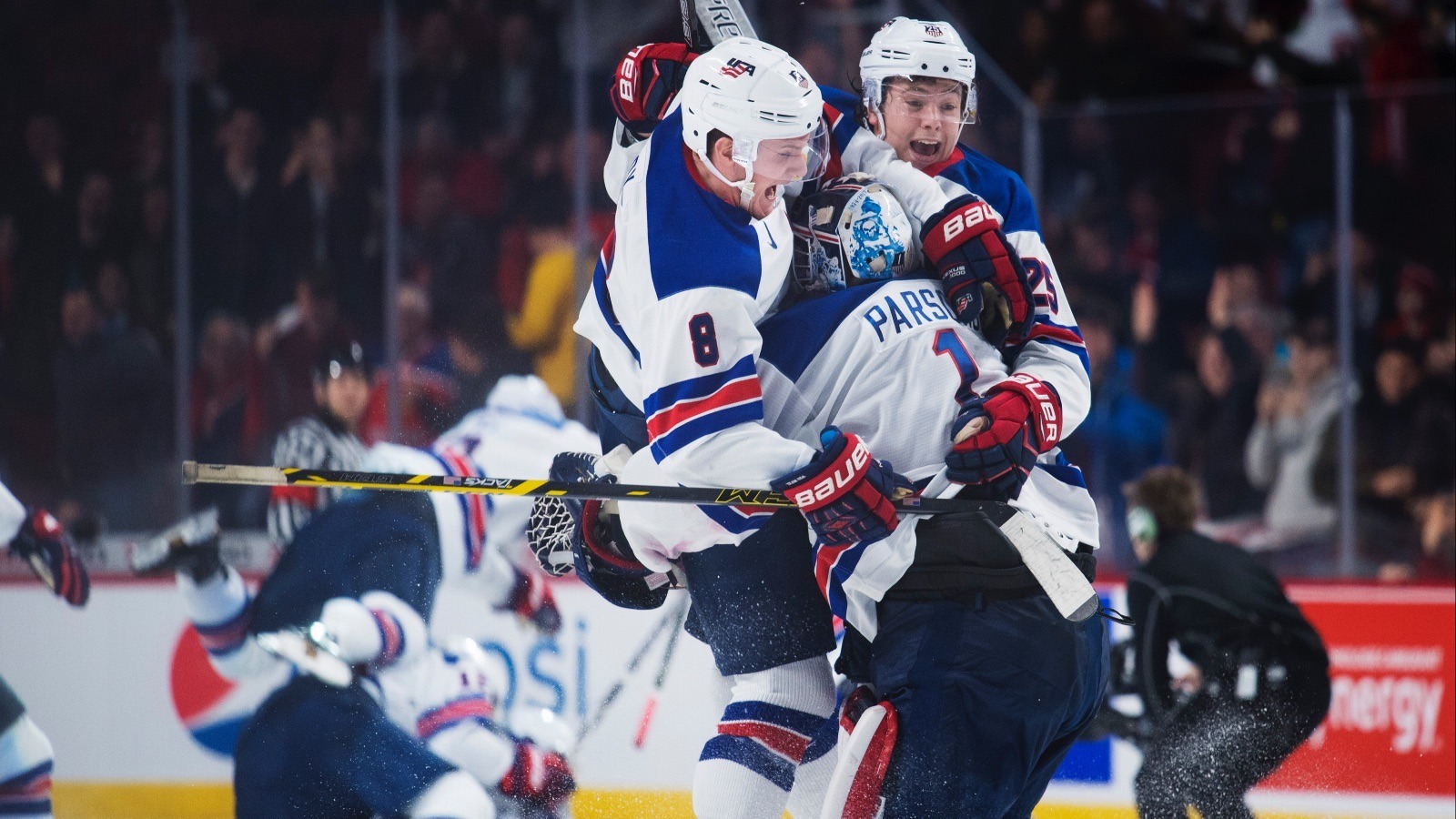 Photo: Joel Marklund, Bildbyrån.
Adam Fox, D, Jr., Harvard 
Round 3 (66 overall) in 2016 by CGY
Fox excelled right out of the gate for Harvard, helping the team to the Frozen Four in 2017 with 40 points and a plus-19. The team suffered a lot of losses in talent and so last year, things didn't look as good for anyone. But by sticking around — now into his junior year — Fox has been able to improve his all-around game.
"Fox has a lot of attributes that make him dangerous, but Fox's hockey sense and passing skills are elite and put him a notch above most," former NHL scout and current CBS Sports analyst Dave Starman said. "He doesn't get rattled when under pressure and can quickly identify options and move the puck smartly."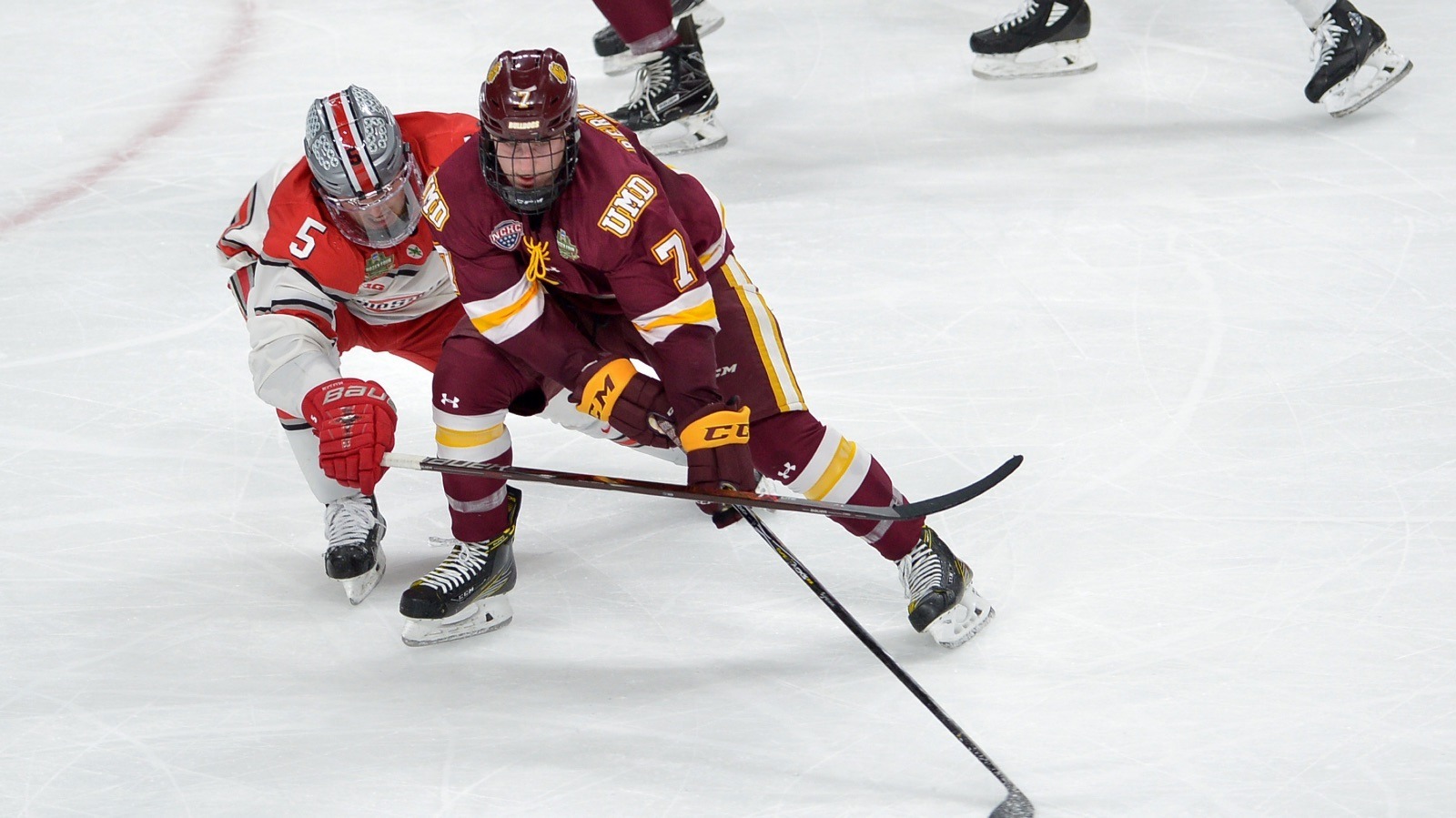 Photo: Patrick Green/CSM/REX
Scott Perunovich, D, Soph., Minnesota-Duluth
Round 2 (45 overall) 2018 by STL
Another traditionally undersized d-man at 5-foot-10, Perunovich also brings all the skills to the table. He put up 36 points as a freshman and steadily improved his defensive game, helping the Bulldogs to a national championship. He decided to return for his sophomore year to continue developing, and it's paying off so far with a team-high 14 points in 10 games, and clear dominance all over the ice. He was overlooked in his 18-year old draft year, but impressed so much, he was taken last season (he turned 20 in August).
"He defends better now than he did when he first came to UMD but he wasn't a bad defender, he's just gotten better," Starman said. "He shows more patience and I think he has added more deception to his game.  Most important is, he is learning he doesn't have to do it himself. Perunovich is learning that moving it and getting it back makes him even that much more efficient."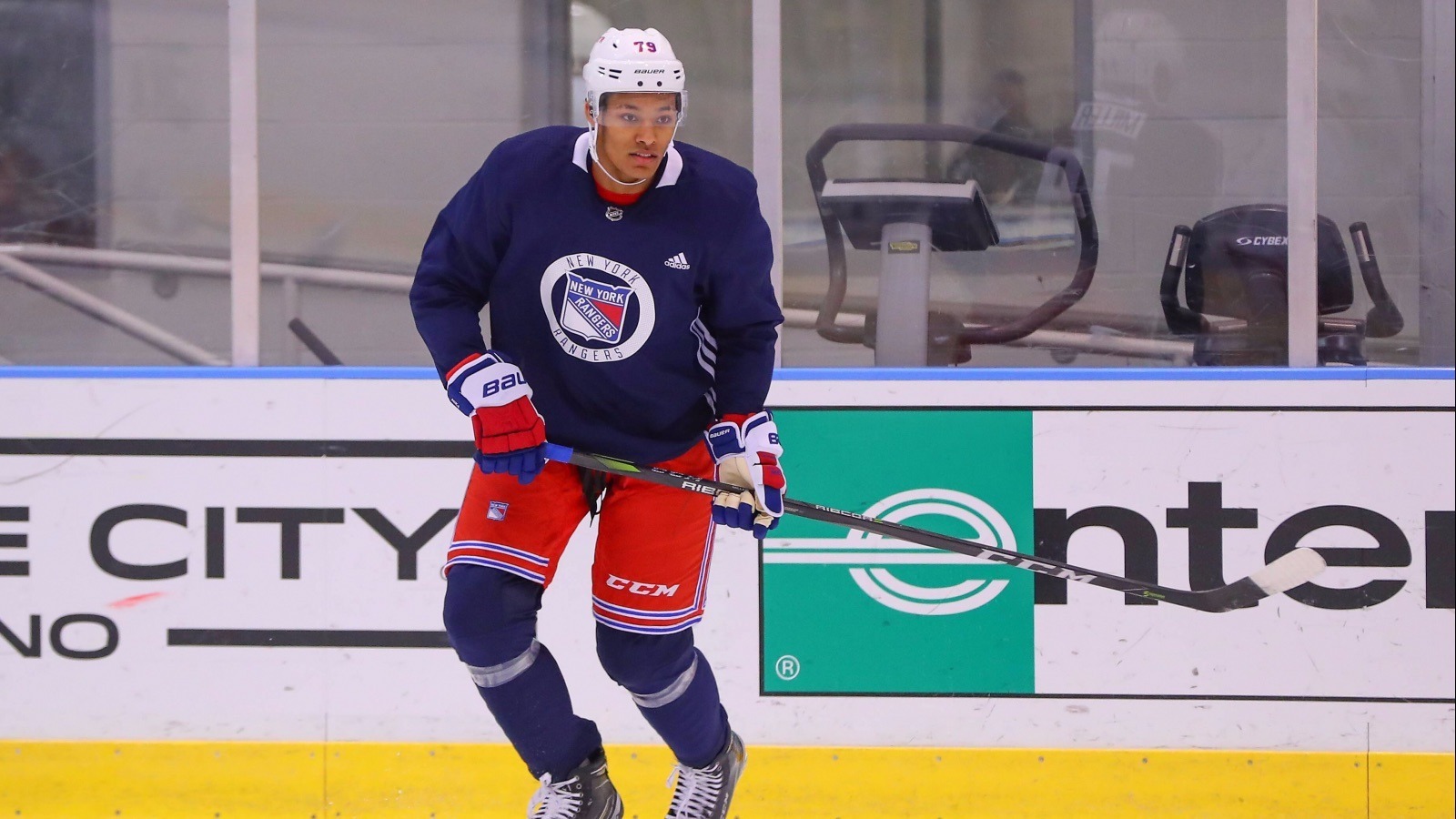 Photo: Icon Sportswire.
K'Andre Miller, D, Fr., Wisconsin
Round 1 (22 overall) 2018 by NYR
Unlike most of the other defensemen on this list, Miller is a legit old-school big boy, at 6-foot-4, yet with all the mobility of a modern-day puck-moving d-man. He has nine points so far in 10 games, and is a plus-8.
"The first game, he had the game-winning goal, made seven or eight great defensive plays, and he was playing against the other team's top line," Wisconsin's coach, Tony Granato, said. "There's no inexperience there. If the draft was today, he'd probably go even higher. But he's gonna continue to grow and develop because he has great work habits. He has a lot of leadership qualities you like a young guy to have."
No goalies were mentioned on this list, partially because some of the more highly-drafted and touted ones — like Boston University's Jake Oettinger and Boston College's Joe Woll — have had periods of erratic play over their three years that would cause concern. Cale Morris of Notre Dame is undrafted and almost won the Hobey Baker Award last year with a .944 save percentage. But he's 22 years old, and his numbers are down a bit this year so far (how could they not be?) so the jury remains out. If there's someone to keep an eye on, it's Joey Daccord of Arizona State. A native of the Boston area, Daccord was drafted in the 7th round by Ottawa in 2015, before heading to the USHL and then to the NCAA with a relatively brand new program with the Sun Devils. He was bound to see a ton of pucks, but that gave him a lot of experience-by-fire. And it's paying off. He still sees a lot of shots, but now his save percentage has rocketed up to .930 so far this season, while playing every minute of every game for Arizona State.
This article is about: