NHL Entry Draft 2018
Next in line – Söderström the latest Swedish D-man to rave about
When the SHL season started, it was said that Brynäs had the best group of defensemen in Sweden. That was even though Chicago Blackhawks first-rounder Adam Boqvist had left the team to play for the London Knights in the OHL.  Still, the season started in a miserable way, and a couple of key D-man were injured. Suddenly, 17-year-old Victor Söderström was called upon to play. And he did it well beyond expectations. It only took the young Swede a couple of games to prove himself as one of the biggest surprises in the SHL this season, and he had an immediate effect on the struggling team.
The draft-eligible prospect got to play on the power play pretty much right away, and in just his fourth game, he logged more than 20 minutes. Not bad for a kid who, before the season started, was hoping to maybe get a practice or two with SHL squad at some point during the year.
Söderström had actually not made that big of a name for himself before this season. His performance on the junior level was often over-shadowed since Brynäs has had first-rounders Rasmus Sandin and Boqvist in the organization. But since their departure, his game blossomed. The past month, Söderström's been a fixture on Brynäs' second pairing with veteran Niclas Andersén.
"It's so much fun to get this responsibility from the coaches", Victor Söderström said after his first few games. "It's something I'm very thankful of, and something I will honor as good as I can."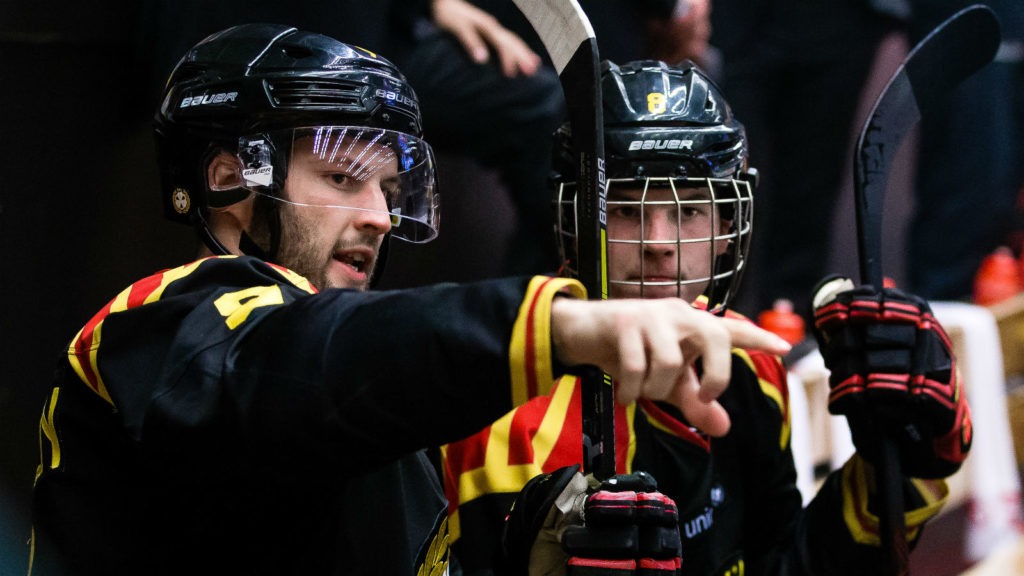 Andersén and Söderström. Photo: Bildbyrån/Kenta Jönsson
PLAYED AGAINST MEN AT 13
Victor Söderström has made a pretty remarkable journey to where he is today. He was as a goalie until he was ten years old, and at 13, he already played against men. His father, Jonas Söderström, was the coach of the local team in Skutskär where he grew up. He gave his son the opportunity to play senior games at that early age.
"I think that's one of the reasons that has made his transition to the SHL so smooth", Jonas Söderström said. "Sure, Skutskär played in the fifth division, but he got the chance to play against adults, and see how everything works. I think that's helped him now that he is playing for the fancy team that everyone wants to play on.
"But to be honest, everything feels unreal. I mean, he wasn't even a regular player on the U20 team last season."
His dad also coached Victor when he came to Brynäs as a 14-year-old. At that stage, Jonas coached the under 16-team.
"He has meant everything to me during my career", Victor Söderström said of his dad. "Without him, I wouldn't have come this far. I think we've handled the situation pretty well. At home, he was my father, and at the rink, he was my coach. But yeah, since he is my father, I'm pretty sure that he has looked even more at my game to help me develop."
Jonas agrees. He doesn't think the father and son relationship has been a problem.
"I've had good coaches around me, and they have taken more care of Victor than I have", Jonas said. "I've just made sure that he behaves well and shows everyone that he is a good leader. I saw early on that he was a really good player and sure, I've given him some special tasks during the games. But he hasn't been fed with a silver spoon, so to speak."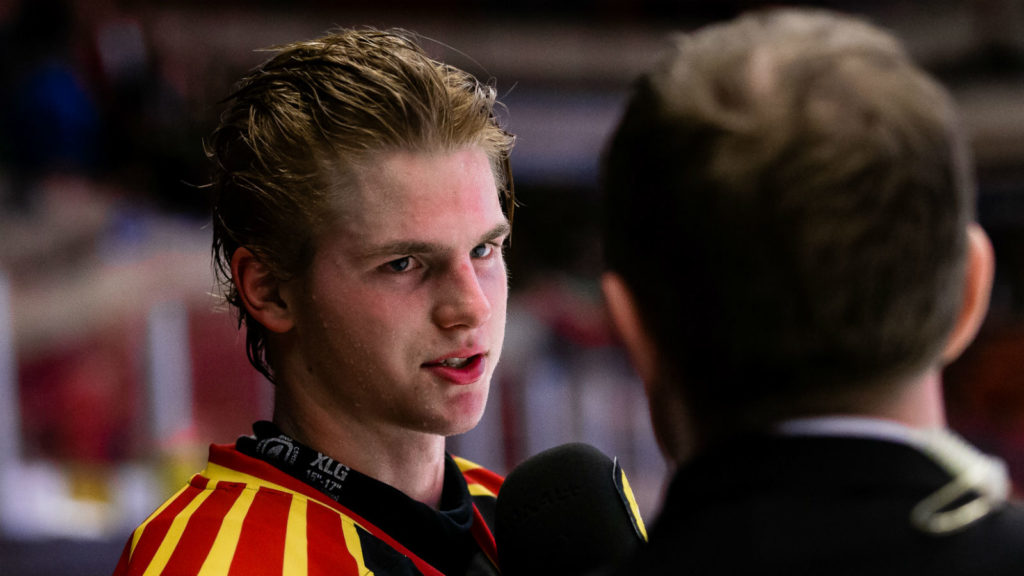 Photo: Bildbyrån/Kenta Jönsson
"THE KIND OF TALENT YOU DON'T SEE OFTEN"
Former NHL forward Inge Hammarström spent 35 years as an NHL scout, working for the Philadelphia Flyers and the Vancouver Canucks. Currently, he's on Brynäs' sports committee and sees Söderström almost every day. He points to the D-man's good behavior and humility as keys to his success.
"He is that kind of a talent that you don't see very often", Hammarström said. "His hockey-IQ is very good, but at the same time, he stays humble and is willing to practice and get better all the time. He has every attribute that's needed to become really good. There is still more work to be done on his defensive game, but he takes steps every day."
The NHL scouts had heard of Victor Söderström before, but the last couple of weeks the interest in the 17-year-old has exploded. During Brynäs' home games in Gavlerinken, there have been around 20 scouts there to watch him play. They want to talk to him and get as much information as possible ahead of this summer's big event at Rogers Arena in Vancouver. But the attention hasn't had any impact on the teenager.
"He doesn't show anything", his father Jonas Söderström said. "It's kind of impressing, I must say. As a parent, I haven't noticed anything different with him since he started to get this attention. That's a fact that makes me feel comfortable saying that he will have a chance to have a great career."
Did anyone say humble? Yes, Victor Söderström is another one of those humble Swedes that just happens to be very good at playing hockey. And he may very well become one of the key figures in the next chapter in the book of world-class defensemen from his country.
This article is about: