NHL Prospects
FILIPOVIC: On Patrik Laine's Unique Goal Scoring Ability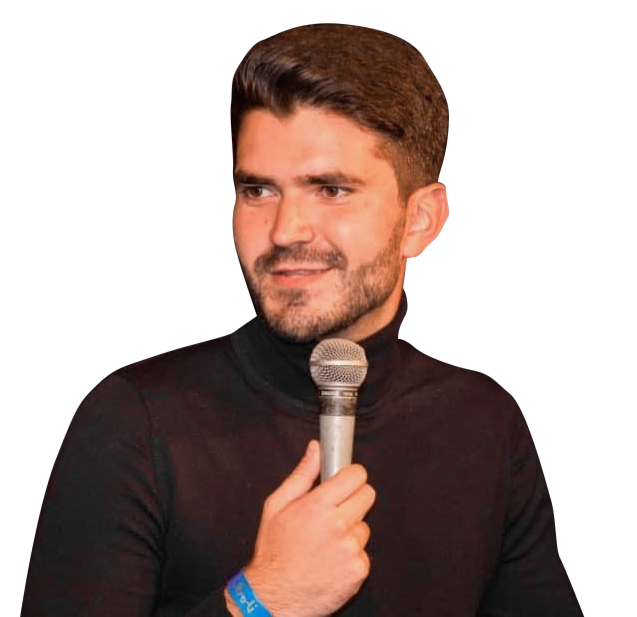 Dimitri Filipovic
It's undoubtedly a glorious time to be a hockey fan. While there will always inevitably be minute grievances here or there about how to tinker with the product, the early returns of this 2018-19 NHL season have been awfully encouraging about the direction in which the game is headed.
With the individual talent circulating around the league at every turn at an all-time high, the league itself has similarly done a commendable job of getting out of the way and allowing it to flourish. Speed and skill are no longer a luxury but a necessity, with the feverish pace at which the game is being played at incentivizing offence and phasing out those that can't keep up. The demands of the sport have quite simply finally evolved into a more modernized style, even if it's taken longer than it ideally should've.
Goals this season are currently being scored at a rate which the NHL hasn't seen since it returned from Lockout: Part One all the way back in 2005. Whereas most of that offence was artificially inflated by a preposterous conga line to and from the penalty box, the present day boon feels more palatably organic. There are certainly more infractions being called this year than there were in the previous handful, but it feels like it's come in a less intrusive manner, as a natural byproduct of a game where it's become increasingly difficult to contend with the overwhelming talent that you need to run up against as a defender on a nightly basis. The increase in offence is instead largely a testament to that very skill and creativity, which has put goaltenders in quite the bind now that they're without the benefit of massive equipment to rely on.
That's particularly evident at the top rung of the scoring ladder, where it looks like we're headed for a spectacular collision course for the Rocket Richard Trophy come season's end. One of the most interesting potential subplots to monitor as the season progresses will be that very scoring race, since it feels like this could finally be the throwback year where we're treated to outlandish totals from a bygone era.
Similar to Mark McGwire and Sammy Sosa going shot for shot slugging home runs once upon a time, having the likes of Patrik Laine and Alex Ovechkin trying to one-up each other down the stretch would be a godsend for the NHL's marketability, finally providing them with a story legitimately worthy of capturing the national audience's attention in the preamble to the postseason. That type of duel actually seemed possible at one point last season, before the former fell off ever so slightly to finish with "only" 44 goals, eventually succumbing to arguably the greatest goal scorer ever when adjusted for era.
Things like Mikko Rantanen being on pace for 137 points or Jeff Skinner being on pace for 62 goals won't last forever, but they've all chipped in to make for an electrifying start to the campaign. While most of those eye-popping 'per-game' figures we're currently seeing at the top of the leaderboard still need to be taken with a grain of salt because of how dependant they are on unsustainable early season shooting percentages, Laine's output is an entirely different animal that needs to be evaluated separately from the pack.
The frightening thing about Laine and what he's capable of as a goal scorer moving forward is that there doesn't appear to be an identifiable ceiling at this point because of his unique shooting profile. He's such a singular talent when it comes to firing the puck that there's quite frankly very few historical comparables in the recent past that we can use as guides. The closest appears to be early career Steven Stamkos, prior to the laundry list of unfortunate injuries that's plagued him in recent years, when he was shredding the league from the left circle. During that 5-year window from 2009-2014, Stamkos scored 210 goals on 1153 shots spanning those 331 games, which roughly comes out to an 82-game average of 52 goals, 285 attempts on target, and an 18.2% conversion rate.
Like Stamkos at his apex as a shooter, what makes Laine special is the nearly unparalleled combination of efficiency and volume that he's been able to generate. In a league where the average forward shoots somewhere in the ballpark of 11-12%, Laine has converted a seemingly unthinkable 18.4 percent of his shots on target into goals in his two-plus years in the NHL. An underlying stat like 'expected goals' can be an immensely useful tool for identifying outliers on either end of the spectrum, so it should come as no surprise that Laine has essentially broken that metric since coming into the league.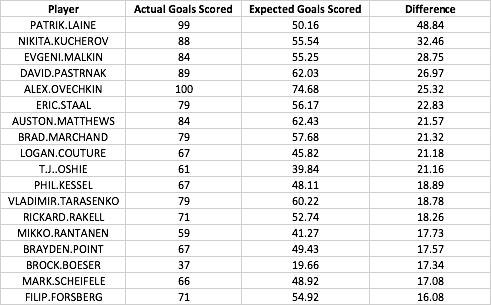 'Where does Laine go from here, and what is he capable of topping out at this season' are fascinating questions that we don't quite have concrete answers to at the moment, which only adds to his growing mystique. Considering that we're now talking about north of 175 games and 500 total shots under his belt at this level, it's long past time for us to recalibrate expectations and raise the baseline for him.
Even prior to going supernova and scoring five times against the Blues on Saturday night – which upped his recent scoring binge to 11 goals over the past four games, and brought his total for the month of November to 17 – there was reason to believe he was hitting another gear in his development. While his ice-time hasn't necessarily increased like had been suggested in the preseason, what has come up noticeably is how active he's been in the minutes he has been getting. His frequency of shot attempts has progressively skyrocketed from 46th overall amongst skaters, to 8th, all the way up to 1st, while the shots on goal have likewise ballooned from 48th, to 22nd, to 1st.

Considering how good he's proven to be at converting the shots he takes into goals, this newfound sweet spot he's found is a particularly lethal one for the rest of the league, especially since it doesn't appear that the quantity has come at the expense of the quality of looks.
Part of that improvement is the natural development we'd expect to see from a budding young star at this point of his career as he comes into his own and evolves as a player. Part of it is also that he's currently being put in the optimal position to succeed, surrounded by playmakers that can get him the puck where he wants it and whenever he wants it.
Whether it's been playing alongside Kyle Connor at even strength, or being flanked by an impossible medley of options for opposing penalty killers to account for when the Jets are on the power play, he's been allowed to tee off on the puck from his favourite spots on the ice. With Dustin Byfuglien manning the point, Blake Wheeler patrolling the half-wall, and Mark Scheifele occupying the bumper position in the middle of the ice, it's essentially impossible for a penalty kill to load up on Laine and try to singularly take away his shot (similar to the predicament we've seen Capitals power play formations present teams with over the years). As a result Laine has been allowed free rein to run amok from the left circle on the man advantage, currently doing a large chunk of his overall damage there with his league-leading nine power play tallies.
While it's still not likely that he finishes the year shooting 20.2% like he is right now – for some context, only 35 players have ever exceeded 20% on 250+ shots, and only 11 have done so on 300+ shots, all of which came over 25 years ago during a wildly different time – based on his career norms it's not nearly as skewed a figure as it is for most of the other early season goal leaders. With 19 goals in 23 games, his early near-70 goal pace his afforded him a cushion to have a special season even after accounting for the inevitable dry spell that happens to everyone over the course of an 82-game marathon.
A wise man once said 'when you come at the king, you best not miss'. When it comes to goal scoring prowess, Alex Ovechkin has shown that he's the king, and should be the preeminent betting favourite to win the scoring crown until proven otherwise. But if anyone can eventually dethrone him, it'll likely be Patrik Laine – a sniper that rarely misses to begin with, now armed with more bullets than ever before.
Data in this article was collected from invaluable resources such as Corsica and Natural Stat Trick, and is accurate through the conclusion of Tuesday night's slate of games.
This article is about: