News
Not irrelevant anymore – last pick from the 2012 draft on the right path
The "Mr. Irrelevant" moniker stems from the NFL. It started back in 1976 when former receiver Paul Salata decided it was time to put the spotlight on the player chosen last in the NFL draft. It resulted in the creation of the "Irrelevant week", where the player picked last in the draft – "Mr. Irrelevant" – is invited to Newport Beach in California along with his family. During that week, they get to participate in a golf tournament, sail a regatta and accept the Lowsman Trophy, an award mimicking the Heisman Trophy given to the most outstanding player in American college football every year.
No luxurious vacations or phony awards are given to the player chosen last overall at the NHL Entry Draft. But the expression "Mr. Irrelevant" is just as relevant there. The odds of becoming an NHL player when picked last are slim to none but through the years, players such as Kim Johnsson (1994), Jonathan Ericsson (2002) and Patric Hörnqvist (2005) have defied the laws of logic by creating good NHL careers for themselves.
American defenseman Nick Ebert was the "Mr. Irrelevant" of 2012. The reigning Stanley Cup champion at the time, Los Angeles Kings, scooped up the Livingston, New Jersey native with the 211th pick in the seventh round. Ebert, who plays for Örebro of the Swedish Hockey League today, wasn't in Pittsburgh for the draft but remembers the day as grueling.
"Honestly, it was very disappointing considering I was ranked relatively high going into the season", Ebert said. "I didn't go to the draft because my agent had said I would go in the middle rounds. For whatever reason, I slipped and it was a long day for sure. I just sat at home and watched the whole draft. It was probably the longest day of my life."
PLAYED IN THE USHL AT 15
Early on during his junior career, Nick Ebert was considered a big prospect. In 2009, The Hockey News did a feature on him as an under-aged rookie with the Waterloo Blackhawks of the USHL. He was 15 years old at the time, playing against players that were up to six years his senior.
Even though he had a few productive seasons in the OHL with the Windsor Spitfires prior to his draft, the scouts obviously didn't fall in love with his potential. To this day, you can still sense some disappointment in Nick Ebert's voice talking about falling through the draft. But it has also been a driving force throughout his career.
"I took that as something to motivate myself and try to make a name for myself and prove people wrong", he said. "Honestly, I'm still playing for that. Hopefully, there's going to be a chance down the road, and that's something that's always in the back of my mind as well. There definitely some stuff I'd like to prove with that."
Nick Ebert is 24 yeard old today. He did three AHL seasons in Los Angeles Kings' and Dallas Stars' organizations before leaving North America before last season started. He ended up in the KHL with Slovakian outfit Slovan Bratislava but signed with Örebro in Sweden late in the season.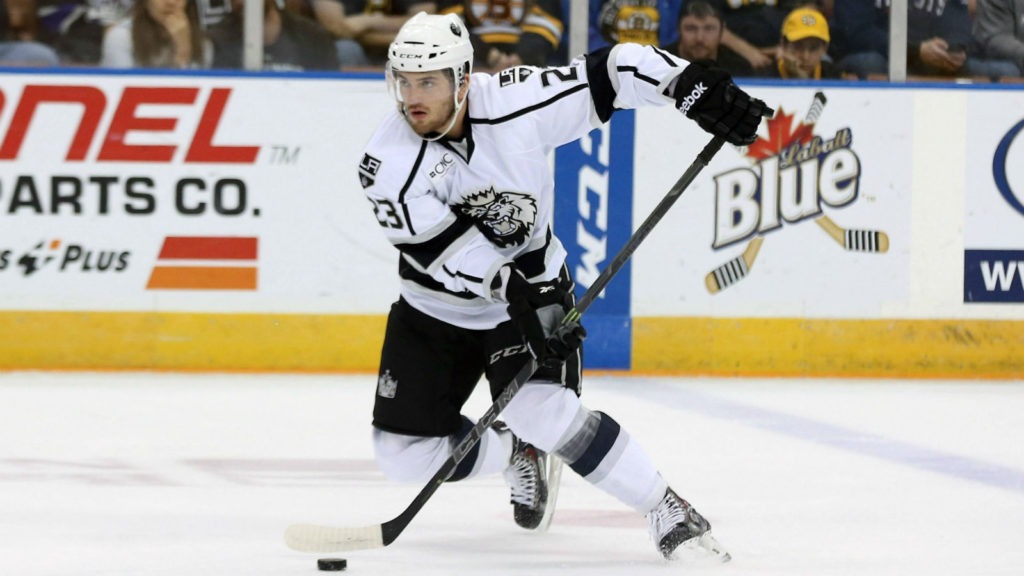 Photo: Imago Sport
"DISCOURAGED" BY THE AHL
This summer, he signed an extension for two more years in the SHL.
"Honestly, I was a little bit discouraged after playing three years in the American League", he explained. "My first two years [in Los Angeles' organization], I wasn't really developing and didn't get a good opportunity. It halted some of my development.
"My third year I got a pretty good opportunity, but for whatever reason, it didn't work out in Dallas. I became a free agent, was playing the field a bit, talked to some NHL teams but nothing was imminent. There were a few offers from the American League, but I felt like it was time to change up, come over here and try this out. It was important for me to go somewhere and develop. In the AHL, sometimes they play the draft picks and the younger guys. Not always, but I didn't really want to fall into that again. So I decided to come here where the best players play at all times. I felt like coming here would help my development."
The politics of the AHL rubbed Nick Ebert the wrong way at times, but he's not naïve, he understands the inner mechanics of professional hockey in North America.
"I want to be careful with saying that some players get treated differently because it's not the case everywhere", he noted. "But there are certain places where it is like that and I understand how it works. They draft a guy high and they want to see him play and succeed at the next level. That's the way it works sometimes and a few times, I felt like I got stuck in those situations. It was a little bit disappointing and definitely discouraging. I felt like, if I want to become the best player I can be, I need to play and get the opportunity."
MAKING A MARK IN THE SHL
That opportunity has certainly presented itself in Örebro. Through 17 games, Nick Ebert has twelve points (two goals, ten assists) and is one of the leading point-producers among defensemen in the league. He's averaging more ice-time (21:41) than any other player on the team and has had a positive impact on the team's possession game. He's second on the team in Corsi as Örebro controls  57,1 percent of all shot attempts with Ebert on the ice.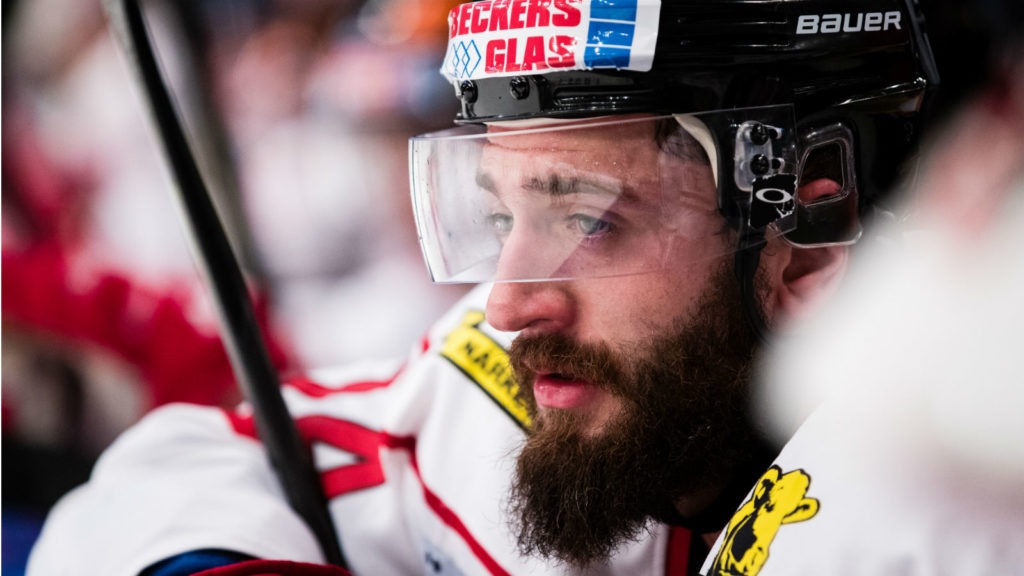 Photo: Bildbyrån/Kenta Jönsson
Ebert is happy he decided to return to Örebro and Sweden, even though the team has been struggling.
"At this age, I still feel like I'm developing bot defensively and offensively", he said. "Every year I'm getting a bit better and better. They say that sometimes with defensemen, it takes a bit longer to mature and develop. I certainly feel like I'm on that path to get my whole game together and be that complete package that I want to be."
And despite his previous disappointments back in North America, the dream of one day playing in the NHL is still vivid.
"Absolutely", he said. "I'm not going to lie. When I was younger I dreamt about playing in the NHL. That's a goal I haven't accomplished yet and it's in the back of my mind quite often and I think about."
"In order to get over there, you need to dominate over here and be one of the best players in this league och whatever league it may be over here. You need to be one of the best players and the all-round package to get the opportunity to go back. That's the plan of mine, to catch the eye of someone over there."
And even though it wouldn't happen, Nick Ebert's performance in the Swedish League has shown that he's anything but irrelevant.
You may also be interested in: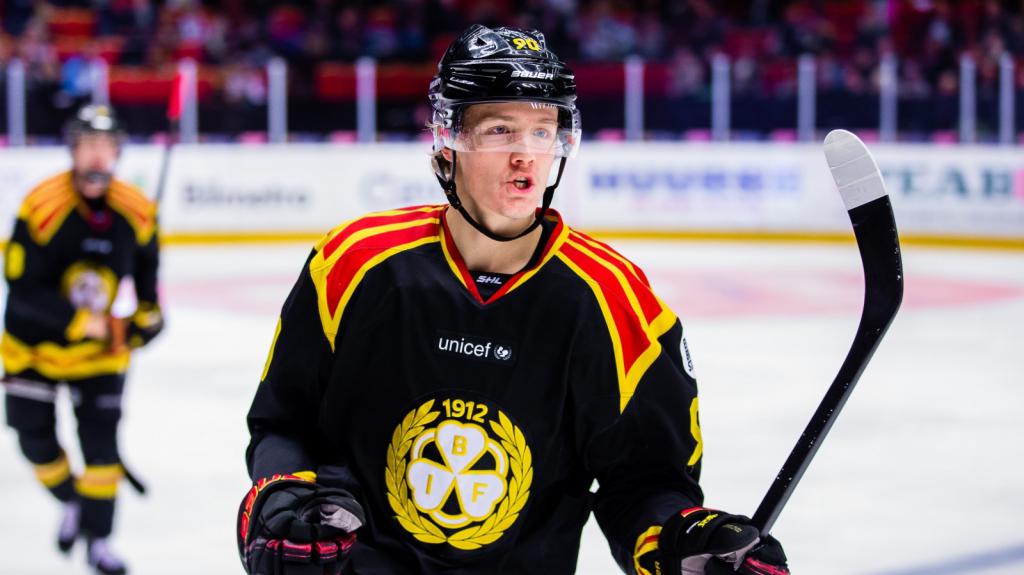 Five SHL players you could see in the NHL next year
This article is about: