NHL Prospects
SIBNER: Joel Persson – a diamond in the rough?
Peter Sibner
Most NHL prospects were local superstars when they were six years old.  They got pitted against the best in their age group at regional selections in their early teens. More often than not, they got involved with the national team at around 16. Before 18, they usually had their first whiff of professional hockey or were stars in Major Junior. Soon thereafter, many of them will be drafted and nurtured and pampered by NHL teams for the rest of their careers, some until their jerseys hang from the rafters.
Getting to the NHL is definitely a product of hard work and heavy lifting, but these days, most players who sign NHL contracts haven't really had to worry about much other than hockey since they were in high school.
Joel Persson is not one of those players.
When he turned 23 last year, he was in his fifth year as a teacher's assistant at a middle school in Kristianstad, Sweden. At night, he played hockey for Kristianstad IK, one of the better teams in Division 1, the Swedish third-tier semi-professional league. At that point, he had never been close to the Team Sweden talent program and he didn't play in the nationally televised TV-Pucken tournament.
Still, having upped his game to become a point-per-game defenseman in 2016-17, his level of skill and talent was obvious to a few teams in second-tier Allsvenskan. When Kristianstad failed to get promoted in the qualifiers that spring, it was still likely he would have a shot at professional hockey one level up.
Fast forward a year and some change: Joel Persson never made it to Allsvenskan. But he sure made a name for himself in the SHL
It all started with a phone call.
"At first, it was just a coincidence. I think it was [Kristianstad coach] Mats Lusth who called [Växjö GM] Henrik Evertsson and was like 'We have a helluva defenseman here, I think he's worth a shot higher up.' And we also felt we had enough depth in our D to take a chance on this guy", Växjö head coach Sam Hallam told EP Rinkside about the championship contender making some people scratch their heads by signing a completely unknown defenseman from the third division last summer.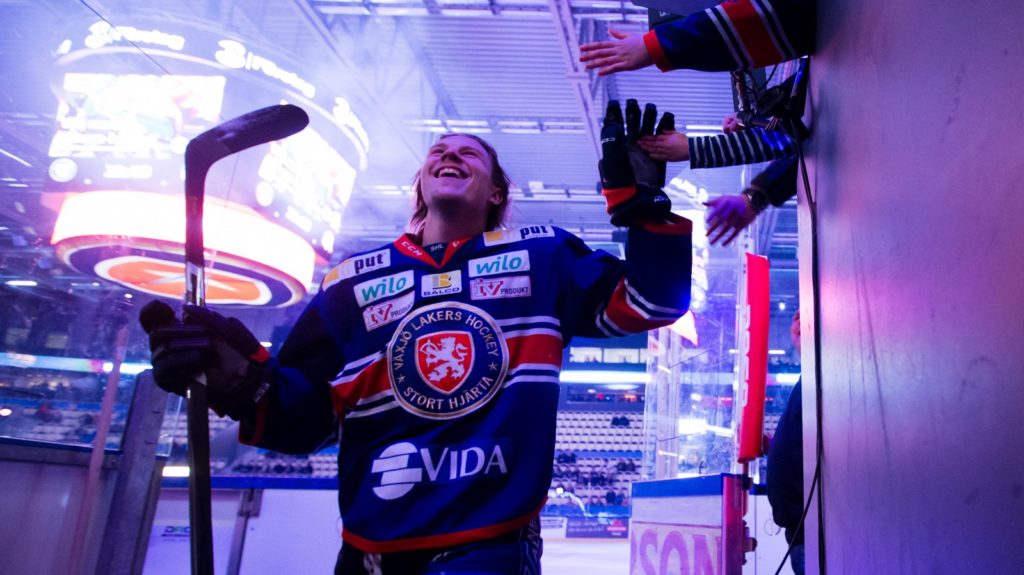 Persson quickly became a fan favorite in Växjö. PHOTO: Bildbyrån.
The scratching didn't last long. When the Champions Hockey League set off in August, Persson was not only part of the team – he instantly started putting up points. When the SHL finally began in late September, he was still a top-six defenseman and saw regular shifts on the powerplay. Who's that guy, again?
"We actually didn't play Joel a ton of minutes for the first three months. Patience, let him find his groove. But it was also a stroke of luck on his part. Cory Murphy had left a spot on our PP last summer, Ben Youds was brought in to fill it and then he got injured in our first pre-season game. Enter Joel", Hallam said of the bad luck that became a stroke of fortune for Persson.
Making a top-tier pro out of a 23-year old who had spent his career with local clubs on amateur level is a daunting task for any team. But in Växjö, they've done it before. In the past few years, players like Calle Rosén (Toronto), Eric Martinsson (Minnesota) and Philip Holm (Vancouver) have all come out of successful stints with Växjö to sign NHL deals. All of them were late bloomers in the sense that they weren't drafted or highly touted as teenagers. Still, they all had several years of experience with pro hockey.
But Joel Persson was up to the challenge.
"There were some things we could fix pretty quickly, physically as well as some tactical elements. In terms of conditioning, Joel did a great job that summer. That alone allowed him to take a pretty big step, being able to play at a higher pace against better players. Straight away, we knew his play with the puck and his offense was at a high level. So it was a matter of working on some defensive positioning and one-on-one situations. That was our plan and when a player just buys into that, results will come. Still, we may have had our plan and offered him some guidance, but Joel himself is really the one that's been putting in all the work", says Sam Hallam.
A few weeks earlier, Växjö had laid their hands on one of the best teenagers in the world. Elias Pettersson and Joel Persson were two rookies with very different levels of expectation on their shoulders when last season began.
In one corner, a recent top-five draft pick whose first few steps in the SHL would be of great interest to the media and a few million people from the still not convinced fan base in Vancouver. The other was a teacher's assistant who was just happy to enjoy the luxury of getting in shape for hockey without having to work 35 hours a week on the side.
Boy, did they get along well.
This video has some pretty good Persson-Pettersson moments.
Persson's first pro season saw him post 34 points in 51 games as a rookie defenseman in the top Swedish league, having completely warped a full division level. He was quarterbacking the lethal power play unit that was a big part of Elias Pettersson's record-slaughtering dominance, and it all ended with Växjö winning the Le Mat Trophy in what was maybe the most dominant fashion in Swedish league history. The finals saw them outscore Skellefteå 20-1 in four lopsided contests.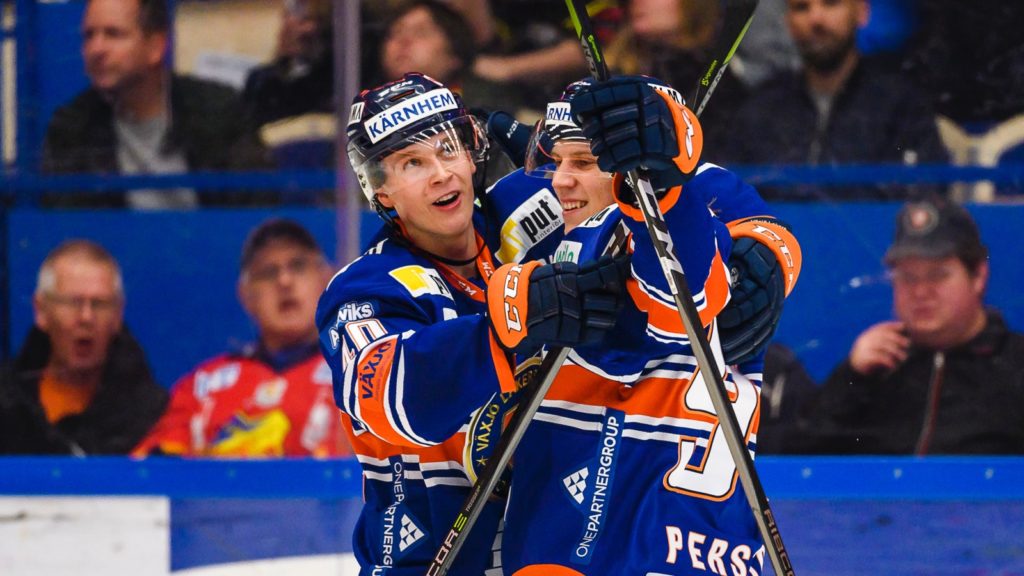 Elias Pettersson and Joel Persson celebrating another goal in Växjö. Photo: Bildbyrån
On May 18th, 24-year old Joel Persson signed an NHL contract with the Edmonton Oilers.
Quite a journey, right?
"I can put everything into playing hockey now. Everything you do, it's OK as long as it's good for your hockey", Persson told EP Rinkside about the luxury of suddenly becoming a professional at age 23.
"My job used to be my source of income and you had to do that well every day, but also make sure to deliver on the ice in the evening. It was maybe 50/50, now it's all hockey."
Pretty good hockey, at that.
In his second season with Växjö, Joel Persson is without Elias Pettersson and center Robert Rosén. The trio combined for 130 points in the 52-game regular season last year and added another 40 in 13 playoff games. Playing with Elias Pettersson was obviously something Persson will remember for a while.
"That was a great experience. Elias is so incredibly talented, he never stopped surprising you. Now that he's proven over and over again that he can do it even in the NHL, well, maybe I'm not that surprised anymore. At first, you were like… 'What?' I've seen quite a few of his games this year", Persson said.
Still, even without the help from generational talent Pettersson, Joel Persson is on pace to match last year's points totals after posting 14 points (3+11) in 20 games. In October, he finally got to don the yellow and blue Tre Kronor jersey at the Karjala Tournament in Finland and Czech Republic.
Since signing with the Edmonton Oilers in May, there is obviously a lot more pressure. From himself, from the fans in Växjö and from his NHL club. But potentially landing a spot in the best league in the world sure is a good enough carrot to put in a few extra hours at the gym or the rink. He will certainly want to go to Edmonton in September and give it a shot.
"Of course, that's my goal. At the same time, a lot of things need to go right for that to happen. I try not to focus too much on it now, I try to do my best here and become the best player I can be before that chance will hopefully materialize", says Persson.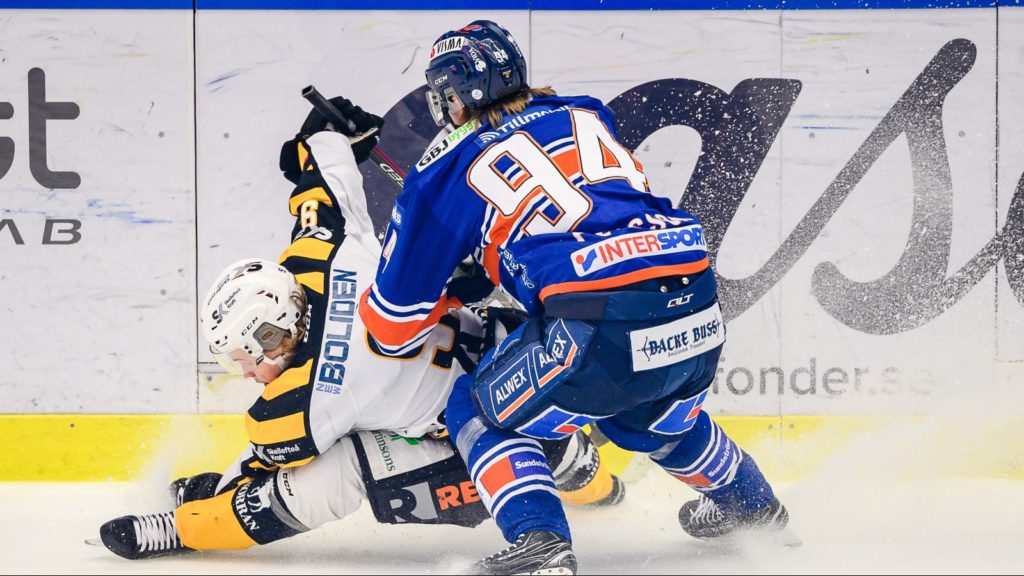 Persson is not one to shy away from physical hockey, even though his passing game and shot from the point are his most notable assets. PHOTO: Bildbyrån.
Växjö were more than successful in taking a chance on Persson. Now, the Edmonton Oilers look to do the same. Signing the 24-year old defenseman to a one-year deal and loaning him back to Växjö for more seasoning, but still keeping his rights as a restricted free agent next summer, could prove to be a smart move for a cap-strapped club in desperate need of finding a diamond in the rough here and there. There were other teams interested in Persson, who didn't want to rush anything and also made a careful analysis before signing his NHL deal.
"There was some interest, sure. I'm a hockey nerd myself, so I like to look at the way other teams are built and I felt that there could potentially be a role to fit my type of game on that team in the future. That's why I chose Edmonton", Persson said.
There's no doubting the Oilers are paying close attention to their potential steal. A good two months into the SHL season, phone lines and video streams are running hot between Alberta and the south of Sweden.
"We talk every week. I had a ten-minute talk with them yesterday, we text and so on and they were here in Växjö about a week ago. I feel like they really care, and I'm happy about that. When they played in Gothenburg, they came to see me the day before their game. So yeah, we've had a lot of contact so far", says Persson.
Sam Hallam, the 39-year old Växjö coach, knows a thing or two about working your way to success. So does the city. In Hallam's six years with Växjö, the club that was founded just 21 years ago has already won two Swedish championships. Växjö Lakers managed to work their way up from the all-amateur, more or less beer-league level sixth-tier of Swedish hockey to the SHL in just over a  decade. If that's possible in today's hockey, Persson becoming the first Swedish player since Fabian Brunnström to go from third-tier hockey to the NHL in just two years maybe isn't all that wild after all.
Hallam sure thinks he can do it.
"Eventually, yes. I think they have a good plan for him in Edmonton. As long as he keeps working the way he does on the ice and makes sure to be ready physically when he leaves for camp. He's not afraid to take a beating, he's not shying away from physical hockey and he has a great ability to move the puck to the right address. He's one of those few, really smart players who can deal with stuff by being in the right spot, lifting a stick here and there, picking angles and gaps just right", says Hallam.
"So yeah, I think he has a good chance. It's really up to himself, I'd say. Even if things shouldn't go his way right away over there, he should keep tugging away at it. Getting the chance to be an NHL player isn't as obvious a step for him as it maybe is for some other players, and his humbleness and maturity could probably give him some tools to handle these things that you maybe don't have if you get drafted with high expectations when you're 18."
The only thing we do know: Persson sure does look pretty comfortable in blue and orange.
You may also be interested in: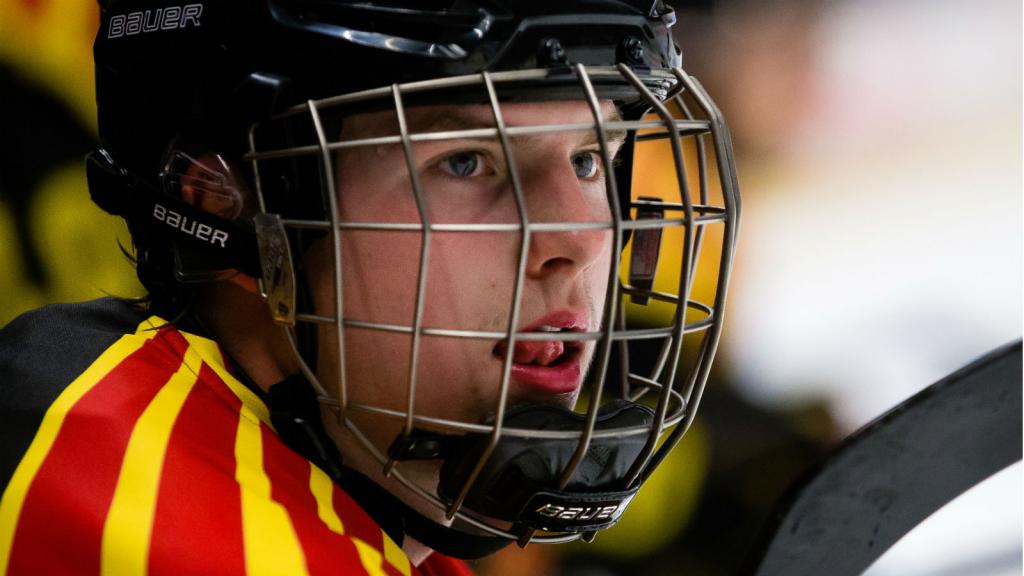 Next in line – Söderström the latest Swedish D-man to rave about
This article is about: