Scouting Reports
BLOG: Swedish Junior circuit loaded with 2020 talent
Greetings, and welcome to my blog!
My name is Christoffer Hedlund and I am a Swedish scout for Future Considerations. In my scouting role, I spend a lot of time looking for and evaluating prospects. I follow the SHL, HockeyAllsvenskan and J20 SuperElit as closely as I can, both at the rink and in front of the screen. In this blog I will focus on the Swedish tier-1 junior league, J20 SuperElit, and the prospects playing there that are of interest for the NHL-draft. In addition, I will get the opportunity to share a bit of my work and my thoughts about some of the prospects that I come by as the season progresses. Hopefully I will be able to convey how fun and interesting it is to follow a league like J20 SuperElit at close range.
I would like to start with a post about some of the top-prospects for the 2020-draft. I will of course return with a closer look at the 2019 prospects as we get closer to the U18 tournament and the draft. But as for now, 2020 looks to be way stronger than the 2019 draft and judging by early impressions, it could potentially be one of the strongest drafts in many years for Sweden. So I figured I'd bring you up to speed on some of these talented players at an early stage.
With that said, here are some of the Swedish 2020-eligible prospects that you should keep an eye on:
Lucas Raymond, LW/RW, Frölunda HC J20, 5'10, 165 lbs,
DOB 03.28.02
Raymond has had an impressive start to his first full season in J20 SuperElit and is currently tied for second in scoring in the south division with 28 points (10 goals and 18 assist) in 21 games. The 16-year-old is not only one of the league's best players, he is also one of the most entertaining ones to watch and has the ability to make creative and unexpected plays with the puck. Raymond is as close as you can get to the complete package, he has exceptional hands, great hockey sense but still works hard, fights for loose pucks, plays a solid two-way game and rarely takes a shift off. Raymond's explosive first steps and blazing speed not only makes him a terrific forechecker but combined with his quick hands and ability to handle the puck at high speed he becomes a challenging player to defend against in 1-on-1 situations, where he can beat his defender both on the inside and on the outside. Raymond has a deadly wrist shot with a quick release and knows how to put the puck into the net, but he has also shown that he has fantastic vision and playmaking abilities and can set up his teammates with creative passes. His diverse offensive tools turn him into a dangerous threat whenever he has the puck in the offensive zone. Raymond is not a player that wait for something to happen, he takes initiative and makes things happen on his own and does not hesitate to take the puck to the net. He is the type of player that makes everyone around him better and he can carry a line on his own if it is needed.
Lucas Raymond reducerar för Frölunda till 4-1. #J20gifs #J20SESödra #RBKJ20 #FHCJ20 pic.twitter.com/qi6x3mCnmU

— Anton Johansson (@antonj85) September 12, 2018
Alexander Holtz, LW/RW, Djurgårdens IF J20, 6'0, 183 lbs 
DOB 01.23.02
Holtz might be the most talked about 2020-eligible Swedish prospect to this date. He is an offensively gifted sniper that can score from anywhere in the offensive zone, but there is more to Holtz game than just putting the puck into the net – his playmaking abilities shall not be underestimated. He has excellent vision and even while under pressure Holtz has the ability to make quick and smart plays with the puck to set up his teammates. Holtz wrist shot is as deadly as it gets, it is quick, powerful and extremely accurate if he is given the slightest of time in a goal scoring area Holtz will make sure that the puck will find its way into the net. Holtz is not a finisher waiting for someone to set him up, he is fully capable of generating scoring chances on his own, he got quick hands and can dangle his way through traffic and he does not hesitate to take the puck towards the net. While Holtz isn't as explosive and does not have the same top speed as Raymond, he is still a strong skater with great balance and lower body strength which makes it very hard to knock him off the puck. Even though Holtz has his main strengths in his offensive game he still plays a decent two-way game, he works hard on the backcheck, anticipates plays while defending and covers angles well with his stick. A complete player with an exceptional shot and great hockey sense that plays well in all three zones, so far this season Holtz has 12 goals and eight assists in the 17 games he has played.
Alexander Holtz ledningsmål för Djurgården till 4-3 mot Modo, framspelad av Pontus Johansson och Felix Carenfelt. #J20gifs #J20SENorra pic.twitter.com/U1KXFjHOZw

— Anton Johansson (@antonj85) November 30, 2018
Noel Gunler, LW/RW, Luleå HF J20, 6'1, 176 lbs
DOB 10.07.01
Gunler has been nothing short of dominant so far in J20 SuperElit, his 16 goals make him the league leader in goals and with 30 points in 21 games he is second overall in points, he also had an impressive stint with Luleå HF's team in the SHL. Gunler is an offensive-minded sniper, who possess a lethal wrist shot with a fantastic release, and above-average playmaking skills. His hockey sense in the offensive zone is exceptional, he reads the game well and has great awareness, he is outstanding at finding open ice to position himself so that he can utilize his shot. He is an expert at making himself available for a pass or rebound that will give him a scoring chance. He is a shoot-first kind of player but Gunler also has decent vision and good playmaking abilities, he is not afraid of holding the puck to wait for passing lanes to open up before setting up his teammates with hard and accurate passes, a skill which also makes him an efficient player, and a diverse threat, on the powerplay. While he does not have elite top speed Gunler still is a capable skater, he has good first steps and balance but could improve his acceleration while carrying the puck. But Gunler's style does not revolve around constantly outskating or dangling past defenders, instead he has the skill, and sense, to play to his strengths and put himself into favorable situations where he can capitalize on what he does well. Defensively is where Gunler has his weaknesses, his positioning can be a bit off and sometimes he is too passive in his play without the puck. But if you are looking for a sniper that can put the puck into the net from anywhere in the offensive zone, then Gunler is your man to do it.
Noel Gunler stod för ett hat-trick för Luleå mot Mora. #J20gifs #J20SENorra pic.twitter.com/dQlzymdo8p

— Anton Johansson (@antonj85) November 24, 2018
Zion Nybeck, RW, HV71 J20, 5'8, 176 lbs
DOB 05.12.02
Nybeck has had a great start to his first season in J20 SuperElit, and already looks to be a difference maker for HV71's J20 team. Nybeck is a skilled forward that works very hard in the offensive zone to help his team create scoring chances and is great on the forecheck. Nybeck is more of a passer than a shooter, but he has a decent wrist shot that he should use more often than he does. At times he struggles with physical play due to his size, but he thrives when he is given some time and space on the powerplay. He has great vision, sees the ice very well and distributes the puck with hard crisp passes that often finds his team mate's tape. Nybeck's quick first steps and low center of gravity makes him a great puck protector, both while entering- and while moving around in the offensive zone. Nybeck is an overall decent skater, he doesn't have elite top speed, but he can turn on a dime and handles the puck well while accelerating. He plays well defensively, he always works hard, has decent positioning and uses his stick well but can have some troubles while fighting for pucks along the boards against bigger and stronger opponents. Nybeck seem to have found his role as a powerplay specialist, out of his 23 points (four goals and 19 assists) 13 (two goals and 11 assists) has been on the power play, which means that he has scored the third most points on the power play in the whole league, despite only dressing up for 16 out of the 25 games HV71 has played.
Zion Nybeck ger Sverige ledningen mot Kanada. #WorldU17 pic.twitter.com/JL909ZNnPq

— Anton Johansson (@antonj85) November 9, 2018
Helge Grans, D, IF Malmö Redhawks J20, 6'2, 183 lbs
DOB 05.20.02
Grans has been one of the few bright spots on a quite weak Malmö team so far this season in J20 SuperElit and is fourth in team scoring with his eight points (four goals and four assists) in 15 games. He is a mobile two-way defenseman, with good puck skills and great lateral movement along the offensive blue line. What really stands out with Grans game is his hockey sense, how calm, confident and composed he is with the puck in his possession, and how well he reads the game before he distributes the puck. You will rarely see him throw pucks away or make a bad pass to put a teammate in a tricky situation. He is the type of player that always seems to have some extra time while handling the puck. Grans thrives on the offensive blue line, his quick first step and puck handling give him extra time to either find a good option for a pass or to put himself in a position to get his shot past the blocking forward. Grans' shot from the point is both accurate and powerful and he does not hesitate to use it. Even though Grans has his most notable strengths in his play with the puck in his possession he is still solid in his own end, he reads the game very well while defending and rarely makes big mistakes, his gap control is excellent, and you will rarely see him beat in 1-on-1 situations. Grans game is very mature for his age and sometimes you have to remind yourself that he is only 16 years old when you watch him play. Malmö have already tested him on senior level, and he didn't even look out of place playing against men in the Champions Hockey League.
Helge Grans 4-0 mål för Malmö mot Linköping 20:e Oktober. #J20gifs #J20SESödra pic.twitter.com/UM7KIwtaxd

— Anton Johansson (@antonj85) December 1, 2018
Anton Johannesson, D, HV71 J20, 5'9, 154 lbs,
DOB 03.26.02
Johannesson has missed a big chunk of the season so far and has only played three games in J20 SuperElit, which he has a goal and an assist in, but he has showed himself to be one of the most interesting Swedish defensemen eligible for the 2020 draft. He is an offensive-minded defenseman equipped with great hands and smooth skating, which makes him a great puck-carrier that can dangle his way through traffic. Johannsson's play with the puck in his possession is superb, he has excellent vision and distributes the puck with quick, hard passes that finds its way to his team mate's stick. Johannesson also has a strong first pass to start the transition game, you rarely see him make a bad play from his own zone to cause a turn over. With his offensive instincts, Johannesson isn't shy to join the rush, and it is not uncommon for him to be one of the first players to enter the offensive zone. Johannesson has a good shot from the point, it is very accurate and often finds its way through traffic. His defensive game is not as strong as his offensive game, and he still needs to work on some things like positioning and how to efficiently work with his stick while defending.
Anton Johannesson reducerar till 5-3, assisterad av Alexander Holtz. #WorldU17 pic.twitter.com/R02A24Dvi6

— Anton Johansson (@antonj85) November 9, 2018
With this amount of potential top prospects, and a couple more knocking on the door, the 2020-draft is looking like it could be something special for Sweden. It's "a bit" too early to tell, but from what it looks like right now it would be no surprise if three of the first 10 names called at the draft in June 2020 were Swedish, something that has only happen twice in the last 20 years (2009 and 2011).
I'm very excited to follow these guys in the coming one and a half years before the 2020 NHL Draft, and I am very happy to have the opportunity to share their journey, and much more, here with those of you that are interested.
You may also be interested in: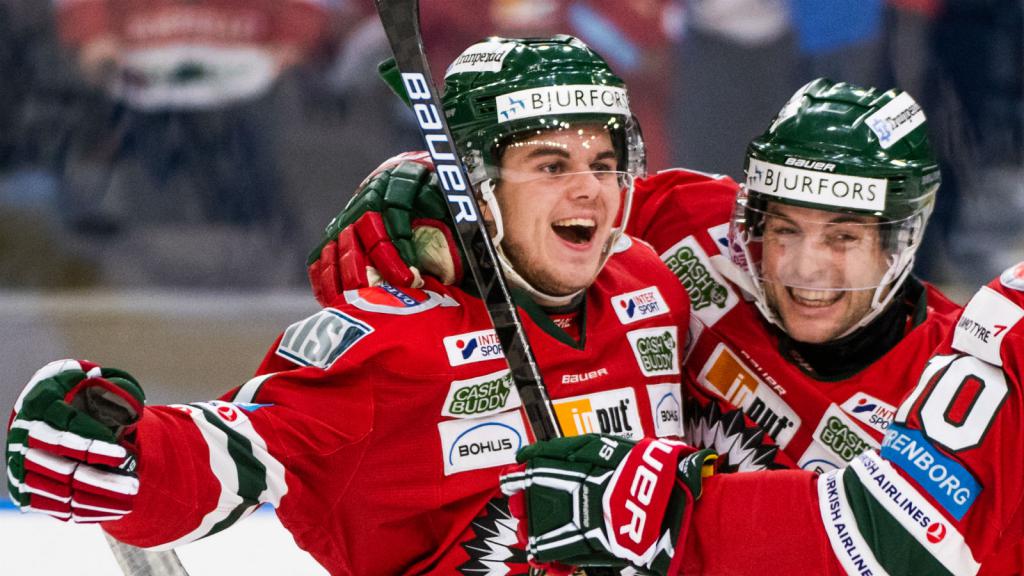 "I see this as my revenge" – Fagemo bounces back after being overlooked
This article is about: