NHL Rookies
AHL PROSPECTS REPORT: Goaltenders Binnington, Hogberg take center stage
Monday is often an off-day for American Hockey League teams after their hectic weekends.
With two and sometimes three games – plus travel – crunched into a weekend, those teams have earned that rest and step away from the rink. But Monday here is a day to assess some of the best performances this past week across the 31-team AHL.
*****
JORDAN BINNINGTON – SAN ANTONIO RAMPAGE (ST. LOUIS BLUES)
Back in October, Binnington seemed to be the odd man out on the St. Louis goaltending depth chart.
The Blues again had their own AHL affiliate after a season of scattering their prospects across the AHL. Top prospect Ville Husso had just finished a strong 2017-18 season in the AHL, and Evan Fitzpatrick, a 2016 second-round choice, was ready to turn pro after a strong run with the Acadie-Bathurst Titan through the QMJHL to the Memorial Cup championship this past May.
So, even though the 25-year-old Binnington was coming off a strong season on loan to the Providence Bruins, numbers and age did not work to his advantage as he headed to San Antonio after training camp, at risk of drifting into the murky status of being a mid-twenties AHL veteran. The Blues chose him in the third round of the 2011 NHL Draft, but he has spent the past five seasons between the AHL and ECHL with only one appearance for St. Louis, that coming back in the 2015-16 season.
But circumstances change, and the fiercely competitive Binnington stood his ground with his play. Husso struggled early, Fitzpatrick is in the ECHL with the Tulsa Oilers, and Binnington has gone about his business as a steadying influence through a 3-12-0-0 start that nearly buried the Rampage before mid-November.
Binnington, meanwhile, continued his strong season with a 31-save performance Saturday night at home against the Milwaukee Admirals. Through 13 games for the Rampage, he is 8-4-0 | 2.34 | .914. Now Binnington is on his way to St. Louis after the Blues recalled him on Sunday. Blues netminders Jake Allen and Chad Johnson continue to struggle and the Vancouver Canucks hammered St. Louis, 6-1, on Sunday.
TEDDY BLUEGER – WILKES-BARRE/SCRANTON PENGUINS (PITTSBURGH PENGUINS)
Much of the opening two months of the season has been a tough haul for Wilkes-Barre/Scranton.
They found some open road this past weekend, sweeping a three-in-three to put themselves firmly back into contention. Before the weekend they had lost seven of their previous eight games, and they faced an intimidating start to their weekend with home dates against the Cleveland Monsters and Bridgeport Sound Tigers. Instead, Wilkes-Barre/Scranton took care of business against two of the Eastern Conference's higher-end teams.
When Sunday rolled around, the AHL Penguins were down on the road against the Hershey Bears, 4-1. Rather than settle for a good-but-not-great weekend, they went to work. Blueger started that comeback with fewer than five minutes to go in the second period on a goal for a 4-2 game. Next, he picked up an assist on Thomas DiPauli's goal with five seconds to go in the period that sent the game into the second intermission at 4-3.
Wilkes-Barre/Scranton chipped away in the third period before finally tying the game in the final minute of regulation. The comeback pushed the game into overtime, and Wilkes-Barre/Scranton eventually put Hershey away in a nine-round shootout, 5-4.
Blueger finished the night with a 1-2-3 outing to go with his goal on Saturday afternoon in the win against the Sound Tigers. He holds the team scoring lead (8-12-20) and is coming off a 21-goal season in 2017-18 for Wilkes-Barre/Scranton. Pittsburgh chose Blueger, who is now 24 years old, in the second round back in the 2012 NHL Draft.
ERIC COMRIE – MANITOBA MOOSE (WINNIPEG JETS)
It has not always been a smooth path for Comrie.
After surgery on each of his hips while in the WHL, he took on the AHL as a 20-year-old rookie in 2015-16. That season the Moose were overwhelmed on many nights, but Comrie was often the only reason that they were not blown out on a nightly basis (as it was, the Moose still put up a 50-loss season).
In the past two seasons, he had to contend with Ondrej Pavelec and Michael Hutchinson each being sent to the AHL and cutting into his playing time (though he played 51 games in 2016-17). He has stuck with it and been a real constant for the Moose.
Comrie is now 23 years old and again firmly in control of the Manitoba net. This past Saturday night, he also had a grip on the Stockton Heat. He put up a season-high 41 saves in a 2-1 road win. The fourth-year pro shut down the Heat on 20 second-period shots amid five power-play chances for Stockton. He grabbed the two points for the Moose, giving them only their second victory on a tough six-game road trip through the Pacific Division.
Comrie, a 2013 second-round pick, is 8-7-1 | 2.84 | .916 in 16 games for the Moose this season. His panning out would be a big win for the Jets, who have invested considerable time into his development. Laurent Brossoit may or may not be a longer-term back-up solution for the Jets. If not, the position could be Comrie's to take next season.
MARCUS HOGBERG – BELLEVILLE SENATORS (OTTAWA SENATORS)
Sometimes in the AHL, you just need your goaltender to steal a win.
Or at least a point.
Hogberg made something out of nothing for Belleville on Sunday afternoon against the Toronto Marlies. Outshot 36-10 by the Marlies, Hogberg got the game into overtime before the Marlies finally won it. With Belleville outplayed throughout the game, Hogberg's 35-save effort secured the Senators five out of six points in a demanding three-in-three weekend. That leaves Belleville 12-12-2-0 and in fourth place, a mark that all in all is rather solid given a steady stream of recalls eroding the AHL roster.
With Filip Gustavsson viewed as the top goaltending prospect in the Ottawa organization, Hogberg has been overshadowed this season, spending most of the time in the ECHL with the Brampton Beast. He did not make his AHL season debut until November 30th, but he has excelled in three starts for Belleville, going 2-0-1 | 1.65 | .940. He turned 24 years old on November 25th, and he was an Ottawa third-rounder in the 2013 NHL Draft.
Beyond his draft standing, there is some reason to think that Hogberg merits a further look as well. Three strong SHL seasons for Linköping made him an intriguing prospect before he arrived in North America at the end of the 2016-17 season.
JOSEF KORENAR – SAN JOSE BARRACUDA (SAN JOSE SHARKS)
One could excuse the Bakersfield Condors if they do not want to see the San Jose Barracuda again for a while.
San Jose swept a weekend home-and-home series with the Condors, taking a 4-0 home win on Sunday night to finish the deal. The Barracuda lead the Pacific Division on 15-3-1-2 mark, and their .786 point percentage tops the AHL as well.
The latest source of frustration for the Condors was Barracuda netminder Josef Korenar, who shut them out on 31 saves on Sunday. San Jose's 4-0 win came one night after a 4-2 win at Bakersfield. His shutout Sunday pushed record to 9-1-1 to go with his 1.99 GAA and .930 save percentage. He has allowed one goal or fewer in five of his 11 appearances this season.
Korenar, 20, continues his impressive first season in North America. The Sharks signed him to a free-agent contract in July 2017 after he had a strong season for the Lincoln Stars of the USHL. The Sharks opted to loan Korenar to Dukla Jihlava of the Czech Extraliga last season, and he divided time between there and the then-WSM Liga. The Sharks then brought him to Northern California this season to pair as an understudy with Antoine Bibeau.
The Barracuda-Condors season series, by the way, does not resume until January 21st. San Jose has taken three of the first four games.
LUKE KUNIN – IOWA WILD (MINNESOTA WILD)
Kunin's comeback continued Sunday with a recall to Minnesota after a stand-out performance for Iowa in three games last week (2-3-5).
The 21-year-old forward torn his left anterior cruciate ligament this past March, ending a promising rookie season divided between Minnesota and Iowa.
After surgery, he managed to rehabilitate the knee injury quickly enough to be ready for training camp this fall, but he landed back in Iowa. He handled the assignment well and has gone 8-7-15 in 21 games for the AHL Wild, who are first in the Western Conference at 14-5-4-2.
CURTIS LAZAR – STOCKTON HEAT (CALGARY FLAMES)
Most of all, Lazar just needed to play this season, and that is exactly what time in Stockton has provided him.
Taken by Ottawa as the 17th pick in the 2013 NHL Draft, Lazar already had two NHL seasons to his name by age 21. But struggles in Ottawa, a trade to the Flames, and in ability to stay in the line-up left his career stagnant. When Lazar could break into the line-up, he did not do enough to merit staying there. Going on waivers at the end of training camp certainly was not anybody's vision for him a few years ago, but it might get him back on track. Lazar cleared waivers, accepted a trip to the AHL as an opportunity, and he has run with it as a key piece in one of the deeper forward groups in the AHL. He has played 24 of 25 games for the Heat, going 9-10-19. He is playing in all situations, and his three shorthanded tallies lead the AHL.
He assembled a November run of five goals over five games before cooling off from a production standpoint. But this past weekend, he was back at it. His two goals this past Saturday, one of them the overtime winner, sent the Heat past Manitoba, 3-2.
ANDREW POTURALSKI – CHARLOTTE CHECKERS (CAROLINA HURRICANES)
Down at Springfield this past Saturday night, the Checkers faced their first stumble (relatively speaking) of any significance. A loss to the Atlantic Division counterpart Springfield Thunderbirds would have left the Checkers with a losing record on their five-game road trip.
Poturalski helped to make sure that the Checkers could head back to North Carolina with a successful trip. His third-period goal with 32 seconds left put the game in overtime, where Charlotte went on to grab a 5-4 win.
A 24-year-old forward who was signed by the Hurricanes as an undrafted free-agent, Poturalski sits in a tie for fifth in AHL scoring at 10-15-25 in 26 games for the AHL-leading Checkers. He went on a tear on the road trip with 4-2-6 over the five games away from Bojangles' Coliseum. Now the Checkers go home for a six-game homestand that starts with a two-game set against the Hartford Wolf Pack.
ELSEWHERE…
Bridgeport forward Josh Ho-Sang received the call from the New York Islanders thanks in part to a team-leading 22 points (2-20-22) over 26 games. The Islanders drafted the Ho-Sang 28th in the 2014 NHL Draft, but it has been a sometimes-bumpy developmental curve for him. Improving his two-way play has been major imperative for the Bridgeport coaching staff…. Time will tell whether a stint with Charlotte did Scott Darling any good, but he is back on his way to the Carolina Hurricanes after being recalled Sunday. He went 2-1-0 | 2.70 | .897 in four starts for Charlotte since his demotion…. Forward Sergei Shumakov was not available for very long after leaving Hershey last week. Springfield bulked up further, signing the 26-year-old to a professional tryout agreement. He was a much-heralded offseason signing by the Capitals after a 17-23-40 performance last season in the KHL with CSKA Moscow. However, he spent much of the first two months of the regular season in Hershey and only was 3-1-4 in 10 games for the struggling Bears. He and Washington agreed to terminate his contract…. Thunderbirds forward Henrik Borgstrom broke loose for a 1-2-3 afternoon on Sunday against the Binghamton Devils, a 5-1 victory at home. The goal broke a 15-game run without a tally, though he is 5-17-22 in 23 games this season…. Colorado Eagles blueliner Kevin Davis has made an early impression. After spending last season as a WHL over-ager for the Everett Silvertips, Davis signed an AHL contract with the Eagles in the offseason. He has spent most of the season with the Utah Grizzlies, going 1-15-16 in 19 games. That earned him a recall to the Eagles, and he had a three-assist evening this past Saturday in a 4-3 win against the San Diego Gulls. That win gave the Eagles 11 of 12 points on their six-game homestand.
You may also be interested in: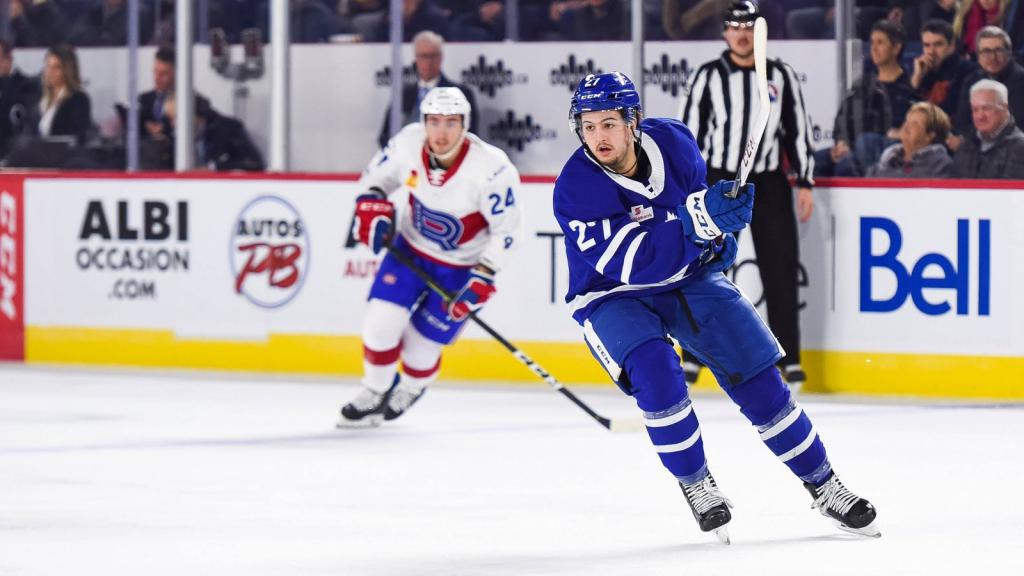 AHL PROSPECTS REPORT: Bracco shines for Marlies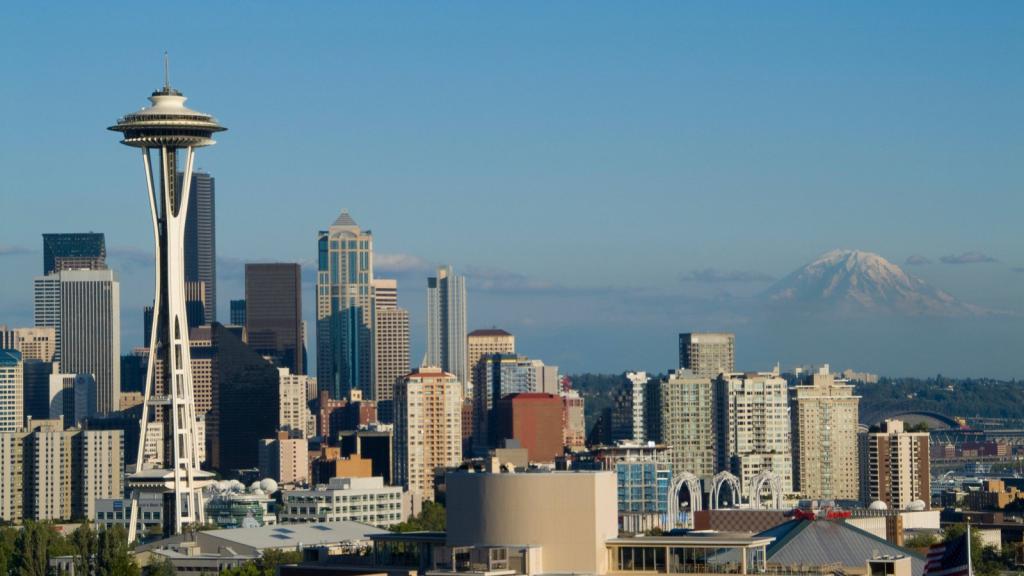 AHL FRIDAY WITH PATRICK WILLIAMS: Seattle scouting for AHL affiliate
This article is about: