NHL Rookies
FILIPOVIC: The Rise of Teenage Defensemen in the New NHL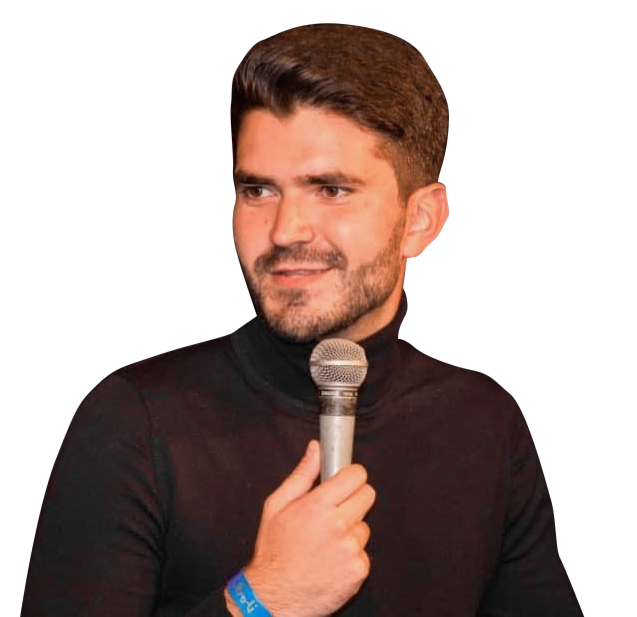 Dimitri Filipovic
The NHL has changed in many visibly discernible ways in recent years. At its best, it's now a game that's played at a frenetic pace, putting feats of skill front and center above all else. The players populating the league are younger, faster, and more dynamic – if only out of sheer necessity, to keep up with the changing physical demands.
Hockey is still a contact sport at its core, which means that physicality will always have a place. But the days of throwing bodies and fists around just for the sake of doing so appear to be rapidly dwindling. Just look at the progressive eradication of fighting; this season we're well on our way towards an all-time low for fights, fights per game, and percentage of games featuring a fight, continuing the steady downward trend over the past decade. Instead, the physicality you do see in today's game shows up in a much more functional capacity. It involves puck chasers suffocating opposing attackers and limiting their airspace to operate, maintaining that gap control through the use of active stickwork and savvy positioning.
This evolution of the sport is most obvious at the defense position. To play on the back-end today, you need to be able to either move the puck quickly, move your feet quickly, or ideally some combination of the two. The big, lumbering crease-clearing prototypes that patrolled the blueline during past eras have quickly become a dying breed, with the few that are still hanging around serving as exceptions to prove the general rule. Players like Jared Spurgeon and Ryan Ellis – rather generously listed at 5'9" and 5'10" a piece – are tremendously effective defenders in the modern NHL despite their diminutive stature, because they're seemingly always in the right place at the right time and can transition the puck up the ice effectively when they do inevitably retrieve it.
That change has eventually trickled down to a begrudging adjustment in philosophy from a roster construction perspective as well. It used to be that teams were overly conservative with how they brought along their young defensemen, leaving them at the lower developmental levels to marinate and physically mature even if they'd outgrown the competition. When they finally would come up to the NHL level, they'd continue to be cautiously spoonfed, putting them in a tricky spot – they'd get limited opportunities to try and make plays, but if one of those forays backfired and led to the puck being in the back of their net they'd immediately be reprimanded by being stapled to the bench or sent up to the press box.
Teams can certainly still be frustratingly rigid with their handling of prospects, but for the most part as our collective understanding and acceptance of aging curves has developed, so has the speed at which those young players are getting to make an impact in the league. It helps that young legs are better suited to keeping up with speed of the game, and that cost controlled contributors playing for the bare minimum while still on their entry level contracts are valuable commodities for teams devoting large chunks of their cap space to the top of their roster.
This season we're seeing a number of young defensemen thrive in that newfound freedom they've been provided. It's not necessarily surprising that one of them is this past summer's first overall pick considering all of the hype he warranted as a prospect coming in, but it's still been somewhat jarring to see just how good Rasmus Dahlin already is at the ripe old age of 18.
What's immediately become evident in Dahlin's first pass around the league has been how unbelievably composed he is at all times. Regardless of the the situation or surroundings, he seemingly never panics, and he seemingly never does anything without a purpose. Even with forecheckers crashing down upon him deep in his own zone, he constantly finds a way to impress with his unique ability to elude them and get the puck to teammates in a better position than they started off with.
That type of composure and willingness to hold onto the puck for a split second longer than most players are comfortable doing figures to serve him particularly well on the man advantage, where optimizing shooting efficiency by seeking out prime scoring chances rather than just bombing away recklessly from the point is of utmost importance for power play quarterback. We've already seen him force his way onto the first unit, with the Sabres now being one of the few teams to use the conventional 3 forwards and 2 defensemen formation simply because they can't keep him off of it.
It's only a matter of time until he wrangles control of that unit from The Other Rasmus (Ristolainen), and it's only a matter of time until Phil Housley fully takes the training wheels off in all facets of the game. Since the start of the season we've seen Dahlin's overall usage bump up from 18:58 in October, to 19:54 in November, to 24:11 in December. That final figure is inflated because one of the three games he's played this month was a 29:15 performance against the Leafs after the Sabres lost a defenseman to injury early on, but the point is that he handled the heavier workload seamlessly and showed that he there's no good reason why he shouldn't keep being entrusted with more and more responsibility.
Especially if he's going to keep making those around him better, as he has thus far. Dahlin currently sports positive shot attempt (+2.3%), shot on goal (+0.7%), actual goals scored (+6.7%) and expected goals scored (+2.3%) rates relative to his teammates, and has nearly summarily brought back Zach Bogosian's career from the dead since being paired up with him. It's quite possible that he eventually hits a bump in the road as most young players typically do, but for now, he's been as good as advertised. Should the opportunities continue to match up with the talent itself, he looks poised to continue clearing benchmarks on his preordained path to the league's elite at the position.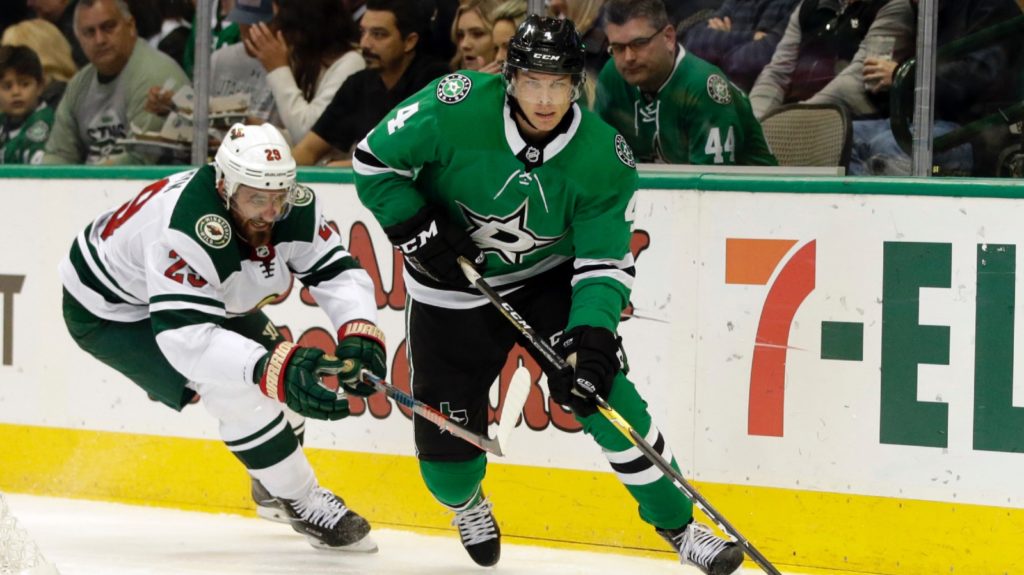 Photo: Bildbyrån
While it'll ultimately be tough for either of them to pile up enough points to steal first place Calder Trophy votes away from Elias Pettersson given the offensive tear he's on, the competition between Dahlin and Miro Heiskanen for claim to 'best rookie defenseman' in this year's class promises to be a fascinating secondary storyline as the year progresses. The latter has likewise already distinguished himself as being the real deal, despite being thrust into an even trickier situation all things considered.
Heiskanen technically came into the campaign with a head start thanks to a year of seasoning in a pro league – during which he was named Best Defenseman in the Finnish Liiga – but also faced added pressure considering that the Stars had raised some eyebrows by reportedly refusing to include him in a potential Erik Karlsson trade this summer.
That pressure only rose exponentially following John Klingberg's injury in early November, after which Heiskanen was thrust onto the Stars top defense pairing alongside Esa Lindell.
His underlying numbers haven't been particularly flattering since that promotion, but he should be afforded some leniency considering the nearly unprecedented workload he's been given at this stage of his career. Here's a list of the highest usage rookie defensemen we've seen since the turn of the 21st century, along with their respective ages in that season: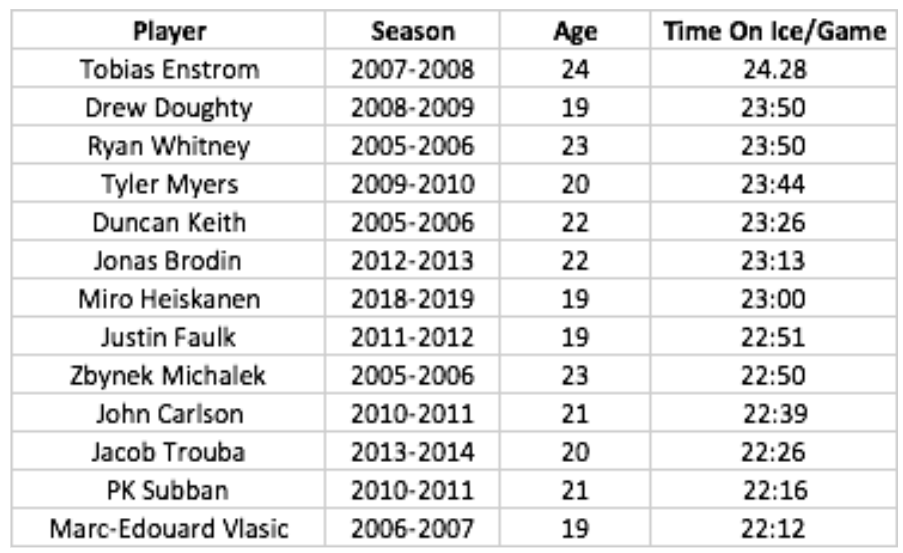 It's still far too early to say with any level of certainty whether Heiskanen is going to wind up becoming a true game-changer like most of the names appearing on the list. After all, as we've seen over the years receiving heavy minutes is one thing, but actually making the most of them and continuing to perform effectively is something entirely different. But it's certainly inspiring company nonetheless for him to be keeping as a teenager.
Let's end with one final note on Thomas Chabot, who's having such a noteworthy campaign as a young blueliner that we're going to lump him together with the other two for the purposes of this exercise despite the fact that he's a couple years older and had the benefit of a full year at this level under his belt already heading into this season.
No one is going to confuse the Senators for a good team that's going to win many games in 2018-19, but the silver lining is that their games have at the very least been undeniably watchable. No lead has been safe in a game involving them, with goals coming in bunches from all directions.
To put into perspective just how porous they've been defensively thus far as a team, over the past two decades no team has given up more shots against per game than them (38.3, with the 35.9 the 2013-14 Leafs gave up coming in second), and no team has given up more goals against per game (3.94, ahead of 1999-00 Thrashers who gave up 3.82). The only thing keeping Ottawa from being a truly historical abomination overall thus far has been their work on the other end on the ice, where they've come in as the 8th ranked offense, sandwiched between the Jets and Penguins.
Thomas Chabot's emergence as an equal opportunity offensive dynamo has been the predominant driving force behind that stunningly entertaining start to the year in Ottawa. At five-on-five, there's a legitimate argument to be made that the two most lethal scoring units we've seen this season have been the one with Chabot on it, and the one he's been playing against.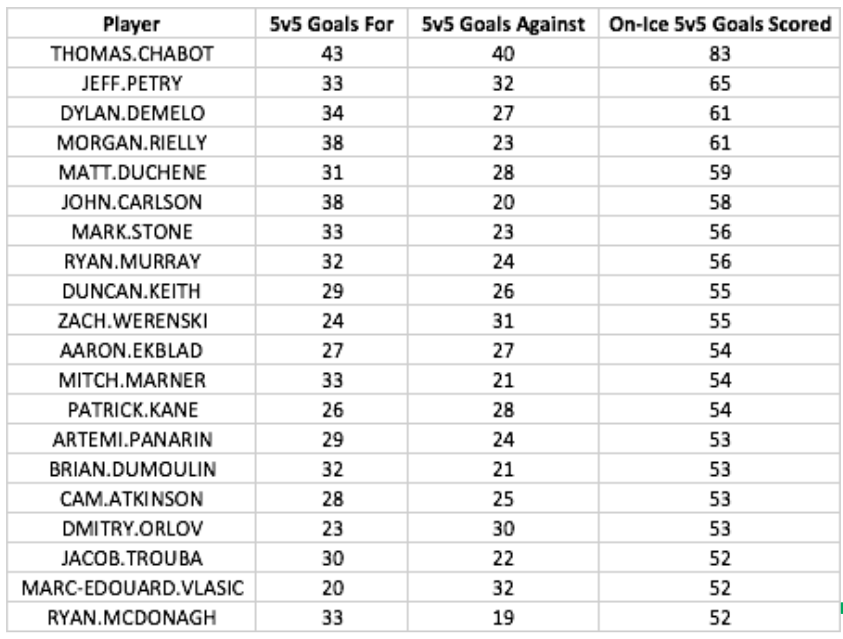 There's a couple of Senators sprinkled throughout this list, and it's no surprise that Chabot leads the way considering how many minutes he's been eating up over the course of their games. What's stunning however is the raw volume of goals that he's been on the ice for, and how much of a gap separates himself and everyone else.
Even with the harrowing defensive struggles, it's a testament to how spectacular he's been with the puck this season that Chabot has still managed to be a net positive. Few players at the position truly possess the ability to sustainably drive team offense in any meaningful way, but considering he currently leads all defensemen in scoring thus far, he appears to be more than capable.
And while no one is going to forget Erik Karlsson or the way his time in Ottawa came to an end any time soon, Chabot's valiant effort to fill those enormous shoes left behind is one of the very few bright spots in an otherwise truly lost season that tragically won't even result in a high draft pick for the Senators.
Stats in this piece were retrieved from Corsica and Natural Stat Trick, and have been updated through Monday evening's games.
This article is about: