NHL Prospects
RECAP: Czech Republic, Sweden, Finland and Russia at the U17 World Hockey Challenge
Draftin Europe (www.draftineu.com) is a scouting service that focuses specifically on Europe-based prospects. From the beginning, three seasons ago, its key goal was to offer a different, independent perspective on European prospects while providing for them the kind of in-depth coverage North American prospects have been getting over the years from other sources.
A mainstay of our efforts has been not just scouting U18 and U20 events, but also younger age-groups. That's something that allowed us to identify early on the likes of Elias Pettersson (who was not just slight but overall tiny, far from the height he is listed at now), Nico Hischier and Rasmus Dahlin as prospects with bright future and star potential. They were still years away from their draft year, but it was exciting to see them flash the kind of talent that is now entertaining North American audiences in the best league in the world. And it is with that kind of excitement we approach our scouting of the next batch of top young European talent.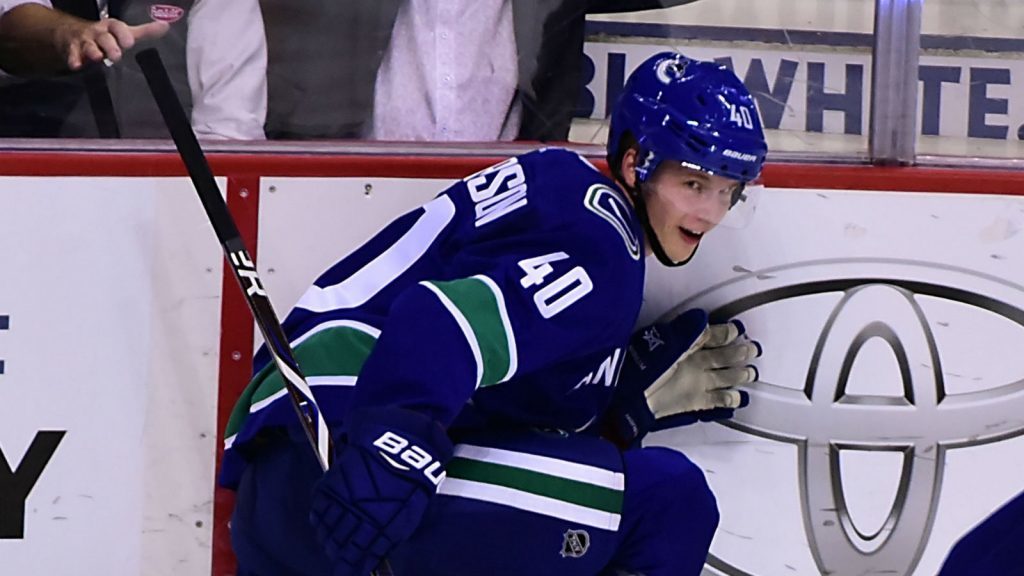 Elias Pettersson of the Vancouver Canucks. Photo: Anne-Marie Sorvin, USA Today Sports.
*****
THE U17 WORLD HOCKEY CHALLENGE
Since 2014, when the event was moved back from late December to early November, each year the U17 World Hockey Challenge brings to North America all top four European national teams* and their best U17 players, giving scouts on the other side of the pond the opportunity to see them live, often for the first time. On our end, after doing preliminary scouting on most of these players during the previous season, this tournament allows us to test their capabilities vis-a-vis their North American counterparts while they compete in the smaller rinks.
Before this scouting season got underway with the Hlinka-Gretzky Cup, we featured several of these young prospects in the Summer Blue Dispatch, publishing our early rankings for the 2020 NHL Draft class. The U17 World Hockey Challenge always provides us reasons to do some re-shuffling on our early lists, as we get a better feel for where things stand.
As the tourney moved from British Columbia in 2017 to New Brunswick in 2018, the results in the two years couldn't be any more different. Last year's winner, United States, finished last this time around. The only European team to make the semifinals in British Columbia was the Czech Republic, this year it was the only European team to go out in the quarterfinals, with Sweden, Finland and Russia eventually bringing home all the medals.
All European squads featured above average goaltending for the U17 level, which was obviously a key behind the better results.
Here are our thoughts on how the four teams and some of their most prominent players fared at last month's event.
*Note: in previous editions, other European national teams took part in place of at least one of the top four nations.
CZECH REPUBLIC – 9th PLACE
Even in the years where their roster sports several interesting prospects, the Czech national team at the U17 level seems to come short in terms of overall quickness, usually manifesting a deficit in the skating department when going up against the top teams in the world. This can result in struggles to keep up with the pace of the game at an event that is played on the smaller North American rinks.
Like in Dawson Creek (B.C.) 12 months ago, this year's team also got better as the tournament progressed, even if in the replay of last year's quarter-finals the Czechs were not able to upset Russia again. This time the Russian team was more focused and eventually broke their resistance with four unanswered goals in the third period.
It is difficult to find standouts on a team where nobody was officially credited with more than 2 points in 5 games.
Jan Mysak and Pavel Novak were not able to keep up with our expectations.
Mysak actually stood out with his play, as he certainly didn't hide from trying to carry his team's offense, leading the play into the offensive zone on the rush at any given chance (his efforts through the neutral zone, be it to lead the offense or to backcheck, are probably the part of his game that has improved the most in 2018), but he didn't achieve any tangible results until the very last day of the competition. Still scoreless heading into the final game vs the United States, he showed some pride leading his team with 2 points (and a beautiful goal) to a victory that saved the Czechs from finishing last at the event. He actually had 3 points in that game, but a very quick whistle by the referees took one away from him. Aside from some bad luck that seems to haunt his performances with the national team, from a player who's been a regular in the Czech top league this season and off to a strong start, one could have expected him to be more effective against his peers.
The undersized Novak actually had 3 points, but one of his two primary assists was somehow awarded to a teammate. Nevertheless, he seemed to have a bit of a tough time getting his game going. He possesses quality hands and smarts, but in our viewings this season he's yet to show the quickness in the offensive zone that he displayed in his best showings last season.
Two prospects that exceeded our expectations instead were Marek Blaha and Stepan Machacek. The latter in particular was not even on our radar last season and as a late 2002-born is a 2021 draft eligible forward. He probably will never excel at putting pucks into the net, but he showed interesting skills that we think give him a chance to develop into a legit supporting-cast type of player at the next level.
The diminutive Blaha displayed the skating ability needed for a defenseman of his ilk to stand a chance at becoming an impact player and we're certainly more open to that idea now than in the past.
While this good showing obviously doesn't make them the most promising prospects on this team, they both showed they deserve at least more attention moving forward.
No matter how they performed in this tourney, there are more players with potential on this team, at all three positions.
Ondrej Balaz's overall performance throughout the tournament had several subpar moments, but there were also glimpses of intriguing potential. He is a late '02 born defenseman that caught our eye last season already and we are eager to see him progress along the next couple of years.
FINLAND – 2nd PLACE
Aside from the 3rd period of the opener against Sweden where they allowed four straight goals, the Finns played a solid tournament and almost went all the way, eventually losing in a final they were leading after the first period. It was a close game and it looked like Finland even scored the equalizer with one minute left, but the referees didn't see the puck make it out of a scrum past the goal line.
The silver medal is still a great result and it is worth noting Finland was missing one of its best eligible players in forward Kasper Simontaival, who joined the U18 national team instead.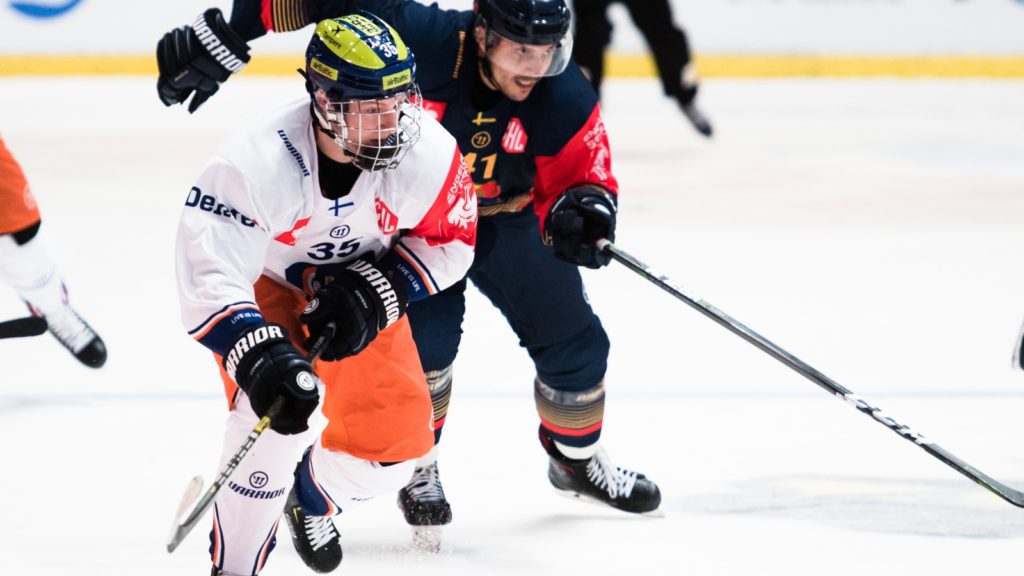 Kasper Simontaival of Tappara missed the U17 tournament. Photo: Simon Hastegård, Bildbyrån
This Finnish team featured a group of mobile blueliners, capable of making plays with the puck. A drawback was that a number of larger players on the roster looked still a bit too raw to be able to play their best and make a difference at this level.
Up front, the team was led by Aatu Raty, a dynamic and competitive centerman who had yet to turn 16 at the time of the event. Raty was on top of the initial 2021 ranking for Europe we released four months ago inside the Summer Blue Dispatch and it's safe to say this season he has not been disappointing us. When we first scouted him in 2016/2017 he was an all-around active little player who liked to engage physically despite the smaller frame. Since then he has grown a lot and he now looks at least 6-foot tall. With his mobility and constant involvement in the play, he is able to support teammates on both sides of the puck. Once he gets possession he likes to play at a high pace, displaying fast stickhandling and the will to lead the offense and shoot the puck.
With the tournament on the line for his team, Aatu turned in an outstanding performance in a dramatic 4-3 shootout win in the quarterfinal against Canada-White.
We are still two seasons and a half away from his NHL Draft, but Raty has the feel of a complete two-way center in the making and chances are he will be highly coveted by the time June 2021 comes around.
On the back end, Kasper Puutio was probably the most consistent performer for Finland. Puutio may be less dynamic than some other defensemen on this roster, but he provided a steady presence in all situations.
His calm puck management helped him to start the transition and to control the play along the offensive blueline. He is able to move laterally with the puck to find lanes to shoot and has the shooting ability to be a threat from the point.
On a team where the offensive production was spread out, he was the only player to record 4 points.
SWEDEN – 3rd PLACE
When it was confirmed dynamic duo Holtz and Raymond were going to be part of this team, the expectations for a medal grew significantly. Sweden, however, was part of a tough group in Quispamsis (N.B.) with all four teams from there eventually advancing to the semifinals and it wasn't easy for the dynamic duo to lead the team to the bronze medal.
Considering the impact they had at the Hlinka-Gretzky Cup against older competition back in August, one could have expected Holtz and Raymond to downright dominate when lined-up together against their peers (aside from penalty-killing situations they were consistently paired throughout the tournament). They did combine for 8 goals over 6 games, which is a commendable production, but Canadian Connor McClennon had by himself 8 goals in 5 games.
Nevertheless, Holtz and Raymond were still the obvious standouts on their team like expected.
When we ranked Lucas Raymond inside our pre-season Top 5 for the 2020 NHL Draft he was coming off an encouraging season, but his following showing at the Hlinka-Gretzky Cup turned high hopes into reality in a matter of weeks. In a more demanding event, he significantly raised his level from what we witnessed just a few months before at the U17 Five Nations in Basel. While not able to consistently replicate the level of excellence showcased at the Hlinka, at the World Hockey Challenge Raymond was again the catalyst of his team's offense and was voted to the all star team. Lucas is shifty, smart and abundantly skilled, but what we like to point out from his performance at this tournament is how he handled the challenge he faced in the quarterfinal against Canada-Black.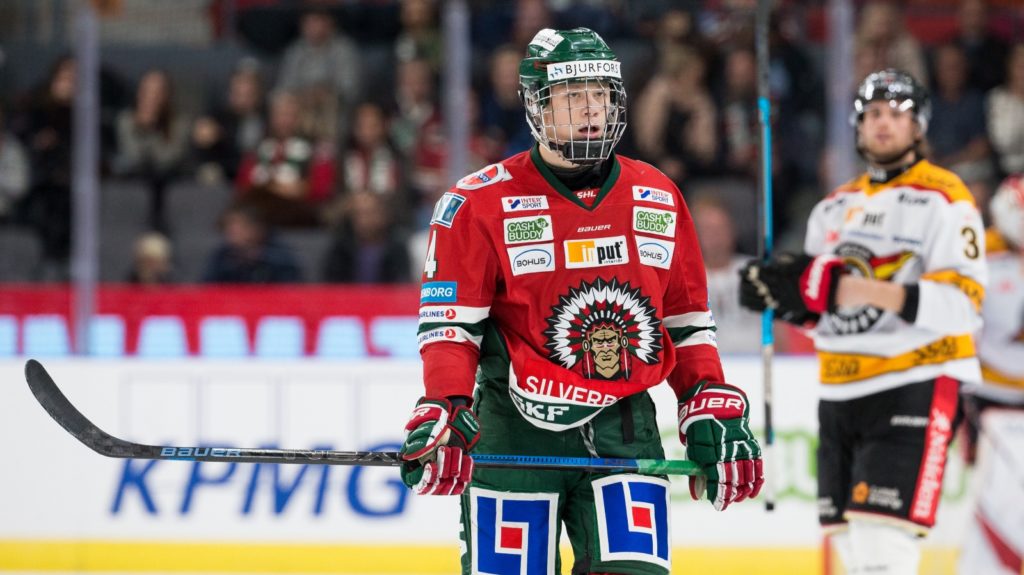 Lucas Raymond, Frölunda Indians. Photo: Bildbyrån
After getting a 10-minutes misconduct for boarding in the first period, he was made a target by Canadian players. Despite the physical abuse he took from that moment onward (a high hit included) he still found a way to battle through and be a difference maker for his team, proving to be a tough competitor.
In our viewings this season, Alexander Holtz has rarely brought his A game (we have seen him skate and shoot better over his best stretches in the past) and he has been hitting iron more often than the back of the net. Speaking specifically of this tourney, his team struggled to properly set up his shot on the powerplay, he seemed to have scored another goal that was missed by the referees (no video review to correct that) and had one more goal called off because of an already dislodged net. Despite that, he was still tied for most points by a European player at the end of the event and overall along the season he has been producing at the same pace as Raymond.
This testifies how dangerous a player he is. Holtz is lethal on breakaways and in general is an outstanding goal-scorer that possesses an amazing shooting release along with terrific offensive instincts.
As an underrated passer, it's hard to shut him down when he brings his best game and is surrounded by quality offensive players.
Sweden was missing an interesting piece in Theodor Niederbach, a skilled forward who joined the Frolunda ranks this season but hasn't played since because of a knee injury. From the supporting cast there in New Brunswick no one really earned our full praise, but from the group we like to single out right-shooting defenseman Helge Grans. Not necessarily because of his play at this event, but because for us he has been perhaps the main surprise of the first part of the season in Sweden. Grans may be rawer than some other defensemen on this team, but at 16 he has already made his debut in SHL and brings an interesting package of size, mobility and offensive upside.
RUSSIA – 1st PLACE
Last year Russia scored 15 goals in 3 preliminary round games, all wins, then lost the quarterfinal against Czech Republic, a team that had allowed 17 goals in 3 preliminary round losses. This time around there were no lapses in attention or underestimation of opponents, the Russians looked focused throughout the entire tournament and managed to bring home the gold medal.
Aside from a couple of periods where they sat back and played a bit too conservative, this was a hard team to deal with because of the overall quickness, forechecking and intensity of a group of undersized forwards that was supported by competent defensemen.
The thing with this Russian team is that these kids, including their top players who really led by example for that matter, looked really tuned-in to win rather than to showcase their skills. This made them difficult to play against and opponents struggled to create offense.
This roster may not have obvious future stars on it, but it's safe to say the players we identified early on as the most promising prospects did not disappoint. Out of our pre-season Top 5, three were voted to the all-star team: goaltender Yaroslav Askarov, defenseman Yan Kuznetsov and center Vasily Ponomarev.
As for the other two, winger Daniil Gushchin (who this season is playing overseas for the Muskegon Lumberjacks – USHL) found his acclaimed scoring touch when it mattered the most and captain Marat Khusnutdinov was a key player in all situations. A small center with tremendous skating ability, Khusnutdinov has the balance and strength on his skates to keep pursuing plays while battling with opponents. He's the type of skilled player that can win the puck on the PK, use his skating to carry it deep on the other end and kill time by keeping possession as long as possible. Despite his size he can also get physical along the boards.
With only 7 goals allowed in 5 starts, it was not a surprise to see Yaroslav Askarov get selected as the top goaltender of the event. It's hard to find a goalie his age so calm and confident, and after impressing us as an underager at the U17 Five Nations back in April, this season he has been posting impressive numbers.
At least one more player needs to be mentioned off the squad that took home the gold medal.
Artyom Grushnikov was the only 2003 born player attending the event and yet showed more composure than most, leading his team for points recorded by a defenseman with 1 goal and 3 assists. The advanced 15 years old rearguard could return next year to lead Russia's defense.
–  Draftin Europe
This article is about: