Scouting Reports
BLOG: A look at 2019 draft eligible Swedes from J20 SuperElit
Hello there, and welcome back to my blog!

In my first post, I went through some of the most interesting Swedish prospects playing in J20 SuperElit eligible for the 2020 NHL Draft. Today, I will do the same, but this time with players eligible for the 2019 NHL Draft.
To be clear this also means that I, on purpose, will leave out some of the highest ranked Swedish players like Victor Söderström (Brynäs IF, SHL), Philip Broberg (AIK, HockeyAllsvenskan) and Nils Höglander (Rögle BK, SHL), so if you wonder why they aren't on the list it is because they aren't consistently playing in J20 SuperElit anymore, and not because I do not think they aren't good or interesting enough to be on my list.

So, here are some of my favorite players eligible for the 2019 NHL Draft coming out of J20 SuperElit:

Simon Holmström, RW, HV71 J20, 5'11, 172lbs
DOB 05.24.01
As early as last season, Holmström was one of the best and most exciting players in J20 SuperElit. He also elevated his game in the playoffs and played a crucial role on HV71's journey to win the championship. However, after the season Holmström had surgery done to both his hips, which not only resulted in that he missed a big part of summer training and the preseason, he has also missed a big chunk of the regular season so far. Shortly after returning, Holmström was injured yet again and has been out of the line-up for the last few weeks. He has six points (four goals and two assists) in the seven (out of 27) games he has played for HV71 this season. So, he has had a rough season so far if you look at time spent on the ice, but with how good he looked last year fresh in mind it is hard to not be excited about Holmström moving forward.
He is an explosive skater, with superb acceleration and quick first steps with the puck. He also has both the hands and head to make good use of his speed and quickness, he can handle the puck very well, and find creative ways to make plays while skating at high speed. The combination of his smooth hands, creativity, and mobility make him a dangerous player in 1-on-1 situations, if he is left with some room to accelerate Holmström can be close to impossible to stop for a sole defender. A downside with his flair and will to create scoring chances is that Holmström at times makes unnecessary and risky plays with the puck that results in turnovers, instead of making a simple and higher percentage play and keep the puck possession.
Holmström's shot is well above average. His wrist shot has a quick release, good power and is highly accurate, he also has a very strong backhand shot that he does not hesitate to use if the situation calls for it. While his shooting ability is fine, Holmström's main offensive weapon is his passing ability. He has excellent vision and his passes are crisp, hard and straight on the tape of his teammates and with his creativity and quick mind he can figure out the most unexpected ways to make a pass instantly after receiving the puck. He thrives below the goal line, especially on the power play, from where he can make plays into the slot and set up his teammates on either side of the net. Holmström is decent in his own zone, and a capable penalty killer, but the main appeal with his game is his dynamic offensive skills and phenomenal skating.
Simon Holmström med matchvinnande 3-2 mål för HV71 mot Färjestad. #J20gifs #J20SESödra #2019NHLDraft pic.twitter.com/GHt3E0MbtW

— Anton Johansson (@antonj85) November 4, 2018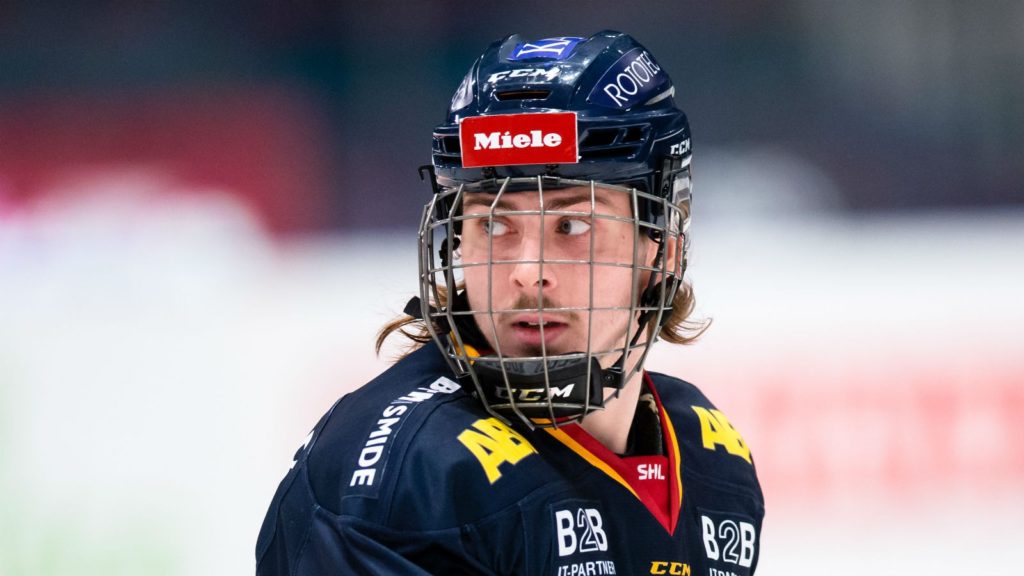 Photo: Bildbyrån/Andreas Sandström
Albin Grewe, C/RW, Djurgårdens IF J20, 6'0, 187lbs
DOB 03.22.01
Grewe had a great start to this season. He has been one of Djurgården's best players in J20 SuperElit and has 25 points (nine goals and 16 assists) in 18 games. He has also played nine games for Djurgården's SHL-team. Grewe is an aggressive, intense and hardworking power forward with a seemingly unlimited source of energy that plays a high tempo game, never takes a shift off and loves to punish his opponents with big heavy hits. Even though his style is quite defined around physical play and taking the puck to the net, Grewe still has intriguing offensive skills. He is a good stick-handler that can pull a dangle out of nowhere and he can control the puck and make plays while skating at full speed. He is excellent at protecting the puck with both his stick and body, he has tremendous upper body strength which he uses to fend off his opponents while carrying the puck towards the net.
His playmaking abilities are sometimes highly underrated. His vision is well above average and he has shown that he has great awareness in the offensive zone and can find his teammates with quick and creative passes, sometimes it is apparent that Grewe has already decided which pass to make before receiving the puck, so he can quickly distribute it before the defenders has a chance to react. Grewe also has a very good wrist shot, it is heavy, accurate and has a quick release, it goes extremely well with Grewe's willingness to crash the net to create scoring chances for himself, which makes him a dangerous threat in and around the slot. In his own end Grewe plays well, a lot of it has to do with his competitiveness and high work-rate, he always gives 100% in all situations and is very effective in board battles.
On the downside, Grewe's aggressiveness sometimes leads to bad and unnecessary penalties. But if you are in need of a gritty power forward with good skating and a high compete-level that also can put up some points then Grewe is the perfect fit, and even when he does not put up points he often finds a way to contribute to the team.
Albin Grewes 3-2 mål för Djurgården mot Leksand. #J20gifs #J20SENorra pic.twitter.com/CQyBpIq7RX

— Anton Johansson (@antonj85) December 7, 2018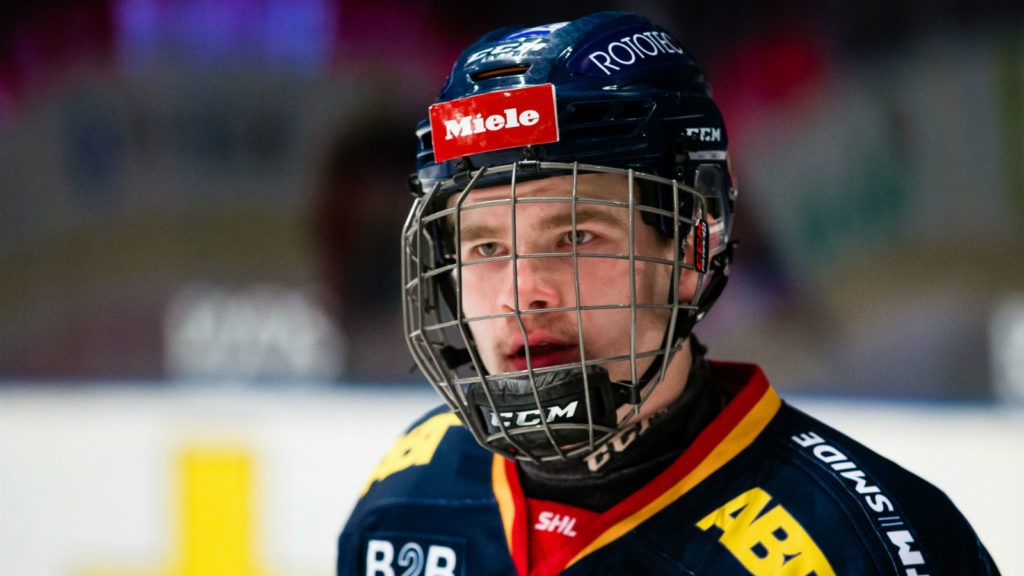 Photo: Bildbyrån/Kenta Jönsson
Tobias Björnfot, D, Djurgårdens IF J20, 6'0, 187lbs
DOB 04.06.01
Björnfot has been one of the best defenders in J20 SuperElit's northern division and has put up ten points (four goals and six assists) in 22 games while looking stellar in his own zone. Björnfot is a mobile two-way defenseman with his passing abilities and skating as his main stand out attributes. Björnfot isn't as flashy and offensive-minded as some of the other high ranked young Swedish defenders that we have seen in the last few years. Instead, he often plays a simple and mature game with the puck in his possession, he stays calm and makes good well thought out decisions with the puck and distributes it with hard and accurate passes. His first pass is excellent and even under pressure, he is able to find a way to start the transition game. If he is left with some room in his own end, he is not hesitant to move the puck himself and with his strong skating, big frame and upper body strength he is able to cover the puck well as he carries it zone-to-zone before setting up a team mate in the offensive zone.
Björnfot is also a major threat on the offensive blue line, with his mobility he can move the puck both along the blue line or towards the slot if he is given a slight bit of space, his movements with the puck opens lanes to either make a pass or to fire off his powerful slap shot. In his own zone Björnfot plays very well, he uses his body to pin his opponents to the boards and actively uses his stick to poke the puck away or force his opponent down below the goal line, he has decent gap control, reads the game well without the puck and combined with his good lateral mobility he rarely gets beat 1-on-1.
The only slight knock on his defensive game is that his positioning in front of his own net sometimes can be a bit off and due to that he can get stuck on the wrong side of the attacking forward in the slot. But the overall selling point with Björnfot is that he doesn't have any stand out weaknesses to his game, everything he does he does well and even though he isn't as flashy and exciting to watch as some other talented young defensemen he gets the job done and rarely makes any major mistakes.
Tobias Björnfot gör 4-1 till Djurgården. #J18gifs #JuniorSM2018 #DIFJ18 #LHCJ18 pic.twitter.com/QWVBoOeeIQ

— Anton Johansson (@antonj85) March 30, 2018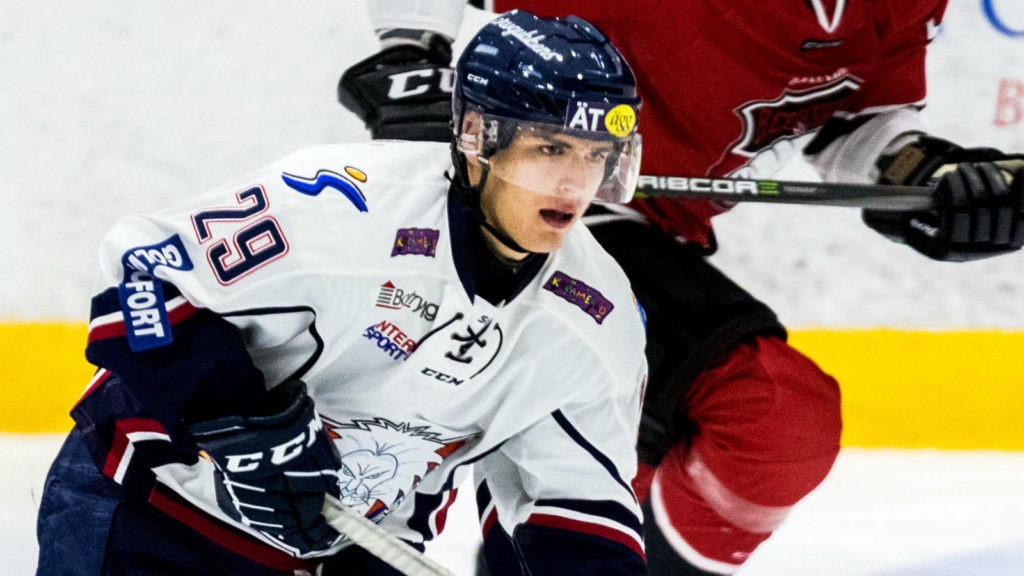 Photo: Bildbyrån/Matilda Ahlberg
Nikola Pasic, C/LW, Linköping HC J20, 5'10, 187lbs
DOB 10.16.00
Pasic is not widely talked about and could be somewhat of a sleeper in this year's draft, but with 30 points (14 goals and 16 assists) in 22 games, he finished second in points and third in scoring in the southern division of J20 SuperElit. With that production in mind, one could still make a case that his play without the puck is the strongest part of his game. Pasic is the definition of a two-way center, but he is also a capable winger. He has an extremely high work-rate, reads the game well without the puck and his quickness and fast feet makes him a phenomenal forechecker that often wins the puck in the offensive zone, it is all mixed with intriguing offensive skills, a ton of creativeness and hockey sense.
In the offensive zone, Pasic is a very well-rounded threat, he has great playmaking skills but also a quick and accurate wrist shot and can create scoring chances on his own with his swift first steps with the puck and will to take he puck towards the slot. He loves to make nifty and clever plays with the puck to set up his team mates, and he will often do unexpected things with the puck to surprise his opponents. Pasic's hockey sense stands out, he both sees and reads plays that can be hard to even think of from the stands, both his anticipation and awareness are well above average.
Pasic is deadly on the power play, he is often placed right next to the net, from where he can either walk into the slot to try to score himself or find a pass to the slot or across to the other side of the net. With his variance of offensive tools combined with his creativity and smartness he is a player that is very hard to stop in the offensive zone, you never know if he will make a pass, shoot the puck or make a dangle.
One area in which Pasic could improve is his puck-handling, it is far from bad, but it is a bit below his other qualities and with some improvement to it he would be even harder to stop than he already is. Pasic is basically a complete package, it's a player that you want to have on both special teams, you want him on the ice while trailing a goal late in the third or while protecting a lead to secure the win with less than a minute on the clock. He has a motor that never stops, plays smart and mature without the puck but still has the ability to make a play that makes you go "wow!".
Wow, That's a nice spin-o-rama goal by Linköping prospect Nikola Pasic!https://t.co/gvJNRpEL8z#J20SE #LHC #2019NHLDraft pic.twitter.com/UNdJ5i6n6S

— Eliteprospects (@eliteprospects) December 1, 2018
Lucas Feuk, LW, Södertälje SK J20, 6'0, 185lbs
DOB 02.19.01
Feuk has been one of J20 SuperElit's biggest surprises so far this season, and despite playing on a quite weak Södertälje team and having close to no support in many games, Feuk has been able to put up 29 points (14 goals and 15 assists) in 27 games, which places him third in both points and goals in J20 SuperElit's southern division.
Feuk is a slick forward with great offensive instincts that is all about scoring points and goals and creating scoring chances for himself or his teammates. Feuk has the ability to completely take over shifts on his own, he has high work-rate in the offensive zone and puts a lot of effort into forechecking, using both his body and stick. When he wins the puck in the offensive zone, he protects it well and can change pace quickly with his first steps to make a swift rush past a defender. Feuk also has smooth and slick hands and can stickhandle himself past a defender or to generate some space for himself, even while playing at low speed or from standing still. He plays quite fancy with the puck, often looking for nifty passes or flashy ways to bring the puck to the net, sometimes he plays with a bit too much risk and loses the puck because he made a creative but too low percentage play.
While Feuk has quick first steps with the puck and is an overall decent skater that looks quite smooth as he carries the puck or looks around for open space to position himself for a pass, he has quite average top speed. He has no problems outskating slower defenders, but you will not see him blaze past his opponents. Feuk is a bit more of a goal scorer than a playmaker, he has a variety of way he can put the puck into the net and his wrist shot is fast and has a tricky release, but he still possesses good passing abilities and cannot be left with too much time and space in the offensive zone or he will find openings to set up his team mates.
Defensively Feuk has a bit to improve. He is often a bit too eager to go on a counterattack and tries to anticipate plays or create situations where he quickly can win the puck and jump out of the defensive zone. While Feuk can be brilliant at times, and have dominant shifts, he has some consistency-issues. After an amazing shift he can have one or two shifts where he gives the puck away or isn't involved enough in the defensive zone, if he could find a more consistent level to his game, he would quickly raise his stock for the draft, since the potential and ability to play as a top prospect clearly is there.
Lucas Feuk 1-0 mål för SSK mot Karlskrona, framspelad av Filip Jakobsson. #J20gifs #J20SESödra pic.twitter.com/hvvZank7Qq

— Anton Johansson (@antonj85) December 9, 2018
That's it for me, for this time. I hope you enjoyed the read! Since I now have gone through some of my favorite prospects in J20 SuperElit, my next update will be about the ending of the two series (North and South) and I will take a closer look at some of the teams, and how they have performed during the first half of the season. I will see you then!
This article is about: