World Juniors 2019
The outdoor type – Höglander shaped his skills on the concrete
Instagram, Snapchat, Youtube. Fortnite, FIFA, Netflix.
The variety of modern activities seems to be making the spontaneous play outdoors less fun and less common. But in the streets of Ängelholm the sound from sticks hitting the concrete, the laughter after a dangle or the cheers from a goal is still sparkling. In the small town in southern Sweden kids still appear on imaginary rinks, stickhandling and playing around in impromptu street hockey games.
Nils Höglander is sparkling too.
It all started back in Skellefteå, in northern Sweden, where he moved at age 11. The forward from Burträsk, who turns 18 on Thursday, spent much of his spare time with wheels under his feet.
"We spent almost every night during the summer playing street hockey. We played at the rink when the ice was melted for the summer, and placed hockey nets on the concrete. We had goalies and arranged tournaments. Sometimes we stayed until way past midnight", Nils Höglander recalls.
The janitor of the small arena often didn't know that Nils and his friends were there, they weren't really allowed to hang out in the building as late as they did. When they couldn't play at the rink they used a tennis court instead.
"It really was the highlight of the summer."
Being only 18, the Swedish prospect has already reached a high level with his game. He spent his first junior years in Clemensnäs HC in Skellefteå and Timrå IK outside of Sundsvall. He then moved to Stockholm and spent two seasons with AIK, where he made his debut at the senior level at age of 15, in the Swedish tier II league Hockeyallsvenskan. Two years later, in September 2018, he made his SHL debut for his new team Rögle BK of Ängelholm.
"I always knew I was going to play hockey, but that I would be playing in the top league in Sweden at age 17… That never crossed my mind", Höglander says.
"AN IRRATIONAL PLAYER"
He might not be a physically big player at 5'9"/185lbs, but he uses his size to his advantage. His speed and technical skills combined with his power and hockey IQ make him a great asset for any team. The speed is also one of the reasons why Tomas Montén, head coach of Swedish junior national team, picked the young player to Team Sweden's preliminary World Junior roster.
"He is an irrational player, has an incredible speed, good technique and works hard. He can create a lot offensively through speed and technique, but he can also be a tough player to face with his way of grinding and forechecking skills", Montén says.
In an eventual roster at the World Juniors in Vancouver, the Swedish head coach sees many potential roles for Nils Höglander.
"We know he can play high in the lineup as he did in the 4-nations tournament with us in Örnsköldsvik earlier this year. He was one of our best players then", he says.
"But we can also use him in a checking line, on the power play, and on the penalty kill. It's pretty much up to him to show what he can do and we'll see how far it takes him".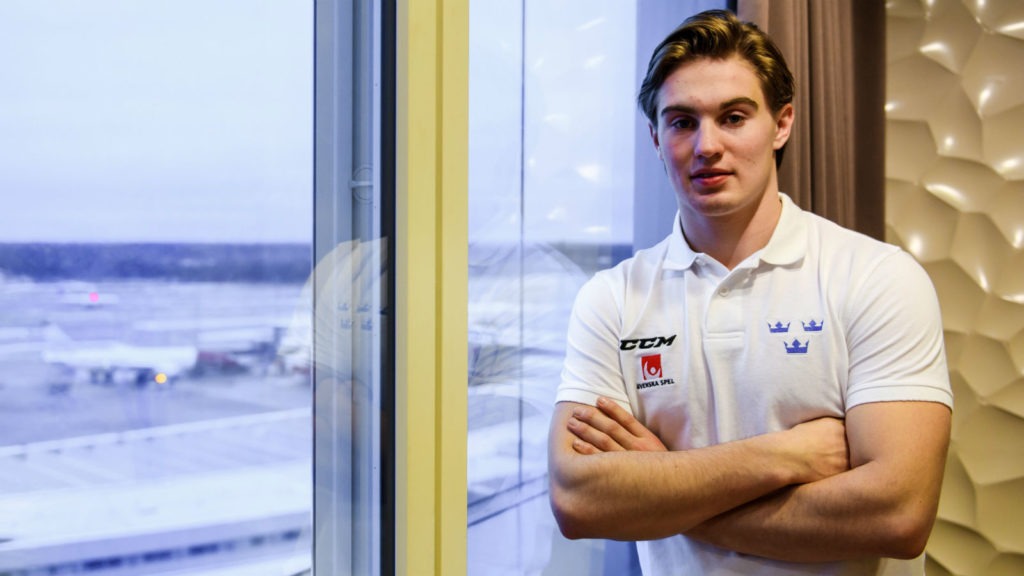 Photo: Bildbyrån/Maxim Thoré
Regardless if Nils Höglander appears at the World Juniors or not, he is one year younger than most of the other players, he has the potential of eventually becoming a great player. Tomas Montén talks about young superstars Connor McDavid and Auston Matthews, and their ability to combine size, skills, and speed.
"If Nils can do what they do, and handle roles that may be a bit unusual for a player his size, then he can go really far."
Coach Montén has followed many talented players over the years. Looking at Nils Höglander, he is convinced that the spontaneous street hockey helped shape and develop the young Swede. The technical skills shown by the forward has been sharpened by the hours he spent playing around with his friends.
"He has probably had great coaches through his junior years, and I don't want to deprive them of this, but much of his exceptional skills come from just playing around with a stick and puck. There are very few who have those skills, whether it's in a shot or in any other element. It comes from within, they think it's fun to work out and like that type of exercise. It gives an extra edge to their game", says Tomas Montén.
PLAYING WITH THE KIDS
During the summer of 2018, Nils was often found on the streets of Ängelholm, with wheels underneath his feet. On his block, street hockey is popular. Even though the Rögle prospect doesn't play as often as he used to, he joins the youngsters as soon as he gets the chance.
"The kids usually knocks at my door, asking me to come out and play with them. They are only 9-10 years old, but they are good players. Really good. I'm surprised by how skilled they are", says Nils Höglander.
"It's nice to be out there with the kids.  Instead of sitting at home playing video games, it's nice to stay active."
Swedish NHL color commentator Erik Granqvist, a neighbor of Höglander in Ängelholm, posted this on Instagram after a street hockey game with his son Jonathan and the Swedish prospect.
The young player agrees with coach Montén about how the many years of outdoor activities with the hockey stick helped shape him.
"I'm sure the street hockey had an impact on my skills. It might even have helped my ability to read the game. I think I would have been a worse player if I hadn't played around in the street and rink", Höglander says.
The forward is in the middle of an important year. He knows that. And so far Höglander has been living up to his own expectations. In addition to his strong performance in Örnsköldsvik, as mentioned by Tomas Montén, he has had a great start of the season with Rögle. Now, hopefully, the World Junior Championships awaits the young forward, and in June he is eligible for the NHL draft, of which he is considered a potential first-rounder. Although more and more people are having opinions about his game as the important year progresses, there is no concern or nervousness in Nils Höglander's head.
"Of course it won't be fun if I get to play and the World Juniors and I don't perform well, but you can't focus on that. Then I will definitely fail. I'm just trying to be positive and do the best I can in all situations", says the 17-year-old prospect.
Just like most kids in Nils Höglander's position he dreams of playing in the worlds best hockey league. Peter Forsberg is a great inspiration and idol to him, with the famous penalty shot for Team Sweden against Canada in the gold medal game at the 1994 Olympics in Lillehammer, Norway, as a favorite moment.
"I've seen that video many times. Peter is the guy who was good at everything. I want to be like that. He truly was a great player."
"I want to win something really big. Like the Swedish Championship, World Championship or the Olympics. That's my dream, besides playing in the National Hockey League".
The road to the NHL can be very short, but it can also be very long. No matter the distance, and no matter if the dream of North America comes true, Nils Höglander has one thing he will continue doing anytime he gets the chance, even as an NHL player.  He'll put on that pair of inlines, grab his stick and just sparkle.
This article is about: