NHL Prospects
Bloodlines – Bertuzzi acknowledges the pressures of his last name
The photo remains on display, proudly, in the Bertuzzi household.
Todd Bertuzzi, at the time a grizzled National Hockey League veteran in his 18th — and final — season, in the locker room getting ready for a regular-season twirl against the Nashville Predators.
Mike Babcock, Bertuzzi's coach with the Detroit Red Wings, holding court with his crew.
And Tag Bertuzzi, Todd's youngster, sitting attentively in the stall — decked out beside his dad in a Red Wings tracksuit.
A moment, caught, between father and son.
"Usually their dads go, but he brought me for the trip," Tag recounts, of the unique father-son trip in late December, 2013.
"I got to go to Nashville and Florida with all the guys. I got to be in the locker room before games and after games and take the plane with them for all the travel and stuff like that.
"That was probably the coolest thing I've ever had in my experiences in hockey, seeing what the true NHL lifestyle is like."
A lasting impression for Tag.
A lasting memory for Todd.
"It was awesome. Probably some of the best memories I've had playing hockey," Todd recalls.
"I was very fortunate in Detroit under Mike Babcock and Kenny Holland and them. They loved having family and kids and everything around. They were awesome there.
"Tag was allowed to be on the bench for the game. He brought his equipment too, so he did all the morning skates and practices when we were going out. We had a couple of good nights in Nashville. He got to come out to all the restaurants with the fathers and all the guys, listen to some honkey-tonk.
"We had a great time together."
Great times shared.
And moments, Tag admits, that made him realize, truly, that he wanted to follow in his father's footsteps.
"I was around 13 or 14, that age," he recalls.
"I was pretty deep into my hockey career.
"I got to see just another level of how much I truly wanted to become one."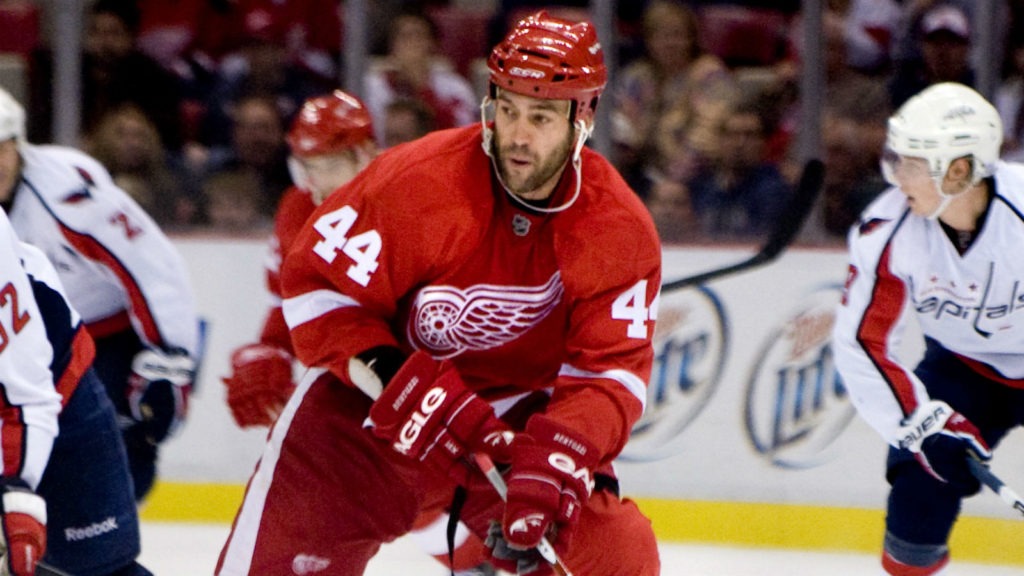 Todd Bertuzzi in Red Wings' sweater 2009. Photo: Bildbyrån/Nils Jakobsson
A LONG CLIMB TO CATH DAD
Todd was an NHL All-Star who amassed 770 points (314 goals, 456 assists) in 1159 games with the New York Islanders, Vancouver Canucks, Florida Panthers, Anaheim Ducks, Calgary Flames, and Red Wings.
Tag,  just 17, is in his second season in the Ontario Hockey League, and is eligible for the 2019 NHL Draft.
It's a long climb to catch dad.
A tough follow, too.
"It's tough because you have a certain reputation off of how my dad was, and how acted, and how he played," Tag suggests. "There's always that burden of having that last name and having people look at you a different way than for who you truly are, how your dad was or what they thought of him.
"It's tough to go into an arena and have people think like that and think that I'm a big power, front-of-the-net guy or I'm a certain person because of what my dad was.
"All in all, it's cool that he was such a good player that he was, and how big of a role model he's been in my hockey career. I can't really say anything too negative about it because it's always fun saying your dad was in the NHL and performed like that.
"It gives and takes in that aspect, but for the most part it's fun and it's cool."
"HE'S HIS OWN PLAYER"
Naturally, Todd shares the same concern.
He understands it'll be tough for Tag to be seen as his own man.
"For me, it's something I hope that going forward they don't label him as I played," Todd says.
"He's his own player. He's a lot different than what I am.
"I told him, I said, 'listen, hockey is a marathon, not a sprint.' It's a process to get there. But enjoy the process. You know how kids are though. They want to get to the mountaintop as fast as they can. I think he understands the message and I'm just hoping going forward they understand that this guy is a different player than I was and give him the opportunity to try to prove himself and play the way he knows how."
Easier said than done.
But, Tag understands, the comparison will be there regardless.
"I'd say some people tell me I play similar to my dad, but when he and I talk about it we're pretty far off from each other," he says.
"I look at it like I just want to be myself. I don't really want to see what my dad did. It obviously helps to look at him and see how successful he was in the NHL with all the things he did, but I just try to play my own game.
"He was 240 pounds and 6-foot-4, and I'm obviously not that big. He played a much more physical game than I did and I try to keep it more skilled. I don't key in on that and focus on what he did as a player.
"I just try to play like myself."
Play like himself.
But play where his father played.
Tag, like all sons of NHLers, has had a taste.
And is hoping for me.
"When I was in my 13, 14 age where I was more involved in hockey, it was super cool to be able to do that and just having that experience of being in an NHL locker room and seeing what an NHL player does day-in and day-out and how hard they work and what they do and what they eat and just their everyday life.
"Not only to see it from your dad's standpoint but to see it from everybody else and everybody on his team, different teams, different all-stars. It's humbling and it's really cool that I got to experience that at such a young age. It's just more beneficial for me when I go towards my career to see what I can do and what I can do better.
"It's remarkable and it's just something that I want to strive for because I got to realize how cool it actually is."
This article is about: