NHL Prospects
Shipping up to Södertälje – the city that churns out NHL stars
Södertälje.
It is a mid-sized Swedish city like any other. Not terribly small but not terribly big either. Some would use the word lagom to describe it. Lagom is an endearingly neutral word, very much a Swedish invention, and essentially means "what is just right – not too much and not too little".
The city center is big enough, and features enough stores and restaurants, to keep visitors occupied for hours. Yet its main street is rarely crowded and takes no more than 30 minutes to explore without stops.
Situated right on top of an important shipping lane, the city of Södertälje was long known as a hub for shipping and trade. Then, in the early 1900s, the industrial revolution came knocking and spawned factories for large companies like Scania and Astra. Industrial behemoths that made the city their home and to this day employ thousands upon thousands of people in Södertälje.
It was from this blue-collar, working-class environment that the local hockey team Södertälje Sportklubb (SSK for short) sprung back in 1902. What was once a club that fought their home battles at humble outdoor rink "Månskensrinken" – featured recently in the movie "Borg", a film about legendary Södertälje tennis player Björn Borg – evolved into an elite franchise that today holds seven Swedish championships, the last of which was won back in 1985.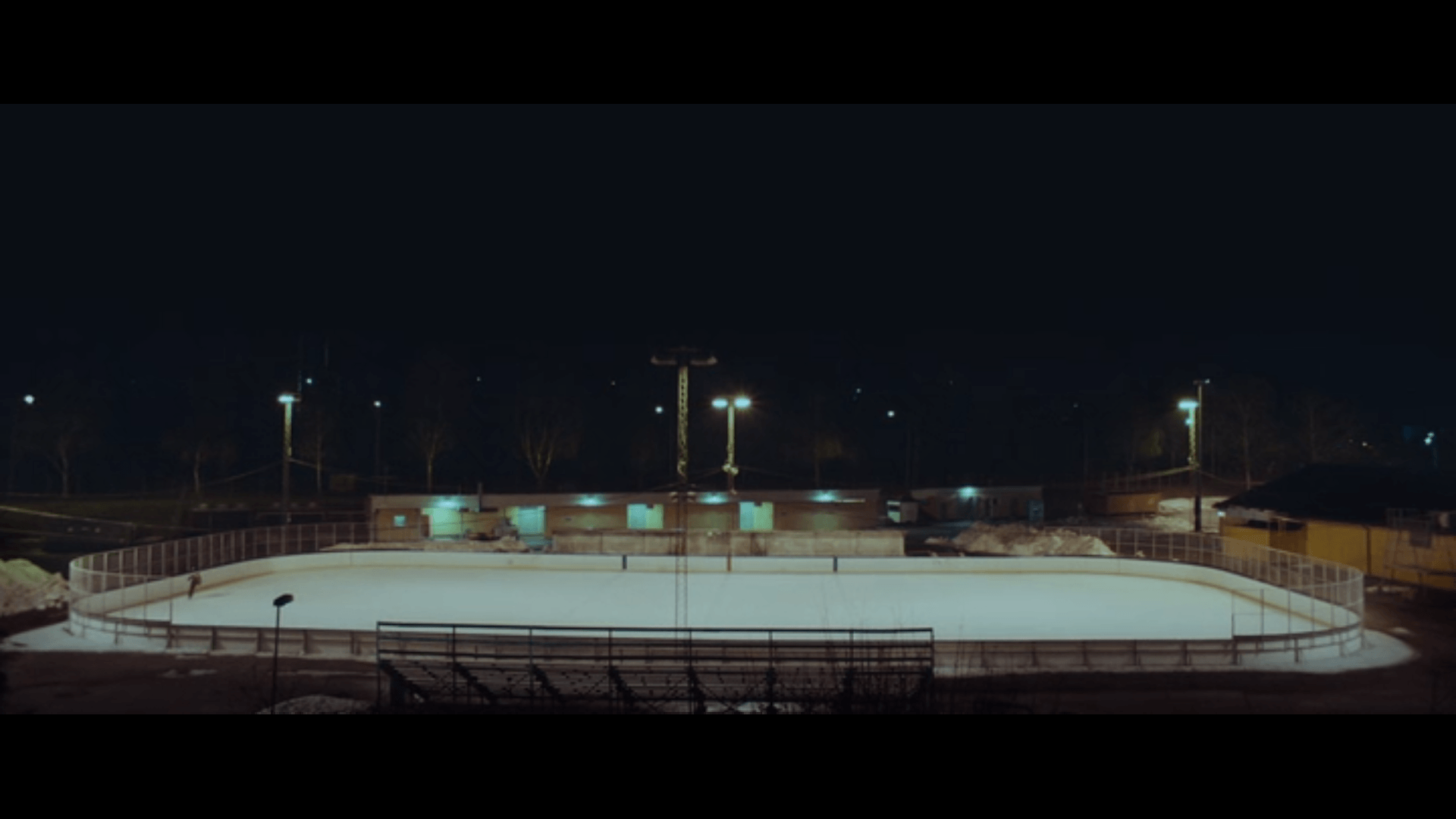 Månskensrinken. Screencap from the movie "Borg" (Nordisk Film Sverige).
A WOLF IN SHEEP'S CLOTHING
Today, the city that was once known for its shipping of goods now ships a different type of commodity across the Atlantic.
Namely NHL prospects.
Södertälje SK remains a competitive team in the higher echelons of Swedish hockey but has, in recent years, gained a reputation as a hotbed for talent development.
Just take a look at some of the players to spend significant time with SSK in recent years: Carl Hagelin, Anze Kopitar, David Pastrnak and William Nylander.
Of course, some of that comes down to circumstance. Or rather, the circumstances in which the organization finds itself.
In Swedish hockey, a relegation system is enforced between the different tiers of leagues. To give you an example; if you play in the second division (HockeyAllsvenskan) you spend all year fighting for a chance to reach the top league; the SHL. And should you finish last or second-to-last in the SHL you had better be prepared to fight for your life as a potential relegation to HockeyAllsvenskan looms large.
For the last two decades, SSK has been promoted and relegated between these two tiers several times – too many, if you ask the fans – which in turn has created a potent recipe for talent development.
See, when you're playing in the SHL, you're expected to win.
The quality of play is higher, the sums of money involved significantly bigger and most importantly: you're playing for the national championship. In that setting, it is easy for young players to get lost in the shuffle and get relegated to playing 3rd or 4th line minutes behind older, more established players cruising along on handsomely paid one-year deals.
On the other hand, for the teams of HockeyAllsvenskan it is absolutely vital to be able to rely on younger (read: cheaper) talent in order to remain cost-effective.
Still, being in the top division – even if it is just for a season or two – generates revenue. Lots of it. Enough that a club can invest in quality coaches, training facilities and all the other perks that come with being a professional hockey club.
In short, the bumpy ride of the past two decades has created an environment in which SSK has all the prerequisites of a top-level club… except for, you know, actually playing in the top division. A wolf in sheep's clothing, as they say.
Perfect for prospect development.
"THERE WAS THIS GOOSEBUMP EFFECT"
Back in 2004 SSK was playing in the SHL. That summer, a fresh-faced 17-year old Slovenian (!) by the name of Anze Kopitar had just moved to Södertälje. He had been discovered by player agent Lars Cederström 18 months earlier in a U-17 tournament in Bled, Slovenia. Cederström had a strong working relationship with SSK's general manager at the time, Mats Hallin, who – after having his doubts around the powerful center alleviated by Cederström – brought Kopitar to Södertälje.
"I remember his first practice with us", Hallin told Aftonbladet in 2016.
"There was this goosebump effect. You could see right away how good he was. A giant on the ice already."
Kopitar ended up spending two years with SSK, tearing up the U-20 league with 49 points in 30 games in 2004-05, and securing a roster spot with the big club for the 2005-06 SHL season. A season that ended up being successful enough (20 points in 47 games) that the fans created their own chant around him: "Anze Kopitar, Anze Kopitar, Anze Kopitar – our superstar"
"I enjoyed the time I spent there", Kopitar told Aftonbladet. "I have a lot of things to thank Södertälje for."
"IT'S THE TEAM THAT RAISED ME"
As Kopitar was leaving town to join the Los Angeles Kings, another local star was emerging.
Carl Hagelin, a player whose skating made him impossible for opponents to catch even at a young age, spent his youth hockey years with SSK but at age 19 – just as he was about to graduate to the pro team – he accepted an offer from the University of Michigan to attend college and play hockey in the NCAA.
It wasn't until the abbreviated lockout in 2012-13 that Hagelin, by then a battle-tested NHL forward, got the chance to suit up for Södertäljes Men's team. He put up eleven points (five goals, six assists) in eight games with SSK before the lockout was over and it was time to return to New York and the Rangers.
While Hagelin is still very much in the middle of his NHL adventure, he knows where he'd like to finish his career.
"I'd like to play in the NHL for as long as I can… but if I were to return to Sweden, it would be to play for SSK. It's the team that raised me", he told Jesper Spanne of Hockeysverige this summer.
Even with the departure of Hagelin, the fans didn't have to wait long until they were able to enjoy NHL-level talent on the ice again.
A DUO TO REMEMBER
After spending the 2011-12 and 2012-13 seasons with SSK's U-20 team, William Nylander wanted a new challenge. Having received only limited time with SSK Men's team, by then once more in HockeyAllsvenskan, the young forward was eager to show what he could do ahead of the 2014 draft.
Then, after failing to make his mark with Rögle the following season, he returned to Södertälje and set the league on fire for 17 games.
The reason?
He wasn't the only 1996-born top-tier talent on the SSK roster that season, as a certain David Pastrnak was lining up next to him on a nightly basis. Pastrnak, having moved from the Czech Republic to Södertälje a year earlier, bloomed in full when Nylander came back to town and for two glorious – yes, glorious – months the duo torched HockeyAllsvenskan goalies.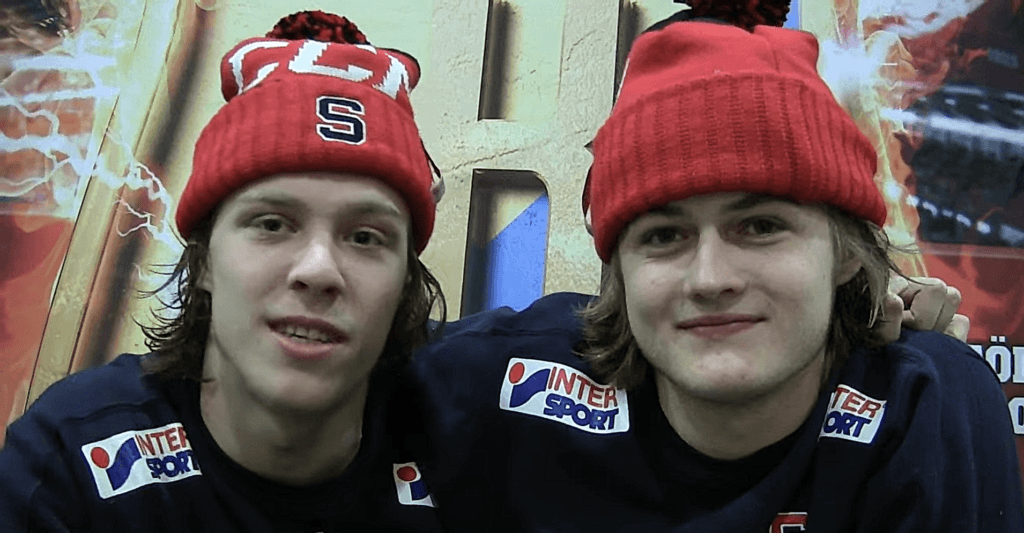 Young Pastrnak, Nylander wearing the distinctive "S" logo of SSK. Screencap from this video interview, made by blog sskoveralltalltid.se.
When the Toronto Maple Leafs faced off against the Boston Bruins in the Stanley Cup playoffs this past spring, you had better believe Södertälje fans were getting up early in the morning to catch highlights of their two golden boys going head-to-head in the best league in the world.
THE FUTURE
This season Södertälje is battling for a playoff spot in HockeyAllsvensken and while the teams leading scorers are league veterans Sebastian Dyk and Nicolai Meyer, there are a number of young prospects who have NHL potential.
There is defenseman Axel Andersson, drafted by Boston Bruins in the 2nd round (57th overall) this summer, who has skated in 27 games with the Men's team. There is Lucas Feuk, the 2001-born forward eligible for the draft this coming summer. A player who was recently selected by EP Rinkside blogger/scout Christoffer Hedlund as one of "Five players to watch" from the Swedish U-20 league.
And there is Hugo Gustafsson, the hard-working center who recently got promoted from the U-20 team to the Men's team where he has scored two points (goal, assist) in seven games. Gustafsson was eligible to be drafted this summer but was passed over, a fact that has seemingly driven him to take the next step in his development this season.
*****
Ask anyone you meet at a game in Scaniarinken – the long-standing home arena of Södertälje SK – what their relationship is to the team and you will likely be treated to a story that spans years, if not generations. The people of Södertälje love their hockey team and even when they don't, like in 2011 when the team last was eliminated from the SHL, nobody but the fans themselves are allowed to poke fun at them.
The same blue-collar mentality that gradually molded the city into what it is today resides in SSK, both within the organization itself and among its fans.
That is why the title of "great developer of NHL prospects" likely won't elicit cheers, at least not from everyone. Because while the NHL players the team has produced is a source of pride (many still refer to Kopitar and Hagelin as "our" players), it can also be viewed as a sign of struggle. That the team last won a championship in 1985 and haven't been a member of the top division for almost a full decade is difficult to ignore.
In the end, any SSK fan worth their salt would trade the development of NHL prospects for another championship.
But until that happens, watching players like Kopitar, Hagelin, Pastrnak, Nylander and now Andersson, Gustafsson and Feuk develop is a pretty good consolation prize.
This article is about: