World Juniors 2019
Underdog Walker angling for spot at WJCs: "My competitiveness is my strength"
As USA Hockey prepared to start their USA Hockey U20 World Junior Hockey Championships a couple of days ago in Everett, Washington, they invited many of the players who were at the World Junior Summer Showcase.
This makes sense as they got to see them up close and were aware of what assets they would bring to a team in a short tournament like the annual U20 tournament.
One name that was added to that invite list though was five-foot-nine, 150 pound forward Samuel Walker – "Sammy" for short.
USA World Juniors head coach Mike Hastings made it clear that Sammy put himself on the map for USA Hockey with his incredible freshman season at the University of Minnesota.
"Sammy didn't have some of the same opportunities as some of the other guys. He wasn't in Kamloops this summer and then comes in and hops right into Minnesota's lineup. His progress from the beginning of the year to when we got here as far as production and responsibility his role at Minnesota has grown every weekend," Hastings said.
Walker has four goals and six assists for 10 points with 15 games while playing on a line of all freshmen.
"I've never played with either of the two. They put us together and it really stuck," Walker said.
Walker plays with Blake McLaughlin and Nathan Burke and he is tied for third on the University of Minnesota in scoring.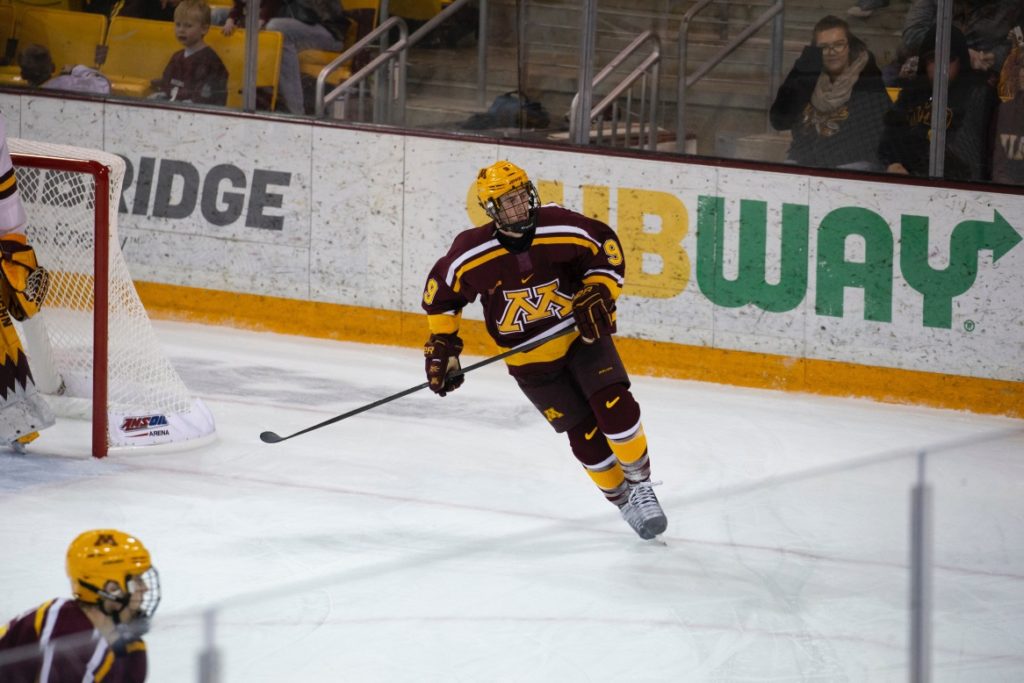 Photo by: Jim Rosvold//University of Minnesota
Walker had an opportunity follow his older brothers Ben and Jack to the Western Hockey League since he was drafted by the Medicine Hat Tigers in the seventh-round of the 2014 WHL Bantam Draft, but ultimately decided to stay home.
Jack played from 2012-17 with the Victoria Royals posting 238 points in 318 games.
Ben suited up in 176 games for the Victoria Royals and had 138 points.
"I definitely considered the different paths but I think the college route and me being a late bloomer – it was a better route for me."
Being the younger brother, Sammy grew up with a competitive fire that continues to burn today and drives him on the ice.
"I think my competitiveness is my strength. Just having two older brothers you are always playing with them and wanting to beat them."
The younger Walker brother played at Edina High School and last season was named Mr. Hockey as the best High School Player in the state of Minnesota.
"It's an honor. Looking back and seeing all the great players who have won that. Being part of that select group is pretty amazing."
The 2017 Mr. Hockey was Casey Mittelstadt, who is now playing with the Buffalo Sabres. Nick Bjugstad of the Florida Panthers and Nick Leddy of the New York Islanders were a couple other winners of the award.
During that run with Edina, he got to play in the state final in front of 18,000 fans. That experience is something he feels will help him take on the pressure of representing your country at the biggest stage in junior hockey if he is able to do so this coming month.
"Playing in front of that crowd before, you really feed off of that energy and it makes the game a lot better."
Walker was taken in the 2017 NHL Draft by the Tampa Bay Lightning in the seventh-round, 200th overall.
The Minneapolis, Minnesota native was excited to get to go to camp with the Lightning the last two summers.
"It's been great. The organization has been unbelievable. All the staff and players are so respectful and being there the last two years it's been great to learn as much as I can."
Being around players who are built like him and may not have been given much chance to play in the NHL and yet are now driving the team's success was a thrill for Sammy.
"Just looking at their forwards they have quite a few smaller forwards and I try to model my game after (Brayden) Point and (Tyler) Johnson. Looking at them as smaller guys that have had so much success, it's pretty exciting that the game is evolving like that."
Walker hopes to do what neither Jack nor Ben was able to do and make the final roster for the U20 USA team. Hastings cites Walker's drive and his foot speed as key assets that could drive him to his goal of making the team.
"Right now he's trying to figure out where he fits in here. Sammy's a guy that comes to work every day. The thing that separates him and is one of the reasons he is here is his ability to skate. He is not a 200-pound forward. He's a guy that is going to intimidate you with his feet more than he is with his physical game. He's got to play to his strengths and hopefully he will continue to do that," Hastings said.
As the fight to make the team continues, Sammy is embracing the experience of it all.
"It's a great opportunity battling and trying to make the U.S. team. You play against these guys and see some of them play growing up. Finally getting to meet some others too – it's pretty cool."
His play so far this season put him on the camp roster, now he has to earn a spot on the final roster. For a guy who plays with his drive, that is a spot he is just fine with being in.
This article is about: