World Juniors 2019
In the midst of golden era of junior hockey, WJC means win or bust for Team USA
There's no doubt that the United States is enjoying its golden age of junior hockey.
The United States won their first-ever World Junior gold back in 2004 on a fluke goal in which Marc-Andre Fleury put the puck off of his own defender, Braydon Coburn, and into the net. Back then, the Americans weren't a threat at the tournament, but now, things are different. They're a consistent medal favourite.
The Americans have sent some of their best teams in program history to the World Juniors over the past decade, featuring names like Auston Matthews, Jack Eichel, Johnny Gaudreau, Casey Mittelstadt, and Clayton Keller. They've won three gold medals in the 2010s and they've medalled six times, which is more than they had medalled in a 35-year span between the tournament's inception in 1974 and the beginning of the decade.
Last year, the United States, loaded with arguably the deepest roster the Americans had ever assembled at the tournament, looked poised to finally get the job done in front of their home fans in Buffalo. Their first gold came in Finland in 2004, they won in Canada in 2010, in Russia in 2013, and Canada again in 2017.
The highlight of the tournament for the Americans came when they defeated Canada in the group stage at the first-ever outdoor game held at New Era Field in front of 44,592 fans. Unfortunately, a previous loss to an underdog team from Slovakia resulted in the Americans having to go through Sweden on their way through the playoff stage. Despite an MVP performance from Casey Mittelstadt, the United States lost in the semifinal to Sweden and didn't have a chance to take on Canada in the gold medal game. They would end up taking home bronze in a one-sided win over the Czech Republic.
There was a time in which a group stage win over Canada and a bronze medal win over the Czech Republic would be a massive win for the United States. Those days are long gone. The Americans roll into each tournament now with the goal of bringing home a gold medal.
The focal point of the American roster will be Jack Hughes, the top-rated prospect heading into the 2019 NHL draft. Hughes, barring some unforeseen circumstance, will join Auston Matthews, Patrick Kane, Erik Johnson, Rick DiPietro, Bryan Berard, Mike Modano and Brian Lawton as Americans who have been selected first overall this spring.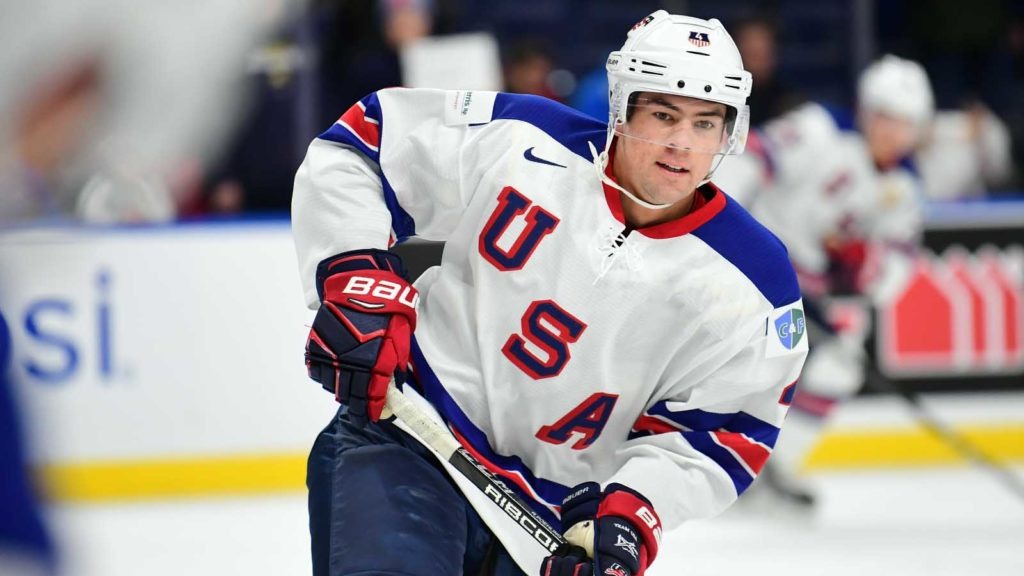 Ryan Poehling. Photo: Dan Hickling / Hickling images.
Quinn Hughes, Jack's older brother, will also play a key role on this American team. Quinn, a highly-skilled offensive defenceman was drafted seventh overall by the Canucks at last year's draft and has 20 points in 17 games as a freshman at the University of Michigan. Other returning Americans from last year's bronze medal finish looking to take on bigger roles are defencemen Michael Anderson and Dylan Samberg and forwards Ryan Poehling and Josh Norris.
Beyond them, the Americans will also have a wealth of talented new faces on their WJC squad this winter. Oliver Wahlstrom is having a difficult freshman season at Boston College, but the Islanders made him the 11th overall pick last June for a reason. He has tantalizing offensive talent and scored seven goals in seven games last year on the American U-18 WJC team. Jason Robertson, a second-round pick of the Stars in 2017, is putting up nearly two points-per-game in the OHL this season, and Evan Barratt, another 2017 draft pick, is tied for the NCAA scoring lead.
The Americans, as we've seen throughout the past decade, aren't a pushover with a couple NHL prospects anymore. They're rolling into Vancouver and Victoria with next year's projected first-overall pick, multiple highly-touted NHL prospects, and a lot of depth that makes them a legitimate contender for a gold medal.
A gold medal this year would mean that the Americans finish the 2010s with more gold medals than Canada did over the course of the decade. I don't think anyone would have believed you if you had told them that was going to happen after their wild and flukey first-ever gold medal win back in 2004.
This article is about: