World Juniors 2019
OHL standout Keyser eyeing USA starter job: "I want to be in every single game"
MISSISSAUGA, Ontario – – Robb Tallas' main job as goaltending coach with the Panthers is to focus on Florida's puck stoppers, but the former Bruins goaltender frequently keeps an eye on a certain Boston prospect.
Kyle Keyser began working with Tallas as a seven-year-old near his home in Fort Lauderdale, Florida and early on Tallas noticed something different in Keyser.
"You see a lot of kids with talent or there's a lot of kids that have a real good work ethic, some times combining the two is tough," said Tallas. "Early on with Kyle, you could see that he had the drive, even at a young age.
"He was a quick learner and you could see he just didn't do things to do things, he would ask a question and then he would kind of put it into his game. Early on, when you get students like that, you know right away that there's something special in them and you're hoping that good things happen."
A big teaching point for Tallas while working with young goaltenders in South Florida is getting his pupils to develop hockey sense. As the 45-year-old notes, hockey isn't front of mind at all times for kids growing up in those parts so it's a point of emphasis for him in his instruction.
"I think when goalies handle the puck, they start to see the game a little bit different, you just start developing a little bit more hockey sense rather than just stopping the puck," Tallas explained. "I think early on, (Keyser) became a really good puck-handler at a young age and a lot of goalies, at a young age, really struggle with that until they physically get stronger. I think that helped his development in reading plays, in being able to have more of a hockey sense as opposed to being a goalie that just gets on the ice to stop pucks.
"I think that was the biggest thing when I saw the maturity in him, saw the work ethic in him and that was creating the hockey sense in him, especially in a market that's not surrounded by hockey."
Keyser moved from Florida to Minnesota as a teenager for a full season of instruction. He then spent two years in Michigan playing Triple-A hockey ahead of his OHL draft year.
The move from Florida to Minnesota separated Keyser and Tallas, but the two quickly re-connected in October 2017 when Keyser signed a three-year entry-level contract with the Bruins – the club where Tallas appeared in 99 games over five seasons.
"When he signed, I reached out to him right away," said Tallas. "That was very cool to see. It was a little bit of my path. I was on a tryout with Boston and ended up making the team a few years later as a backup, but to see that is actually kind of special."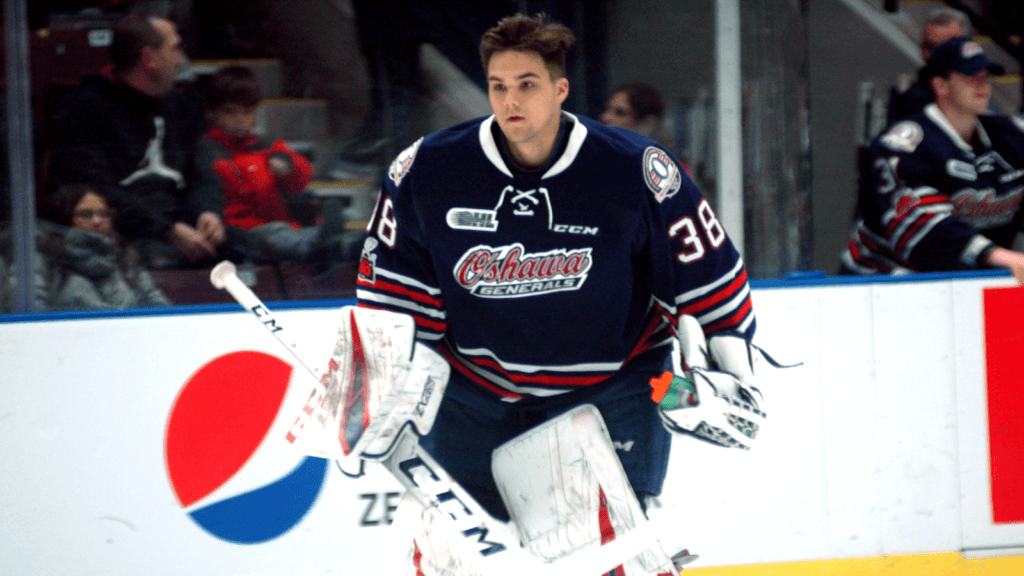 Photo: Dhiren Mahiban
Boston wasn't the first stop for Keyser. The 6-foot-2, 183-pound goaltender spent the summer of 2017 attending development camps with both the Buffalo Sabres and Chicago Blackhawks before accepting an invitation to the Bruins prospects challenge.
Despite the multiple stops in search of a pro contract, Keyser says he was never discouraged.
"Honestly I'm very confident in myself and my abilities," he said. "I knew that if I kept working hard, I knew that when the opportunity presented itself like it did in Boston, I was just going to play well and keep working hard things will happen. I tried not to worry about it too much, but I never lost confidence in my abilities."
Drafted in the fourth round of the 2015 OHL Priority Selection by the Flint Firebirds, Keyser was dealt to the Oshawa Generals in September 2016 after just one season in Flint.
Now in his third season with the Generals, Keyser went into the Christmas break with a 16-5-0 record. His .931 save percentage leads all Ontario Hockey League goaltenders and his 2.37 goals-against average ranks second behind only Michael DiPietro of the Ottawa 67's.
"I do (take pride), but I really believe that's more indicative of how our team has played this year, I really do," Keyser said of his early season success. "My stats are a reflection on my D core and forwards and their commitment to help me every single night blocking shots and it's a real team effort. Yeah it's great to have those stats, but I really believe those are more of a team showcase.
"Once you're winning, things fall into place personally as well too so I would say overall as a team we're doing well, we've got some things to improve on, but in the right direction."
Following Bruins camp, Keyser returned to Oshawa with specific areas he'd like to improve this season.
"More consistency in my game," Keyser said of what he's working on. "I want to make sure that every night these guys know that I'm going to give them the best of my game. They know they can count on me to make the big save I need to and make the routine save all night. I think I've given them that confidence and I hope that they have that confidence in me 'cause I have confidence in them that they're going to do their job so just coming in here, consistency, playing my game and helping us win games."
Keyser's play this season earned him an invite to Team USA's December selection camp for the World Junior Championship. Keyser is currently battling for playing time with Northeastern University's  Cayden Primeau and Spencer Knight of the U.S. NTDP.
At the 2018 World Juniors in Buffalo, the Americans carried three goaltenders, but Keyser is eying the starting job.
"I'm going to go in there and give it my best effort (and) do everything I can to make them play me," Keyser said. "I don't want to give them any reason to sit me out, so I'm going in there, I want to fight for that starting job, I want to be in every single game and every single minute. I'm blessed that they gave me the opportunity."
Keyser and the Americans won't have a shot at the Canadians during the preliminary round as they're playing in different groups beginning Boxing Day, but a meeting with the host nation would be a little more meaningful for Keyser and his fellow Bruins' prospect Jack Studnicka of Canada.
Both Keyser and Studnicka are teammates with the Generals and have kicked around the idea of facing one another once the quarterfinals begin on Jan. 2.
"(We) joked around a little bit about it, but at the end of the day, we're both competitors on the ice," Keyser said. "If it came to that game, we'd be pretty competitive with each other, but at the end of the day, when we come off the ice, regardless of the result, we're really good buddies."
Added Studnicka: "If it comes down to that, it'll be pretty weird playing him. Obviously he's a really good goalie, and I'm sure it'd be fun experience."
This article is about: