World Juniors 2019
WJC PLAYERS TO WATCH: Gems to be found outside the top nations
In 2016, Slovakia captured bronze.
In 2005, it was the Czech Republic who finished third.
That, and a third-place finish from the Czech Republic in 2005, is the the only instances in the past 17 years of the IIHF World Junior Championship to feature medalists that weren't from Canada, Sweden, Russia, Finland or the United States.
It'll be tough sledding for the likes of Slovakia, Switzerland, Denmark and Kazakhstan to add to that in 2019.
Though the depth isn't necessarily there to do so, there isn't exactly a shortage of top-end talent worth watching throughout the tournament.
Martin Fehervary, D, HV71 (SHL)
Fehervary, with Slovakia, doesn't have pro experience in North America, but he has plenty of international experience to draw on.
Fehervary, selected in the second round (No. 46) in the 2018 NHL Draft, will represent Slovakia at the World Juniors for a third straight year. The 19-year-old was an alternate captain last season, and served as Slovakia's captain at the 2017 World Under-18 Championship. Fehervary, who has three points (one goal, two assists) in 23 games with HV71 in the Swedish Hockey League, also had two points, both assists, at the 2018 World Championship — one of two players that participated in the tournament prior to their draft day in June.
What to watch for: He possesses a powerful, yet smooth, stride. He will display a calm, simple game, especially under pressure.
Martin Pospisil, C, Sioux City (USHL)
Fehervary will have some help in Pospisil, who leads the United States Hockey League with 34 points (11 goals, 23 assists) in 22 games with the Sioux City Musketeers of the United States Hockey League. Pospisil, 19, led that league last year with 253 penalty minutes.
The fourth round pick (No. 105) of the Calgary Flames has just once represented Slovakia in international action — going pointless in four games at the World Under-18 Championship in 2017.
Still, much of his growth as a player has come in two seasons in North America, and he could be poised to have a standout tournament for Slovakia.
What to watch for: He's an unpredictable player. There is no shortage of passion or compete in his game.
Philipp Kurashev, C, Quebec (QMJHL)
Much of Switzerland's hope of a solid showing at the World Juniors will be quarterbacked by Kurashev, who is returning to the tournament after netting three points (one goal, two assists) in five games last year.
Kurashev, selected in the fourth round (No. 120) by the Chicago Blackhawks in 2018, leads the Quebec Remparts in the Quebec Major Junior Hockey League with 43 points (18 goals, 25 assists) in 33 games this season.
The 19-year-old is no stranger to playing a pivotal role with Switzerland, netting four points (three goals, ones assist) as an alternate captain at the 2017 World Under-18 Championship. He's also represented his country at the World Junior A Challenge and Ivan Hlinka Memorial Cup.
What to watch for: He owns a terrific first step and flies around the ice when moving at full speed. His hands, when paired with his slick skating, can cause trouble for opposing defenders.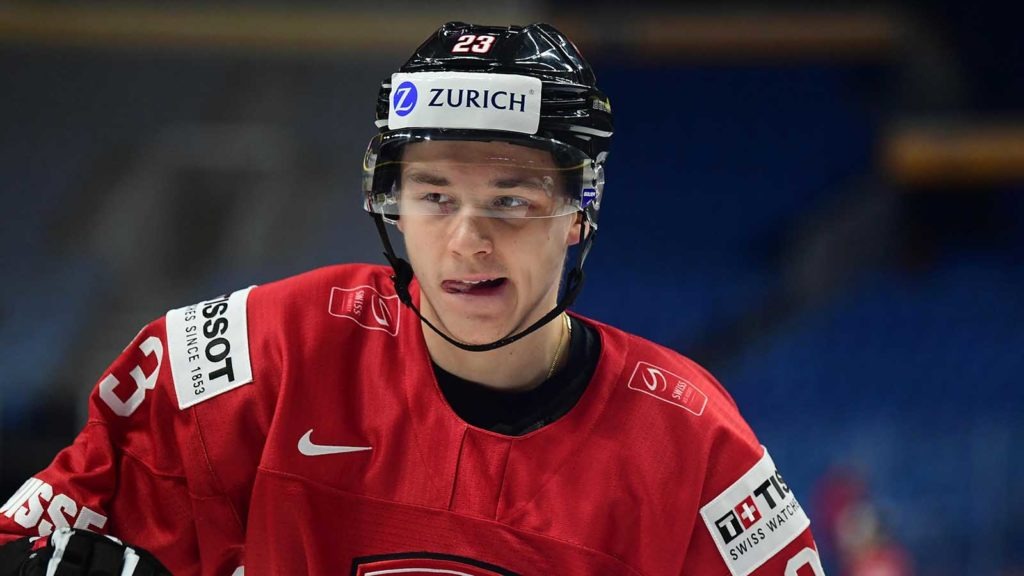 Kurashev. Photo: Dan Hickling/Hickling images.
Jonas Rondbjerg, LW/RW, Vaxjo (SHL)
Much like Switzerland's hope revolves around Kurashev, the same can be said for Rondbjerg with Denmark. Rondbjerg, selected in the third round (No. 65) by the Vegas Golden Knights in the 2017 draft, led Switzerland with seven points (two goals, five assists) in six games in last year's tournament.
Rondbjerg, who has two points (one goal, one assist) in 23 games with Vaxjo in the Swedish Hockey League, will be paramount to Denmark avoiding relegation.
What to watch for: He likes to play with the puck on his stick, and has an above-average hockey IQ.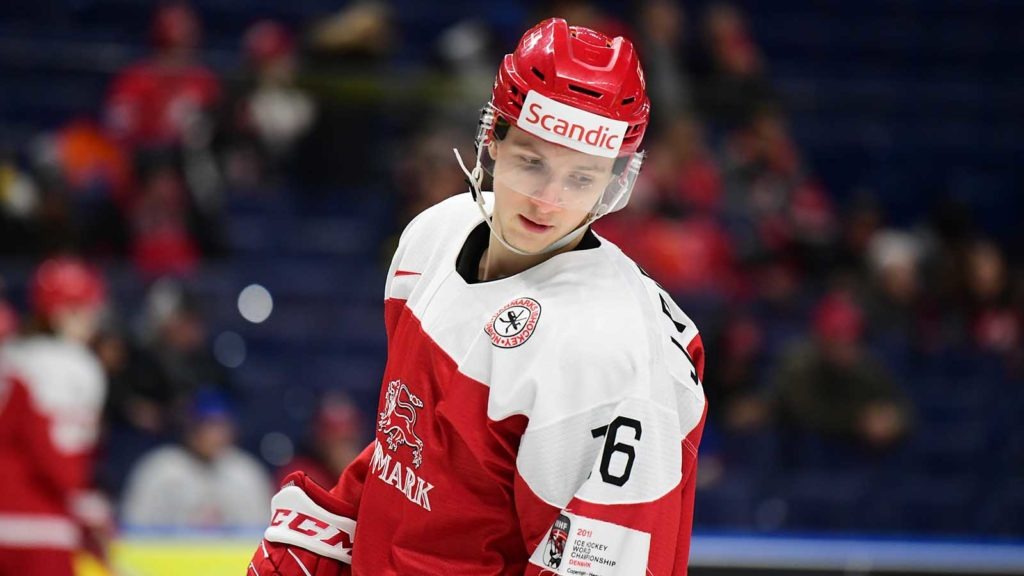 Rondbjerg. Photo: Dan Hickling/Hickling Images.
Artur Gatiyatov, LW, Barsy Astana (MHL)
Kazakhstan's ability to avoid relegation will revolve largely around Gatiyatov.
Gatiyatov, who has 37 points (14 goals, 23 assists) in 38 games with Snezhnye Barsy Astana in the MHL this season, led Kazakhstan's push to join the main group, leading last year's Division I Group A tournament with four goals and seven points in five games.
He'll be heavily tested against stiffer competition, and the pint-sized forward will have to thrive under plenty of attention from the opposition.
What to watch for: He'll be the motor that stirs the offense. He plays a speed game, and will bring an element of playmaking from the wing.
Valeri Orekhov. D, Barys Astana (KHL)
Gatiyatov will have some help in Orekhov, though.
Orekhov, who has six points (three goals, three assists) in 24 games with Barys Astana in the KHL, also had seven points (one goal, six assists) last year to help earn Kazakhstan's promotion. Both will be instrumental yet again.
There's no shortage of storylines, and top prospects, to keep tabs on.
It'll certainly keep intrigue, and attention, as a result.
What to watch for: There's a maturity and calmness in his game. His mobility will allow him to contribute at both ends of the ice.
This article is about: