World Juniors 2019
MCKEEN'S HOCKEY: The World Junior Championship Guide
The eyes of the hockey world focus on Vancouver and Victoria, British Columbia, Canada and the 2019 IIHF World U20 Championship game for the next 11 days. The future of hockey is on display as a favoured Canadian team is hoping to be the first team to win twice in a row since 2009 on home ice. Five different countries have won the World Junior title over those nine years (Canada (2), United States (2),Finland (2), Sweden (1), and Russia (1) reflecting an increasingly competitive tournament as the prospect talent pool grows around the world with world class talent spread across the rosters.
The World Juniors has always been special because of the individual stories that emerge. Delivering on the world stage against your peers has been the launch pad of many brilliant careers.
Brock Otten writes in his introduction to the McKeen's second annual IIHF World Junior Championship Guide – "Of course, you can look back at any year of this tournament and reminisce about how today NHL stars got their start. That is what makes the World Junior Championships so exciting. Most remember how Connor McDavid led Team Canada to gold in 2015, breaking a five-year drought. Or a 17-year-old Alex Ovechkin leading the 2003 tournament in goal scoring, helping Russia capture Gold. Or the 2007 shootout between U.S. and Canada that saw Jonathan Toews, Carey Price and Patrick Kane become stars" I am sure readers can fill in many more memories depending on your allegiance.
McKeen's Hockey has been writing about hockey prospects since 1994 beginning with our McKeen's Hockey Pool Yearbook. Our seasoned team of scouts and analysts in rinks around the world are profiling and projecting the next generation of stars all season long. For the World Junior Tournament this team has come together to produce our second annual IIHF World Junior Championship Guide. It is an invaluable resource including analysis, player profiles and feature articles in a downloadable magazine (PDF). Learn more by clicking here!
The IIHF World Junior Championship Guide is one of three magazines we publish, with the third being the McKeen's NHL Draft Guide publishing in June. They are all included in a subscription to www.mckeenshockey.com, a subscription base website with a deep library of NHL and prospect player profiles which you can join for $9.99 for three months ($3.33 a month).
In the spirit of the individual player stories central to the tournament we have made available sample player pages (usually behind a paywall) on key players to give you an idea of what we offer beyond the magazines we publish.
Here are some notes from the WJC Guide on some key players. Click on the players name below to access the player page on the website.
Enjoy the tournament!
The aforementioned Jack Hughes' older brother, the two, only 17 months apart (to the day) in age, have never really played together in a league, or sanctioned tournament (the Summer showcase does not count). The elder brother is a high-end puck carrying blueliner. He loves to enter the offensive zone deep after carrying the puck over the line. He is constantly forcing the defenses to react. His edge work is near elite, allowing him to shake loose from even the most aggressive, persistent forecheckers. In the last 12 months, he has also come a long way with his work away from the puck, shown through his precise stick work in board battles and the active placement of said stick against the rush. He is tougher than his size suggests. Michigan's leading scorer as of their mid-year break, Hughes should likewise play an outsized role in this tournament. Expect him to play the role of the team's number one blueliner and power play ace. He can help out on the penalty kill as well, but that might be a good time for him to rest for this event. After playing as a seventh defender at least year's tournament, this time he will be the star.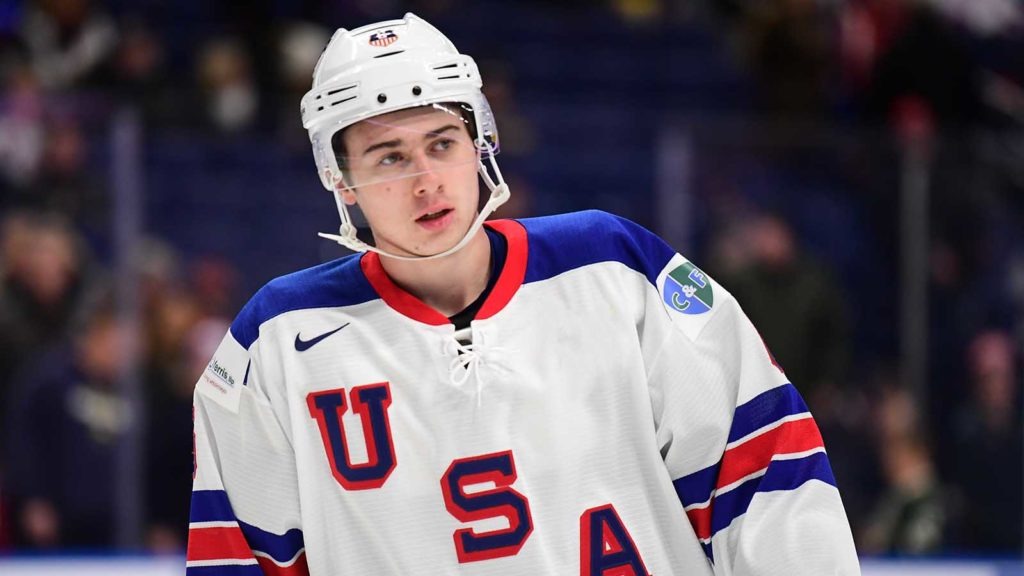 Quinn Hughes. Photo: Dan Hickling / Hickling Images.
The best player on the team and truly a dynamic player, always searching to make plays happen. Brannstrom is in his first year in North America and is almost a point-per-game player in the AHL and should be playing regular minutes in Vegas at the start of next season by the latest. He could very well be one of the best defensemen in this tournament (with some strong competition from guys like Hughes, Bouchard and Jokiharju of course). Brannstrom will drive the play for Sweden and will have great impact on the team's puck possession. Brannstrom is a gifted zone entry specialist with strong puck control. He is very skilled in all aspects of a defenseman's game and can contribute for Sweden in all situations. Although being undersized he is very strong in his lower body and is effective in the physical side of the game. He has a strong stick that helps him overcome his size deficit in puck battles in the corners. His puck skills will be very useful on the Swedish power play as well as on the rush. He is both a good shooter with his wrist shot and a good playmaker. He keeps his feet moving when the puck is in the offensive zone. Last year, Rasmus Dahlin took most of the power play time but this year Brannstrom will probably be the go-to-guy on the point.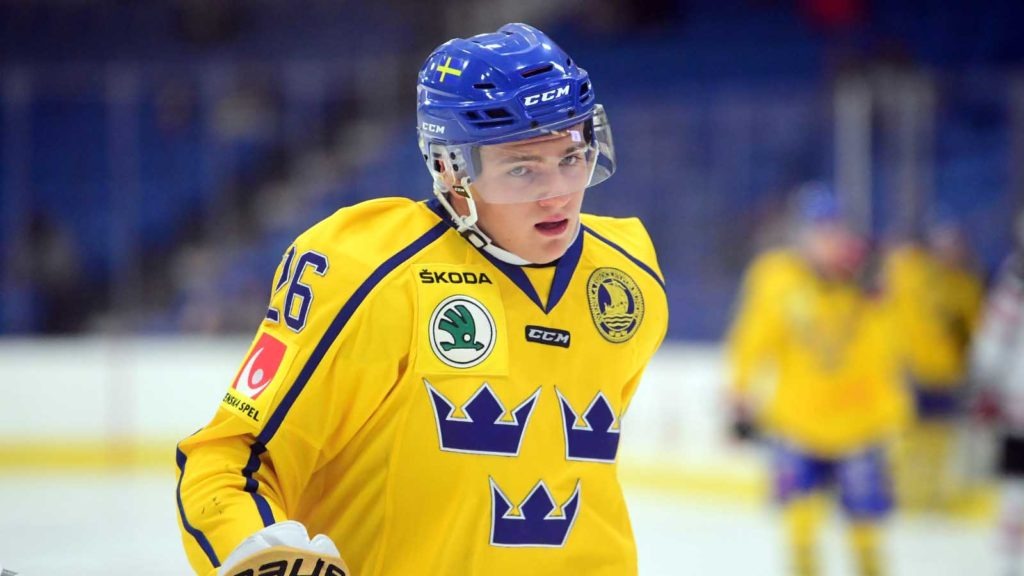 Erik Brännström. Photo: Dan Hickling / Hickling Images.
Bouchard will have a significant role for Canada, and the Oilers 2018 first round pick and should make huge strides in development in the tournament. After starting the season with Edmonton, Bouchard is excelling back with the London Knights. The blueliner put up five goals and 18 points in 13 games with the Knights, and is the Captain and leader on his team. He has a rocket of a shot, likes to shoot, and will have plenty of opportunities to showcase that on the power play. Bouchard is a smooth skating defender with good hockey sense and puck skills. He is poised in his play, has superb vision and moves the puck very well. His ability to transition the game up ice quickly is top notch. His defensive play and positioning is very good, has good anticipation and is able to read plays. Bouchard will log a lot of minutes and play on special teams.
Another rookie in the AHL, Martin Kaut has been a welcomed presence to an otherwise depleted Colorado Eagles lineup as a 19-year-old prospect. Kaut has not been as dominant as Necas, but has chipped in 12 points in 26 games in the AHL this season. Alongside Necas in last year's WJC, the young right wing posted a point per game, and the Avalanche agreed to loan him to the Czech team, where he will be a surefire top-six addition once more. Kaut is not a very good skater, but has enough speed and technical refinement to keep up with faster linemates. The mental side of his game is his biggest asset, as the 2018 first-rounder has incredible vision, backchecking intensity, and positioning skills. He projects to be an NHL middle-sixer, but will dazzle with Necas on the top line for the Czechs in the World Juniors.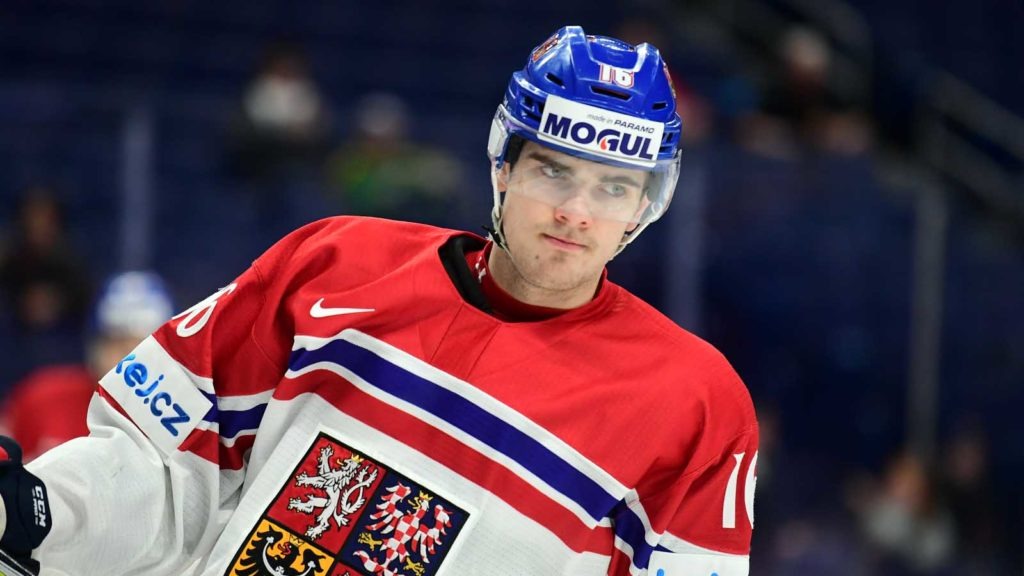 Martin Kaut. Photo: Dan Hickling / Hickling Images.
One of the surprises of this season was seeing Kravtsov playing in the middle, and he showed that he can do it at least at the junior level in the recent Team Russia games. The Chelyabinsk-born forward has size, speed, and technique to play center at this level and he may end up as the team's top scorer if he competes at this level. Should the first Russian line start clicking, any opposition may find itself in trouble. Kravtsov is one of the top-scoring junior players in the KHL and this year has six goals and 17 points in 33 regular-season games. It won't be a surprise if Kravtsov will lead the tournament in scoring like Kirill Kaprizov did in Canada at the 2017 WJC.
Nando Eggenberger, Switzerland
One of the more shocking players to go undrafted last year, after starting the season as a potential first round selection. But his progression failed to take that next step forward offensively, and his struggles internationally ultimately led to him being passed over. In order to try to impress scouts, Eggenberger crossed the pond this offseason to play for Oshawa in the OHL where he has found a fair amount of success. Alongside linemates Jack Studnicka and Serron Noel, Eggenberger has formed one of the top trios in the Ontario Hockey League. At even strength, Eggenberger has been one of the more efficient players (top 20 in even strength goals). He uses his size extremely well in the offensive end, prolonging possession along the wall. He opens up ice for his linemates by attacking scoring areas and drawing in multiple defenders below the hash marks, thanks to his strength on the puck. His skating has also improved from last season, although it will never be a strength. Eggenberger's commitment in all three zones has been a strength, however. At the WJC's this year, he has a chance to rebound from a terrible performance in 2018 that saw him go pointless and -9. A strong performance as a go to offensive player for Switzerland, in addition to a consistent second half performance in the OHL upon returning, would go a long way to helping him have his name called this time around in June.
Rondbjerg has good hands and a good work ethic but he isn't as flashy as other Danish prospects have been, like Ehlers or Bjorkstrand for example. Rondbjerg has good size and can be creative with his effective puck skills. He's a good skater and reads the game well on both sides of the puck. He has been the big star in this Danish age group for years and they'll rely on him in all important situations. He plays regularly in SHL with the defending championship team and he's doing well, although not producing points. To be fair, he has created chances and has been a bit snake bitten so far. He has also been playing more on the penalty kill than the power play. Here he'll have a more offensive role and last year he put up seven points in this tournament. In a future NHL role, I see him more as a smart, modern, two-way forward on a third/fourth line that can create and score in that role but mostly deliver an effective performance for his team.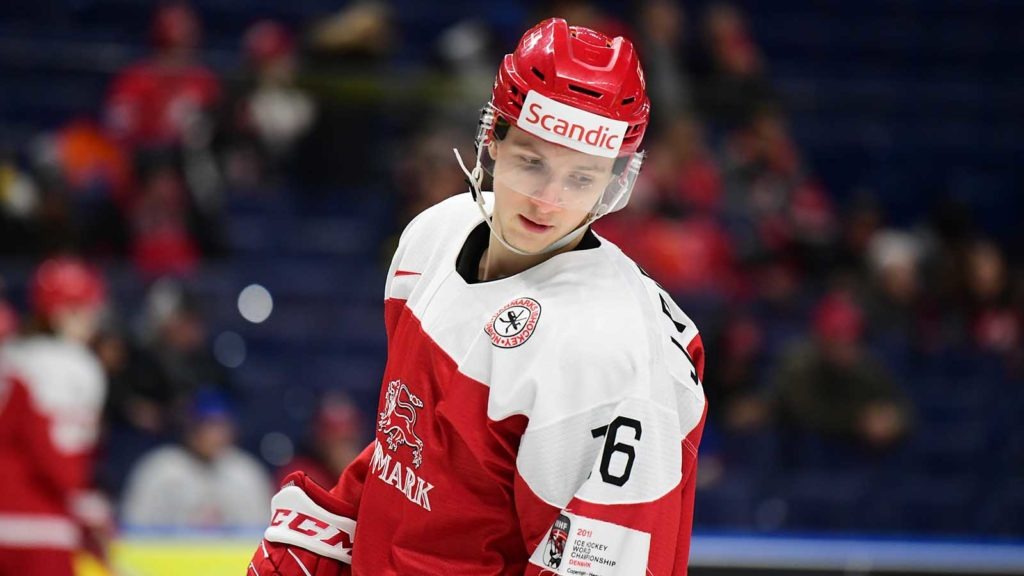 Jonas Rondbjerg. Photo: Dan Hickling / Hickling Images.
Kupari has been one of the key forwards for Kärpät in the Liiga this season. The strong-skating center has been highly productive since November (11 points in 12 games) and he has formed an excellent duo with Aleksi Heponiemi. Kupari is a world-class skater who can beat opponents with both speed and skill. A highly agile skater who can make tight turns and cuts, his acceleration and top speed are both excellent. Kupari has great stickhandling skills and he's creative with the puck. He can control the puck well at high speeds. Kupari has improved his decision making with the puck this season, particularly under pressure, and has shown more often the ability to set up his teammates for scoring chances. The Los Angeles Kings first round pick is defensively responsible and constantly aware of his surroundings. Kupari, who already played at last year's World Juniors, will have a much bigger role this year.
Along with Fehervary and Ruzicka, Roman is the third Slovakian player preparing for his third go round in the World Junior Championships. While Roman lacks any true standout traits, there are a lot of things that the Calgary draftee (yes, the Flames seem to have a thing for Slovakian players) does well. For one, he is showing an improved ability to put the puck in the net, if the last half season with the Vancouver Giants is a big enough body of evidence. His 16 goals there through 30 games are nearly double the runner-up. He has traditionally a pass-first player, but his strong wrist and snap shots are finding more twine as he has become better able to recognize soft spots in coverage in the offensive zone, which also extends to a poacher's instinct on the forecheck, and is thus more able to strike to good effect. He does not play a hard game, per se, but he is active and useful in all three zones. Roman needs to produce at a top six level to give Slovakia a chance to exceed their results from previous years.
This article is about: