World Juniors 2019
Moving Christmas to Vancouver – Leason hopes to celebrate holidays with gold
Brett Leason – Calgary product and standout star of the Prince Albert Raiders in the Western Hockey League – didn't imagine his family would have to make the pivot to Vancouver just six months ago.
Then again, the past six months has been pretty crazy for the kid, anyway.
"This has really been surprising, the start of the season," Leason said. "I never would've dreamt of this being able to happen and becoming a reality. I never really thought it could happen, but I'm here and it's going on right now.
"It's a bit different. I haven't really been thinking too much about the Christmas part. I'm just more focused on the tournament and when that begins and we can finally get this thing going."
Of course, the teenager isn't too interested in Dec. 25 this year.
He's more focused on Boxing Day.
And getting that thing going.
Leason, 19, will open with Canada at the 2019 IIHF World Junior Championship after being named as one of the team's 14 forwards.
"It's very exciting," he said. "It's been a dream to wear that Maple Leaf at this tournament. It's very exciting. I'm looking forward to the rest of the tournament. "It was a great, great feeling for sure. I've dreamed about playing in this tournament and wearing that Maple Leaf and I finally get the chance to.
"It was a terrific feeling."
Leason, who has gone unselected in each of the past two NHL Drafts, has shredded the WHL to the tune of 64 points (28 goals, 36 assists) in 31 games. He had just 33 points (16 goals, 17 assists) in 66 games last year.
His rise has been dramatic, to say the least.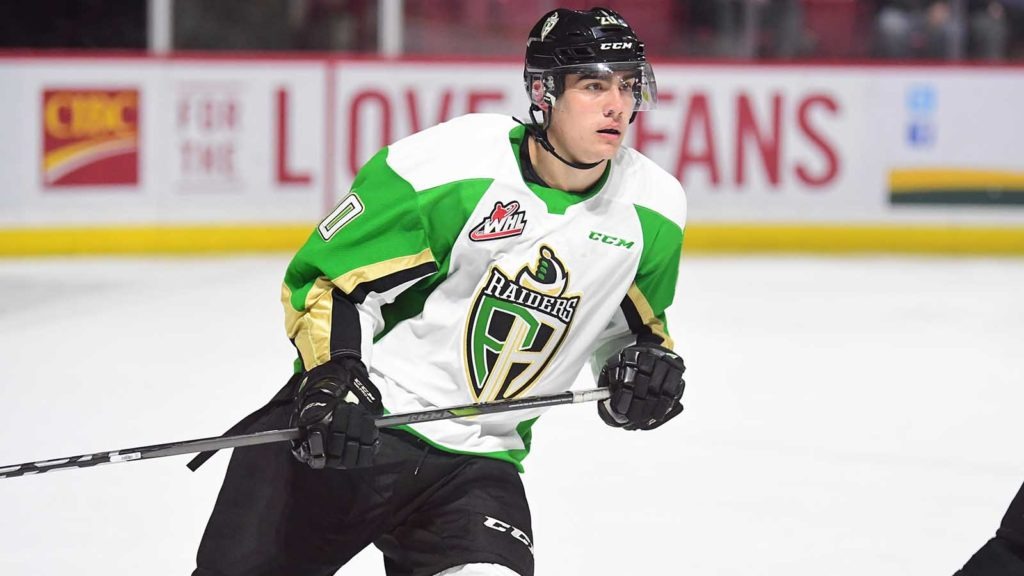 Photo: Dan Hickling / Hickling Images
"That is pretty crazy," Leason said.
"I think I just had a strong summer and came into camp and just played with lots of confidence and took off and continued improving every night, getting better. I'll be pretty satisfied, but I know there's still more to come. I have to focus on that and see how far I can go.
"I set a few goals and I've surpassed them, pretty much. I need to extend those goals."
Leason is underselling it.
"Brett, he played in the Western league for four years and now his impact with his team in Prince Albert, right from the start…he got on our radar within the first couple of weeks, three weeks. Evaluation throughout the fall, he got better and better," said Brad McEwan, head scout with Hockey Canada, at the announcement of selection camp. He's a big body. Six-foot-four. Skating, he's fairly quick.
"The success he's had offensively is really incredible in terms of his impact, scoring and being involved in the offensive part of their game. He's just a player that we just looked at and said, 'listen, he's got to be involved in the process.'"
Front and center at the World Juniors.
Front and center with the 2019 NHL Draft class, too.
"It's been a bit overwhelming at times," Leason said. "At times I also enjoy getting the recognition and getting the nod for everything."
The latest nod, he'll admit, has been the best.
Suiting up for Canada is a dream.
Even if it diverts Christmas, just a little bit, for his parents.
"They were very excited," Leason said. "They've always watched this tournament. I was really hoping I'd make it one day and the chance is here. Once we got the selection camp invite, they were following along closely to see what's going on.
"They always had it in the back of their minds to come out if I did make the team."
But the best present, Leason suggested, wouldn't come from them.
Gold instead would be a fitting end to the holiday season.
"That would be perfect," Leason said.
"It'd feel really good. It's what I want."
This article is about: