World Juniors 2019
WJC PLAYERS TO WATCH: NHL reinforcements Tolvanen, Jokiharju front and center for Finland
Finland hasn't medaled at the World Junior Championship since earning their second gold in three tournaments in 2016.
A disappointing 2017 tournament saw the country fail to qualify for the quarterfinal and battle Latvia for relegation. Survival followed, but a substandard 2018 tournament — that has seen three defensemen from the roster develop into regular NHL defensemen less than a year later — saw Finland bow out in disappointing fashion in quarterfinal action.
There's plenty of optimism in 2019, though.
Henri Jokiharju, D, Chicago (NHL)
Any optimism will be led by a returning defenseman — and NHL regular — in Jokiharju.
Jokiharju, who shared Finland's lead in points among defensemen last year with four (two goals, two assists), was loaned from a struggling Chicago Blackhawks club for the tournament and is the sole player representing the country with NHL experience.
The 19-year-old has 11 points, all assists, in 32 games with Chicago this season, to go with an impressive international resume that includes experience at the under-16, under-17, under-18 and under-20 levels. In fact, Jokiharju is only missing competition at the men's level, which he'll likely add this spring at the 2019 IIHF World Championship.
What to watch for: He'll display his dynamic puck-rushing ability regularly throughout the tournament, and his finesse game will be front and center.
Rasmus Kupari, C, Karpat (Liiga)
Kupari, selected in the first round (No. 20) of the 2018 NHL Draft by the Los Angeles Kings, will return alongside Jokiharju in 2019.
Though he was held pointless in five games as an underaged skater last year, Kupari — also incredibly decorated internationally — returns a year older and more mature, and more productive. He's one of Finland's best scorers, regardless of age, with 23 points (eight goals, 15 assists) in 28 games with Karpat in Liiga — placing him inside the top-20 in league scoring among Finnish-born players.
What to watch for: He'll be one of a couple catalysts on offense for Finland. He's got decent puckhandling skills and isn't shy to go one-on-one with a defender and attack the net.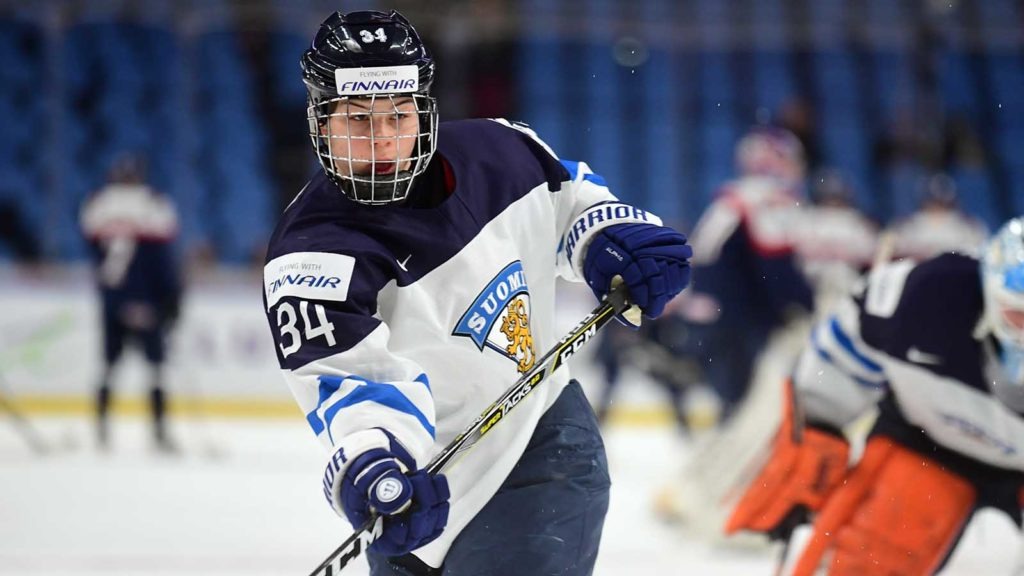 Rasmus Kupari. Photo: Dan Hickling / Hickling Images.
Aleksi Heponiemi, C, Karpat (Liiga)
Like Kupari, Heponiemi will be heavily relied upon to carry much of the offensive load for Finland.
Heponiemi, teammates with Kupari in Karpat, is ninth in Liiga scoring with 26 points (eight goals, 18 assists) and will provide Finland with one of their biggest offensive threats. He had two points, both goals, at the tournament last year.
Prior to returning to Finland, Heponiemi, who was selected in the second round (No. 40) but the Florida Panthers in 2017, closed out his season with the Portland Winterhawks of the Western Hockey League with 118 points (28 goals, 90 assists) in just 57 games, and was named Canadian Hockey League Sportsman of the Year.
What to watch for: Undersized, but not short in his abilities to change a game. He's slick on his skates and is deceptive in his attack.

Aleksi Heponiemi. Photo: Dan Hickling / Hickling Images.
Eeli Tolvanen, RW, Milwaukee (AHL)
Tolvanen shared the offensive responsibility at last year's tournament in Buffalo, and will again as Finland's biggest goal-scoring threat. Tolvanen, who played in each of the World Juniors, World Championship and Pyeongchang Winter Olympics last season — outside of starring as a rookie with Jokerit in the Kontinental Hockey League, gives Finland some additional National Hockey League experience.
Tolvanen, who had six points (one goal, five assists) in his second go-round at the World Juniors and nine points (three goals, six assists) in five points as an all-star in the Olympics, has skated in four games with the Nashville Predators this season.
He's undoubtedly Finland's most decorated skater in the tournament.
What to watch for: His shot. He'll have one of the best releases in the tournament, and he pairs it with an ability to find open ice to release it.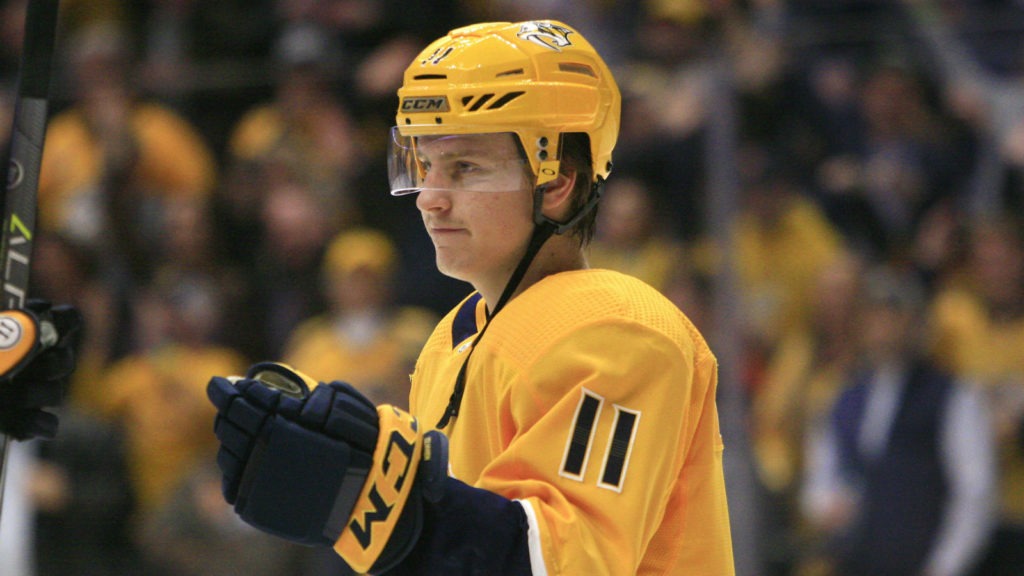 Eeli Tolvanen. Photo: Danny Murphy/Icon Sportswire
Anton Lundell, C/LW, HIFK (Liiga)
Lundell, Tolvanen's potential linemate, could eventually usurp him.
Lundell, 17, is a potential top-five pick in the 2020 draft and will serve as Finland's youngest skater in the tournament. That doesn't mean he's inexperienced, though. The center has logged 20 games in Liiga this season, and has 10 points (four goals, six assists).
He represented Finland at the Hlinka Gretzky Cup in August, and had six points (two goals, four assists) in seven games as an underager at the 2018 World Under-18s in April.
Experienced and inexperienced alike, Finland has plenty of talent to keep an eye on.
What to watch for: For being so young, he displays plenty of leadership qualities and the ability to run a power play. He does things the right way, at the right times.
This article is about: