World Juniors 2019
DRAFT ELIGIBLES TO WATCH: 2019 prospects from Group A
The general rule of thumb as it pertains to draft eligible participants in the IIHF World Junior Championship is that a good showing can only help, and a subpar showing will still guard against a dip.
That doesn't mean, however, that there aren't some heavy expectations on some regardless of draft stock.
And though Group B will feature the most dramatic matchups as it pertains to entrants in the 2019 NHL Draft class, there is still plenty of talent to sift through when it comes to the likes of Canada, the Czech Republic, Denmark, Russia and Switzerland.
That includes Brett Leason of Canada, who has had the sharpest rise of anyone eligible come June.
The 19-year-old, who has been passed over twice already, has doubled his production with the Prince Albert Raiders of the Western Hockey League, despite departing from the team in early December.
"The biggest change in him came over the summer," said Justin Froese, Future Considerations' head Western Canada scout. "Leason simply put in the work and made the most drastic improvement of any kid I've seen in recent years, especially in his skating. He's turned weaknesses into strengths."
But Leason won't be the sole player to draw eyes.
Here's a look at what Group A has to offer.
CANADA
Brett Leason, LW, Canada (Prince Albert – WHL)
Leason is one of Canada's most interesting forwards, and not because of his draft eligibility.
Leason, who has been passed over twice in the annual selection process, has already doubled his career-best numbers in the Western Hockey League. The 19-year-old, who had 33 points (16 goals, 17 assists) in 66 games last year, has exploded to the tune of 64 points (28 goals, 36 assists) with Prince Albert.
The offensive explosion, to say the least, has been incredible for the forward, who will look to continue as a catalyst for Canada.
"A big tournament from him will show he's not just the bully ganging up on teams with the powerhouse Raiders and that he is a legit prospect along with other top junior players," Froese added.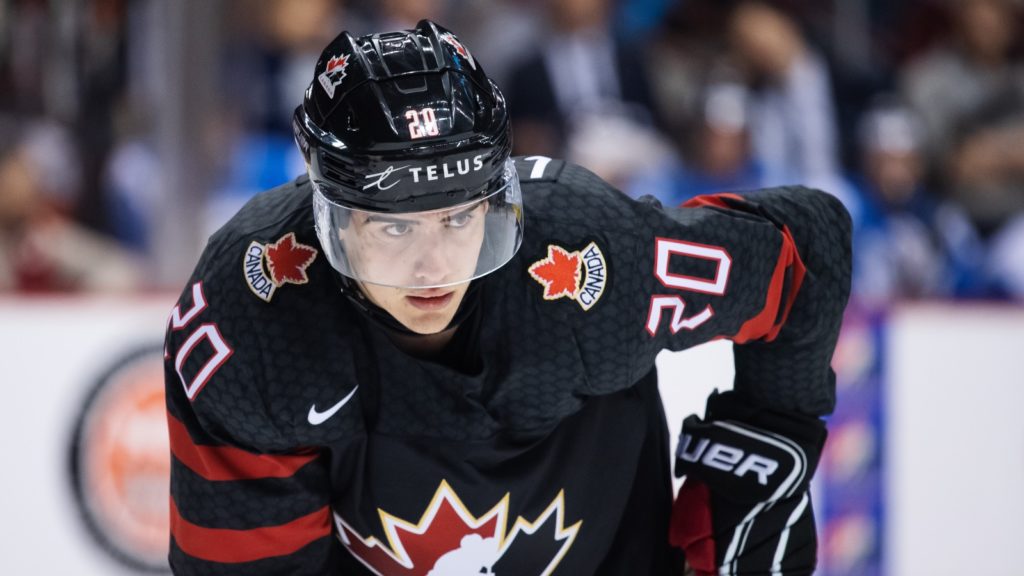 Brett Leason. Photo: Joel Marklund / Bildbyrån
CZECH REPUBLIC
Petr Cajka, C, Czech Republic (Erie – OHL)
Cajka, the No. 12 pick in the Canadian Hockey League Import Draft by the Erie Otters, will return to international ice with the Czech Republic after making appearances at the World Under-18 Championship and Ivan Hlinka Memorial.
He'll bring a sense of momentum, too, having 13 goals, and nine assists, in 30 games as a rookie in the Ontario Hockey League.
"With Cajka I'm interested to see what kind of offense he can create on the international stage given the more open ice," said Zach Thompson, an Ontario-based scout with Future Considerations. "He's a methodical smart player and may benefit from the open ice."
EDITORS NOTE: Cajka has not been officially named to the Czech roster, but still could be.
DENMARK
Mads Sogaard, G, Denmark (Medicine Hat – WHL)
Sogaard, selected in the first round (No. 32) of the 2018 Canadian Hockey League Import Draft, could be Denmark's biggest key in the tournament. The 18-year-old, who has bulled his way up draft rankings, has a 2.39 goals against average and .931 save percentage in the Western Hockey League this season after spending last year with the Austin Bruins of the NAHL.
"Sogaard has brought attention to himself in the first half of the WHL season by churning out consistently strong outings with his club team," Froese said. "Thanks to his size, demeanor and strong technique Sogaard has found success and has the chance to do so on the world stage."
The massive stopper has been a fixture on National teams for Denmark, and that won't change at the World Juniors.
"Sogaard will face his toughest test this coming week and will do so on a stage much bigger than one he sees on an average night in the WHL," Froese said. "A strong performance from him, win or lose, will shed some light on what the kid is made of and raise his stock higher going into the New Year."
RUSSIA
Vasili Podkolzin, RW, Russia (SKA-1946 St. Petersburg – MHL)
Internationally, few draft eligibles have asserted themselves as well as Podkolzin has this season.
He was a standout at the Hlinka Gretzky Cup in August, leading the tournament with eight goals and 11 points, in five games, before sharing the tournament lead in scoring at the 2018 World Junior A Challenge earlier this month with eight points (three goals, five assists) in six games.
"Podkolzin has played a big role, he is a team leader at every tournament this year," said Konstantin Glazov, a Russian-based scout with Future Considerations. "He led team at World Junior A Challenge this month, scored a lot of important goals. In Russia, he's played in VHL alongside 23-25 year-old players and has looked very good."
Podkolzin, who is projected as a top-10 pick in June, may not have the same impact at the World Juniors as some of his other highly touted draft peers, though.
"I think his role will be the same as Andrei Svechnikov's last year," Glazov said. "Head coach Valeri Bragin doesn't want to bring your players into squad and give them big roles. I wouldn't expect much ice time for him.
Ivan Muranov, LW, Russia (Dynamo Moskva – MHL)
Muranov, an older eligible at 19, might take on a bigger role for Russia.
"Muranov is underrated," Glazov said. "He's big, can skate, has skill, has grit, can shoot, can hit, can play all situations. He's a universal soldier, which Bragin likes very much. He knows how to use all these roles of that type of players. He is a perfect fit for them."
Muranov, who also represented Russia at the World Under-18s in 2017, has three assists in four games with Dynamo this season.
SWITZERLAND
Valentin Nussbaumer, C/W, Switzerland (Shawinigan – QMJHL)
Nussbaumer, the No. 4 pick in the 2018 CHL Import Draft, will have an opportunity to shine in his second trip to the World Juniors. On a roster devoid of any true depth, the Shawinigan Cataractes forward could emerge as a key player, as he did at the Ivan Hlinka Memorial in 2017, and at the World Under-18s in 2018.
"Nussbaumer is a skilled offensive forward with some good hockey senses," said Andy Lehoux, a Quebec-based scout with Future Considerations. "With Shawinigan, he's showcased his above average skating, creating zone entries or moving around the offensive zone with the puck."
This article is about: