World Juniors 2019
DRAFT ELIGIBLES TO WATCH: Kakko, Hughes among 2019 prospects from Group B
There's no disputing the fact that all eyes will be on American Jack Hughes at the 2019 IIHF World Junior Championship.
He's the consensus No. 1 pick for the 2019 draft, and, at this stage, there's no disputing his claim to the title.
There could be some interesting discussion coming out of the tournament, though.
Kaapo Kakko, the consensus No. 2, will represent Finland in the showcase, and, with a strong showing, could not only further solidify that thought but lessen any perceived gap between the two prospects.
"Hughes entered the season as the clear frontrunner for the first overall pick in 2019," said Dennis Schellenberg, European head scout with Future Considerations Hockey. "However, with Kaapo Kakko's strong Liiga start, it seemed that the race for first overall would become closer than initially thought."
"Playing in the same tournament as Kakko, the slated No. 2 pick, it'll be a nice opportunity to compare them one-on-one playing the same group, against the same opponents."
The two will certainly be front and center for those holding high drafts. But they won't be the only two that National Hockey League teams will keep tabs on.
There's plenty of draft eligible content to digest through the two-week tournament.
Here's a look at what Group B has to offer.
FINLAND
Kaapo Kakko, C, Finland (TPS – Liiga)
Kakko, who had 10 points (four goals, six assists) en route to helping Finland to gold at the World Under-18 Championship last April, could use the World Juniors as a launching pad to push Hughes.
It's a path he's already started down.
Kakko has 20 points (nine goals, 11 assists) in 29 games playing in Liiga this season, no small feat for a junior-aged player. The 17-year-old has shown well in the men's league, and that should continue against his peers at the World Juniors.
"I think he has more to win than to lose here," said Mikka Arponen, a Finnish-based scout for Future Considerations. "He's been so good in Liiga that even relatively bad tournament wouldn't drop him from the second spot. But if he's very good, and Hughes shows any kind of weakness…which I don't see happening…Kakko can put himself up to conversation for first overall."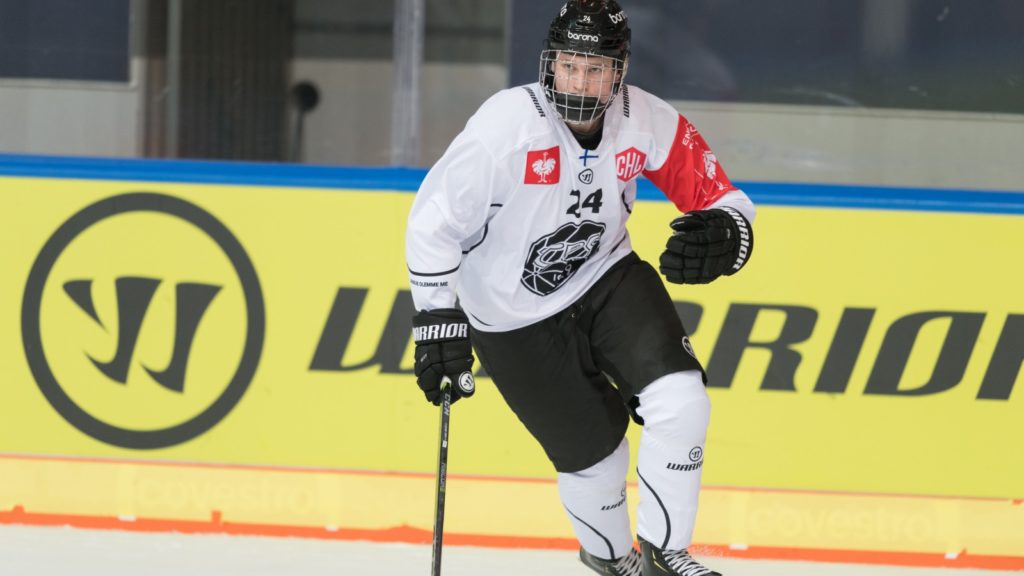 Kaapo Kakko. Photo: Bildbyrån.
Ville Heinola, D, Finland (Lukko – Liiga)
Heinola, like Kakko, has had an impressive season in Liiga. The 17-year-old has six points (one goal, five assists) for Lukko in addition to nine points (one goal, eight assists) in nine games with their U20 program.
"He's a smallish player, but he's like a prototype of a modern defenseman…a smooth skater than thinks the game on a high level," Arponen said. "He's very poised with the puck and keeps a very good gap control when defending. He's a legit NHL prospect."
The undersized defenseman will be hard-pressed to find significant minutes behind a Finnish defense that has older, more experienced blueliners, but there's no doubting Heinola has significant skill.
Anttoni Honka, D, Finland (KeuPa HT – Mestis)
Honka hasn't had the most productive draft season to this point, but the World Juniors could serve as a turning point for the younger brother of Dallas Stars defenseman Julius Honka. The 18-year-old, who had five assists in seven games at the World Under-18s, has six points (one goal, five assists) in 10 games in Mestis this season.
"He's had a difficult season," Arponen said. "He wasn't very good with JYP in September and start of October, especially in the own end. He is a lot like his brother both in good and bad ways. He was demoted to Mestis to get more ice time and confidence for the World Juniors, and his production has been okay there.
"The World Juniors could help his draft stock, but after Henri Jokiharju and Urho Vaakanainen joined the team it looks like his power play time is pretty much gone. I still think he has a high ceiling, but he's more or less a boom or bust prospect anyway."
KAZAKHSTAN
Artur Gatiyatov, C, Kazakhstan (Snezhnye Barsy Astana – MHL)
Gatiyatov, who went undrafted last season, isn't necessarily on the radar to get called this June, though a strong showing at the World Juniors could help change that.
He's had strong performances on the international stage before, albeit in last year's Division 1 Group A to earn promotion to the main tournament. Gatiyatov, a pint-sized forward, was named the tournament's best forward in recording seven points (four goals, three assists) in five games in helping Kazakhstan earn promotion for the first time since 2009 with a golden finish.
His march towards the 2019 draft already started in the MHL, where he's amassed 37 points (14 goals, 23 assists) in 38 games.
SLOVAKIA
Maxim Cajkovic, RW/LW, Slovakia (Saint John – QMJHL)
Cajkovic, the first overall pick in the 2018 CHL Import Draft, has struggled in his adaption to life in the Quebec Major Junior Hockey League, but a return to representing Slovakia internationally could provide a boost for both he and his draft stock.
The 17-year-old, who has 20 points (eight goals, 12 assists) in 29 games this season, could quickly develop into a key player on a team that could struggle to generate offense in the tournament. He did so at the World Under-18s in April, posting 11 points (four goals, seven assists) in just five games.
"Cajkovic is a skilled sniper," said Andy Lehoux, a Quebec-based scout with Future Considerations. "He owns one of the best shot of the draft as both his slap and wrist shot are powerful and precise. He possesses some slick hands that help him avoid pokechecks or create space for himself to get a shot to the net."
SWEDEN
Philip Broberg, D, Sweden (AIK – Allsvenskan)
Broberg, who helped Sweden to silver at the Hlinka Gretzky Cup in August, entered the season as one of 2019's top draft-eligible defensemen. His showing in that tournament, where he scored three goals in five games, re-enforced it, too.
He hasn't been as productive in Allsvenskan, though, with seven points — all assists — in 27 games for AIK, and may struggle to find a full-time role on a deep Swedish blue line.
"It is very rare to have senior players shine in Allsvenskan in the same way Broberg could do against under-18 competition, so it is not something that should be expected of a 17-year-old, either," said Christoffer Hedlund. "When he now steps down to play against other junior players again it is a perfect opportunity to remind us all of his offensive skills, and how he can use his incredible skating to create havoc in the offensive zone."
If he can take on additional minutes from his mature teammates, there is plenty he could show, though.
Samuel Fagemo, LW/RW, Sweden (Frolunda – SHL)
Fagemo, again going through the draft process for a second time, has a similar haul of international medals with Sweden. He was named to the tournament all-star team when Sweden earned gold at the U17s, and has a bronze medal from both the Ivan Hlinka Memorial in 2017 and U18s in 2018.
Another showcase on the international stage by Fagemo could show his growth, including in his offensive game, and give a shot to his draft stock.
"I think the World Juniors is a perfect opportunity for Fagemo to show that he has improve from last season," Hedlund said. "He should continue to play like he has done so far this season…be energetic, drive to the net, challenge in one-on-one situations and work hard in scoring areas. I think he has matured a lot."
USA
Jack Hughes, C, Team USA (NTDP – USHL)
Hughes, naturally, will draw the most eyeballs. His reign as top prospect has extended well before the start of the season, with good cause. He's been a hotly tracked forward long before his time with the National Team Development Program and was a standout with the Toronto Marlboros as a 15-year-old.
The interest is just as high in the now 17-year-old. He enters the World Juniors with 63 points (11 goals, 52 assists) for the NTDP this season, between action in the United States Hockey League and beyond.
"After an outstanding 5-Nations in November," Schellenberg said. "It'll be interesting to see how Hughes handles bigger, older and stronger opposition. His own age tier does not really challenge him any longer."
There's little doubting that Hughes, the younger brother of Vancouver Canucks prospect Quinn Hughes, will be an impact player in the tournament — an excellent showcase of his dynamic ability.
Spencer Knight, G, Team USA (NTDP – USHL)
Hughes will have some familiar company joining him in the tournament in the form of the puck-stopping Knight. The 17-year-old may not see primetime duty for the Americans in the tournament, but he's been no stranger to backstopping his country internationally.
He's helped Team USA to gold at the World Under-17 Challenge last fall, and has a silver medal from the World Under-18 Championship in the spring.
Knight, who has shown well on both the international stage and with the NTDP, has been trending as the draft's top goaltender.
You may also be interested in:
The WJC update – Robenhymer and Bodin check in from Victoria
MCKEEN'S HOCKEY: The World Junior Championship Guide
This article is about: