World Juniors 2019
The captain has spoken – Brännström leading the way for Sweden
VICTORIA. B.C.
Leadership can take many different forms on and off the ice. You have the rare Mark Messier "rah rah" type of player that can mold a dressing room with a loud voice and speeches of victory and glory. Then there are the obvious star players that ooze leadership through a combination of professionalism and skill and has that enviable ability to win games on their own. And let's not forget the workhorses that play their hearts out in order to inspire teammates with hits, blocked shots and a total disregard of their own safety.
Erik Brännström is a mixture of all of those leadership styles.
The captain of the Swedish WJC squad had it all on display in the first game of the tournament against Finland. His two goals made the difference on the scoreboard as the Swedes beat their rivals 2–1. But what impressed his teammates most was the way he sacrificed himself by blocking a shot with his chest in the dying seconds of the game.
"Yeah, I didn't really like that", Swedish head coach Tomas Montén confessed with a smile after the game. "It's something you have to do to win, but that could've gone really bad. But that's just the way he plays."
It definitely is. Brännström has always had the "I want to do it all"-mentality. Early in his junior career it probably hurt him a bit as he was prone to making mistakes for doing too much but as his game has evolved with a bit of experience, it has taught him to make better decisions on the ice.
"When he came up through the junior ranks, he wanted to make a difference every time he touched the puck, almost to the point where it became too much", Montén said of the Vegas Golden Knights prospect. "But when he reached the senior level in Sweden and played with us at this stage last year, he got some defensive assignments, got more time on the penalty kill and became more of a two-way defenseman. I think that has helped him evolve into a more complete player."
"HE MIGHT NOT HAVE BEEN HAPPY WITH THAT"
This seems to be a career path that a lot of successful defensemen have taken. Swedish greats like Victor Hedman, Oliver Ekman Larsson, and Mattias Ekholm were all offensive-minded and somewhat one dimensional at an early stage in their careers before rounding out and becoming responsible players in both ends of the ice.
"I think at some point they realize that in order to play against the best players in the world, they need to make adjustments", Montén said. "With Erik, it's the same thing. Last year, I didn't give him a lot of offensive opportunities early in the tournament. He might not have been too happy with that, but we had both Rasmus Dahlin and Timothy Liljegren that anchored one power play unit each. This year he knows that he's our guy and he plays in all situations.  He has really grown for the past two years."
That development has become even more evident this season.  Since leaving Sweden for the U.S. to play for Vegas Golden Knight's farm team Chicago Wolves in the AHL, he has made steady progress. Swedish teammate David Gustafsson, who played with Brännström in HV71 of the SHL last season, can see the improvements their coach refers to.
"He's has become more mature with the puck. He knows when he can hold on to it and when it's time to pass it. He will never just throw it away", Gustafsson said.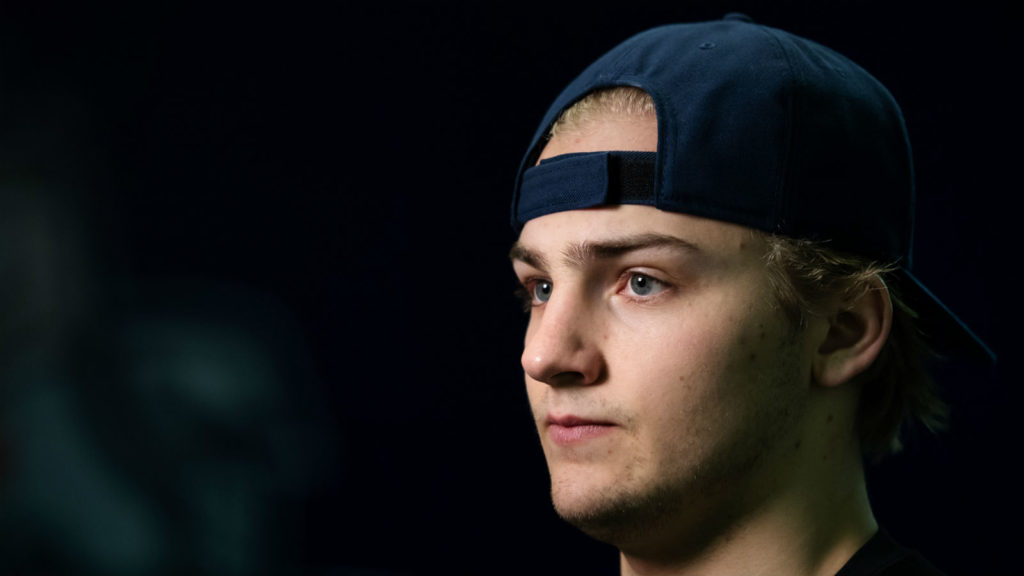 Photo: Bildbyrån/Joel Marklund
Brännström himself feels like it was a quick transition going from Sweden to playing a key role with the Wolves. Just like at this year's World Juniors, he scored two goals in his first AHL game.
"I like the smaller rink. You get less time with the puck and that forces you to play more on instinct, which suites me", Brännström said. "The style they play over here fits my game better than the game back in Sweden, to be honest. I've been feeling really good about my game this season. The points have been coming, unlike last year. I really like playing over here."
"A GREAT CAPTAIN"
The leadership role is also something he has embraced. Brännström says he enjoys playing when there are high expectations and doesn't mind the limelight that comes with it.
"I like responsibility and the chance to make other players around myself better. I like to play a lot and I really appreciate the chance to do it. It's an honor", he said of the captaincy. "I like to show the way with how I play on the ice, but I talk a lot too."
Rickard Hugg, who has been playing with Brännström on the international scene since they were 16, calls his teammate "a great leader".
"He has always been a good player, but these last two years, he has really taken things to the next level", Hugg, a Kitchener Rangers forward, said. "He's a great captain, very serious in his approach toward the game and someone who really looks after the guys to make sure they're okay. He's not afraid to be vocal either."
Brännström scored another power play goal as Sweden beat Slovakia 5–2 in their second game of the tournament and is off to a great start. How far he can carry the Swedish team remains to be seen. It might not be ideal for a team to have their best offensive weapons on the blue line, but in Brännström's mind, there's no doubt the Swedes can go all the way.
"We feel like we have the team to go all the way", he said. "For some of us that played in Buffalo last year, it feels like we have some unfinished business here."
The captain has spoken.
This article is about: