World Juniors 2019
Knight time – Adam Boqvist is thriving in London's NHL factory
VICTORIA, B.C.
Brendan Shanahan.
Rick Nash.
Corey Perry.
Patrick Kane.
John Tavares.
Max Domi.
Matthew Tkachuk.
Mitchell Marner.
The list of NHL stars that have passed through London Knights' organization during their junior careers is equally long and impressive. The OHL outfit has made itself known as one of the premier powerhouses of the CHL, and since Mark och Dale Hunter took charge of the organization in 2000, the club has gone on to win the OHL four times and Memorial Cup two times.
This season, the team looks quite strong once again. One of the key players on this year's edition of the Knights is Swedish defenseman Adam Boqvist, selected eighth overall by the Chicago Blackhawks in last summer's NHL draft.
The 18-year-old, who scored the overtime goal to beat the Americans in a dramatic fashion at the World Juniors yesterday, was supposed to stay in Sweden and compete for a spot on Brynäs' blueline in the SHL this season. But when the Blackhawks signed him to a three-year rookie deal after the draft, the plans changed. They deemed it would be better for the offensively gifted youngster to play in North America and get accustomed to the game on their end of the pond. That would also give them a better chance to control his development.
"You just need to look at the players that have been there in the past", Boqvist says of the London Knights. "I think they have produced the most NHL players out of any junior team over here. Mark and Dale are doing a really good job. They take great care of us and are always pushing to make us better players. I do extra work with the coaches every day after the practices and watch a lot of video. Everything is very professional."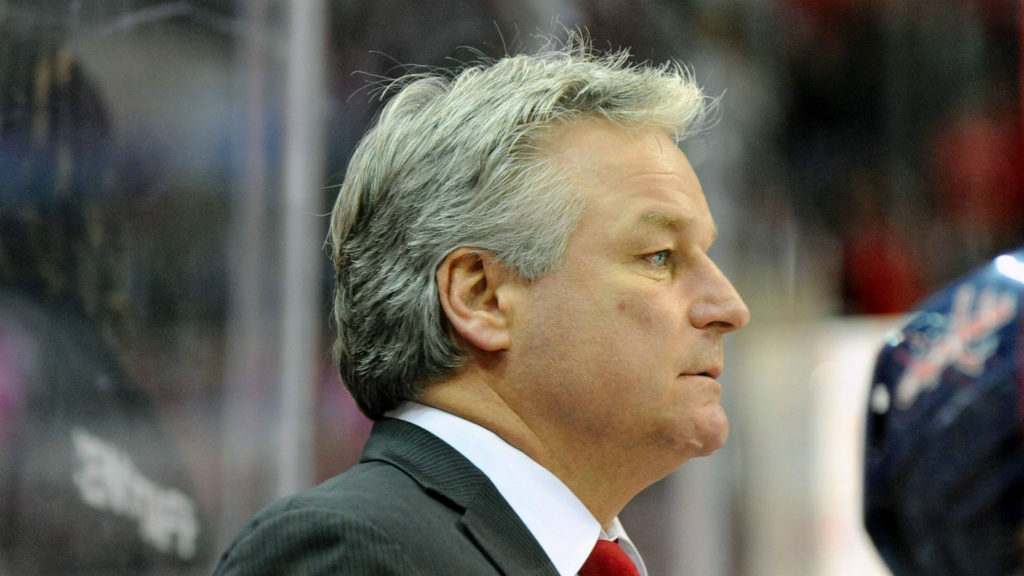 Dale Hunter. Photo: Imago Sport
Dale Hunter, who's coaching the Knights, is obviously a legend in his own right. During his NHL career, he amassed 3 565 penalty minutes in 1 409 games. Only Dave "Tiger" Williams has been penalized more in the history of the NHL. The 58 year-old has a bit of a temper as a coach as well, it turns out.
"I haven't talked to him too much actually", Boqvist says. "He spends most of the time in his office. But whenever we play a bad game, we get to hear it and some players get to hear it in front of the whole team. It hasn't happened to me, but a few other guys on the team. But we are old enough to handle that."
Adam Boqvist had nine goals and 25 points in 23 OHL games with the Knights before he departed for the World Juniors. He feels he has taken some good strides in his development and maturation in his first few months in Canada, on and off the ice.
"It's been different with the language. I have an English tutor that I meet with two times a week and that's been good", he says. "Playing on the smaller ice surface has also been good for me. I also get to learn what it takes to be a professional player, what is expected of me. There are so many great players that has passed through here, like Domi, Marner and those guys, so there are a lot of guys to look up to."
"HE HAS MATURED"
Swedish head coach Tomas Montén can spot big differences in Boqvist's game compared to last year, when he didn't make the World Juniors.
"He has matured and become more reliable", Montén notes. "He's an offensive-minded defenseman who wants to make a difference, but he has evolved his game without the puck in a very good way. He has always been a very fluid and skilled skater, and today I think he uses that to his advantage defensively as well as offensively. He's in better position and is active with his stick."
Montén can also see why the Blackhawks decided it was a good idea to place Boqvist in London, rather than let him stay in Sweden.
"The sense I get was that they really wanted him there", he says. "I don't know if they were afraid he wouldn't get a good role with Brynäs, or if there was something else, but he was really good at their camp this fall and probably surprised a lot of people. I know the Blackhawks have a really strong bond to the Knights, and this way they can create the environment they want for him."
The preseason was quite successful. Adam Boqvist got to play several exhibition games before he was demoted him to the OHL. The experience he received with the Blackhawks is something he really cherishes.
"It was very special", he confirms. "I didn't expect to be there as long as I was. After the first cut where the AHL players were sent down (to Rockford Icehogs of the AHL), the junior players were next in line. It was a great surprise that I got to stay a bit longer, great for my confidence. When they did send me down, I wasn't too disappointed. It was the best decision for my development."
"I HAD THE WORST RESULTS OF ANYONE"
Stepping in to a dressing room filled with decorated veterans and Stanley Cup winners such as Jonathan Toews, Patrick Kane, and Duncan Keith can be intimidating for anyone. Boqvist was nervous to start the camp, but soon found his groove.
"When I got to go out there and spend some time on the power play with guys like Kane I got really nervous", he confesses. "But they told me to go out and do my thing. 'That's why you are here'. They took really good care of me."
Kane was one of the players that got him to relax.
"I had the worst results out of everyone when we did our testing. Before one of the games, Kane joked in front of everyone and said 'Your test results weren't very good, but let's see if you can at least play hockey'", Boqvist remembers. "Everyone started to laugh. It was only five minutes before the game was about to start, so it was a relief."
Toews, the captain, was also a very supportive.
"Right before the first home game, he sat down next to me and started to talk about other things than hockey. They really tried to make me relax and not get overwhelmed by everything. It really helped me that I could turn to those guys for advice. They are so professional and humble, not the kind of guys that only focuses on themselves."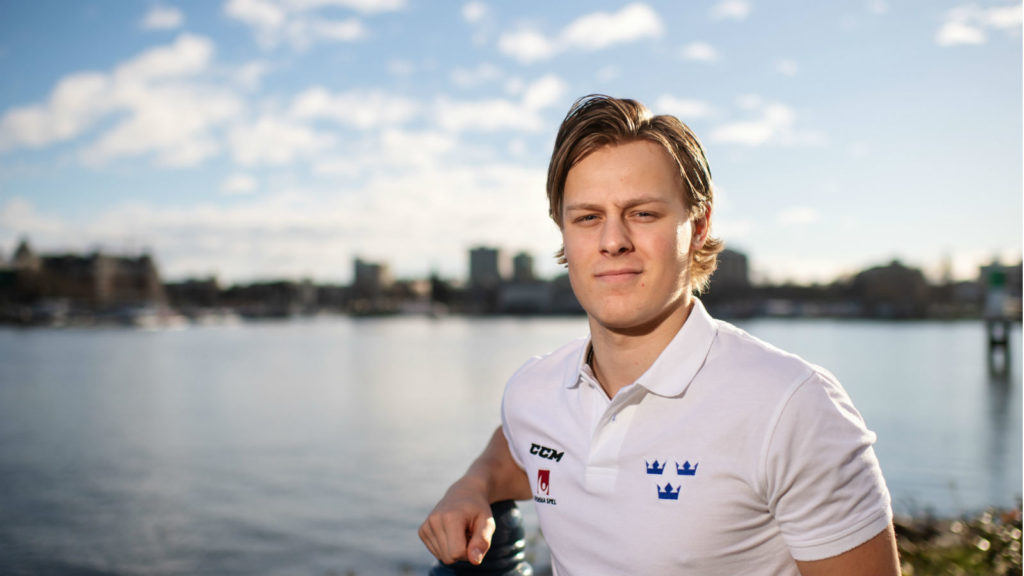 Photo: Bildbyrån/Joel Marklund
"GAINED A FEW POUNDS"
Adam Boqvist has the hockey sense and skill to become a very special player. As his test results with the Blackhawks showed, his big challenge is to get stronger and physically more mature. He knows that he has a lot of hard work ahead of himself.
"I try to work as hard as I can in London. If I'm going to take the next step in my development and my career, I need to get stronger and leaner. That's the biggest thing for me going forward."
He feels like he's making progress.
"I gained a few pounds, but I'm not sure whether it's muscle of what it is", he says laughing. "But I really feel like I'm getting more comfortable in my own end. It's not as easy to push me around as it used to be. I talk a lot to Christian Burrus, who is the Blackhawks' conditioning coach. He travels around and meets with different prospects. He was in London once and I've also met with two other guys from the Blackhawks that helped me with on-ice stuff. So I get a lot of help that way, and I also try to think about what I eat to make sure that I get the right nutrition. That's the most important thing to think about when you're trying to add muscle and become stronger."
Moving to Canada has also presented him with a new family, his billet family. To a lot of Swedish players, that can be a readjustment since they're used to living on their own from a pretty early age. But in Boqvist's case, it's been a very positive experience.
"I'm a pretty open and social guy, not very shy", he said. "(Canucks prospect) Olli Juolevi used to stay with this family before I did and he spent most of his time in his room. I try to hang out with the family, watch hockey games in the basement with the dad and talk about hockey. You can't hide in your room all the time, but I understand that it could easily be that way if you don't make an effort. I think you really need to do that if you're to thrive over here."
Boqvist is certainly thriving at the World Juniors. His talent has been on display in a very gifted pairing with Toronto Maple Leafs prospect Rasmus Sandin, who he has played a lot with in the past. Outside of his overtime goal against the Americans, Boqvist has three helpers and leads the tournament in scoring for defensemen along with Swedish captain Erik Brännström (four goals).
The Swedes has three straight victories and only needs to beat Kazakhstan on New Year's Eve to secure first place in group B in Victoria.
This article is about: