NHL Prospects
Confident Kylington out to prove he belongs in the NHL
His confidence, that seemingly unlimited swagger, always remained unfazed.
When he wasn't the next one called up to the Calgary Flames.
When the organization would add another body to the blue line.
None of it made him question his ability, no matter his seemingly endless tenure in the American Hockey League.
Oliver Kylington never questioned his future fate.
"Of course it can be frustrating sometimes, but I always believed in myself and always felt that I could play in the NHL and do something up here," says Kylington, whose late November promotion from the Stockton Heat — his first in over two years — culminated in his first NHL goal Saturday.
"I've never been questioning my ability. Obviously it's hard to be patient sometimes when you feel ready, but you just need to stick with it and trust the process and now I'm here, right?
"I feel I belong here and I feel that I've proven myself to play up here and I can do something up here and play NHL hockey. I feel really comfortable about my play right now. I have to stick with what I've been doing and playing the way I've always been playing and be the player that I've been and the player that I've been learning to be."
It's been a long learning process for Kylington, who made his National Hockey League debut April 9, 2016 — a throwaway skate or sorts in the final game of the season for a non-playoff bound Flames.
Nine-hundred and sixty days between games with the big club.
A tough fact for the Stockholm, SWE product to swallow, no doubt.
"There were times, for sure, when he'd see other guys called up and he'd be frustrated and upset and sitting in my office, but we tried to get him to think about big-picture and where he had to take his game with us," says Flames assistant coach Ryan Huska, who served as Kylington's head coach in Stockton for three seasons.
"We tried to get him to understand a lot of times to become elite at this level and then you'll force people's hands at the next level.
"Over time I think he started to figure that out."
For Kylington, there was no turning back.
No European break crossed his mind.
No returning to Sweden to round out his game.
He retained one sole focus.
No matter how far away the opportunity with the Flames seemed.
"I've never, never, all my four years, I've never thought about Europe at all," says Kylington, whose entry-level contract, signed just three weeks after his draft day has already slid twice. "I feel that I will be and am an NHL player. I'm not going to go back and rebuild everything. I felt that I'm capable of playing at this level."
It's been a maturation process, on and off the ice, for the teenager-turned-21-year-old.
A patient journey.
"He came into the American league thinking he was going to set it on fire as an 18-year-old," Huska said of Kylington, the No. 60 pick in the 2015 NHL Draft. "In my opinion, he really had to learn how to be a pro over here. At 18 it sounds kind of silly because most kids are playing junior hockey or are in college at the time. That was the biggest thing for him, maturing on the ice and off the ice.
"Now he's at a point where he has a good understanding of who he is and how he has to play in order to be successful, not just at the American league level but we're seeing a lot of that transfer over to here (in the NHL) as well.
"He's grown up a lot."
Kylington, who has 88 points (25 goals, 63 assists) in 187 games at the AHL level, needed that maturity in October.
He was among the final cuts in Flames training camp, demoted again to the American Hockey League to start his fourth tour with Stockton after other young blueliners like Juuso Valimaki and Rasmus Andersson found homes on the main roster in Calgary.
There was no whimper.
No whine.
Just a mission.
"I was sent down after training camp and I felt unreal down there," Kylington said. "I felt I dominated and I felt ready down there to take the next step up here. I was just waiting for the chance.
"Every game down there I just played to be prepared to get the call."
It didn't go unnoticed.
And the call came.
"I think he was disappointed when he got sent down this year again, but he went down and worked hard and from what I understand was their best defenseman there early on," Huska says. "He's kind of carried on that play up here.
"Part of maturing as a player is understanding that there's a process and as much as a player wants things to happen at the snap of a finger, it doesn't work that way for many guys. You have to put in your time and learn the game and Oliver's done that."
He's now reaping the reward.
Injuries to Calgary's blue line have given Kylington the chance to, finally, earn some NHL ice.
Confidence unwavering, he's making the most of that opportunity.
And proving he can play.
"I know that I belong here and be an NHL player and I can play at this level," he says. "Just the belief in myself and fire from inside. I want it so much. I just believed in myself. You push yourself to your best all the time.
"Now I'm here and I'm not changing anything, really. I'm not changing anything. I have the same confidence as I had down there and playing with the same swagger. I'm not changing anything. I feel really good about my game."
You may also be interested in: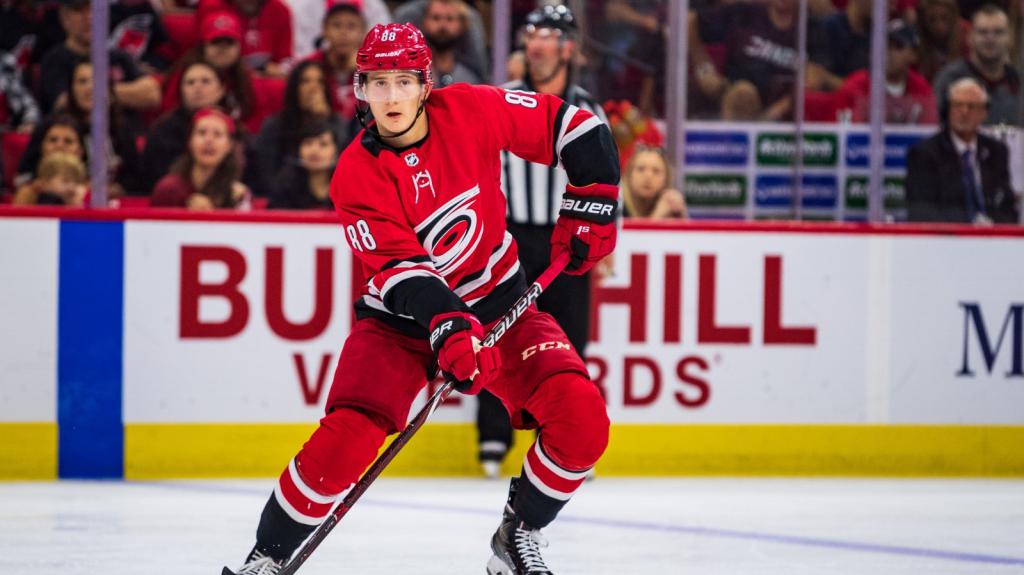 AHL POWER RANKINGS: Checkers hang on through road trip
This article is about: