Rankings
LIST: Top 10 defensive prospects in the AHL
The American Hockey League has long been lauded for its excellent developmental track record. Teams at the National Hockey League level routinely send their future players down to the AHL, trusting both the quality of the competition and of the coaching staffs. The NHL's "Triple-A" circuit closely mimics its structure (minus the chartered flights), with a dense schedule involving teams all over North America. There are some key differences, but the similarities are enough to make it the premier development league on the continent.
Not every player is there to develop. There is such a thing as an "AHL veteran"; players who are trusted in guiding along the greener prospects. As such, ranking players across the league can be a little challenging. Does a player get higher marks for his potential, or his longevity at that level? The truth probably lies somewhere in the middle, but youth and potential will be slightly favored for the purposes of ranking the league's best blueliners. With that now out in the open, enjoy the list.
Sami Niku, Manitoba Moose
Niku is the reigning AHL Defenseman of the Year, and with good reason. The 22-year old registered an impressive 16 goals and 54 points last season for the Manitoba Moose, and he already has ten points in 17 games in the current campaign. A seventh-round pick of the Winnipeg Jets in 2015, he has all of the offensive tools to become a solid power play quarterback at the NHL level.
Generously listed at six-feet tall, Niku will have to round out his overall game to solidify his big league future, as evidenced by his underwhelming possession numbers in Winnipeg. The potential is certainly there, however, and he's a good bet to continue torching the AHL in the meantime.
T.J Brennan, Lehigh Valley Phantoms
Where Niku gets high marks for raw potential, Brennan gets rewarded for his overall body of work. A former second-round pick of the Buffalo Sabres in the 2007 draft, Brennan has never quite stuck on an NHL roster, but that never stopped from excelling at the AHL level.
A consistent minute-muncher at even strength, Brennan has posted some gaudy offensive numbers over the years. This season has been no different for him, as he currently has a jaw-dropping 30 points in 33 games. Like Niku, the drawbacks in his NHL potential seem to lie on the defensive side of the puck, but there's no question that he's one of the very best in the AHL.
Lawrence Pilut, Rochester Americans
Perhaps it is too early to have Pilut on this list. The electrifying start to his North American career says otherwise, however. With 22 points in his first 16 games, Pilut has brought the same brand of offensive hockey that allowed him to dominate the Swedish Hockey League in the 2017-18 season. The Buffalo Sabres clearly saw potential in the five-foot-11 defenseman, signing him to a two-year entry level contract last summer.
Thanks to both his hot start and injuries in Buffalo, Pilut has already been given a chance to prove himself with the big club, posting four assists in eleven games while adequately controlling on-ice scoring chances alongside Rasmus Ristolainen. Pilut's value may be purely made of potential at this point (and he may not spend much more time in the AHL), but he's done nothing to damage that either.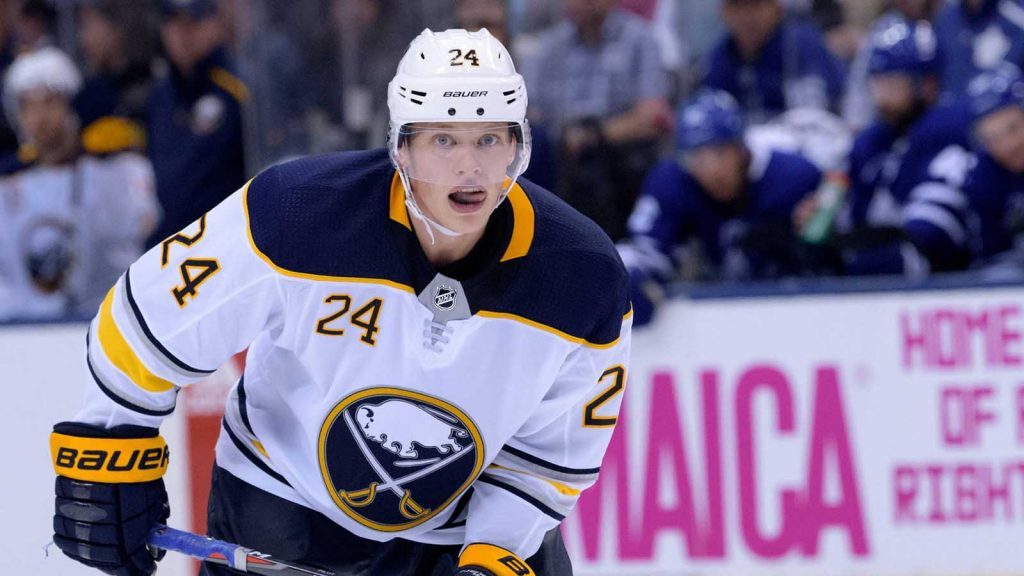 Lawrence Pilut. Photo: Julian Avram/Icon Sportswire.
Zach Redmond, Rochester Americans
There must be something in the water in Rochester. Like Pilut, Redmond has also been terrific this season, having already notched 16 goals and 30 points in 36 games so far to trail only Brennan in defensemen scoring. Unlike Pilut, the former Atlanta Thrashers draft pick is 30 years of age, thus maybe putting a cap on his NHL potential.
Although currently on an AHL-only contract, Redmond has looked decent in the past when given an NHL shot. He possesses a good first pass and offensive instincts, tools that have served him well in his AHL career. Given some of the slower-footed defensemen that populate NHL third pairings, Redmond could be worth another look.
Cameron Gaunce, Syracuse Crunch
Every player mentioned so far stands out for what they bring in the offensive zone. Gaunce is no slouch in that regard, as his 27 points in 30 games this season will attest to, but it's his defensive game that has made him a veteran of 565 AHL games.
The former second-round pick of the Colorado Avalanche in 2008 has logged the most five-on-five ice time of any defenseman in the AHL this season, posting a solid 55.26 percent goals-for percentage in the process. He played difficult minutes for Cleveland last season, and could still be useful for an NHL team at age 28.
Jacob Middleton – Nicholas DeSimone, San Jose Barracuda
The Barracuda currently sit in third place in the entire AHL, and it's been in large part due to their top pairing of Middleton and DeSimone. The Barracuda have out-scored their opposition at a nearly two-to-one ratio with the duo on the ice, lending a big hand in San Jose's league-best goals-against figure.
Now why pair the two together in this ranking? First, DeSimone seemed was the minute-muncher for the Barracuda last year, but Middleton has since joined him in that role and they've been even more effective, making it difficult to separate who is driving the bus there. Both have good tools, with Middleton moving the puck well out of his zone. Both are still relatively young at 22 and 24, respectively. For that, they both land on the list.
Caleb Jones, Bakersfield Condors
Bakersfield has been fighting for a playoff spot, and part of the reason they remain in the race is due to some stellar overall numbers. The Condors have the best shot differential in the AHL, which has partly mitigated some lackluster goaltender. Jones has been a big part of that, taking on tougher assignments as a 21-year old second-year pro while putting up 12 points in 21 games.
Jones' solid play has already been rewarded with a call-up to the NHL, where legendary Oilers' coach Ken Hitchcock told Edmonton Sun, "I know it's a really small sample and I have to be careful here but I see something special".
Jones was indeed special in his junior career, piling up points for the Portland Winterhawks. Brother of the much-heralded Seth Jones, Caleb seems destined to not spend much more time in the AHL, but he gets a well-deserved spot on this list for now.
Kurtis MacDermid, Ontario Reign
For the fans of "old-time hockey", MacDermid is a reminder of what used to make an effective defenseman. He is not shy about laying out the body — a trait that he showed off in 34 games of NHL action last season. At the AHL level, he has already amassed 114 penalty minutes this season, another figure that old-school fans will love.
The undrafted blueliner's game can be appreciated by the new school fan as well. He has been a mainstay for Ontario at five-on-five this season, logging minutes against tough competition while posting an impressive 60 percent goals-for percentage.
Kyle Capobianco, Tucson Roadrunners
One Western Conference coach raved to me about Capobianco's skill level, and the numbers certainly back that up. In 32 games, the former third-round pick in the 2015 draft has registered five goals and 18 assists for 23 points.
Capobianco is not just an offensive stalwart, as he also brings some defensive polish to his game. He faces some of the toughest competition among Tucson blueliners, a trait that could potentially serve him will at the NHL level. At six-foot one, 196 pounds, Capobianco has the size to potentially crack an NHL roster. If nothing else, he is a very talented AHL defenseman for now.
You may also be interested in: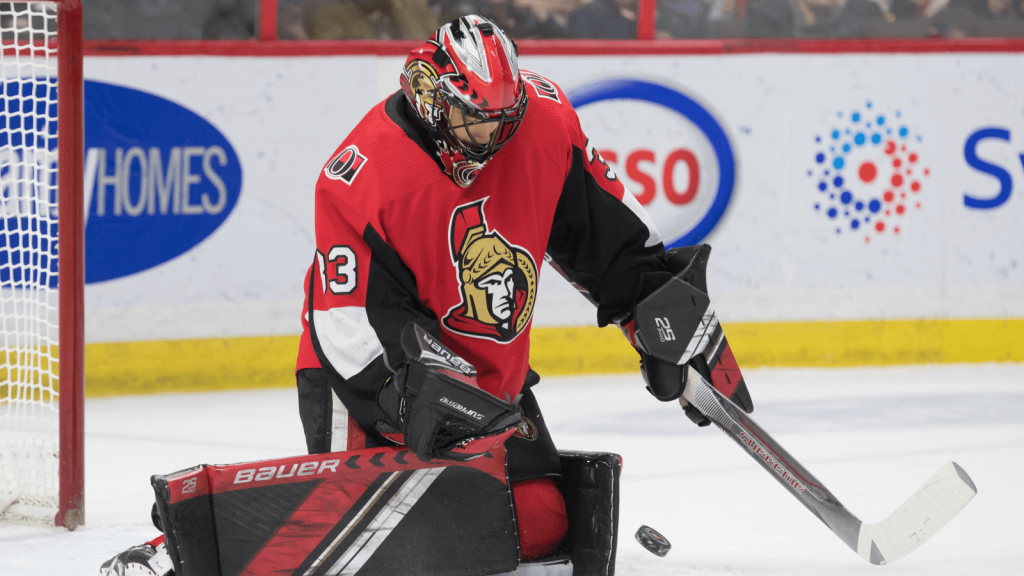 WILLIAMS: Trades aplenty in the AHL as stretch run approaches
This article is about: