NHL Prospects
AHL PROSPECTS WATCH: Zadina finding his game after WJC letdown
Monday is when American Hockey League teams catch up after another hectic weekend on the ice and on the highways.
With two and sometimes three games – plus travel – crunched into a weekend, those teams have earned that rest and step away from the rink. But Monday here is a day to catch up on and assess some of the weekend's best performances across the 31-team AHL.
HELP WANTED
It is almost as the talent that the Anaheim Ducks have stashed in the AHL can sense that NHL jobs might become available very soon.
Led in part by a pack of dominant prospects, the San Diego Gulls' early-season struggles have become a distant memory. While the 19-11-1-3 Gulls have climbed out of last place to pull within six points of the first-place San Jose Barracuda in the Pacific Division, Anaheim has dropped 11 consecutive games (0-7-4).
San Diego knocked off the Milwaukee Admirals, 5-2, this past Saturday night on the road. That win started a two-game Central Division trip that finishes against the Iowa Wild. San Diego has won eight consecutive games, the longest such streak in the AHL this season. They also have a 13-game point streak (11-0-0-2) that is tied for the AHL's longest point streak this season.
Rookie forward Troy Terry scored again for the Gulls in the win. At 21 years old, he is up to 16 tallies and owns the AHL lead among rookies at 16-21-37 in 31 games, which also puts him in a sixth-place tie overall. His 21 assists also top the AHL rookie list. Anaheim found Terry as a fifth-round bargain in the 2015 NHL Draft. Also in the win at Milwaukee, Ducks prospect Max Jones put up a three-point night (1-2-3), his eighth multi-point game this season. Anaheim nabbed the power forward 24th overall in the 2016 NHL Draft, but he was hampered by injury the past two seasons in the OHL. He turned pro this season and is up to 12-12-24 in 31 games at age 20.
Yet another top young forward, 20-year-old Sam Steel, also continues his strong start. He has a four-game point streak (2-3-5) and is up to 19 points (8-11-19) in 27 AHL games as a rookie. Anaheim took him six spots after Jones in the 2016 draft class.
Gulls goaltender Kevin Boyle, 26, continues to excel and has a team-record 10-game win streak. After four NCAA seasons, Anaheim took a chance on him with a one-year contract in 2016. He split his rookie 2016-17 season between the AHL and ECHL, stuck in San Diego all of last season, and has emerged as San Diego's number-one this season, pushing veteran Jared Coreau out in an eventual trade to the St. Louis Blues. He earned a two-year contract extension this past summer and has responded with a 15-5-0 | 2.81 | .910 first half in San Diego.
After seeing Iowa, the Gulls return to San Diego for visits from the Texas Stars (Wednesday) and Bakersfield Condors (Saturday) before heading back out to the Central Division next week. That trip takes them to see the San Antonio Rampage followed by the Stars a night later. They also face a six-game road journey in February.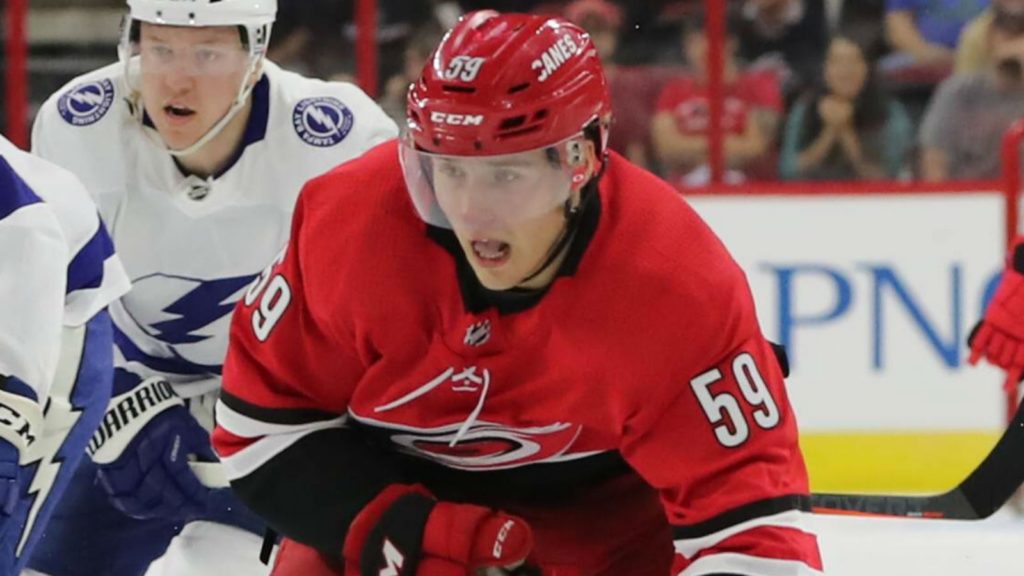 Janne Kuokkanen. Photo: Jaylynn Nash/Icon Sportswire
RESPONSE GAMES
The AHL-leading Charlotte Checkers know how to make a statement.
After a rare loss, a 5-1 blow-out by the Wilkes-Barre/Scranton Penguins on Charlotte ice this past Friday night, the Checkers sent their own reply. Charlotte buried Wilkes-Barre/Scranton under three goals in the opening 8:18 the next night, holding on to put away a 5-3 win and split the series that started a six-game homestand.
Leading the way in the second game was forward Julien Gauthier, who struck 1:14 into the game, assisted on the third goal, and contributed another assist on a second-period tally that restored a two-goal lead for the Checkers. Gauthier's three-point night was the latest strong performance for the second-year pro after a difficult first half.
Taken by the Carolina Hurricanes 21st in the 2016 NHL Draft, Gauthier projects as a classic power forward at 6-foot-4, 225 pounds. He assembled a solid-enough rookie season, picking up 16 goals in 2017-18 after a strong QMJHL career. Playing on a line with fellow prospects Janne Kuokkanen and Nicolas Roy, this season has tested him even as Charlotte has piled up wins. That has turned around lately, and he has five goals in five games after managing to score once in his previous 19 games. Through 40 games, he has 12-10-22.
Elsewhere in the Eastern Conference, Rochester Americans forward C.J. Smith authored his own response to being sent down by the parent Buffalo Sabres this past weekend. In his first game with Rochester since December 29th, Smith put up a hat trick to go with an assist on Saturday afternoon to blow out the Toronto Marlies on the road, 5-1. After playing four games for the Sabres and collecting his first NHL goal, the undrafted 24-year-old's two goals gave Rochester a 2-0 second-period lead. He followed that with an assist on a third-period insurance goal before finishing off the hat trick on an empty-netter. Rochester has a two-point lead for the North Division lead at 23-13-2-0.
ELSEWHERE
The Grand Rapids Griffins have moved into third in the AHL at 49 points, and a pair of Detroit Red Wings prospects had a strong weekend. Rookie forward Filip Zadina, back in the line-up after skating for the Czech Republic at the World Junior Championship, continues a solid rookie pro season at 18 years old. He put up a 2-1-3 evening in a 4-3 shootout loss to the visiting Belleville Senators this past Friday night. Detroit selected Zadina sixth in this past June's NHL Draft. The next night against Belleville, second-year defenseman Vili Saarijärvi had three points (1-2-3) to help the Griffins cruise past Belleville, 5-2. All three points came on the power play in a 2:35 second-period span that blew the game open for the Griffins. The Grand Rapids power play converted four of five opportunities.
Chicago Wolves forward Tomas Hyka continues to make his push for full-time work with the Vegas Golden Knights. Hyka, 25, returned to the Wolves this past weekend in a two-game visit to the Tucson Roadrunners with a hat trick in the opening set, a 6-3 victory. With another goal the following night, Hyka has 23 points (8-15-23) in 19 AHL games to go with 1-3-4 in 17 NHL games for the Golden Knights.
In that same first game of the Wolves-Roadrunners series, Tucson forward Nick Merkley had two points (1-1-2). After a second-half knee injury last season put him out of game action for nine months, he has returned with 11 points in his first 11 AHL games (4-7-11). The parent Arizona Coyotes selected him 30th in 2015. Another young Arizona forward prospect, Adam Helewka, banged out two third-period goals this past Saturday night to give the Roadrunners a series split. Helewka, 23, has 11-15-26 in 33 games for Tucson after being acquired from the San Jose Sharks for defenseman Kyle Wood after last season.
Texas forward Joel L'Esperance continues to make it difficult for the parent Dallas Stars to keep him in the AHL. A late-season NCAA free-agent addition last season, L'Esperance is up to 22 goals in 37 goals, putting him second in the AHL. The 23-year-old's 35 points (22-13-35) sit him second to Terry in rookie scoring. He arrived in Texas after four seasons at Michigan Tech, and after putting in a strong postseason run for Texas that went to Game 7 of the Calder Cup final, the power forward scored a two-year contract from Dallas. His 2-1-3 outing this past Saturday night in a 4-2 win against Iowa gave moved the AHL Stars' home point streak to 11 games (10-0-0-1). Last week Texas took wins at H-E-B Center against the Bakersfield Condors, Rockford IceHogs, and owns the Western Conference's third-best point percentage (.635).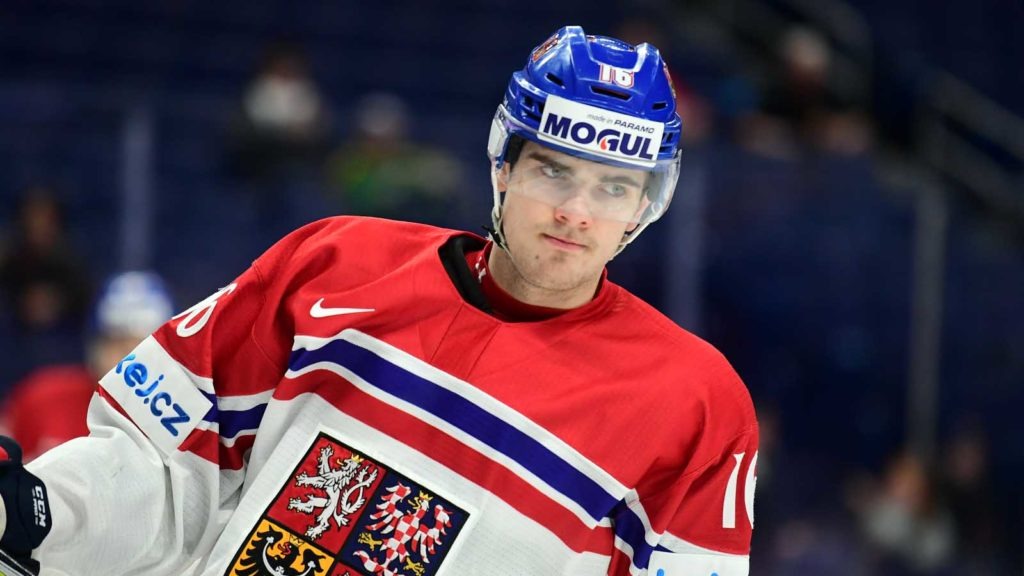 Martin Kaut. Photo: Dan Hickling / Hickling Images
Twenty-eight saves from Bakersfield goaltender Shane Starrett shut down the Colorado Eagles, 2-0, this past Saturday and earned them a split of the teams' two-game series. Starrett's second shutout of the season came one night after Colorado's 6-3 series-opening win that included 2018 Colorado Avalanche first-rounder Martin Kaut's two goals. The Condors are trying to survive a stretch of 14 games in 27 days and are within a point of fourth place in the Pacific Division.
Goaltender Jordan Binnington, last seen in the AHL with the San Antonio Rampage earlier this month, continued his strong run this past week with his second weekly award in as many weeks. This time the honor came for parent St. Louis as he was named the NHL Second Star of the Week. Binnington, 25, went 3-0-0 | 0.67 | .974 in the Blues appearances, including his first NHL start. In the first of January before being recalled to the Blues, he stopped 62 of 63 shots in two starts for the Rampage, earning the CCM/AHL Player of the Week Award. In all, he has 11-4-0 | 2.08 | .927 for the Rampage.
Wilkes-Barre/Scranton defenseman Ethan Prow had a 1-3-4 two-game weekend at Charlotte. The 26-year-old is in his third pro season and holds down fifth place in blue-liner points at 27 (11-16-27).
San Diego veteran forward Sam Carrick took the CCM/AHL Player of the Week Award after going 2-4-6 in two games. Carrick's 20 goals put him third in the AHL.
A pair of AHL veteran forwards are on the move after a Nashville Predators-New York Rangers trade Monday. Hartford Wolf Pack captain Cole Schneider is on his way to the Milwaukee Admirals in a trade for Connor Brickley. Schneider, 28, ranked second in Wolf Pack scoring (13-12-25 in 36 games) while the 26-year-old Brickley picked up 11 points (7-4-11) in 39 games in Milwaukee. Brickley spent all of last season with the Florida Panthers (4-8-12 in 44 regular-season games) before signing with Nashville in the offseason. Schneider counts as a veteran while Brickley falls under the veteran-exempt category. This is the fourth consecutive season that a Hartford captain has been traded midseason. Schneider joins Ryan Bourque, Mat Bodie, and Joe Whitney in that group.
This article is about: