NHL Rookies
AHL PROSPECT WATCH: Comrie stepping up big for Manitoba Moose
Monday is when American Hockey League teams catch up after another hectic weekend on the ice and on the highways.
With two and sometimes three games – plus travel – crunched into a weekend, those teams have earned that rest and step away from the rink. But Monday here is a day to catch up on and assess some of the weekend's best performances across the 31-team AHL.
STILL STANDING
Manitoba Moose netminder Eric Comrie stands out as one of the AHL's most interesting prospect stories, one of someone persistently a prospect yet still not able to stick so far with the Winnipeg Jets.
A 2013 second-round pick by the Jets, an organization that preaches the draft-and-develop model, the 23-year-old Comrie is in his fourth AHL season.
Then there is Connor Hellebuyck, taken a year earlier than Comrie as a fifth-round selection, who only needed a season-and-a-half in the AHL before pushing his way into a number-one role with the Jets. By age 24, he had two full NHL seasons and a spot on the 2017-18 NHL Second All-Star Team among his achievements while leading the Jets to the Western Conference final last year.
And yet there still could be a future in Winnipeg for Comrie. On Monday, he won the CCM/AHL Player of the Week Award for the period ending this past Sunday after another excellent run of work for the Moose. He swept last week's four-game schedule, adding a 1.72 GAA and .949 save percentage. His quartet of victories came against the Milwaukee Admirals and San Antonio Rampage, both Central Division foes that the Moose are pursuing. It will take still more stand-out work from Comrie in the second half, but a 6-0-0-1 push has sent the Moose to within six points of the fourth-place Texas Stars for a Central Division playoff spot.
The Moose typically face one of the AHL's most strenuous schedules, one that carries them across four time zones. But capable of enduring a heavy workload, Comrie's 1,654 minutes rank him second among AHL goaltenders to Alex Nedeljkovic of the Charlotte Checkers. His 28 games tie him for third in the league. He put in 46 games as an AHL rookie in 2015-16, bumped that up to 51 games the next season, and is on pace for another 50-plus appearances this season. In his 2013-14, his third WHL season, he appeared in 60 of 72 games for the Tri-City Americans, a non-playoff team.
Relentlessly upbeat and positive, Comrie has a history of taking anything that comes at him – including a barrage of shots – in good spirits. This season for the Moose, he has gone 15-11-2 | 2.65 | .923 for a team that ranks last in the league in shots-against (34.4) and 27th in shots-for (27.7).
That save percentage ranks him third in the AHL even though he has faced more shots (943) than any other netminder in the league. Of the four goaltenders in the AHL who have played 28 games, only Pavel Francouz's 890 shots-faced for the Colorado Eagles approaches Comrie's season total. Samuel Montembeault has seen 811 shots with the Springfield Thunderbirds while Belleville Senators netminder Filip Gustavsson clocks in at 787 shots-against. In fact, even though Nedeljkovic has played only 4:46 more than Comrie this season, he is at 762 shots-against. Landon Bow, who sits second in the AHL with 29 outings with Texas, has taken on 742 shots from opponents.
But Comrie's three-and-a-half seasons manning the Moose net have been eventful. To start with, in two of those seasons, he has found himself paired with Jets goaltenders sent to the Moose to wait out something of a state of limbo before they headed out of the organization altogether. In 2016-17, the now-retired Ondrej Pavelec had finally fallen out of favor in Winnipeg after several inconsistent seasons. With Hellebuyck ready to take on a full-time NHL burden, Pavelec ended up with the Moose at age 29. He played 18 games through the season's first half before being recalled for second-half work with the Jets, departing for the New York Rangers via free-agency, and retiring this past summer.
Last season, with Hellebuyck-Steve Mason as the new Jets tandem, and the team ready to contend in the Western Conference, Michael Hutchinson followed a path similar to Pavelec's a year earlier. Hutchinson had a fantastic three months in the AHL. But with Mason injured, Hutchinson ended up returning to the Jets after the AHL All-Star break and played only six AHL games over the remainder of the regular season. Hutchinson left for the Florida Panthers after last season and is now with the Toronto Marlies.
Through it all for the Moose has been Comrie. As an AHL rookie in that 2015-16 season, he nearly single-handedly saved a very overmatched Moose team on many nights. As it was, the Moose still lost 50 games. That season, the Manitoba ranked third-to-last in shots-against per game (33.5), second-to-last in goals per game (2.37), and last in shots-for per game (27.1). At one point, the Moose lost 18 of 22 games in a period reaching seven weeks. In a three-game January 2016 stretch against non-playoff clubs in the Bakersfield Condors and Stockton Heat, the Moose allowed 47 or more shots in each of those contests.
The struggles of the first two seasons in Winnipeg for the Moose paid off last season. The team flirted with the league lead for a stretch and finished 42-26-4-4, a 92-point finish that left them only three points off the Western Conference lead. Comrie then handled the team's postseason work in net, taking the Moose to the second round before the Rockford IceHogs ended their season.
But the Jets moved on from Mason in the offseason and instead signed Laurent Brossoit away from the Edmonton Oilers, bringing him to Winnipeg on a one-year deal. Brossoit, 25, is 10-1-0 | 2.01 | .943 in 12 games for the Jets, who sit second in the Western Conference and third overall in the NHL. A restricted free-agent coming off his entry-level deal after last season, Comrie did not sign with the Jets until September 6th on a one-year contract.
That means that both Brossoit and Comrie could be restricted free-agents again this summer. Brossoit has impressed. Then again, would Comrie really need a fifth AHL season in 2019-20? The pair's work this season could leave Jets general manager Kevin Cheveldayoff with plenty to ponder even as the Jets make a potential Stanley Cup run.
All in all, that kind of depth is an enviable situation for many NHL organizations, but it is a choice all the same. That decision could become all the more difficult if Comrie can continue this run and have this Moose team booking its own playoff dates on Winnipeg ice.
HERE'S THE STANDARD
Even though Charlotte leads the AHL at 64 points, good for an 11-point advantage on the second-place Grand Rapids Griffins and Iowa Wild, a two-game sweep by the visiting Marlies left Checkers head coach Mike Vellucci perturbed to wrap up his weekend.
The Marlies hammered Charlotte, 5-0, on Sunday afternoon, concluding the Checkers' six-game homestand. Their time at home went 3-2-1-0 and also included a 5-1 loss to the Wilkes-Barre/Scranton Penguins to start it. They went 3-for-35 on the power play in those six games in Charlotte.
"I thought it was a bad game by us by far," Vellucci told the Charlotte website. "They outskated us, outworked us, were mentally stronger than we were, and we were on our heels the whole game. We just weren't ready."
"We got rattled at times, we weren't making the right plays, we weren't sacrificing our bodies, and we weren't strong on the puck. Our power play on the homestand here has been terrible. It was 3-for-35, not good enough. I'm going to make some changes on it this week with personnel, and we're going to get the right people that want to be on the power play."
Seeing the defending Calder Cup champion Marlies up-close should provide the Checkers a baseline for what will be needed to match that standard. Toronto head coach Sheldon Keefe dressed 12 players from last season's club in his line-up Sunday.
"We just got schooled by the champions," Vellucci continued. "If you want to be the champion, you've got to beat them. We didn't play good enough against them, and they schooled us."
WELCOME BACK
After two months with the Arizona Coyotes, goaltender Adin Hill did not ease back into duty with the Tucson Roadrunners this past weekend. In the opener of the Roadrunners' two-game trip to Colorado, the Eagles knocked Tucson starter Hunter Miska out with three goals in the first 11:34. That pressed the 22-year-old Hill into earlier-than-expected action in his first AHL game since November 21st went well. He stopped 26 of the 30 shots that Colorado sent at him, but the Eagles took a 7-3 win. Tucson head coach Jay Varady stayed with Hill the next night, and it paid off with a 21-save shutout. That kept the Tucson within four points of the first-place San Jose Barracuda in the Pacific Division as they also try to fend off the San Diego Gulls. Roadrunners fourth-year forward Michael Bunting also chipped in three goals in the two games in Colorado and is up to 9-13-22 through 25 AHL games.
Charlotte defenseman Haydn Fleury returned to the Carolina Hurricanes after a seven-game AHL stint in his recovery from a concussion. He picked up two assists for the Checkers. The 22-year-old, taken seventh in the 2014 NHL Draft, is in his second NHL season.
After playing 37 NHL games last season for the Colorado Avalanche, Eagles forward Dominic Toninato, 24, is back in the NHL. The Avalanche recalled him after he went 6-7-13 in 30 AHL games this season. Joining him is defenseman Anton Lindholm, also 24, who dressed for a pair of games with the Avalanche earlier this season. He added six assists in 29 games for the Eagles.
ELSEWHERE
A pair of rookie defenders are close to reaching double-digit goal totals for the Chicago Wolves, though they have taken different routes to that mark. Nic Hague, taken 34th by the parent Vegas Golden Knights in the 2017 NHL Draft, pounded in 35 goals in 67 regular-season OHL games last season for the Mississauga Steelheads. Hague, who only turned 20 on December 5th brings a booming shot that has him up to nine goals for the Wolves through 41 games. That has him fourth in the AHL in blueliner goals and leading all rookies. His 96 shots put him sixth among AHL defensemen. In all, he is 9-8-17. Trailing Hague is 20-year-old teammate Dylan Coghlan, who owns eight goals (8-12-20) through 33 games. Ignored in the draft, he impressed Golden Knights management enough to still sign a three-year entry-level contract in September 2017. He went back to the WHL with Tri-City and posted 17-46-63 in 69 regular-season games, adding 3-11-14 in 14 postseason outings. That earned him a trip to the Wolves this season, and he has thrived on the power play. The Wolves hold seventh-place in the AHL on the man-advantage, still converting at 21.4 percent even with Brandon Pirri on NHL recall with the Golden Knights. Only four other players on AHL blue lines have hit 10 or more goals this season.
Forty saves goaltender Chris Driedger gave Springfield a 3-0 road win against the Hartford Wolf Pack this past Saturday.
Forward Tanner Kero is back with the Utica Comets after a brief recall to the Vancouver Canucks. His 37 points (16-21-37) in 37 points put him second in team scoring.
San Diego received a boost Monday with the additions of forwards Sam Carrick and Justin Kloos. Kloos came to the parent Anaheim Ducks in a trade from the Minnesota Wild last week. The 25-year-old had a 12-18-30 line in 34 games for Iowa before the move to California. Carrick, 26, is 20-17-37 in 32 contests for the Gulls.
San Diego's 15-game point streak (12-0-1-2), the AHL's longest this season, ended this past Saturday night. Visiting Bakersfield delivered the Gulls a 6-2 defeat.
In that Bakersfield victory, Condors rookie forward Cooper Marody finished a productive week with a goal. He collected 2-5-7 in three contests for the Condors and has moved to fourth in rookie scoring at 30 points (9-21-30) in 28 games. He has a six-game point streak (2-8-10) as well and brings a one-point lead for the Bakersfield scoring lead on fellow rookie forward Tyler Benson. Bakersfield took a 5-4 overtime win at home against Stockton this past Friday, giving the Condors a 6-1-0-0 mark against the rival Heat.
The New York Rangers sent defenseman Ryan Lindgren and forward Boo Nieves to Hartford, and the AHL affiliate can use the help. Five consecutive wins have pulled the Hershey Bears into the heart of the Atlantic Division race. Now tied with Hartford at 42 points, the Bears and Wolf Pack are within five points of fourth-place Springfield.
The Cleveland Monsters have forward Kevin Stenlund back from the Columbus Blue Jackets. The 22-year-old, a 2015 second-round pick by Columbus, is 9-7-16 in 33 AHL games. Cleveland is locked in a North Division battle, trailing fourth-place Toronto by four points.
Three big assets are on their way into the Texas line-up. The Dallas Stars assigned forwards Denis Gurianov and Roope Hintz to Texas. The 21-year-old Gurianov is 11-20-31 in 29 AHL games. Hintz, 22, is 8-11-19 in 19 contests for Texas. Dallas also loaned defenseman Connor Carrick to the AHL Stars on a conditioning assignment. The AHL Stars have a four-game week, including back-to-back Tucson road tilts starting Monday.
Forward Justin Bailey, acquired by the Philadelphia Flyers from the Buffalo Sabres this past Thursday, made a quick impact. The 23-year-old, who had been with the Rochester Americans, grabbed two assists in a 6-5 overtime loss at Hartford. He faced his former Rochester teammates the following night at home, a 3-2 shootout win for the Phantoms.
Stockton forward Tyler Graovac has fired in 10 goals in his past 13 games.
You may also be interested in: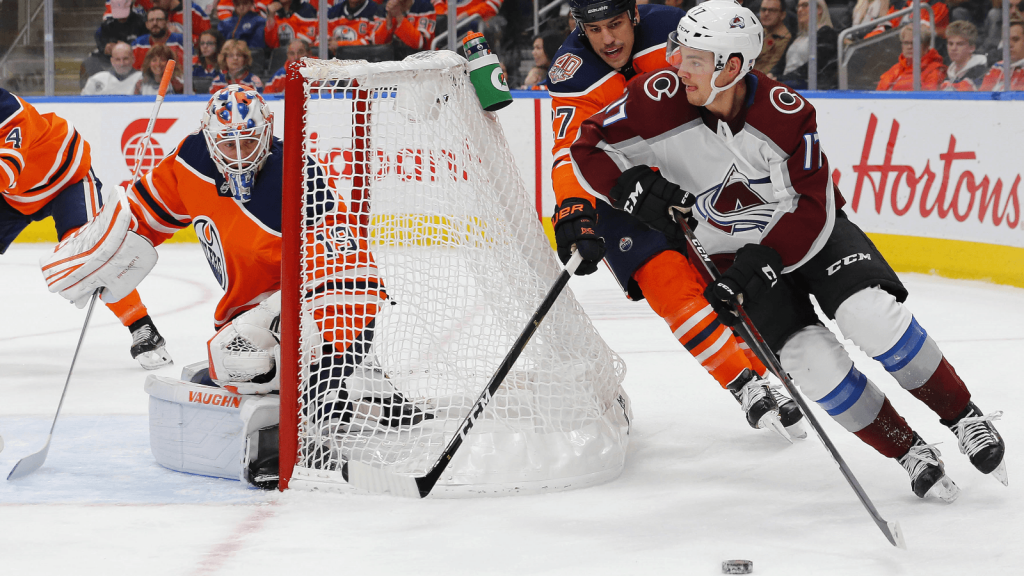 AHL WEEKEND PREVIEW: Jost sent down by Avalanche, looking to hit the reset button
This article is about: