World Juniors 2019
FANTALYTICA: Don't forget about the Russians
Welcome to another installment of the Fantalytica column. Every week, Fantalytica provides a granular, fantasy perspective about a group of prospects. Following the previous column, which honed in on NCAA standout Evan Barratt, we decided to go overseas to evaluate two special prospects playing in the MHL. Our metrics:
Fantalytica is a weighted fantasy league metric that creates a tangible, predicted value of an NHL prospect before they set foot on an NHL sheet of ice. The goal of this metric is to provide casual, competitive, and diehard fantasy hockey owners with a glimpse into the future of NHL players. These algorithms provide all fantasy hockey owners with additional knowledge to use when evaluating a prospect. Fantalytica combines the rules of any fantasy league to provide the most accurate predictions for all NHL prospects. Although Fantalytica provides a predictive value for a prospect, it does not represent the value a prospect may have to an official NHL organization – it provides a fantasy driven prediction that should only be used to evaluate a prospect on what they could provide from a Fantasy perspective. The system displays a value that simulates a close prediction of a player's fantasy production starting after his 200th game in the NHL (82 game season).
Metrics
CURRENT VALUE: The broadest metric of Fantalytica, the Current Value metric represents a conservative prediction of a prospect, the best and simplest visualization for an owner to understand the value of a prospect to their online club.
DRAFT DAY VALUE: This metric is adjusted to the age when they were drafted. Essentially going back in time to replicate what their Current Value would be on the prospect's draft day.
AGE ADJUSTED POTENTIAL VALUE: Providing a conservative metric for prospects wasn't enough. We needed to provide more, to really understand the ceiling of a prospect. The Age Adjusted Potential Value is a loftier prediction of a prospect's future production. This value weighs age differently, therefore creating a large discrepancy between any two prospects. This metric was created to give owners a better understanding of the potential a prospect can have, and how different all prospect can develop at different stages of their career.
PROGRESSION: This metric shows the difference in projected points from the day they were drafted, to the current projected points. This metric is very simple and very effective because it shows if the prospect has declined/inclined over the years.
We used these rules to quantify this week's metrics.
Goals (4), Assists (2), Hits (0.5), Blocks (0.5), Plus/Minus (1), SOGs (0.75), Power-play Points (1), Short Handed Points (2), FOW (0.2), FOL (-0.1)
Without further ado, here is our evaluation of Ivan Morozov and Kirill Marchenko.
A gifted Russian, Ivan D. Morozov is a 2018 draft pick of the Vegas Golden Knights. He is currently playing in the MHL with SKA-1946 St. Petersburg, despite being a high NHL draft choice. The center is clipping along at a point per game average in his first season since being drafted. Morozov is playing in the top Russian junior league the MHL; he has played in three different leagues this season, including the KHL, producing points at every stop. Ivan was also a member of the Russian team who won a bronze medal at the World Junior Championships, tallying 2 points in seven games. Ivan was also selected to participate in the MHL All-Star game.
Certainly the Golden Knights want to get their speedy forward to North America as soon as possible, a reason to grab him as a prospect now. When he arrives it won't take him long to adjust and make his way through Las Vegas's lineup. With Vegas in desperate need of quality prospects to join the team Ivan Morozov will be one of the first overseas prospect on the move.
The eighteen year old forward is a two hundred foot player that plays a solid two-way game. His speed is terrific and he possesses soft hands to make him a talented goal scorer. His Hockey IQ is exceptional and Ivan can make plays out of nothing. He will undoubtedly be a point producer once he grace's the NHL with his presence.
He remains overseas for the remainder of the season as Vegas sent all their picks back to their junior clubs for seasoning. He will be a crucial piece to the Golden Knights future, while he continues to grow and get stronger back at home. He continues to show his talented playmaking abilities as he can put pucks onto sticks consistently. Morozov will find you open ice by utilizing his speed and drawing defenders in. This allows his fellow teammates to tally goals, giving him points all over the score sheet.
As a two way player he provides you responsible defensive tasks, a reason why he is rarely scored on. Outstanding at getting in passing lanes and with his six foot one inch frame, he has the reach to be steady nuisance for the opposition. He is great in the faceoff dot, so he is relied on in the defensive zone more than often. I see him being a top six guy/2ndline center with the parent club in 2 years.
Another 'can't miss' Russian is Kirill Marchenko. A 6'3 winger with great speed and vision, Kirill has played every rank of hockey in Russia at this point and has found ways to be effective in each. This season alone, the 18 year old has appeared in, 1 KHL game, 16 VHL games, 15 MHL games, and he played all 7 games in the 2019 World Junior Championships.
The second round selection of the Columbus Blue Jackets has progressed well since being drafted in 2018. The skilled Russian winger has great range with his size, which comes to no surprise; however he has great puck control and plenty of velocity and accuracy on his wrist shot. He was selected to play in the MHL All-Star game this year, one of four NHL drafted players selected. Marchenko thrives by getting in-between defenders and creating chances, rather than staying to the outside like many tend to do. Kirill is considered shifty and elusive, despite a larger body and stereotypical speed.
He can make plays even when the play looks broken down as he contains great hockey IQ and reads the play quite well. Great in open space and he is just as good with limited ice, another skill necessary to be successful in the professional ranks. He displays that he can be a very productive player when he finally decides to come and join the NHL ranks. He spearheads the first penalty kill unit for his MHL team in Russia as he works hard in his defensive end, just as he does in the opposite end of the rink. He will give you blocked shots, hits, and all the points in the defensive categories while producing consistently on offense.
In the MHL the big bodied talented winger has eclipsed 61 points in 75 games played during his time in the junior ranks. Almost a point per game average and despite skating in scattered games in the KHL he has still managed to tally points. Kirill Marchenko will be a great pick up to have for your future as he will without a doubt continue to produce once making the transition from is home of Russia to North America.
Remember adjustment periods are needed for most of the athletes that decide to join the NHL ranks from an overseas league such as the MHL, KHL, or VHL etc. Think of Artem Anisimov, Vlad Namestnikov 'type' players.
Figure 1:

Figure 1 represents the 10 best MHL skaters for this season, according to Fantalytica. This group could be one of the better ones to come out of the MHL in recent years. Podkolzin and Dorofeyev are both projected as potential 1strounders. Their stellar play in the MHL and World Juniors have granted them an extraordinary reputation going into the draft this summer. Although there's a large gap between Dorofeyev and the next few players, Morozov and Marchenko are in great company. The MHL is known for having too large of an ice to rack up the points every night – these young men have performed extremely well in their adult leagues, despite the small sample size. There is so much room for growth; coming to North America and playing in the CHL or the AHL will give both Ivan and Kirill an ample amount of time to hone in on the smaller ice.
To conclude this column, I'd like to remind you all that these are educated fantasy hockey projections and must be taken with a small grain of salt. Not every Russian player from the MHL will play in the NHL.
For questions about Fantalytica, please reach out to us via email (Fantalytica@gmail.com) or mention us on Twitter @Fantalytica. Our site is still under construction, but a demo site is currently up (Fantalytica.com).
Kyle Outridge
Fantalytica beat Writer
@JrHockeyTalk1
You may also be interested in: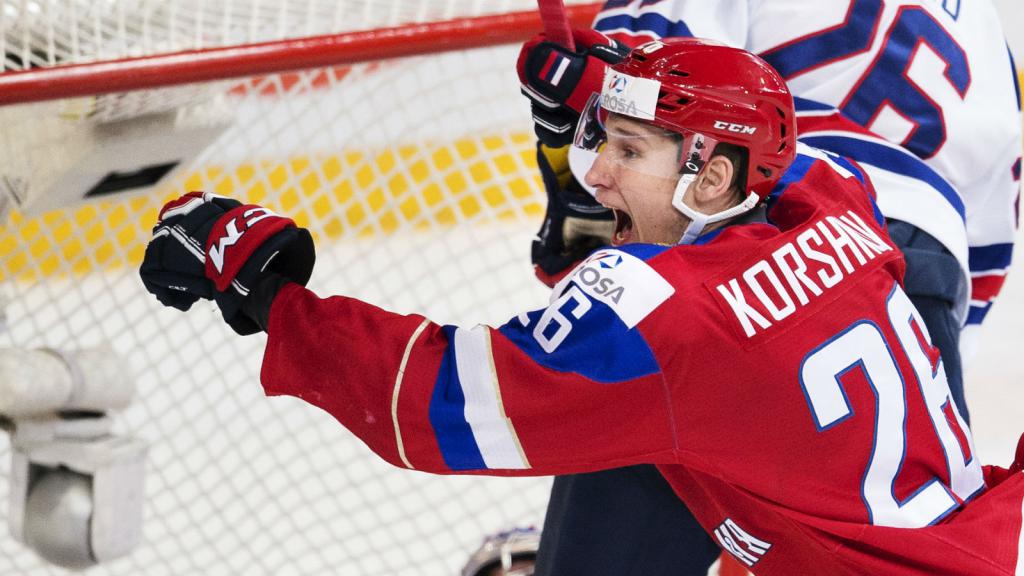 Maple Leafs' Russian prospect looks ready for North America
This article is about: