Uncategorized
A sniper's entrance – highly touted Swedish 2020 prospect reaching his goals
— STOCKHOLM — It was only three shifts and one minute and 31 seconds of ice time. But judging by the number of reporters that huddled around the 17-year-old after the game, something special had just taken place.
Alexander Holtz's SHL debut with Djurgården was something that attracted a lot of attention.
It's not uncommon to see teenagers in the SHL these days. Rasmus Dahlin was a regular with Frölunda at 16 and Elias Pettersson won scoring titles in both the regular season and the playoffs at 19. Holtz, eligible for the 2020 draft, is not by any means at their level yet, but there's no doubt his entrance on the bigger stage has been anticipated.
To put things in perspective, you'd have to go back a few years in time. Holtz came into the spotlight at 14 when his scoring touch made him famous in Swedish hockey circles. He became somewhat of a YouTube phenomenon as he showed off his skills in commercials for Better Hockey Sweden,  a company that specializes in dryland products for hockey players that want to improve their skills and shot.
When Swedish web site hockeysverige.se visited Alexander Holtz and his family in the outskirts of Stockholm in January of 2017, he proudly showed his own shooting pad where he spent countless hours every day to become a better shooter.
"I've been standing here day in and day out because I really enjoyed it", he said. "And whenever I go outside, I'll pick up my stick and play with a puck. Sometimes when mom goes for a walk with our dog, I'll bring a stick and stick-handle during our walk. I think that has helped me with my skills, just to get that feeling when you always have a stick in your hands."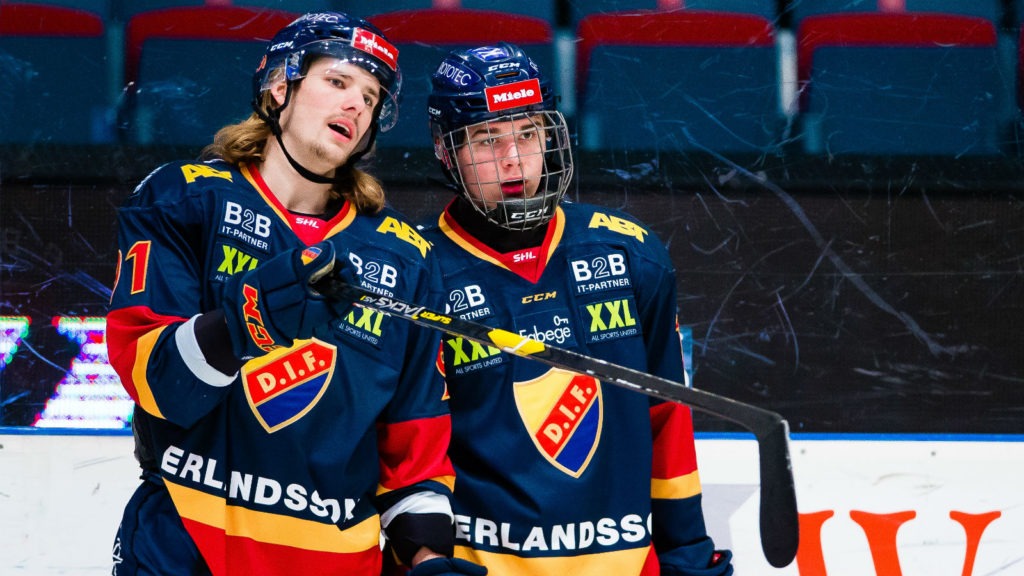 Axel Jonsson Fjällby and Holtz. Photo: Bildbyrån/Kenta Jönsson
While Sweden has had their fair share of really great hockey players, they haven't had too many world-class goalscorers through the years. Håkan Loob is still the only Swede to score 50 goals in the NHL. That's one of the reasons why the hype surrounding Alexander Holtz has become so big.
The kid is a goal-scoring machine.
He tallied 41 times in 30 games with Djurgården's U18 team in the regular season last year and put up another eleven goals in six playoff games. He has also put up impressive numbers with the younger national teams.
This season, he has scored 21 times in 28 games with the U20 team. That finally earned him a taste of what the SHL has to offer when Djurgården squared off against Färjestad at Hovet in Stockholm on Tuesday evening.
"It was really cool", Holtz said after the 3–2 victory. "You've seen what it's like when you've been in the stands for games here, but playing and experiencing this from the bench is completely different.
"I was a little nervous beforehand, but mostly it was just a lot of anticipation. This was the coolest thing I've ever experienced as a player, this and the gold medal game at Hlinka (Gretzky Cup this summer)."
Här gör supertalangen Alexander Holtz, 17, debut för Djurgården! ? @DIFHockeyse #twittpuck #shl pic.twitter.com/0OnR80AqCZ

— C More Sport (@cmoresport) January 29, 2019
Alexander Holtz's goals this season were to be a leading player for Djurgården's U20 team as well as to make his SHL debut. Now that he has achieved both, it's time to take another step up the ladder.
"I felt like I could keep up with the pace (of the game in the SHL), but also that if I get other chances at this level, I'll be able to perform and produce here. And that's my goal right now, to play at this level, get more minutes and score some goals."
Due to the lack of ice-time, Djurgården head coach Robert Ohlsson couldn't really asses Holtz's first SHL game. But he knows what a bright future the young man has.
"Everyone knows how talented he is and what kind of potential he has", Ohlsson said. "It was great that we could give him a few shifts. It wasn't a lot, but hopefully, this can motivate him to be even better and create a bit of competition up here."
"He's been great at the U20 level and it's been great watching him in practices. The kid scores on pretty much everything. He's a really gifted scorer."
Whether or not Alexander Holtz gets another shot at playing SHL hockey this season remains to be seen. What's more or less for sure, on the other hand, is a spot on the roster for the U18 World Junior Championships in Sweden in April. Along with fellow underaged forward Lucas Raymond, Frölunda, Holtz will be a key cog for the Swedes in the tournament on home soil.
Holtz and Raymond lead their team with seven points each at the Hlinka Gretzky Cup in Edmonton in August as Sweden, surprisingly, managed to make it to the gold medal game. Holtz, who travels to Sochi, Russia on Sunday to play the tune-up tournament ahead of the World Juniors, hopes the Swedes will be able to pull another upset in Örnsköldsvik and Umeå.
"Since we were able to get a silver at the Hlinka tournament, we should have a chance to do something. Hockey is hockey. You've got to play good and get the bounces to get somewhere."
You may also be interested in: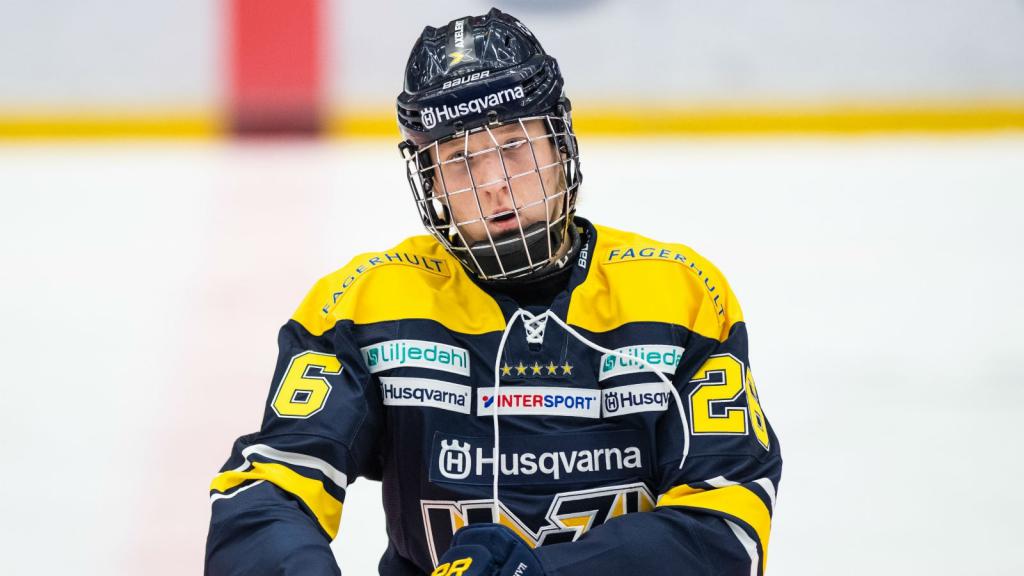 SCOUTING REPORT: Holmström, Holtz, Björnfot dominant in Swedish Juniors
This article is about: