NHL Prospects
Another Raymond everybody will love?
In the fall of 2016,  a 16-year-old, immensely talented defender took the breath out of the Swedish hockey sphere. We all know what that kid is doing today. Two years later, the eyes are turned to another 16-year-old. A forward this time, but the talent and the fuzz around it is pretty similar. Lucas Raymond is here.
However, Raymond does not want to be compared to Rasmus Dahlin.
"Rasmus is already one of the best defenders in the world, players like him are very rare", said the Gothenburg-born young man who played for Frölunda his whole life.
At age 15, Lucas Raymond's father Jean moved from France, where he was born and spent his childhood. Together with his mother and sister, Jean Raymond settled in Gothenburg, and eventually, he met Cecilia. Together they raised two sons in the center of the city. Hugo, soon to be 20 years old, and Lucas.
"I still have relatives in France, and I spoke the language pretty well when I was younger. But it was hard keeping it up, so I kind of lost it. I regret that. French is a cool language to master. Dad still knows it, even though he only speaks French with his brothers", Lucas Raymond said.
He talks about growing up in the urban parts of Gothenburg, and how close he was to everything. The family lived in a house in an area called Örgryte, where there was lots of open space for the boys to play around. For the two brothers, that almost always meant sports activities.
"I've done it all. I started hockey when I was about 3 years old, but throughout my childhood, I tried a lot of different stuff. Like football, diving, and gymnastics."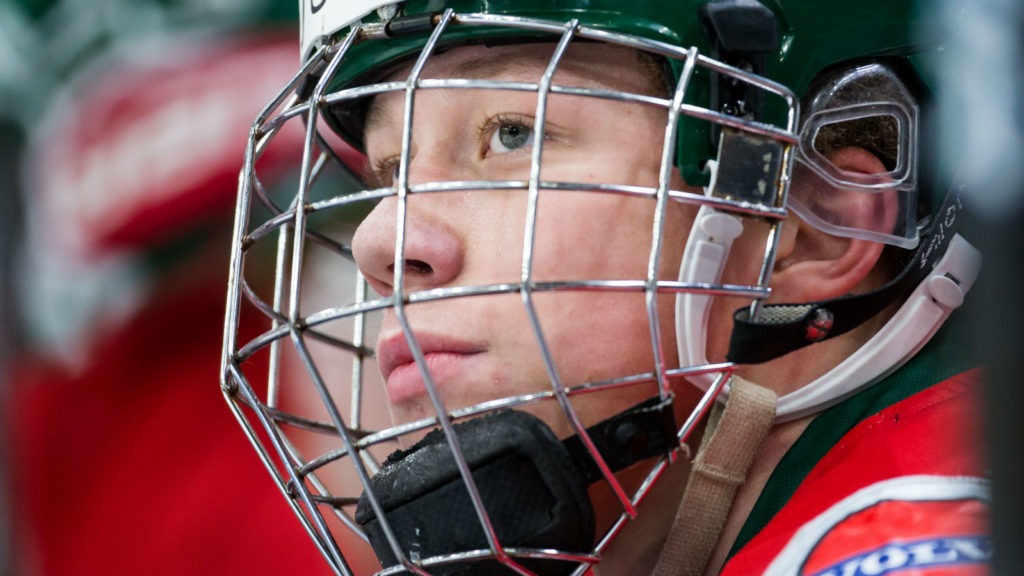 Photo: Bildbyrån/Michael Erichsen
"I WAS NEVER A SHY KID"
Until Lucas was about 14, him, his brother and his father used to play floorball in the basement almost every night.
"Hugo and I used to wait in the hallway for dad to come home from work. He ran up the stairs to change out of his suit and then he joined us in the basement for an hour or so. We had so much fun. I played goalie. There were a lot of battles and emotions, I can't even count all the fights me and my brother had in that basement."
Eventually, the youngster quit all the other sports and started focusing on hockey. Living close to the rink at Wallenstam Sports Center, he spent countless hours on the ice both before and after training sessions. Some days his idols from Frölunda joined during open ice hours. Players such as Johan Sundström, Fredrik Pettersson and Joel Lundqvist, would be approached by the outgoing boy wanting to show his skills.
"I was never a shy kid. I remember skating up to them trying to dribble. They were humble and thought it was fun, it seemed. They're great guys", said Lucas Raymond and continues to talk about Johan Sundström, who now plays for the Chinese KHL team Kunlun Red Star.
"Johan has helped me a lot through the years, we still talk on a regular basis. He has a lot of experience and has become kind of a mentor to me."
The young forward has only made a dozen appearances with the pro team but he sure has made his mark. And in the junior league, he has 38 points in 29 games this season. His speed combined with his explosivity and creativity on the ice makes him incredibly fun to watch and a true weapon for his team.
Frölunda Head Coach Roger Rönnberg thinks the hockey world probably will talk a lot about the winger in the future, considering his exceptional skills.
"There is no limit to how good he can be", Rönnberg told Swedish hockey news outlet hockeysverige.se.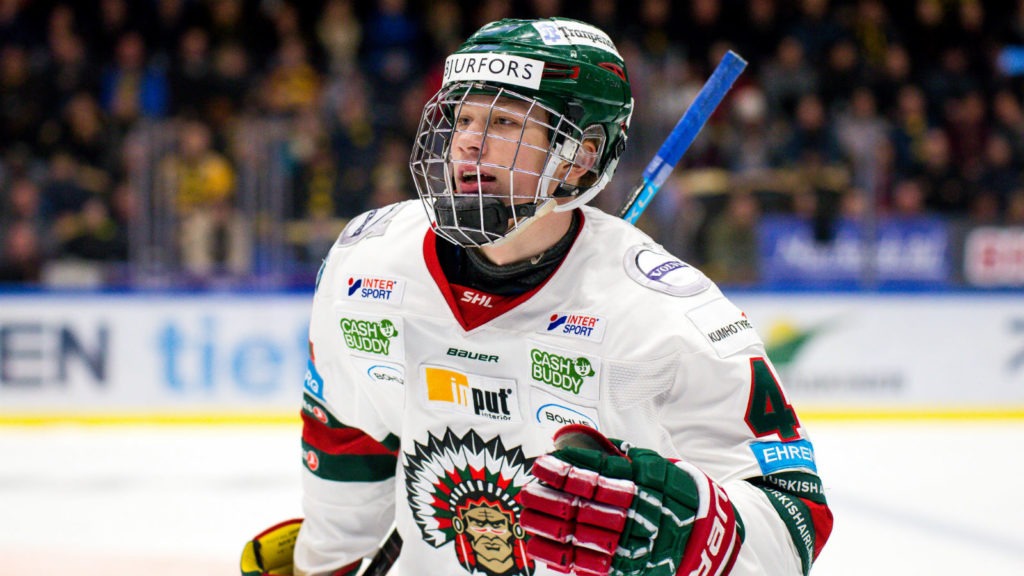 Photo: Bildbyrån/Ola Westerberg
"I REFUSE TO LOSE ANOTHER FINAL"
With great puck control, even in high speed, and a strong shot it's easy to see Lucas Raymond is a great offensive asset, but he is also a hard worker when it comes to backchecking and killing penalties. For Lucas himself, the tireless strive to win in every situation is his most significant quality.
"I just hate to lose. Hate it. Even in just a friendly game of poker with my dad. When we play cards in the evening, and he's really good at cards, he eventually lets me win so that I can go to bed. I could never stop playing without a win", Lucas Raymond said.
But could the winning mentality, at some point, become an inhibition?
"Of course. And it has been for me a couple of times. Just ask my coaches, sticks have been sacrificed… You have to control your emotions and can't let them boil over. That's something I'm working on, and my coaches help me very much with it."
In 2020 Lucas Raymond hopes to take those steps up on stage at the NHL draft, as early as possible. But he is determined not to think about that too much, he has a lot of short term goals to reach before that. Technically he has three gold medals to pursuit this spring, with Frölunda HC's senior, U20 and U18 teams.
The dreary losses in the finals of the Hlinka Gretzky Cup and the Swedish U16 Championships last year have made Lucas Raymond tired of silver medals and yearn even more for that golden one.
"I refuse to lose another final. The loss in the Swedish Championships was probably the toughest moment of my career so far. We were up 4-2 with ten minutes left of the game and the opponents tied it. In OT they took a shot and the puck hit the glass, bounced off the back of our goalie, and into the net. It was devastating. But it has become a great motivational moment for me, I never want to go through that again."
IN THE SPOTLIGHT
When asked how much Lucas Raymond believes in himself his answer is a bit different than we might be used to. He… doesn't.
"I mean, I am confident when I play, I have to be to do the things I want to do on the ice. But I don't really believe in myself that much. I'm still young, and I don't have that much experience yet. I believe in the hard work I have to do to get to where I want, but not necessarily in myself."
So, he's not sure he'll make it to the NHL?
"Definitely not. I know how much it will take, both with training, keeping free from injuries and perhaps a little good luck. Obviously, I dream about it and I think about it sometimes, but it's impossible to say I will play there. At least for now."
The hype is real. In the last few months, the teenager has been meeting people he never crossed way with before. Journalists, talent scouts, and hockey experts all have their spotlights pointed to Lucas. But he's keeping it cool.
"I don't really pay attention to the expectations of people on the outside. I have my own expectations, and they're extremely high. I think nobody demands more from me than I do."
You may also be interested in: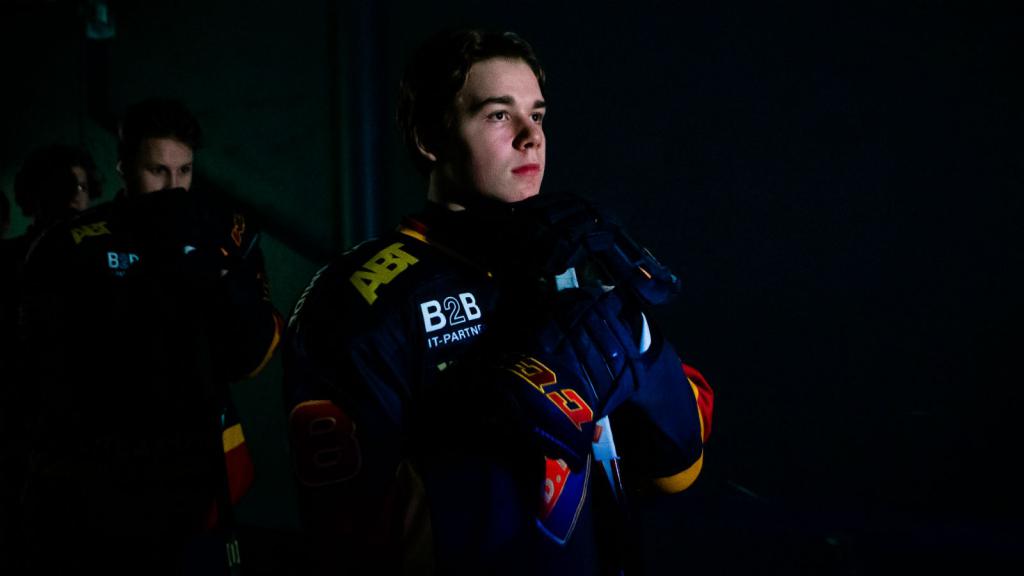 A sniper's entrance – highly touted Swedish 2020 prospect reaching his goals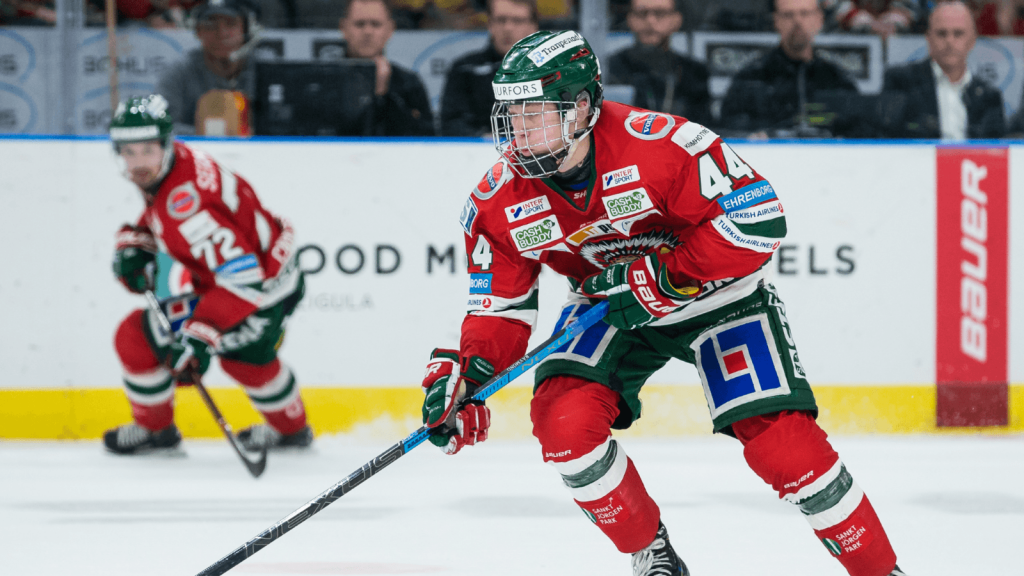 BLOG: Raymond vs. Holtz – Scouting the first U20 matchup and the road so far
This article is about: