NHL Entry Draft 2019
Moritz Seider – Germany's next first-rounder?
It started with a single skate.
Thirteen years later, Adler Mannheim defenseman Moritz Seider is still going strong.
"We had the chance in kindergarten to go on the ice once a week," Seider said. "After one of the times I was on the ice I got a piece of paper in my stall from hockey and they said, 'would you like to come over next week and try it out?'
"I was really surprised.
"On the next Monday, I went there and all the pros from my hometown club, they were waiting for all the kids and went skating with us. I was so excited.
"There was no other sport more interesting than hockey."
That passion is taking him places.
Seider, born in Zell (Mosel), Germany, has developed into one of the top prospects for the 2019 NHL Draft despite hailing from a country of just 20,938 registered hockey players.
"Soccer is for sure the most popular sport in Germany," said Seider, No. 6 among European skaters in Central Scouting's midterm ranking.
"The first time I heard about (hockey), I was not sure because I only knew they fought really often and beat each other up.
"Now it's so much fun."
Understandable.
The 6-foot-3, 183-pound defenseman is the best prospect to come from Germany since Edmonton Oilers all-star Leon Draisaitl, and, potentially, the best defenseman to emerge from the country since the likes of Dennis Seidenberg and Christian Ehrhoff.
Not that he's ready for that title just yet.
"I'm pretty honored, but I think it's a little bit too early," Seider admitted. "They achieved so much in the NHL through their whole career. It would be bad to compare myself with them.
"Still, maybe I want to get better than those guys but it's still a long way.
"Anything can happen."
So far, it has.
Seider, at 17, is playing in Deutschen Eishockey Liga — Germany's top circuit.
He's impressed, clearly, along the way.
"There are two things that really stand out each and every game…his poise with the puck and his physicality," said Future Considerations' German-based scout Janik Beichler.
"He throws hits left and right, generally only when the situation allows it and it doesn't take him out of position, and when he gets the puck in his own zone, he assesses his options before making a calculated play.
"Germany hasn't had a lot of high-end NHL prospects recently, so he's definitely near the top."
The notion of being one of his country's top talents hasn't eluded Seider.
But it hasn't gotten to his head, either.
Seider has managed to park any draft talk for the time being, and the hype that others his age can get caught up in.
"Some teammates are more into it than I am," he said. "Every time there's a new ranking coming out, imports from our team come to me and tell me about the ranking. I was surprised. It's cool when you get some attention, but when the puck drops I'm fully on hockey and fully on the ice.
"The NHL is just a big dream. It's not normal to play in the NHL for a German guy. It's still a long way to the NHL. The draft doesn't say anything. You have to keep working hard and try to do your best every day.
"I really want to play there at some time, and I'll really do anything for that."
So far, so good.
Seider has made a relatively quick adaption to playing pro as a teenager.
Against opponents, sometimes, twice his age, no less.
"You have to be always in the right position," he said. "You can't cheat anymore. That's one of the biggest differences. When you're a smart guy you can handle it well. Some guys are so good and have played in the NHL. They've done something right so you always have to be ready and can't cheat anymore."
It's a lesson he learned, in part, thanks to a short tour in the league as a 16-year-old.
Seider, who captained Germany's entry to gold — and a promotion to the main tournament — at the 2019 IIHF World Junior Championship Division I Group A in December, spent four games with the big club last season.
It put him in a position to hit the ground running this fall.
"When the season started I knew what was going to happen so it wasn't that big," said Seider, who has four points (one goal, three assists) in 25 games. "We had whole new management and new trainers and around about 11 new players. Everyone was new. It was a little bit easier for me.
"At the start of the season I played five-to-eight minutes. The first games I was really nervous and made some simple mistakes. When I came back from the World Juniors in Switzerland, I was full of energy and self-confidence and I played up to 17, 18 minutes sometimes.
"I was really part of the team. It was great."
Now, he's hitting his stride.
Over a decade after his first.
And, instead of skating with those pros back then, he is one now.
A top prospect, too.
You may also be interested in: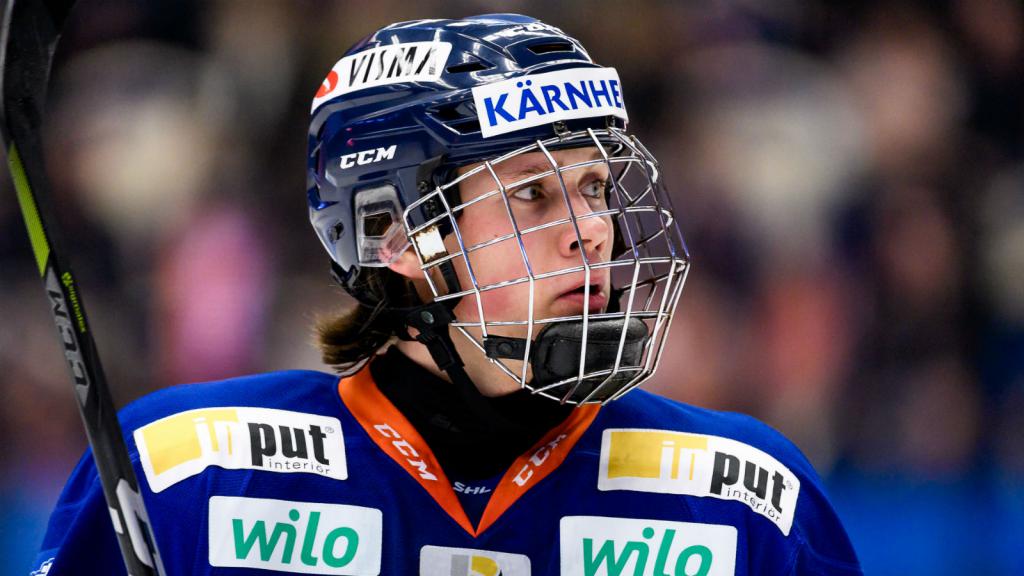 Dominik Bokk – a German that shunned the Draisaitl route
This article is about: