NHL Entry Draft 2019
Temporary switch from forward to defense turned into career move for LaCombe
It was pretty simple.
His Shattuck St. Mary's squad was shorthanded on defense.
So Jackson LaCombe, a forward, bounced himself to the blue line.
He hasn't looked back.
"My team was short on D," LaCombe explained.
"I figured why not try it out? I really liked it. It's been a good switch ever since.
"That's kind of how it went."
That's how it started.
Little did LaCombe know at the time, the change in position will serve as career-defining move.
Two years later, after all, the 18-year-old is a heavy candidate for most under-the-radar eligible for the 2019 NHL Draft.
"It's been pretty cool," said LaCombe, who has 56 points (17 goals, 39 assists) in 40 games this season. "I try not to focus on that too much. It's been pretty surprising.
"I'm happy with it.
"I'm a bit surprised myself. I just want to keep going and do the best I can and get as high up as I can."
LaCombe isn't the only one surprised by his sharp rise.
Nor should he be.
Two seasons ago, LaCombe — a forward — was far from trending towards blue-chip form.
He wasn't even a standout on his own Bantam club.
"On that team, he was the 12th forward," said Ben Umhoefer, LaCombe's coach.
"He's always been chasing guys and been behind guys and hasn't been the go-to guy or played the power play. This is a kid that's really had to put his time in and work hard for everything he's got and stay patient.
"Some of these kids growing up know they're good and they just carry that swagger when they show up to the rink because they've had a lot of success and they know it. For him, just now, he's starting to realize, 'I'm a good player…I can take games over and dominate.' With that being the case, that's why I say I don't think he knows how good he can be.
"For a long time he just came to the rink as a kid who loved to play and worked hard and was really humble…
"Then 'BOOM.' Here we go.
"He's got a chance to be a good one. He really does.
"His best hockey is still in front of him. He's just scratching the surface. I don't think he even knows how good he can be."
LaCombe is still finding that out.
His new position, coupled with a growth spurt, has him figuring out what he's capable of.
"I started getting used to it back there," said LaCombe, now 6-foot-1, 178 pounds. "I got really comfortable with it.
"It's been going good.
"I would say that the hardest part is just feeling comfortable with it, with the gaps and everything and holding the blue line. It's all the little things and knowing where everyone is out there on the ice. I'd say that's the hardest part. It's just a time thing.
"You get comfortable with it as you play more."
Understandable.
He is, after all, only 100 games or so into the adjustment.
"I think that just kind of speaks to how cool his story is," Umhoefer said.
"He's an elite skater. Elite passer. Great skill. Great hockey sense. He obviously hasn't played defense…he's only played D for not even two seasons yet. So some of the defending, especially in his own zone, the physical play, they're areas for growth and he's working hard at it. But his skating, passing, skill, vision is as good as I've coached. They're elite.
"He's about as late-blooming as it can be. I mean, two years ago in our program he was playing on our lowest team, our AA team, and he was playing forward, right?
"Now he's made the change to D. He's one of four kids in the history of our program that's gone from our lowest team to our top team in one year, and changed positions,
"Now he's a potential first round draft pick."
LaCombe, admittedly, is surprised as anyone.
But the 18-year-old, No. 47 among North American skaters on NHL Central Scouting's midterm ranking, is still managing to take the rise in stride.
"I think about every NHL team has talked to him or interviewed him," Umhoefer volunteered.
"For him, I think he's able to compartmentalize it really well because when he's at the rink and he's around his friends that's just what it is…'I'm at the rink and I'm doing what I love and I'm doing it with the guys that I enjoy being around.' He's a good kid. He's a really good kid.
"I think he's able to get kind of lost in the moment there with the team and does a nice job of compartmentalizing all the other stuff."
LaCombe, of course, has parked all that.
He's just enjoying the unexpected ride.
And surprising position he finds himself in.
"I try not to think about that stuff too much," LaCombe said. "I just think about playing the game and why I love playing the game.
"I focus on that and trying to have fun and playing the same way."
You may also be interested in: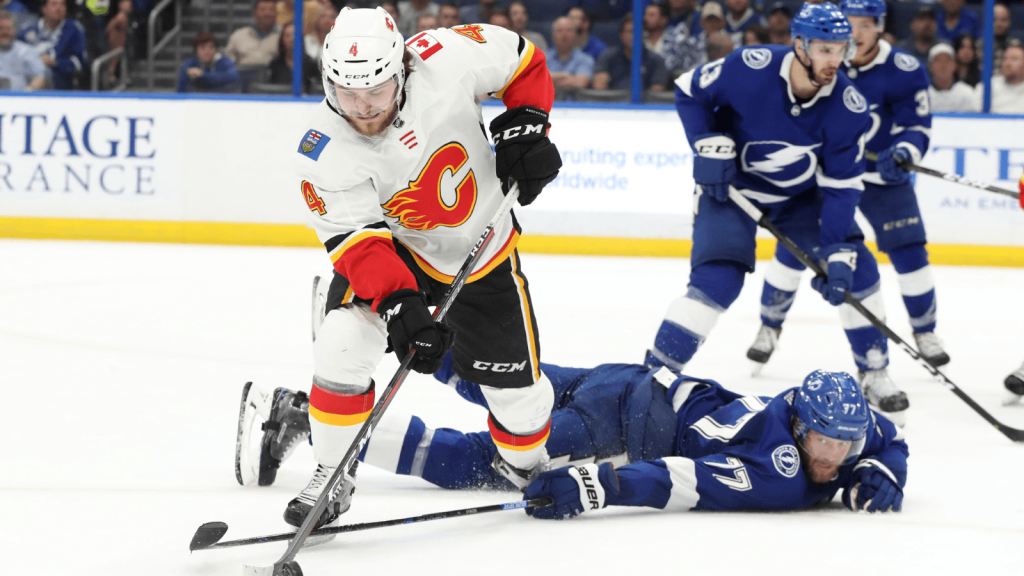 Andersson loving life in Calgary, letting his game shine through
This article is about: