News
AHL WEEKEND: Desperation time has arrived for several teams
Weekends mean a busy AHL schedule. EP Rinkside has this look around the NHL's top developmental league to set you up for this weekend's slate.
THE CLOCK IS TICKING
The Lehigh Valley Phantoms and Tucson Roadrunners are distant figures to each other on the AHL map, but they could sit down and find a lot in common.
While several AHL teams are not yet in must-win territory, they have every much crossed into the highly-advisable-to-win stage of their seasons, Lehigh Valley and Tucson very much included.
Lehigh Valley survived the parent Philadelphia Flyers' chaotic first half only to stumble into trouble in the second half of the AHL schedule. Lehigh Valley possessed a 19-9-1-2 record (.661) on December 29th after a 8-3-0-1 surge just as the Flyers' most tumultuous moments rocked the organization. That record put them in the third place of the Atlantic Division, six points clear of the playoff line and within four points of the second-place Bridgeport Sound Tigers.
The past three months have been much less kind to the Phantoms, who are now six points below that same playoff line going into a crucial two-game weekend road series against the Cleveland Monsters. Since that December high point, the Phantoms went 14-18-3-1 (.444) in their next 36 games. Regulation losses in six of the following seven games after a December 28th home win against the Providence Bruins brought the first serious cracks in Lehigh Valley's season. The Phantoms also endured a 3-8-0-0 fall that extended from mid-February into mid-March.
However, they have managed to keep themselves in the Atlantic Division race, even though they will have to overcome two teams to pull down one of the two spots still within reasonable reach for them (the Charlotte Checkers are first overall in the AHL and have already clinched a playoff berth while Atlantic Division second-place team Bridgeport's magic number is down to seven).
Their reversal started at home on March 16th, a Sunday afternoon game against the Toronto Marlies. Lehigh Valley broke two Toronto leads, survived a Toronto comeback, and then put the game away on Chris Conner's goal with 0.5 seconds left in regulation. Veteran AHL netminder Mike McKenna delivered 37 saves, frustrating the Marlies in much the same way he did for the Texas Stars last June in the Calder Cup final. The Phantoms then scored a regulation road win to open a home-and-home series with the Wilkes-Barre/Scranton Penguins this past weekend, notched a point in an overtime loss to the Penguins a night later, and then went on the road this past Wednesday and grabbed a 4-3 overtime win from the Rochester Americans.
At 81 points and above the playoff line are the Hershey Bears and Providence going into play this weekend. Wilkes-Barre/Scranton is at 76 points. The Phantoms hold games in hand on both Providence and Wilkes-Barre/Scranton. Hershey defeated Providence on Saturday night. The Bears also go to Bridgeport on Sunday afternoon. Wilkes-Barre/Scranton had a light weekend and hosted the Springfield Thunderbirds on Saturday night, a game they lost 1–4.
Out in the Pacific Division, Tucson can relate to the Phantoms' situation. The Roadrunners had moved to within one point of the Pacific Division lead by January 24th, sitting comfortably nine points above the playoff line (every Pacific Division team plays a reduced 68-game regular-season schedule while the remaining three divisions play the AHL's standard 76 games). But Tucson stumbled badly, winning two of the next 16 games on the schedule (2-11-2-1). By the end of that freefall, the Roadrunners had fallen 11 points out of playoff spot on March 14th. Tucson's slide coincided with the Bakersfield Condors putting together 17 consecutive wins, the second-longest such run in AHL history. That tear included back-to-back two-game sweeps by the Condors in visits to Tucson that helped to upend the Pacific Division race.
But the Roadrunners were not ready to fade away. After seven consecutive losses (0-6-1-0), Tucson has since taken wins in six of the next seven games, including sweeping the visiting San Jose Barracuda in a pair of games this past weekend. This push has sent the Roadrunners to within three points of the Colorado Eagles for a playoff spot, with Tucson holding two games in hand. The Roadrunners' 70 points also put them within striking distance of second-place San Jose and the third-place San Diego Gulls, each at 73 points. Tucson has one game in hand on San Diego.
Helping to drive this Tucson revival has been fourth-year forward Michael Bunting, who has grabbed six goals in his past seven games that included the game-winner this past Sunday night with the Barracuda. After the Barracuda had tied the game 47 seconds earlier, Bunting's outstretched tip of a lead pass to the net secured the victory for Tucson with 9.2 seconds remaining. Goaltender Adin Hill has been strong as well, playing all six games in this run and not allowing more than two goals in any game.
But Tucson will need a big weekend, and not just to hold back the Eagles in the standings chase. After this six-game homestand ends this weekend, the Roadrunners have to visit the Iowa Wild twice next week, move on to face the Ontario Reign, and then end the four-game road trip the following night against that powerful Bakersfield club. That said, the Eagles also have to visit the Western Conference-leading Chicago Wolves for two games next weekend.
Rounding out the full-desperation list are the Utica Comets, who also have unraveled in the second half. They ended an eight-game losing streak (0-7-1-0) last weekend but lost the following night. Eight points out of a playoff spot, they also face an extremely challenging schedule.
NOT MOVING
And then there is the Central Division, where spots four through seven still resemble a gigantic clog this late into the season.
The top three Central Division spots are all but officially spoken for at this point. Third-place Iowa is at 80 points Then comes that glut of teams. In fourth place at 77 points are the Texas Stars. Milwaukee has 75 points. Two points behind that the Admirals are the Manitoba Moose in sixth place and the seventh-place Rockford IceHogs.
Realistically, that leaves four teams chasing one playoff spot. Manitoba still has seven games remaining, though two of them will be against the Condors next week at Bell MTS Place. Milwaukee and Rockford sit at seven games remaining, and Texas is down to five. 
STAYING TOGETHER
Not that there was any doubt, but Providence and the Boston Bruins have renewed their vows.
The AHL's longest-running affiliation will stay that way after Boston and Providence agreed to a new 10-year agreement this week. The deal will take the affiliation through the 2028-29 season. Starting with the 1992-93 season, the Boston-Providence affiliation is in its 27th season, and it has sent the likes of Brad Marchand and Tuukka Rask on to Boston along with a cast of other players that includes Patrice Bergeron, who played the 2004-05 lockout season in Providence.
Second to the Boston-Providence affiliation are the New York Rangers and Hartford Wolf Pack. They are in their 22nd season together. Starting in 1979, Rochester and the Buffalo Americans spent 26 seasons together in an affiliation until 2005. After a dual affiliation in Rochester for three seasons and a Sabres-Amerks split for three more seasons, their relationship resumed in full in 2011.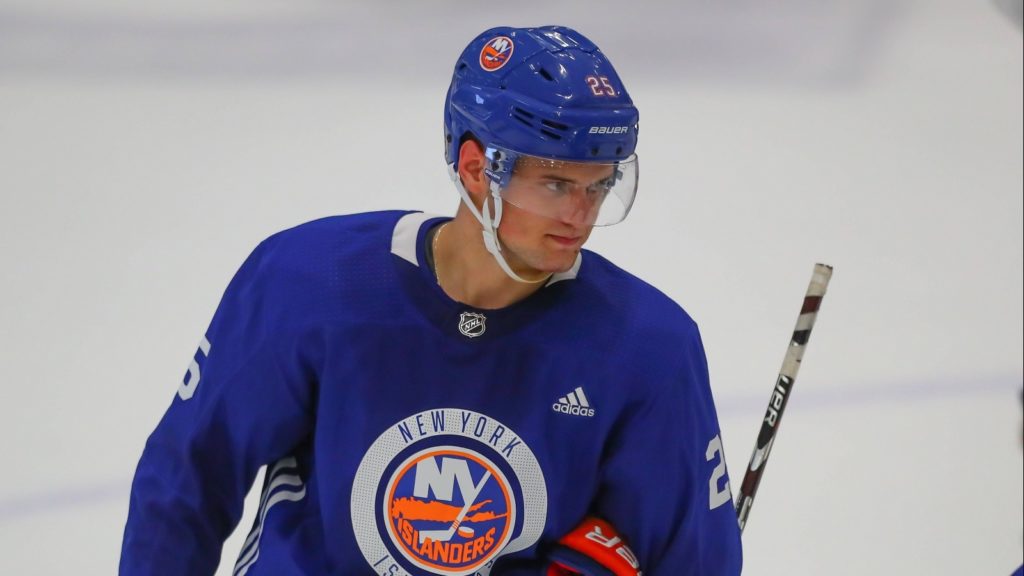 Oliver Wahlstrom. Photo: Icon Sportswire
NCAA HELP
Bridgeport will have some added NCAA influence on the roster down the stretch.
The Sound Tigers have added a pair of top New York Islanders prospects, including Boston College forward Oliver Wahlstrom, the 11th overall pick in this past June's NHL Draft.
Wahlstrom, who is still only 18, left Boston College after one season and signed a three-year NHL entry-level deal with the Islanders that will begin next season. Bridgeport also brought in Boston University forward Bobo Carpenter, who signed a two-year entry-level deal with the Islanders that begins next season. Wahlstrom and Carpenter will play in Bridgeport on amateur tryout deals.
Wahlstrom went 8-11-19 in 36 games for Boston College and also helped the United States win a silver medal at the IIHF World Junior Championship earlier this season. He was 2-2-4 in seven games in that tournament. Carpenter, the 22-year-old son of former NHLer Bobby Carpenter, just finished his four seasons with the Terriers. He captained the team this season and had 10-9-19 in 27 games. Last season, he posted 20-15-35 in 40 games.
Bridgeport is also could have Islanders 2017 first-round pick Noah Dobson at some point. The Rouyn-Noranda Huskies defenseman is in the first round of the QMJHL playoffs. After finishing first in the QMJHL with 119 points, Rouyn-Noranda is locked in a 2-2 series with the Shawinigan Cataractes, who finished 86 points behind them. The series resumes Friday night.
AROUND THE A
Wolves offensive force Daniel Carr has now missed eleven consecutive games since San Antonio forward Jordan Nolan's open-ice hit on him on March 5th. Carr (30-41-71) had led the AHL in scoring before being passed by Toronto's Jeremy Bracco.
Soon the Binghamton Devils and Ontario could have company as teams officially eliminated from playoff contention. In the Eastern Conference, Hartford and Springfield could be out as soon as this weekend, depending on their performance and the out-of-town scoreboard. Another bad weekend could seal San Antonio's fate as well.
San Jose head coach Roy Sommer passed Al Arbour for fifth place on the all-time list of NHL and/or AHL regular-season games by a head coach, leading the Barracuda to a 3-2 win at San Diego this past Wednesday. Still to go on that list are Scotty Bowman (2,141 regular-season NHL games), Barry Trotz (2,027 NHL and AHL regular-season games), Joel Quenneville (1,716 in the NHL and AHL), and Mike Keenan (1,626 between the NHL and AHL). Sommer also is up to 1,608 regular-season games in his 21-season AHL coaching career, first in league history.
The Grand Rapids Griffins are back home after a 5-1 road trip. They are 22-6-3-3 (.735) at Van Andel Arena, fourth-best in the AHL.
Only two team have 3-in-3 weekends – the Griffins and Wolves.
IN THE LEAD
POINTS – 75
JEREMY BRACCO – TORONTO
CARTER VERHAEGE – BRIDGEPORT
GOALS – 32
ALEX BARRÉ-BOULET – SYRACUSE
CHRIS MUELLER – TORONTO
ASSISTS – 55
JEREMY BRACCO – TORONTO
PENALTY MINUTES – 147
KURTIS MACDERMID – ONTARIO
GAMES (GOALTENDERS) – 48
ALEX NEDELJKOVIC – CHARLOTTE
MINUTES – 2,738
ALEX NEDELJKOVIC – CHARLOTTE
WINS – 32
ALEX NEDELJKOVIC – CHARLOTTE
GAA – 2.24
ALEX NEDELJKOVIC – CHARLOTTE
SAVE PERCENTAGE – .925
COLLIN DELIA – ROCKFORD
SHUTOUTS – 6
CONNOR INGRAM – SYRACUSE
KAAPO KAHKONEN – IOWA
THIS WEEKEND
Sunday – Hershey at Bridgeport: Sunday afternoons in Bridgeport confound opponents. The Sound Tigers are 10-1-1-0 in Sunday home matinees this season. The Bears are the lone team to have taken a regulation win in that situation this season.
ON THE MOVE
Milwaukee lost goaltender Troy Grosenick on recall to the Nashville Predators while Landon Bow of Texas is with the Dallas Stars….Grand Rapids has forward Martin Frk and blueliner Jake Chelios with the parent Detroit Red Wings….Rochester also added forward Tage Thompson from the Buffalo Sabres….Through Thursday, 101 AHL players have made their NHL debuts this season.
This article is about: