Video
VIDEO ROOM: Henri Jokiharju, Blackhaws Defensman of the Future
The Chicago Blackhawks have gone two years now without a playoff appearance, and twice as long without winning a playoff series. It's a grim situation for a once-shining franchise, and one that makes fans nervous about the future. Even so, good things are on the horizon—and defenseman Henri Jokiharju is one of them.
Some of Jokiharju's best traits include his skating, his positioning, and his hockey sense. He's young—he doesn't turn 20 until June—and is still adjusting to the pace of professional hockey, but this season he's shown clear signs that he'll be an important piece of the future in Chicago.
With the exception of a one-game call up that caused him to play four games in four nights, Jokiharju has been in the AHL with the Rockford Ice Hogs since February. It's likely that the Blackhawks didn't want to stunt his development during what has been, to be candid, a pretty terrible season, and in the AHL he can play top minutes and develop his game. Still, he spent significant time with the Blackhawks this season, including time before Joel Quenneville's firing. For this reason, we'll be looking at his performance in both leagues—one game in the NHL at the beginning of the season, and one in the AHL more recently.
In the Blackhawks' November 3rd game in Calgary, Jokiharju started the first period on a defensive pairing with Duncan Keith. Roughly three minutes into the game, Keith got himself tossed. It's no surprise, then, that the rookie ended up playing more than 25 minutes, including some time on the second penalty kill unit and the top power play unit.
One thing that immediately jumped out about Jokiharju's play in this game is that, while we tend to think of him as an offensively-minded defenseman, he made more conservative decisions than might be expected. Here's an example from the first period: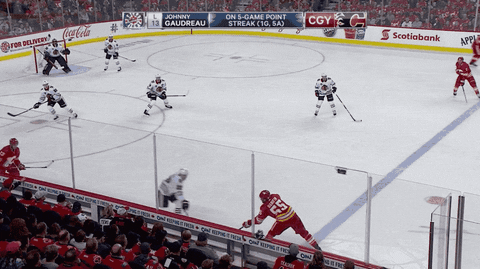 Here he spots a loose puck and jumps on it immediately, but it's what he does after that stands out. Jokiharju knows what's going to happen if he tries to pass to Jonathan Toews, who is the most immediately obvious option here—Johnny Gaudreau is going to swoop in and take that puck. So instead of passing to the captain, Jokiharju slings a blind pass behind the net to another teammate and gets the puck out of trouble effectively.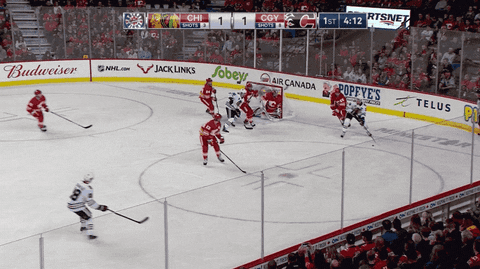 This is another small moment—which is where many of Jokiharju's best traits make themselves known—but it's one that showcases his ability to pick his moments. Here, he sees a lane open up and shoots the puck himself rather than passing. This might not seem impressive, but it's not as easy as it looks to snap off an accurate shot immediately after receiving a pass. Also, take a moment and remember all the NHL games where players pass and pass and over-pass rather than just taking the shot. To make things even better, he collects the eventual clear and gets a shot off again immediately. His reaction time is excellent.
Now let's fast-forward to the AHL, on March 1st in the Ice Hogs' game against the Grand Rapids Griffins.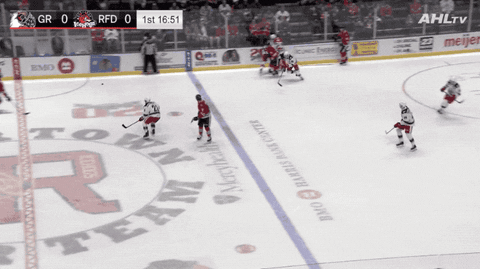 This play is a great example of his skating—in particular, his agility is shown off in the way that he keeps changing direction—and how he uses it to protect the puck. He knows how to seek out opportunities, but perhaps more importantly he can recognize when there just isn't a play to be made. Dumping the puck to get a change should never be your prevailing strategy, but here Jokiharju is able to play keep-away with his opponent long enough to confirm there is no other option before he sends the puck down the ice.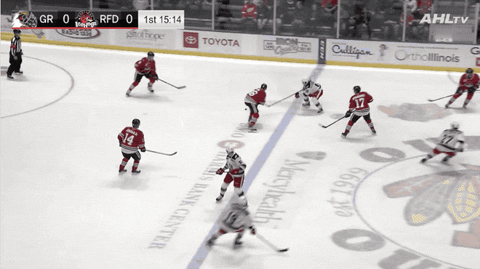 Jokiharju's awareness is such an important part of his game—his awareness of where the puck is going to be, where his opponents are going to be, and where he needs to be. He combines some elite-level hockey sense with the great skating and puck protection discussed above, and this sequence is another great example.
Unfortunately, this sequence is also a great example of how you can make exactly the right play for the moment that you're in, and still have everything go wrong. Jokiharju makes the right decisions here, and Grand Rapids still gets in between and gets the puck. Life lesson: you may be good at hockey, but because you are a professional, it's usually true (though not always) that your opponent is also good at hockey.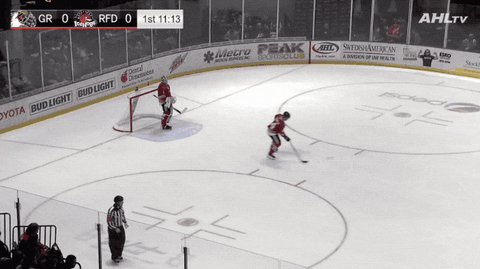 Here, Jokiharju is rewarded for his efforts. He first has a nice drop pass on the breakout, getting the puck to a safer location and keeping the play moving. Shortly after, he's there to receive the puck and pass to Jordan Schroeder, who scores. His metaphorical fingerprints are all over this play from beginning to end—and Blackhawks fans should expect that to continue.
This article is about: