Rankings
BURKE: Who would win the Calder Trophy if not for Pettersson?
If any doubts about this year's Calder Trophy recipient lingered among the privileged few trusted with voting on it, Elias Pettersson summarily dismissed them with the sudden thud of his one-timer goal that sent the Canucks to overtime in their final game of the season.
It was the exclamation mark on a fantastic first season for Pettersson; his 66th and final point in a 71-game season, good for a 21-point cushion on the runner-up, Ottawa Senators forward Brady Tkachuk.
The question for voters, then, isn't who should win the Calder Trophy, awarded to the NHL's top rookie, but rather, who would win in a year without Elias Pettersson?
There's a field of about four players behind Pettersson with legitimate cases all their own. Conveniently enough for this exercise, award voters are asked by the NHL to vote on their top five players for the award. Let's take a look at the case for each, and form a ballot of our own.
The case for Tkachuk is, in some ways, self-evident. For starters, he's the second-highest scoring rookie, and he accomplished that feat on the league's worst team; a team that traded almost any veteran of note by the February 25th trade deadline and fired its coach not long after. Calling these circumstances unforgiving would be the understatement of the century.
There is so much more than meets the eyes with Tkachuk's season though. For starters, Tkachuk has the best team-relative shot and expected goal metrics among the group of rookies I've considered for the award. The Senators controlled nearly seven more shot attempts and half an expected goal on a per hour basis with Tkachuk on the ice.
Tkachuk's on-ice metrics can be explained in part by the dearth of talent further down the lineup in Ottawa and the fact that he played with a Selke calibre winger in Mark Stone. In fact, Tkachuk's on-ice numbers plummet without Stone. Offensively, though, it was mostly business as usual for Tkachuk away from Stone, which is a remarkable feat when one considers his other most common linemates include the likes of Chris Tierney, Colin White, and Jean-Gabriel Pageau — not exactly world-beaters.

The last goaltender to win the Calder trophy was Steve Mason in the 2008-09 season when he led the Columbus Blue Jackets on a magical, improbable run to the post-season. There hasn't been a netminder in the top-three of Calder voting since. Can St. Louis Blues goaltender Jordan Binnington stop the skid?
When Mason won the award in the 08-09 season, he finished with 11 point shares (read about point shares here), more than three clear of the next-highest rookie. Binnington only has six this season, which ranks third among the group of skaters I've keyed in on for second place in the awards voting. Unfortunately for Binnington, the voters tend to place a premium on durability and availability, often measured in cumulative stats. Even though Binnington's .927 save percentage ranks him fourth among qualifying goaltenders, those numbers only account for a sample of 32 games.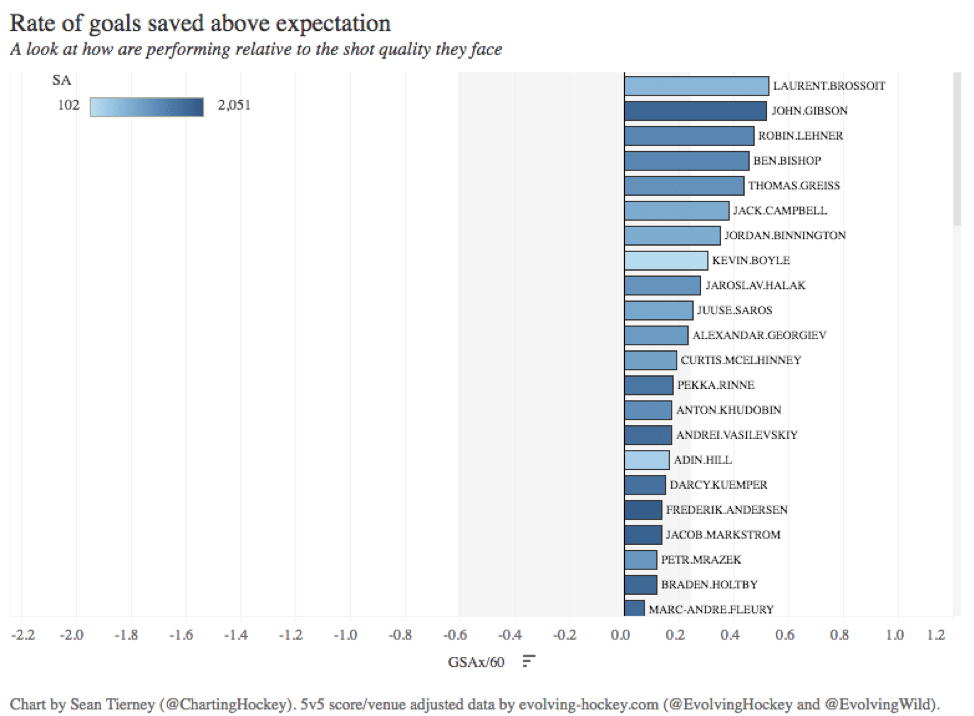 As good as Binnington's numbers are, and they're excellent, it's perhaps his story itself that will win over the hearts of voters. The Blues were in last place by the time Binnington had stolen the starting job from Jake Allen in early January. The Blues enter the playoffs very much thanks to Binnington's 24-5-1 record.
The Buffalo Sabres late-season collapse hasn't left a good taste in the mouth of NHL scribes, and unfortunately, it's cast dark, impenetrable clouds over the ray of sunshine that was Rasmus Dahlin's first season in the NHL.
Dahlin played over 20 minutes a night for the Sabres — most of them paired alongside Zach Bogosian — in which the team nearly broke even on the scoreboard and enjoyed a slight edge in on-ice shot attempts and expected goals at 5-on-5. The Sabres also averaged one more unblocked shot per hour on the power play with Dahlin on the ice as opposed to any other defenceman to suit up for more than 100 minutes on the man advantage.
With the Calder, as with many other awards, production clearly plays a role in determining the victor. The voters don't usually seem to expect defencemen to go point-for-point with forwards though — there's a market correction of sorts. Using Aaron Ekblad's Calder in the 14-15 season as a proxy, the voters need a defenceman to score at about 61 percent the rate of the highest forward for consideration. Dahlin's 44 points represent nearly 67 percent of the scoring rate of Pettersson and combined with strong two-way play, the case not only exists for Dahlin as a runner-up but a legitimate contender for first place.
You just knew from the moment Miro Heiskanen first took the ice this season that he was a star in the making. There's no accounting for the level of confidence it takes to pull off multiple zone entries, exits, entry denials and scoring chance assists in the first minute of one's career. As the remainder of the season showed, that confidence is well-earned.
Miro Heiskanen's first NHL shift was pretty, pretty, pretttttttty good. (via r/hockey) pic.twitter.com/eh90GlplLN

— Marc Dumont (@MarcPDumont) October 5, 2018
Whereas the case for Dahlin is built primarily on his point production, Heiskanen's is one of a well-rounded two-way game mature beyond its years. Dallas Stars head coach Jim Montgomery trusted Heiskanen almost immediately, playing him nearly 25 minutes a game from late-October onward. In those minutes, Dallas did a better job of controlling on-ice shots, goals, etc. with Heiskanen on the ice. Those numbers factor heavily in Heiskanen leading the secondary tier of Calder candidates in WAR (Wins Above Replacement) using the Evolving-Hockey model.

The voters don't usually invest much of their voting capital in the qualities in Heiskanen's game that make him such a valuable part of the Stars' lineup. This will likely work against the smooth-skating defenceman, who's played top pairing minutes exceedingly well for Dallas almost from day one.
In Conclusion
When I've weighed all the qualities in each of these four worthy Calder candidates, I'm left with a list that looks a little something like this:
1. Elias Pettersson
2. Rasmus Dahlin
3. Miro Heiskanen
4. Jordan Binnington
5. Brady Tkachuk
It's a fascinating field, each of which could build a solid case for first place voters in nearly any other season. It wasn't that long ago — nearly seven years — that Jonathan Huberdeau won the Calder Trophy with a modest 31 points. Those numbers would rank 13th among this year's group. It's a young man's game now, more so than perhaps ever.
You may also be interested in: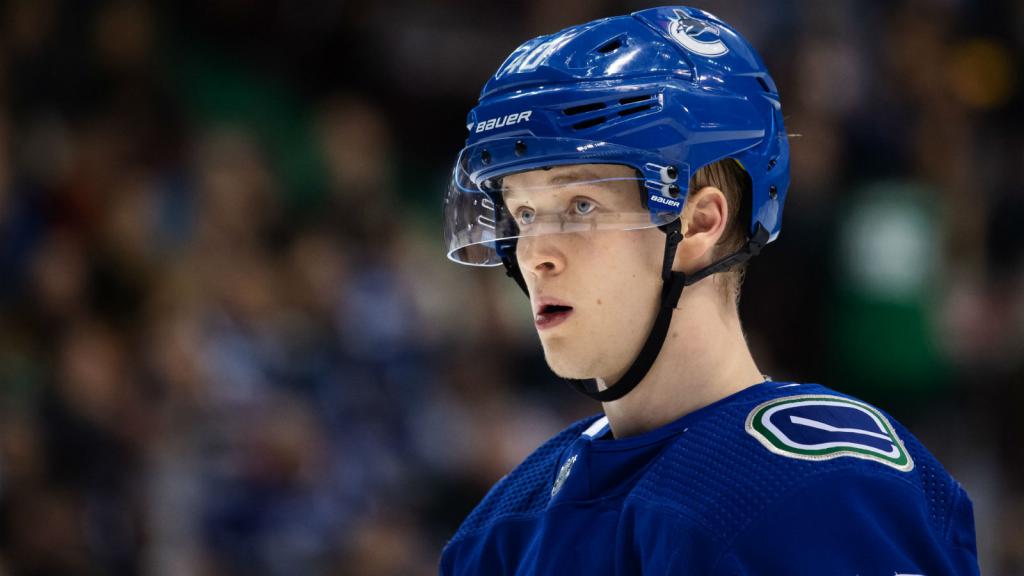 The Dream Season – Elias Pettersson is assaulting the record books
This article is about: